There are so many amazing things to do in Lagos, Portugal that you can easily stay for a few days. However, if you stay longer, you might want to explore more of the Algarve.
With so many charming towns in Algarve, unbelievable natural wonders, and thrilling activities, you should surely embark on some of the many lovely day trips from Lagos Portugal during your Algarve itinerary.
While Lagos has some of the most impressive beaches on the Algarve, there are also other beaches that deserve your time throughout the southern Portuguese coast.
Having spent a lot of time in Lagos using it as a base for day trips, I've compiled my absolute favorite Lagos day trips in this post so that you can plan your trip even if you only have 3 days in Algarve.
Read on for amazing trip suggestions that easily can be done from Lagos.
Disclosure: This post may contain affiliate links. That means that if you make a purchase through one of those links, I will get a small commission at no extra cost to you.
Best day trips from Lagos Portugal
Ponta da Piedade
Ponta da Piedade is only a short drive from Lagos and about half an hour's walk away. Yet, it's one of the best day trips from Lagos Portugal that you can do.
I especially like walking, as you'll pass picturesque Lagos beaches like Dona Ana beach and Camilo beach on your way to what I find to be one of the most mesmerizing cliff formations in Algarve.
Not only is the site impressive in itself, but walking down the steep staircase to the waterfront and balance to the best views is only part of what this natural site offers.
From Ponta da Piedade, you can safely walk on the new boardwalk across the cliffs for as long as you wish. Particularly sunset is beyond delightful.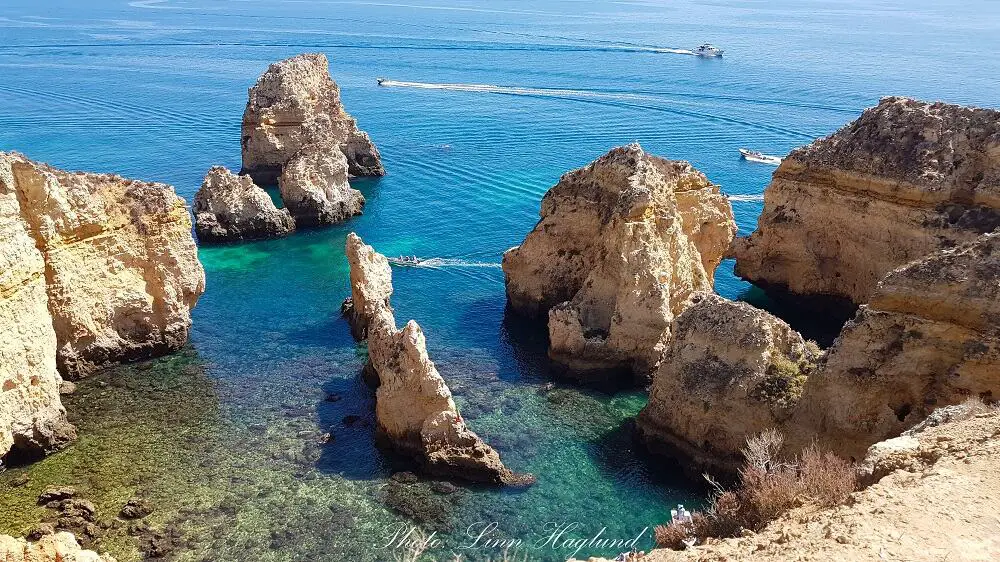 Sagres
Sagres, the westernmost point of the Algarve is such an incredible destination and it's no surprise that it's also one of the best day trips from Lagos.
There are many wonderful things to do in Sagres from walking the sunkissed cliffs, surfing at Tonnel beach, or taking a tour of the Sagres Fortress.
You can also head to the visitor center of São Vicente Lighthouse which has lit up "the end of the world" for sailors since the mid-1800s when it was lit up by an olive oil lamp. There you can learn more about its history until today when it's one of the best illuminating lighthouses in Europe.
The town itself is slow-paced and relaxing with lots of local restaurants and surf shops, due to the Sagres' popularity among surfers.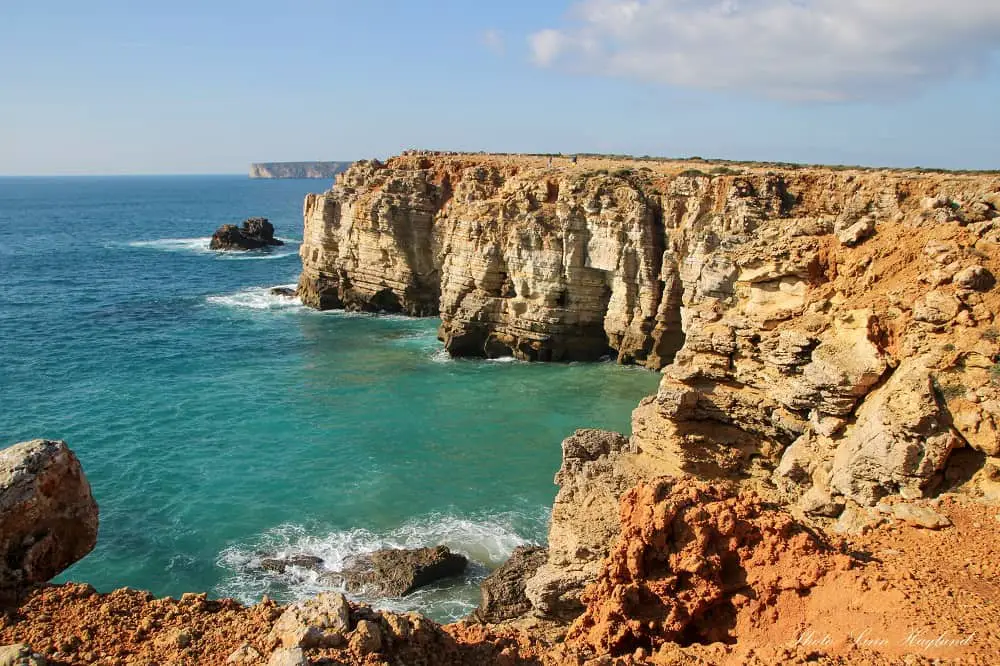 Albufeira
Lagos is no doubt one of the most amazing day trips from Lagos Algarve you can take. The quaint coastal town is a hub for partygoers and adrenaline junkies.
You're likely to go shopping, hit the beach, or do one of the many exciting activities in Albufeira like parasailing, jet skiing, or quad biking.
There are endless things to do in Albufeira, but you can also take it easy walking the cobblestoned streets of the old town, visiting museums, and eating tons of food if that's your preference.
Albufeira in winter is just as wonderful as in the summer, though you'll encounter fewer tourists which also means near empty beaches. On a calm, sunny day you might even want to sunbathe.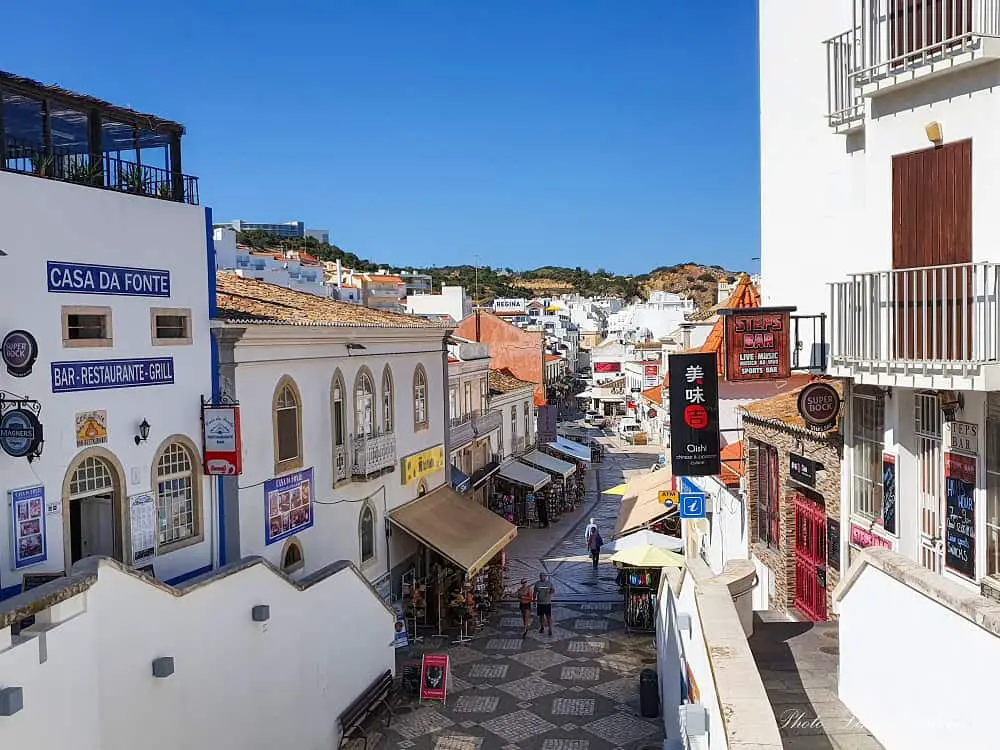 Silves
Another of the must-do day trips from Lagos is to the enchanting inland town of Silves. Dominated by its hilltop castle, which is the best-preserved medieval castle on the coast, the little town is a wonderful destination to walk around for a day.
Also the cathedral in Silves is worth visiting, now standing in the same place where there was once a mosque. Silves was also situated on an intersection between two Roman roads and it's believed that the Ponte Velha bridge might have material dating back 2000 years.
Cobblestoned streets weave their way through colorful houses and cozy cafés. For lunch, make sure you head to Parsley and Thyme, a lovely vegetarian joint serving mouthwatering international veggie food.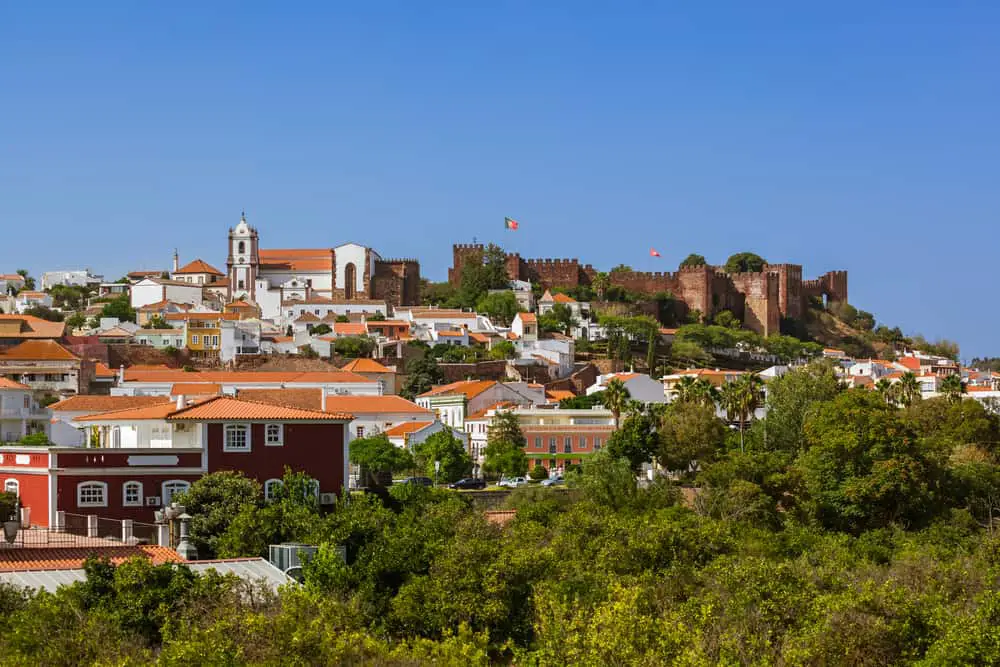 Faro
One of the Lagos Portugal day trips you should consider is to Algarve's capital city, Faro. The quaint city is totally underrated and often overlooked by visitors to the Algarve that continue to other coastal towns like Albufeira, Tavira, or Lagos, yet it is one of the most beautiful cities in Algarve, Portugal.
But there are loads of things to do in Faro Portugal. No matter if you travel to Faro in winter or in summer, there is a tranquil vibe over the city that easily transmits over to anyone visiting.
Truth is, Faro is sitting on a gold mine of attractions from the quirky bone chapel to the impressive natural wonder, Ria Formosa Natural Park. The latter is an important resting spot for migratory birds and home to flamingos making it a haven for bird watchers and hikers alike.
You find some of the most beautiful hikes in Algarve right on Faro's doorstep and Faro beach is the perfect place to spend a hot day.
But even if you just spend a day walking the cobblestoned streets in the old town eating your heart out, your day trip to Faro is going to be a success.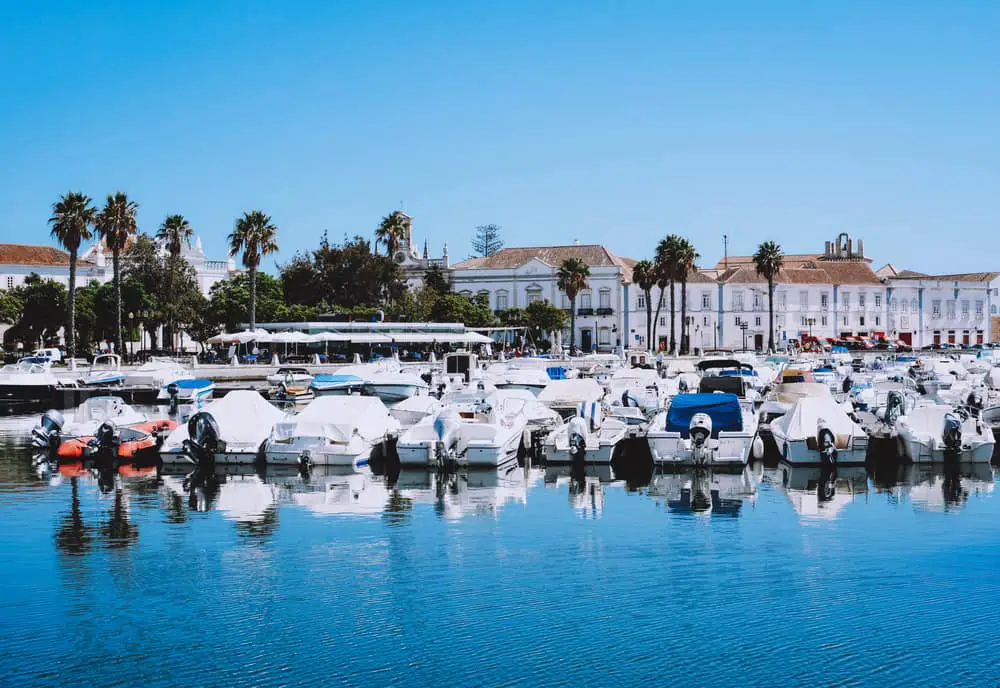 Carvoeiro
Carvoeiro is such an underrated, cozy coastal town which makes it one of the top day trips from Lagos Portugal.
Walking the narrow, cobbled streets and venturing up to either of the viewpoints where you get a bird's eye view of the whitewashed town sitting like an amphitheater around Carvoeiro beach, are only some of the things you can do in Carvoeiro on a day trip.
Start with walking the scenic Carvoeiro boardwalk popping down to tunnels, caves, and arches in the orange limestone rocks along the rugged coast.
At the end of the boardwalk, you'll encounter one of the Algarve's unique natural landmarks, Algar Seco. With a restaurant for refreshments and a nice lunch, it's the perfect place to take a break before exploring the cave with the natural windows and the blowhole.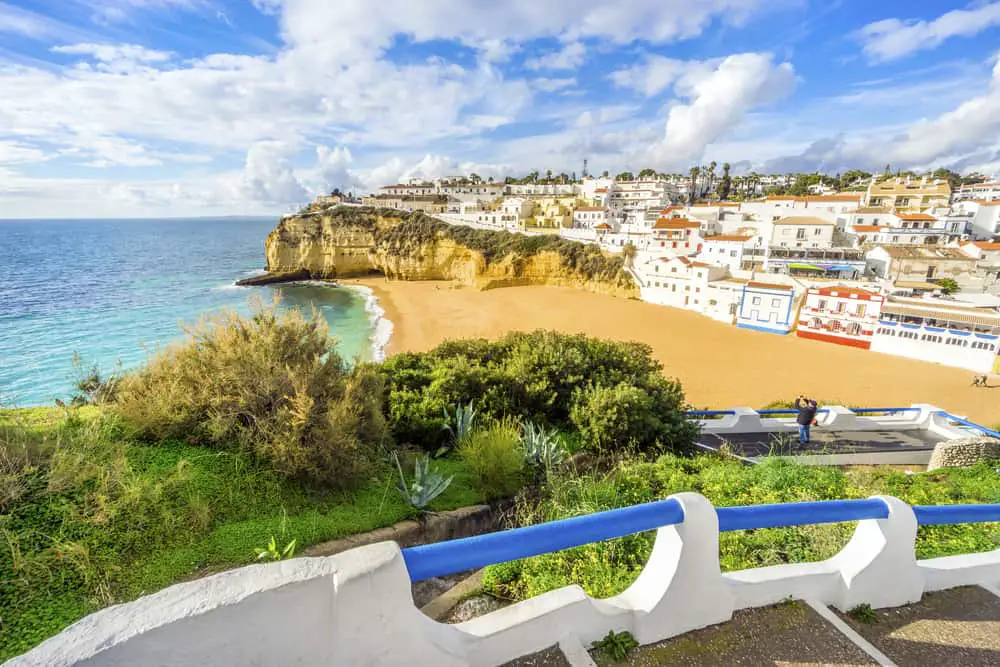 Benagil Cave and Marinha beach
If there's one day trip from Lagos Portugal you must take, it is to explore the otherworldly Benagil Cave and take a dip at the award-winning Marinha beach.
The best way to see the impressive sea cave is by a boat tour where you can see it from the outside or by kayak or paddleboard where you can actually enter the fine-sanded beach inside the beach that's majestically lit up by a spotlight of sunlight beaming through the sinkhole in the ceiling.
In fact, this is one of the absolute most epic boat tours from Lagos you can take. See availability for boat trips from Lagos to Benagil Cave here.
For a kayak tour to see the cave from the inside, head to Benagil beach, and from there you find tours. I can highly recommend this one.
There are boat tours from Benagil that cover Marinha beach too, though I highly recommend spending a couple of hours there at least as it's truly one of the most stunning beaches in Algarve.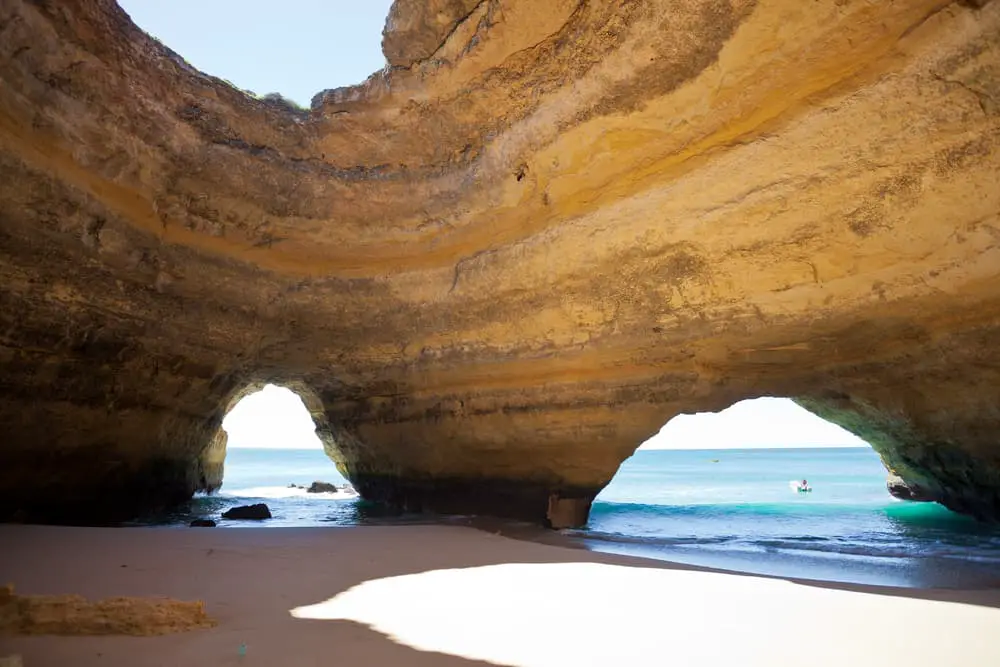 Ria Formosa Natural Park
Ria Formosa Natural Park is one of the most unique geological sites in Europe with its saltwater lagoons, sand dunes, and shrub landscape.
It attracts unique bird species and functions as one of the most important resting spots for migratory birds traveling between Africa and northern Europe which makes it a natural destination for bird watchers all year round.
You can either experience the natural space by land from destinations like Faro, or you can take a boat trip to discover the barrier islands protecting this extraordinary natural space.
There are daily boat trips departing from Olhão and Faro where you'll learn more about the natural park including the protected marine life. They typically stop by Culatra Island and Armona Island.
The only barrier island you can actually walk to is Tavira island. Nearby the little fishing village of Santa Luzia, you can cross a footbridge to the island and from there you can either take the little tourist train to Barril beach on the other side of the island or walk the 1.3-kilometer path along the train line.
This beach is quite so unique as you find the quirky Anchor Cemetary there, which consists of more than 200 old, rusty anchors that were left behind by tuna fishers when the industry died out.
The old barracks used to store fishing equipment and house the fishermen's families are now converted into bars and restaurants.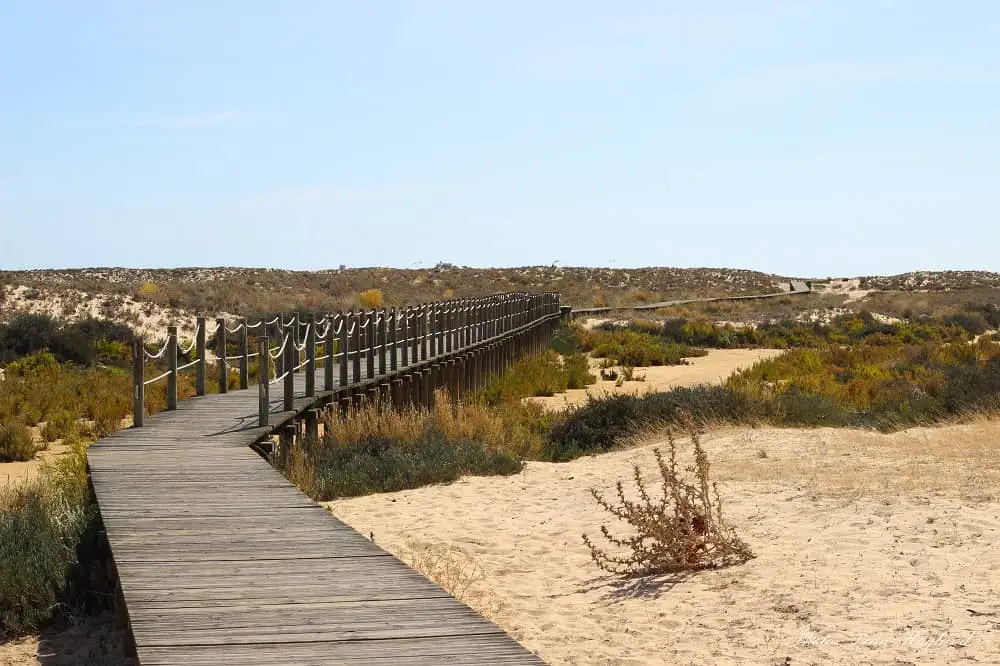 Alvor
The enchanting fishing town of Alvor is also one of the best day trips from Lagos Portugal. There are many wonderful things to do in Alvor on a day trip, like exploring the remains of the Moorish castle, walking the boardwalk across the sand dunes, and chilling on Alvor beach.
One of the other beautiful beaches in Alvor is Praia dos Tres Irmãos with its mesmerizing rock formations, caves, and tunnels in the rocks.
Nestled between the two popular resort towns, Portimao and Lagos, holidays in Alvor are usually overlooked by travelers, though it's such a charming little town that is definitely worth your attention.
Step into the 400-year-old church Igreja do Divino Salvador when you stroll through the picturesque cobbled streets weaving their way between whitewashed houses.
You will also enjoy the restaurants along the Alvor River or grab a coffee at one of the outside tables of Alvor's many cafés. There is really nothing not to like about this perfectly charming Portuguese town.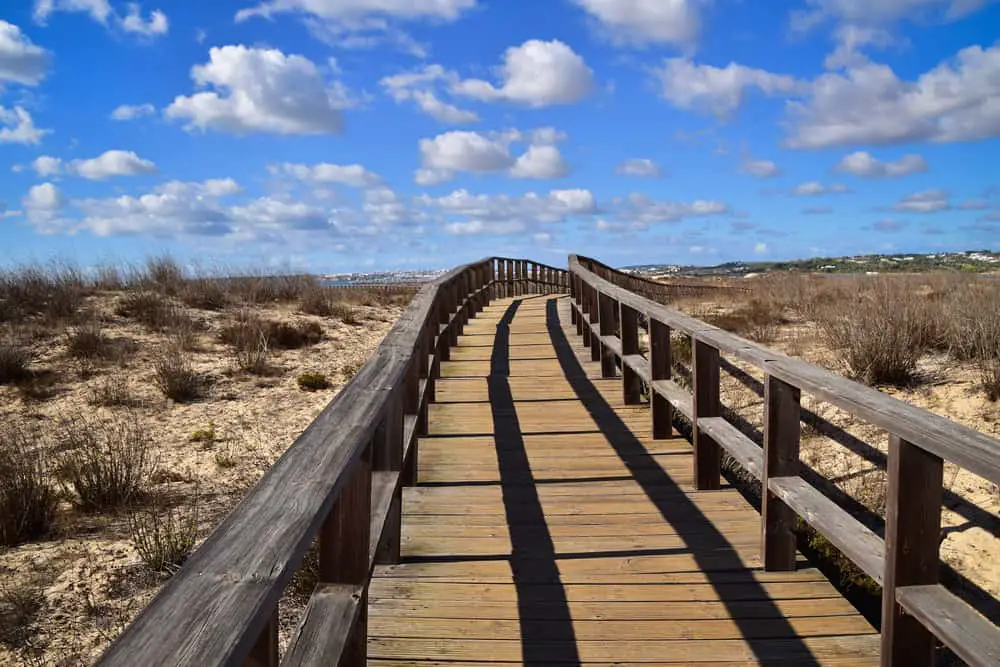 Portimão
Finally, Portimão is one of the most popular Lagos day trips! The busy resort town is the perfect place to go for anyone wanting to visit a bigger town with a lot to fill your day with.
The most popular attraction in Portimão is the Portimão Museum where you can also get a joint ticket to the Megalithic Monuments of Alcalar. Amon the excavations of the 5000-years old necropolis, there are 18 burial monuments and a large cairn in a beehive shape.
Further, make it to Praia da Rocha, one of the most beautiful in the Algarve, where you'll also find Fort of Santa Catarina, and stroll along the riverside promenade.
Portimão also boasts a handful of spectacular churches, the Igreja do Colégio being the most important, as it survived the 1755 earthquake almost without a scratch.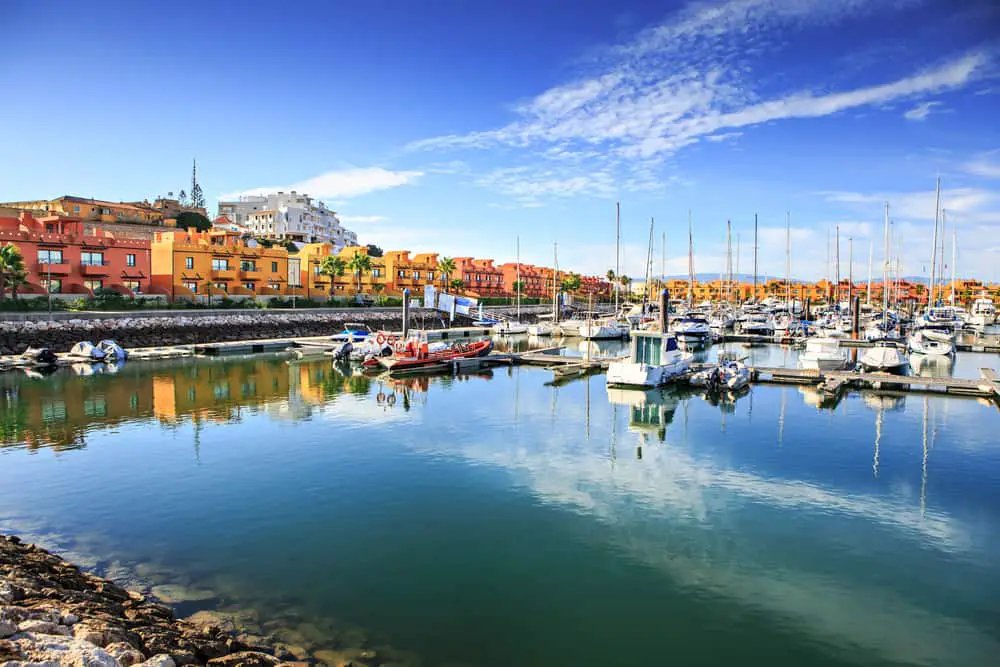 Reflections on Lagos day trips
As you can see, there are some epic day trips from Lagos Portugal you can take to explore the rest of the Algarve. Whether you like nature, shopping, or eating your way through the Algarve, there are things to do on a day trip from Lagos.
No matter if you visit Lagos in winter or in the busy summer months, there's plenty to do and fun options to enjoy.
Many travelers prefer to base themselves in one town and go on day trips over going on a road trip in Algarve changing hotels every night, and with this list of Lagos Portugal day trips, you can do exactly that.
Happy travels!