When looking for a beach day on the Algarve, Marinha beach (Praia da Marinha) truly deserves a mention. Nominated the most beautiful beach in the world multiple times it candidly stands up to its reputation.
Magnificent rock formations towering in the glittering water create a unique backdrop and the steep cliffs majestically wrapping the sandy beach are like taken out of a painting.
However, with fame comes popularity and you can expect a lot of people to want to share the space on this mesmerizing beach.
If you can go off-season, Marinha beach will unquestionably be the best beach on the Algarve. In the high season, however, you'll have to fight for a spot like any other popular beach in southern Portugal.
Yet, there's no reason not to add Marinha beach to your Algarve itinerary no matter what time of the year you travel.
Disclosure: This post may contain affiliate links. That means that if you make a purchase through one of those links, I will get a small commission at no extra cost to you.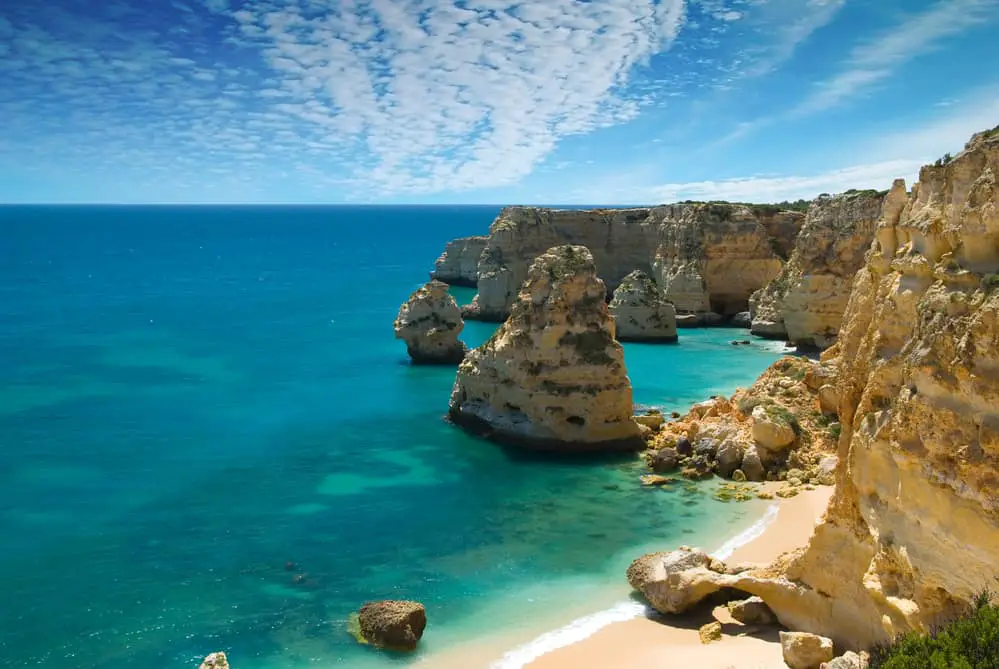 Where is Marinha beach?
Praia da Marinha – Portugal's most breathtaking beach – is tucked away on the dramatic, sunkissed cliffs between Armação de Pêra and Carvoeiro.
How to get to Praia da Marinha beach, Portugal
The closest airport to Marinha beach, Algarve, Portugal, is Faro airport. If you visit Marinha beach as a day trip from Faro or Albufeira, it's highly recommended to rent a car and drive to the beach (30-45 min), otherwise, you'll find yourself on a 3-hour journey each way changing buses several times.
There are direct buses from Lagoa to Marinha beach which only take about 15 minutes. The bus drops you off right at the top of the beach.
From Armação de Pêra there's a 15-minute drive and about 50 minutes by bus with a change of buses in Lagoa at Barros Brancos bus station.
From Carvoeiro and Benagil you can walk along the Seven Hanging Valley's trail which is one of the most scenic hikes in the Algarve.
From the top of the cliff, after parking the car or getting dropped off the bus, you'll find a set of stairs on the left side at the far end. It's a couple of minutes' walk down to the beach – if you have small children it might take longer.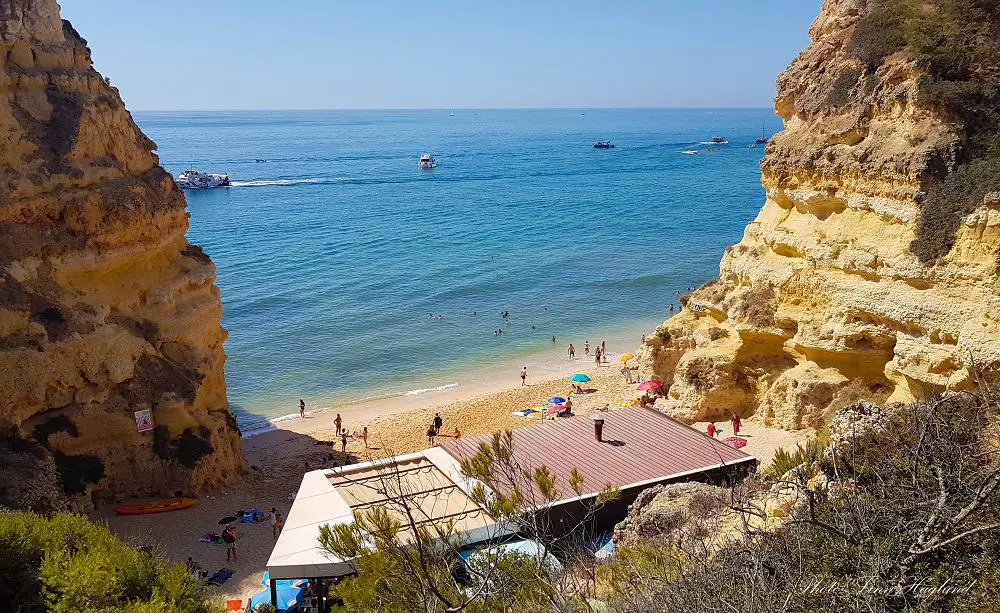 Where to park at Marinha beach
There is a lot of parking above Marinha beach. Entering the dirt road towards the beach, you can swing into any of the driveways leading to a labyrinth of parking spots within the scrubby vegetation.
Make sure you remember where you left the car, otherwise you can spend more time than you'd like looking for it after your day at the beach.
In high season, I do recommend coming early as spots fill up quickly.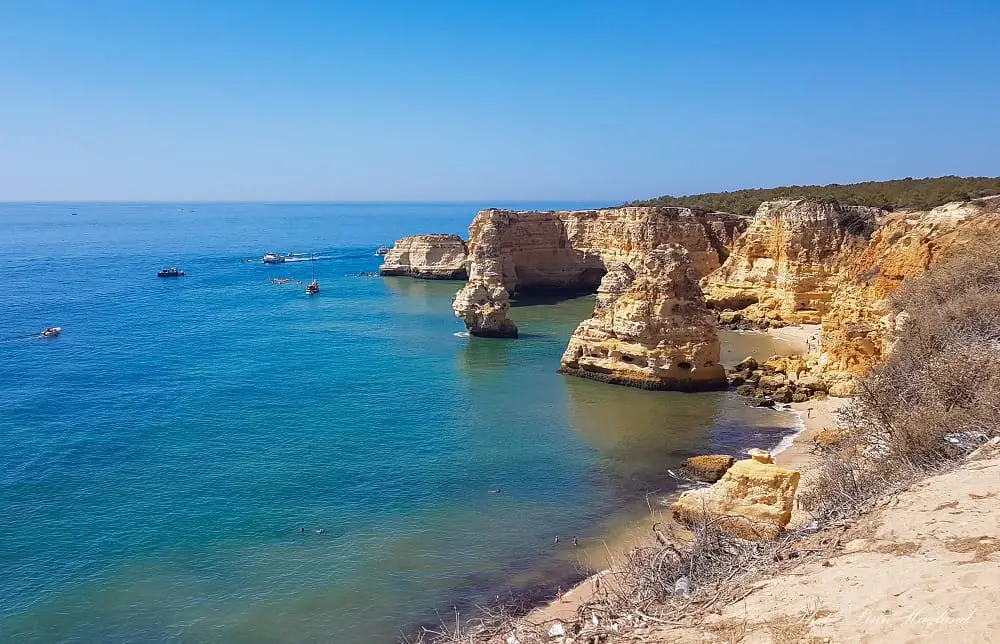 Facilities at Marinha beach
Before you descend the stairs to the beach, there are a couple of stalls selling cold drinks, ice cream, and snacks. These only take cash. In fact, there are no places to use card at Marinha beach, so make sure you bring enough cash for what you might want to buy of food and drinks.
Here is an overview of the main facilities at the beach:
Lifeguard in the summer
Restaurant/bar
Free toilets
SUP/kayak rentals
There are no sunbeds or parasols for rent at Praia da Marinha beach, so you will have to bring your own. There are quite a few steps to walk down to the beach, so you might prefer to leave the sunbed home and rather lay on a beach towel.
Yet, a lightweight parasol is a good idea to secure shade for yourself and your belongings as the scorching sun can get intense during a long day of no shade. In the evening, there are spots of natural shade, but they get taken quickly.
With SUP and kayak rental, you might spend parts of the day paddling, so make sure you
The restaurant has toilets that are free to use. But if you want to buy a drink or food, you'll need cash.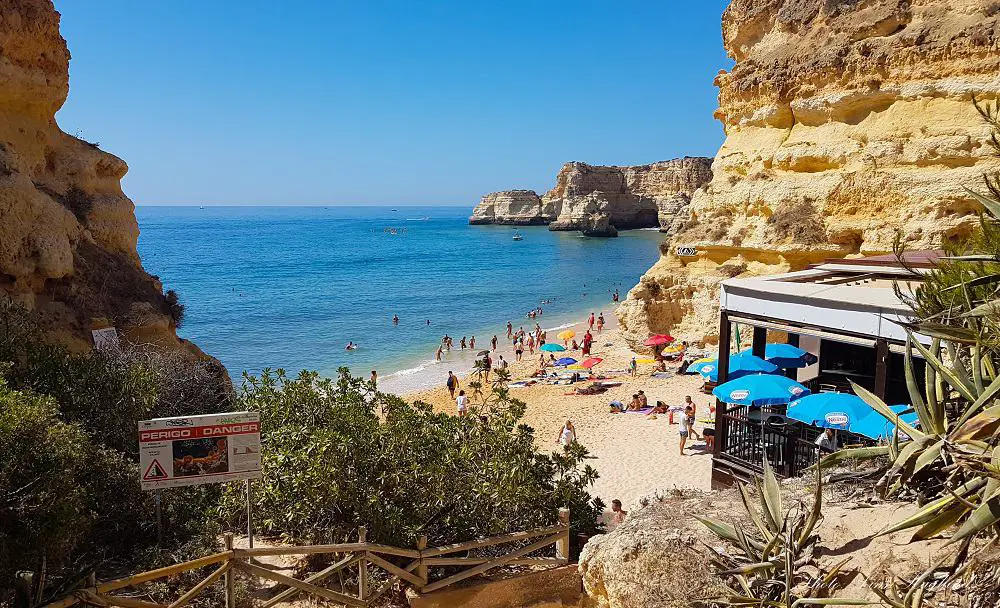 How to spend a day at Marinha beach
During low tide, Praia da Marinha beach is quite wide and you can walk a long way to the end where the rock formations dominate the glittering blue water.
There are places that are awesome for cliff jumping too.
Coming down the stairs to the beach passing the restaurant, there is a secret tunnel in the rock wall to the left. This small tunnel leads into a tiny hidden beach, Praia do Buraco (Hole's beach.)
If you're lucky, there aren't many people there and you can chill at the beach for a little bit before returning to Marinha beach. I say if you're lucky because there's literally just enough space for 5 towels to lay down there.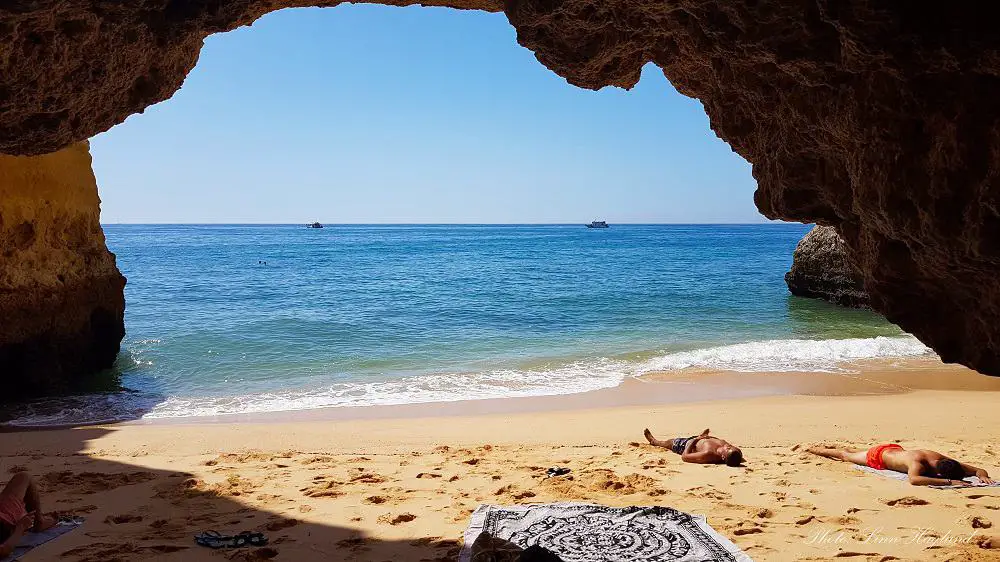 You can rent a paddleboard or a kayak at the beach too, though prices are fairly stiff at 30 Euros for an hour.
However, it's an amazing way to integrate some action into your day at the beach and explore the utopian coastline full of caves. You can even get all the way to Benagil Cave, but it's a long trip for an hour's rental.
If you want to do more than just lay on the beach and dipping in the turquoise water, bring a snorkel and explore the underwater world. Just be aware of days with a lot of waves and underwater currents so you don't go too far from the beach.
No matter what you choose to do, Praia da Marinha promises an unforgettable day!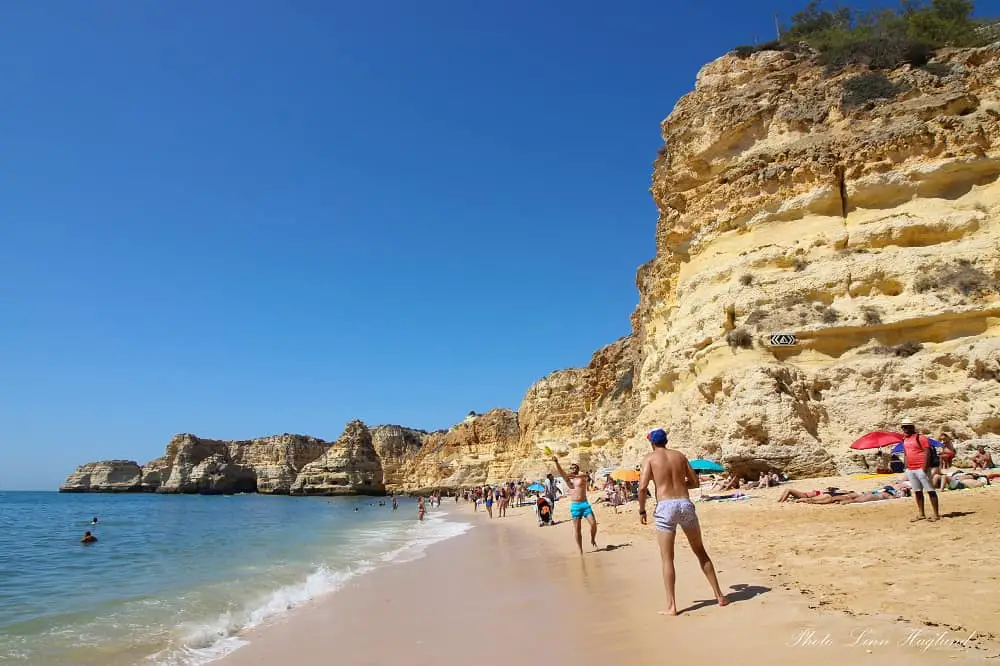 Things to do nearby
Seven Hanging Vally's Trail
One of Algarve's most mesmerizing hikes starts right above Marinha beach. The Seven Hanging Valley's Trail follows the top of the cliffs, passing the Natural Arches, and numerous sinkholes, including Benagil Cave and beach, and ends up at the natural pool and rock caves at Algar Seco where you can continue on Carvoeiro Boardwalk to the enchanting coastal town of Carvoeiro.
Especially if you visit the Algarve in the winter, you will enjoy this walk as the temperatures are pleasant for hiking and the sun isn't as scorching hot as in the summer.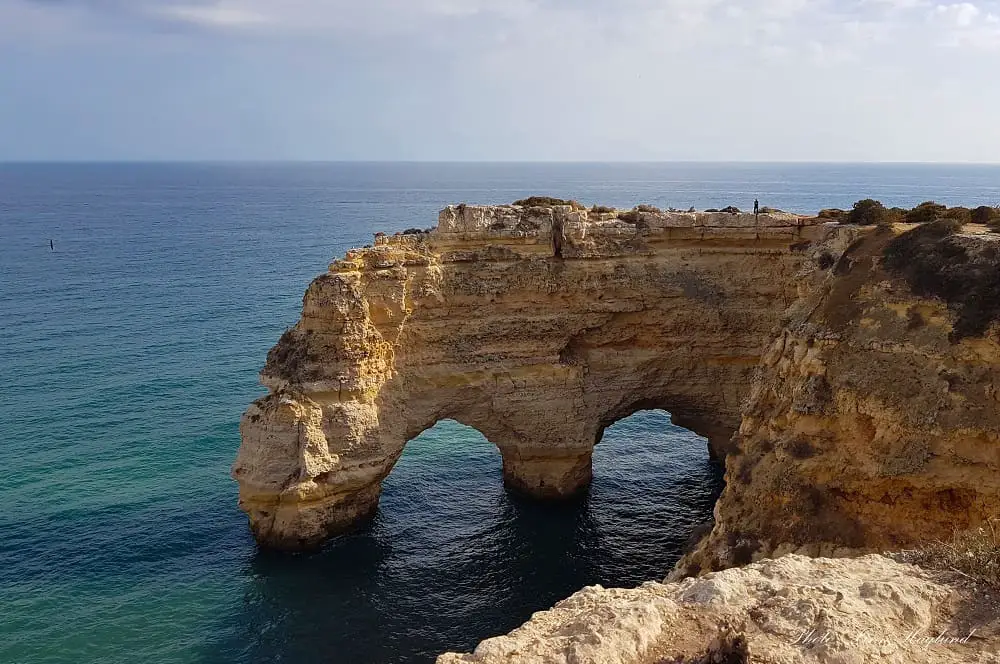 Benagil Cave
The most sought-after sea cave in Portugal is a short drive or walk from Marinha beach. Even though Benagil cave's popularity has grown immensely over the years, you should visit the caves at least once in your life.
You can only enter the beach in the cave with SUP or kayak that can be rented directly on Benagil beach. Boats enter the cave but are not allowed to let people off, so you won't get a real feel of the cave. Yet, it's a good second option!
Read my complete guide to Benagil Cave here.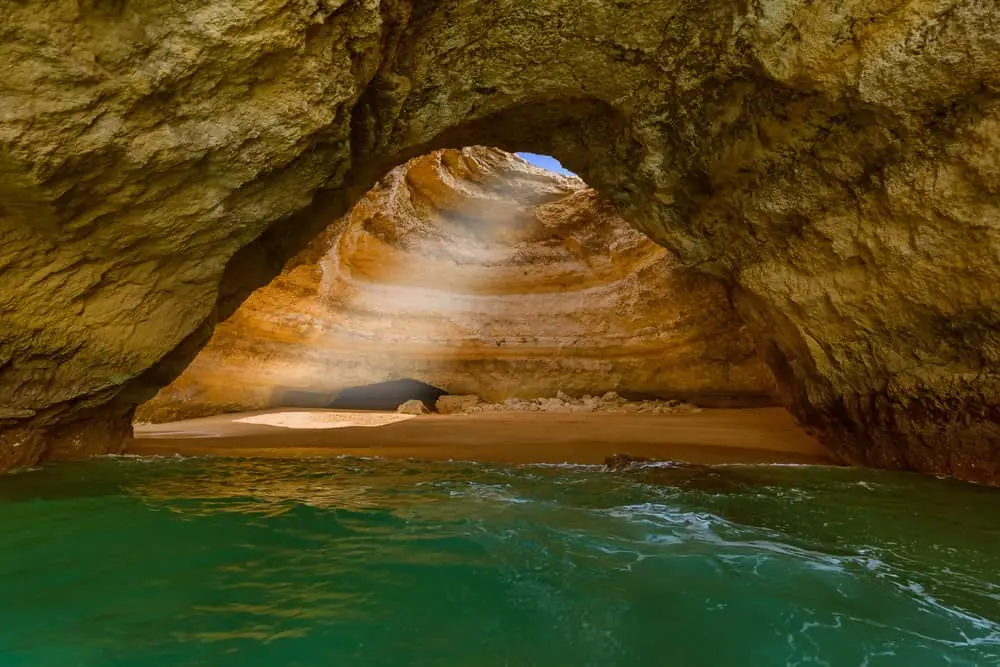 Other stunning beaches on the Algarve
Reflections on Marinha beach
No denying, that Marinha beach is one of the most beautiful beaches in the Algarve. With its grand rock formations and a secret beach, it's everything you want from a blissful day at the beach.
Nature lovers will love to explore the farther end of the beach and the secret beach, while anyone wanting a more relaxed day at the beach with stupefying views can hang out by the beach bar and restaurant.
Either way, I'm sure you'll love Marinha beach in Portugal's golden south.
READ NEXT: Complete guide to Tavira island