Tall, rugged, golden cliffs towering above the gleaming Atlantic Ocean below. Quite a common sight on the southern Portuguese coast.
There is this one special spot, though, where the arches are frequent and the views are just beyond spectacular.
Ponta da Piedade.
Only a 10-minute drive from Lagos is one of the most popular day trips from Lagos together with Sagres. But also one of the most beautiful where I've returned time after time to soak in the rugged surface overlooking boats beaming across the glittering water below.
Kayaks and paddleboards flock around unique rock formations, and tourists march up and down the stairs to the bottom like working ants.
Even so, there is something about this place that leaves you breathless.
Is Ponta da Piedade one of the most beautiful spots in Algarve, or have I just become obsessed with the place? Why not find out for yourself? Here is everything you need to know to explore Ponta da Piedade.
Disclosure: This post may contain affiliate links. That means that if you make a purchase through one of those links, I will get a small commission at no extra cost to you.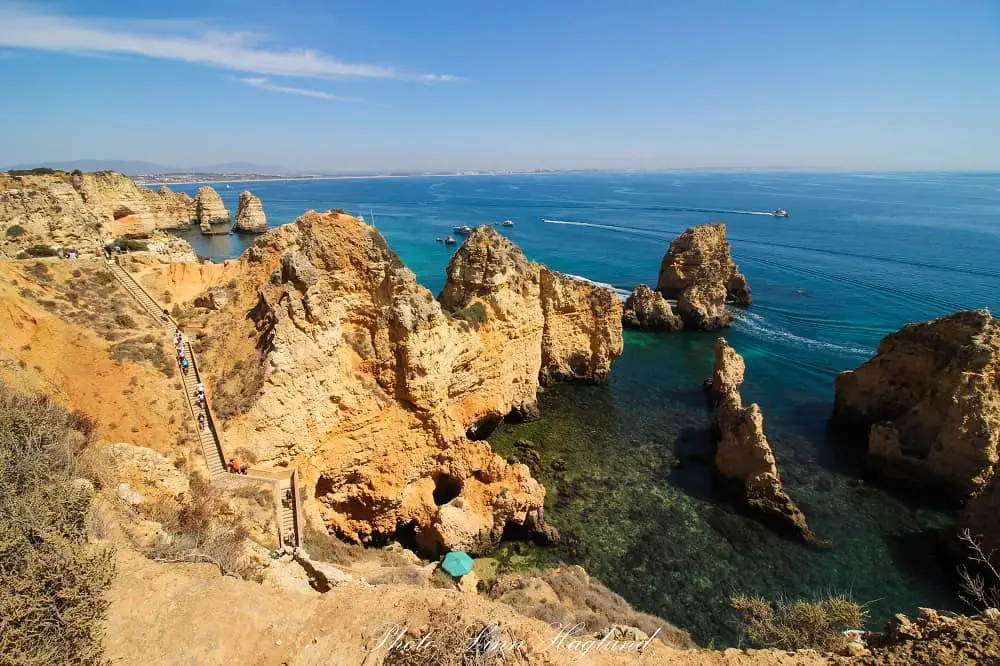 How to get to Ponta da Piedade
Ponta da Piedade is near one of the most popular towns in Algarve, Lagos. If you have a car you can get there in 10 minutes. There is a large parking there, yet it is a popular spot so I recommend you get there early in the morning or just before sunset to avoid difficulties parking, especially in the busy summer months.
There are also buses from Portas de Portugal in Lagos you can take. Otherwise, it is only a 30-minute walk on the main road.
An option is to take the scenic path past some of the most beautiful Algarve beaches, Dona Ana beach, and Camilo beach. This takes a little longer but is without a doubt the most beautiful walk. An opportunity is to walk the trail one way and the main road the other way.
Some of the best boat trips from Lagos also include Ponta da Piedade, so if you don't want to walk and don't dispose of a vehicle, a great option is to explore this natural wonder from the water.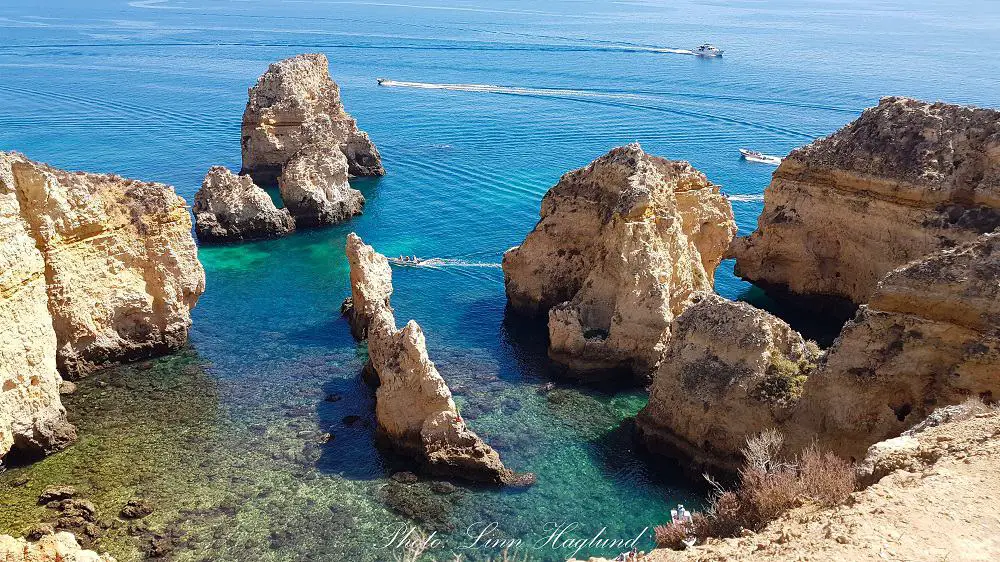 When is the best time to visit Ponta da Piedade?
The summer months from mid-June to the end of August are without a doubt the hottest and most busy months. If you have the chance to avoid this period, I would recommend it.
Not only to have a better experience but also to put less pressure on an area suffering from overtourism in the summer.
In the shoulder seasons of May to mid-June and September, it is still high temperatures but fewer tourists. If you want to combine your trip to Ponta da Piedade with swimming at one of the nearby beaches, the shoulder seasons are great.
In the Algarve winter, between October and April, the temperatures are milder, even though you can encounter warm sunny days with temperatures in the high 20s (Celsius).
However, this time of year is more pleasant for anything that does not involve water activities and is my favorite time for an Algarve road trip.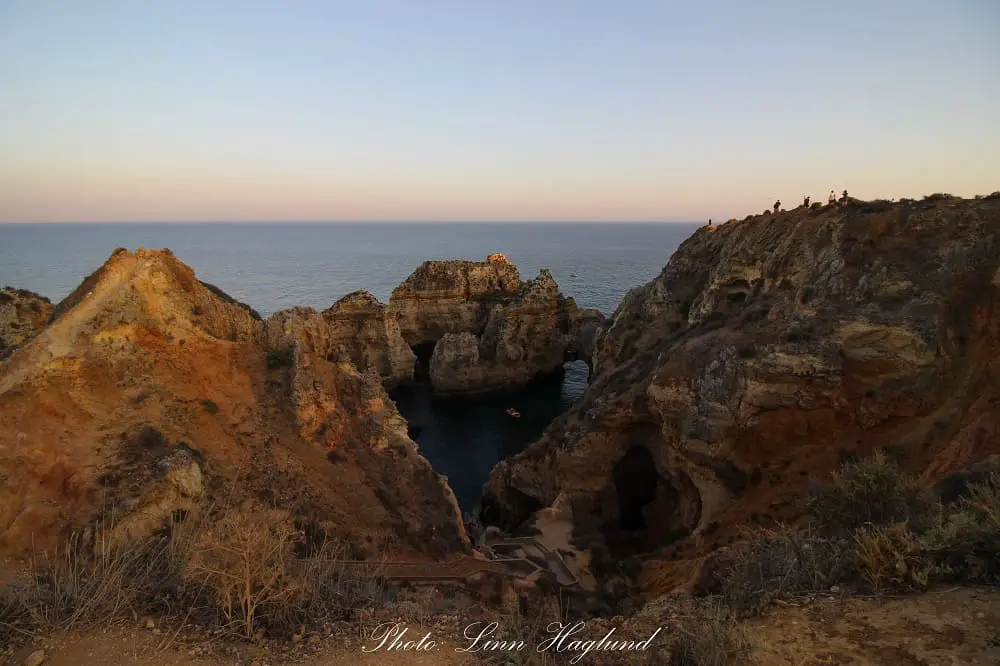 Ponta da Piedade
Ponta da Piedade is a cluster of rock formations towering up to 20 meters above the Atlantic Ocean, creating natural arches, caves, and towers attracting thousands of tourists. The views of this place will take your breath away.
To get to the tip with the best views it is quite narrow and steep so be careful! If you have slight vertigo you might reconsider walking out to that point. The views span all the way from Carvoeiro in the east to Sagres in the west.
There is also a set of nearly 200 stairs that take you down to the bottom for a different perspective. From there, you can take a boat trip with a local fishing boat to explore the caves and arches close up.
Fishermen have named many of the rock formations and are usually more than willing to point out figures like "The elephant", "The kissing couple", and "The camel head". Bring your imagination and you will have a lot of fun.
From Ponta da Piedade there is a beautiful newly built boardwalk that takes you all the way to Canavial beach. The boardwalk is incredible to walk during sunset and only one of many incredible Algarve hiking trails.
If you ask me, Ponta da Piedade should be on any southern Portugal itinerary.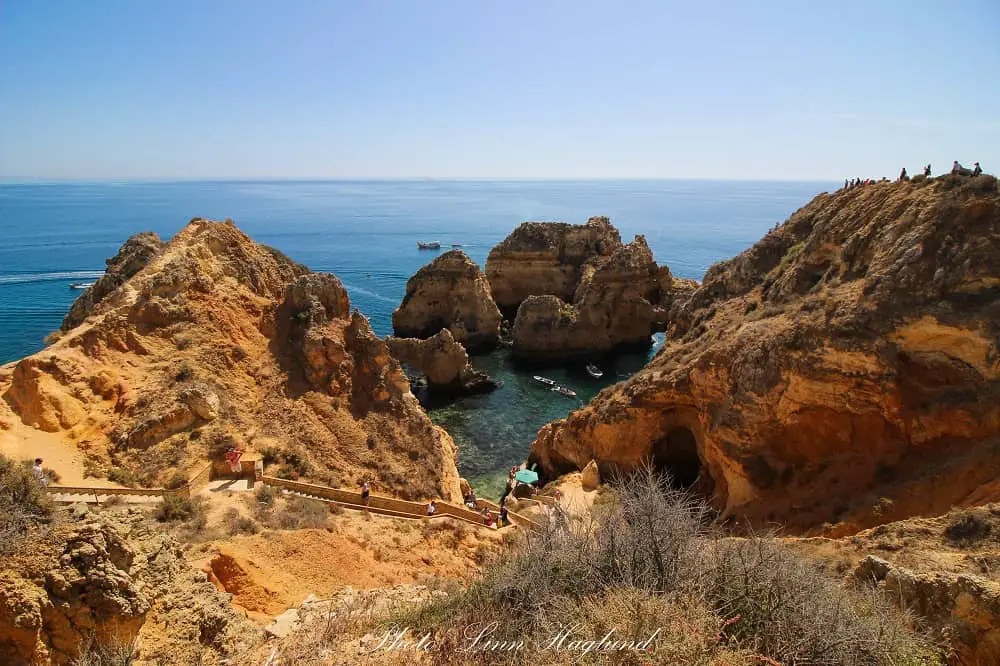 Things to do near Ponta da Piedade
Once you are in Ponta da Piedade, you might as well make sure you get to explore all the fun things there are to do around there too. In addition to the mentioned boardwalk, here are a few things you shouldn't miss out on.
Rent a kayak or standup paddleboard
Renting a kayak or a standup paddleboard in Lagos to go paddling all the way to Ponta da Piedade is an incredible experience and gives access to secluded beaches and hidden caves along the coast.
This is without a doubt one of the best ways to explore the coastline in Algarve and Ponta da Piedade is no exception.
There are guided kayak tours from Lagos. The tide shifts quickly and without knowing when it is safe to enter caves and not it can be sketchy.
Boat tour
Going on a boat trip from Lagos to Ponta da Piedade is a great experience too. They will take you along the coast and explore the caves and natural arches of Ponta da Piedade.
Camilo beach
Before you reach Ponta da Piedade, coming from Lagos, you find Camilo beach. With more than 200 steps to get down there, this is one of the most beautiful beaches in Portugal.
There is available free parking and an expensive restaurant on top of the steps. Walking down to this gem is a must if you are in the area. It is a popular spot, but with all reason.
To the left of the beach, you find a small tunnel leading to another beach. The snorkeling from Camilo beach is mesmerizing.
During the summer months, there are lifeguards at the beach.
Other spectacular natural sites on the Algarve
Dona Ana beach
Dona Ana beach is another beach next to Camilo beach. Though this beach doesn't require walking as many steps as Camilo beach, there are still nearly 100 steps to get to the bottom.
The beach was rebuilt a few years back so it's not the raw, virgin beach that it once was though still worth the walk down.
Also Dona Ana beach has lifeguards during the summer months and you can rent sunbeds and parasols.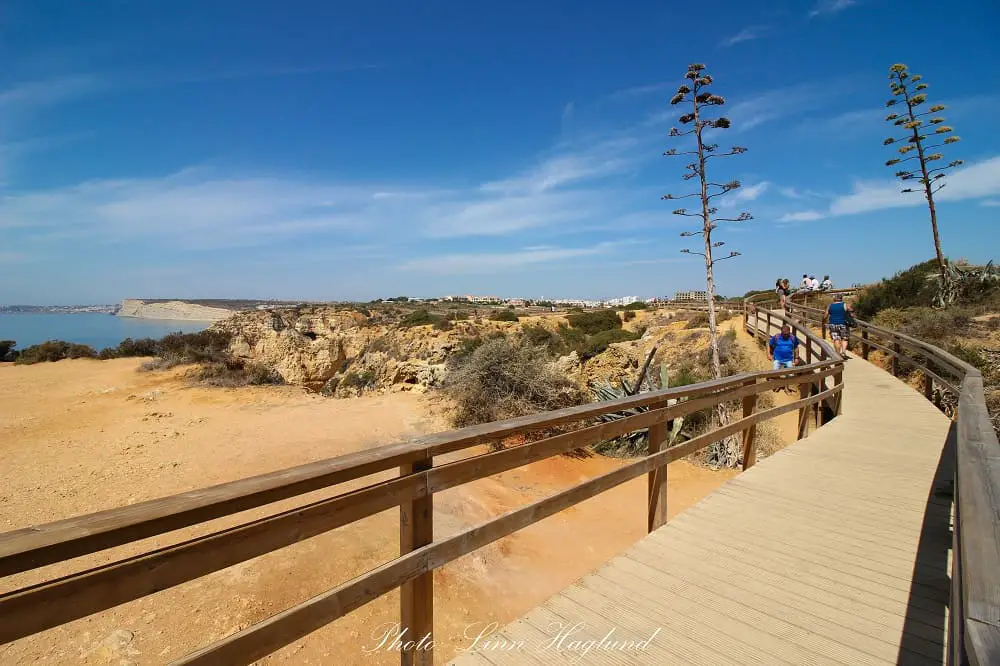 See Ponta da Piedade the responsible way
Ponta da Piedade is one of the most popular spots on the Algarve coast, so there are a few things you can do to put less pressure on the destination.
First of all, if you have the chance, travel outside the peak season. This will ease the pressure on the locals as well as on nature.
Second, make sure you leave no waste behind. There are rubbish bins you can use but if you see they are full, take it with you back to town and throw it there.
To avoid contributing to more plastic waste, bring your own reusable water bottle. There are great metal ones that keep the water cool up to 24 hours.
Finally, the cliffs are steep and by going too close to the edges you can slip on uneven and loose ground. Also, by staying away from the edges you don't provoke the erosion of the cliffs. There are signs warning against walking on the edges of the unstable cliffs. Respect them.
So no stupid Insta stunts.
All together, stay on the paths and leave no trace.
Reflections on Ponta da Piedade Algarve
There's no question, Ponta da Piedade should be on your itinerary even if you only visit Algarve on a weekend trip.
There are many mesmerizing natural wonders in southern Portugal and Ponta da Piedade tops the list together with a few others.
Whether you choose to visit the site by land or by sea, you'll have an unforgettable experience. Especially off-season when there are fewer tourists crowding the area.
Happy travels!