You're planning to spend 7 days in Algarve and aren't sure how to set up your vacation. Then you're in luck because I've set up the perfect Algarve itinerary for one week so that you can experience the absolute best of this mesmerizing region.
Time after time, I hear people avoiding the Algarve region because it's such a popular tourist destination and I totally agree, there are other amazing places in Portugal that by far get too little attention.
However, the Algarve has its own vibes and should not be skipped. There are very different vibes from west to east and I'll make sure you'll get a mix of both to really soak in the best of the Algarve.
This southern Portugal itinerary is jam-packed with activities and unique places to visit. Expect a whole lot of golden cliffs, sea-carved arches and caves, sinkholes, water activities, and enchanting towns.
Disclosure: This post may contain affiliate links. That means that if you make a purchase through one of those links, I will get a small commission at no extra cost to you.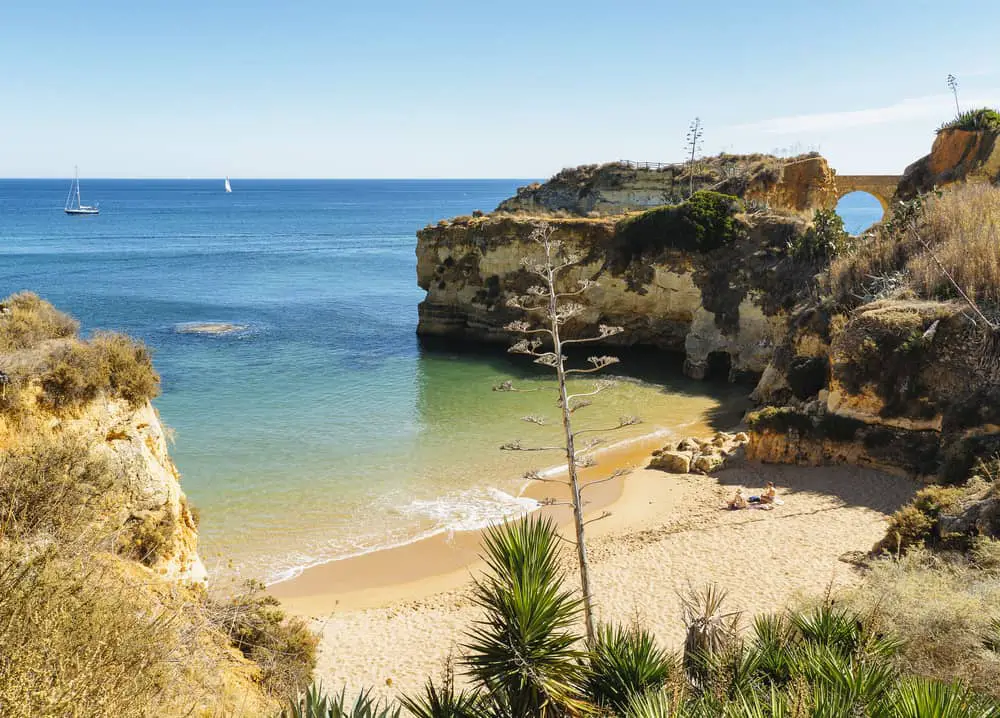 When is the best time to go to Algarve
There's no bad time to plan your Algarve itinerary as this part of Europe is one of the sunniest parts of the continent. However, there are rainier periods and there are hotter periods, as well as periods when you have to cover up more at nighttime than others. So I'll go through the different seasons here so that you can choose what is the best time for you.
Summer – The summer months are the busiest months in the Algarve. Beaches are guaranteed to be jam-packed and it can be hard to find parking if you're driving.
This is also when the water is hot (if it ever gets hot in the Atlantic – let's say the air is warm enough to enjoy the cool water) for going swimming and you can do water activities without a wetsuit.
The summer is perfect if you like to enjoy an animated nightlife and get to know other travelers. Temperatures normally range between the mid-20s and 30 degrees celsius.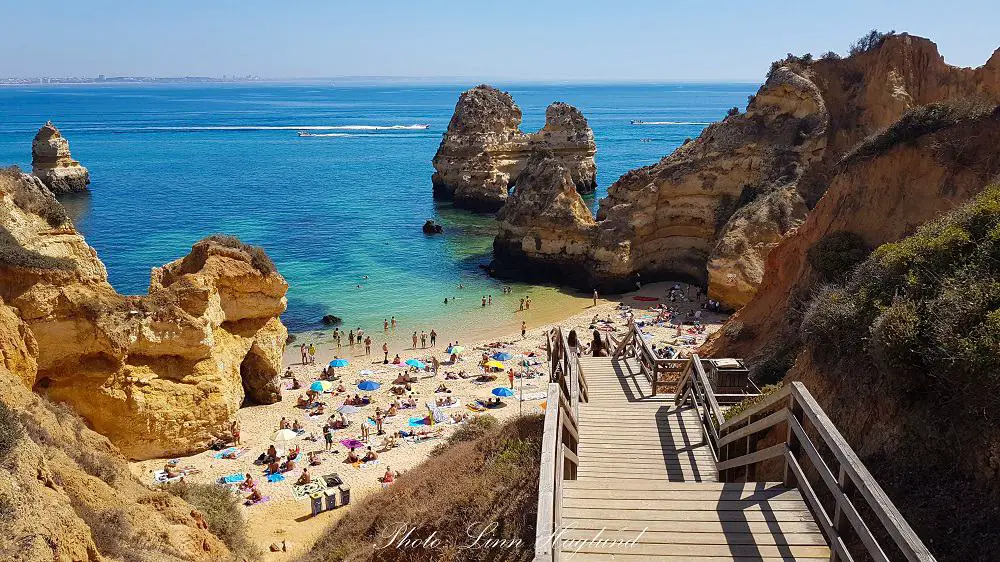 Winter – Winter in Algarve is the perfect time to avoid the crowds, go surfing, and go hiking the many coastal walks. You'll especially notice a difference in destinations like Portimao and Albufeira in winter.
Daytime temperatures in the winter months are normally up to 15 degrees celsius but can get colder with rain and feel warmer on sunny days.
While winter is one of my favorite times of the year to travel to the Algarve, it's also unpredictable with periods of rain.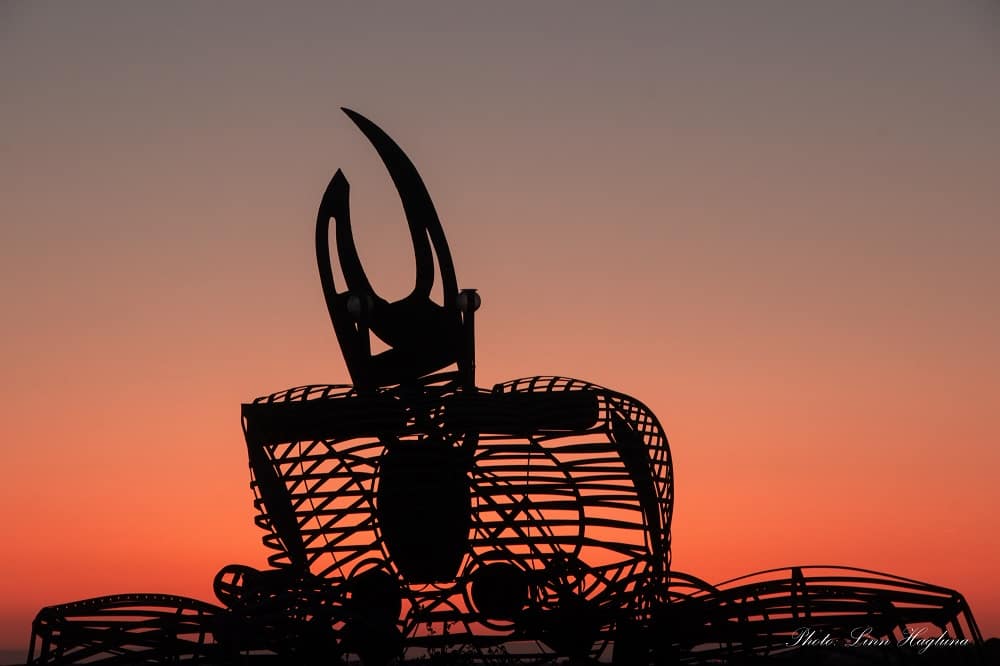 Spring – In the spring, you get pleasant temperatures around 20 degrees in the daytime and the summer crowds have yet not arrived.
Though you can experience the occasional showers, as with the Iberian Peninsula, this is one of the best times to go if you want to enjoy beach weather without the crowds.
Also for hikers, it's a fantastic season as the spring flowers color the region beautifully. During the day you can mostly wear shorts and a t-shirt, while you'll need to cover up with a shirt at night – and personally, I also change into pants.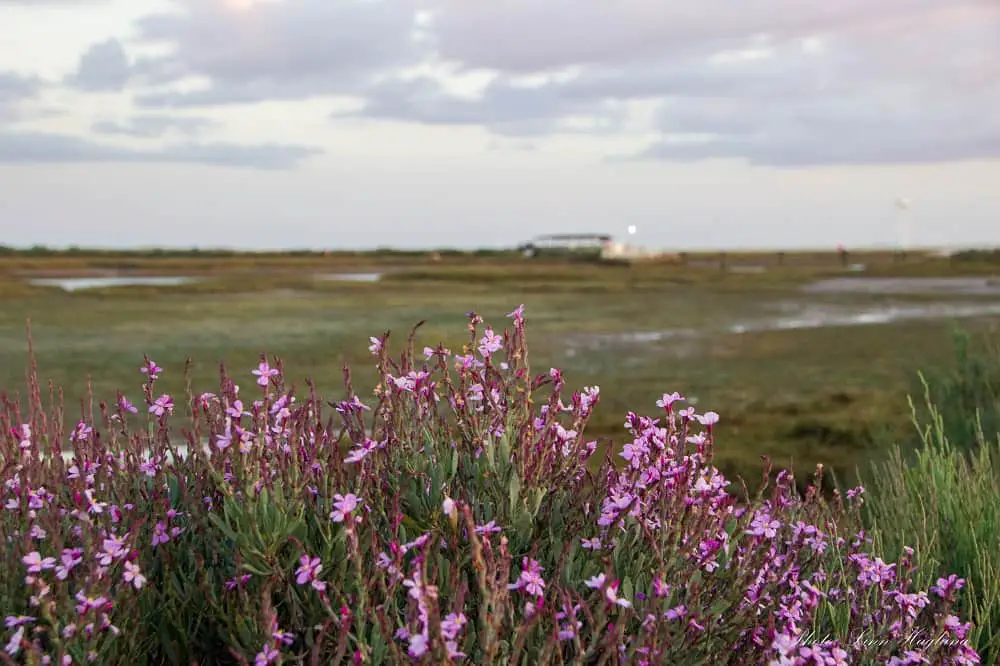 Autumn – Temperatures in autumn are much like spring – maybe even a couple of degrees hotter. For me, it's the best season of them all.
Throughout the end of September and all of October, you can experience an extended summer. Some years it even lasts until November.
This gives you all the benefits of water activities, beaches without the extreme summer crowds, pleasant bathing temperatures, and that summer tan.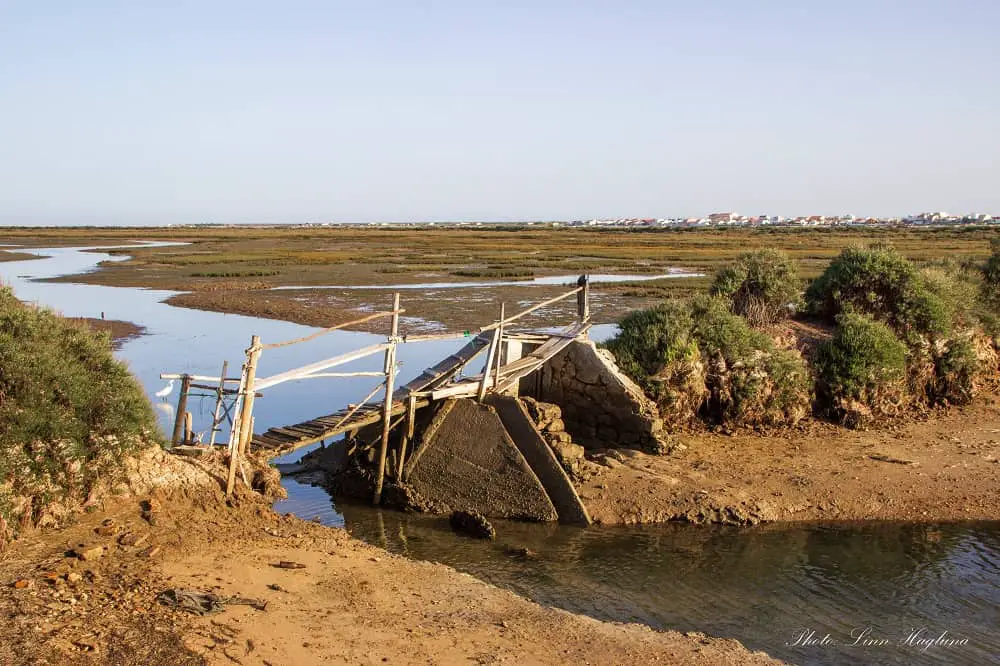 How to get to the Algarve
There's one airport in the Algarve; Faro International Airport. You can easily get there from all over Europe and Faro is perfectly placed in the center of the Algarve coast so you can easily reach your final destination from there.
Several destinations in Algarve are also well connected to Lisbon and Seville which are popular destinations nearby, especially if you're combining your south Portugal itinerary with Spain or other destinations in Portugal.
Faro is connected by both bus and train. This south of Portugal itinerary will start and end in Faro.
What to pack for 7 days in Algarve
The Algarve is surely a warm-weather destination in Europe and even in the winter, you should bring at least one shorts, a t-shirt, and swimwear together with long sleeves for the colder days and for the nighttime.
You'll also need to bring a jacket, gloves, and scarf because a windy night can get pretty chilly.
In the spring, summer, and autumn, you'll need mostly summer clothes. That said, I always recommend bringing one set of long sleeves, preferably windproof, and a pair of long pants for the evenings.
I recommend bringing sunscreen and a hat to cover your head no matter what time of the year you travel as the sun is strong all year round.
Here is a list that can come in handy all year round, just vary the number of winter/summer items depending on which time of the year you travel.
T-shirt/tank top
Shorts/skirt
Pants
Sweater/long sleeve shirt
Walking shoes
Flip flops/sandals
Beach towel
Sunscreen
Hat
Toiletries
Underwear
Camera
GoPro (for water activities)
Algarve itinerary 7 days
Now that we've covered the practical, let's dive into the fun part and get to this epic Algarve Portugal itinerary for a week's trip.
Day 1 – Faro
As mentioned before, this Algarve itinerary starts end ends in Faro as it's where most travelers arrive in the region. It is also one of the prettiest cities in Algarve. There are a lot of amazing things to do in Faro but with a day in the city, I suggest you start by exploring the old town.
Take a peek inside the UNESCO-listed Igreja do Combo, admire the blue-tiled Faro Se Cathedral, take the cable car up to Torre do Combo where you can enjoy mesmerizing city views, and get spooked at the Bone Chapel.
Eat a delightful lunch in the old town before heading to the beach and Ludo trails.
Faro Beach is situated right outside the city and sits right next to the wetlands of Ria Formosa Natural Park where you can go for a hike on days that are too cold to relax on the beach.
There are several restaurants and cafes along the beachside where you can enjoy dinner and drinks. This area is amazing for sunset and makes for the perfect rounding off of your one day Faro! Note that during winter in Faro, the sun descends really early due to the time zone, so make sure you plan ahead. I often miss it because I expect it to come just a little later.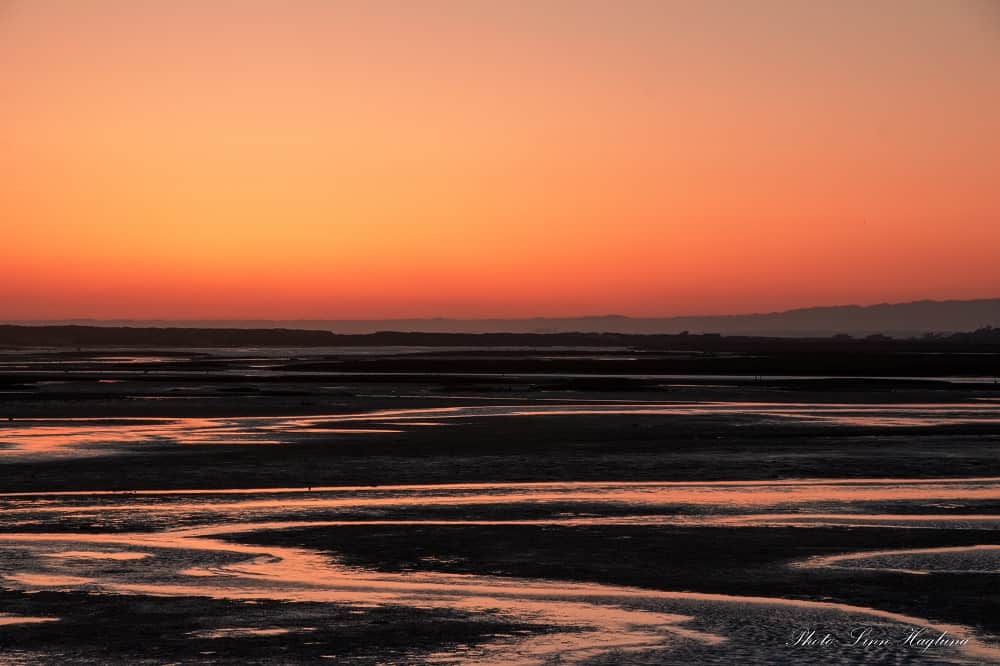 Day 2 – Faro – Olhão – Tavira
On day two of our itinerary, Algarve's most underrated city is on the menu.
It's a short trip to Olhão from Faro no matter if you travel by bus, train, or car. The journey takes between 10 and 20 minutes.
Once you get to Olhão, head to the port and get on a boat trip to see the Ria Formosa Natural Park barrier islands. A typical tour will last 2-3 hours and take you to the Culatra and Armona islands and maybe even for a little snorkeling from the boat in the summer months.
These islands have restaurants and bars if you fancy something to eat or drink, but the most beautiful part of the islands is the beaches on the outer side of the islands. So prepare yourself for a good walk across boardwalks to long, windswept beaches.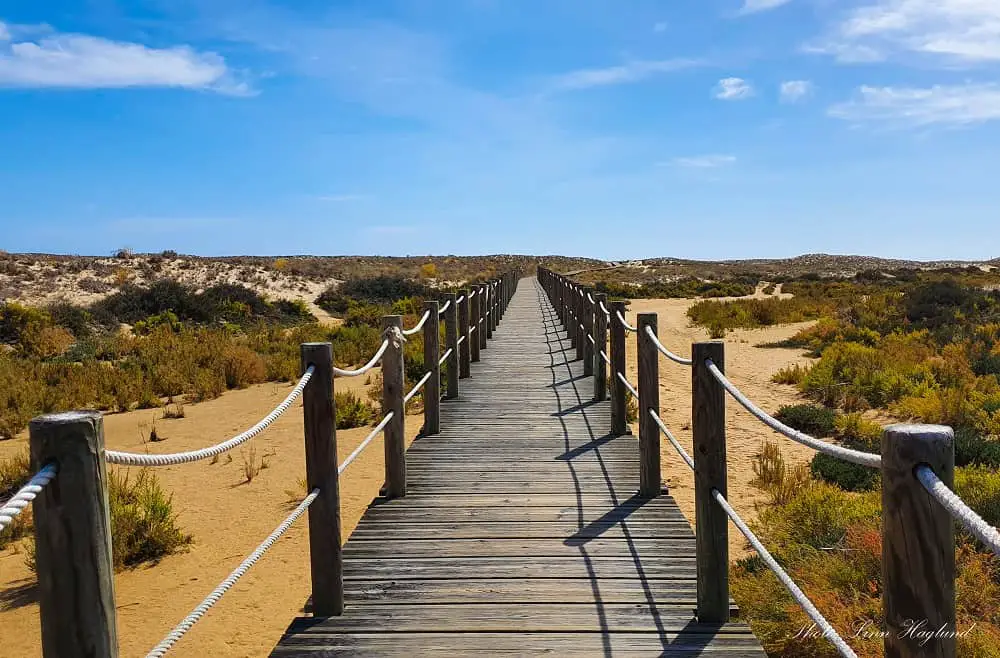 After the boat trip, have lunch at Algarve's most famous market, Mercado de Olhão. The red brick building is easily recognized on the promenade.
If you prefer to go to a different place, there are plenty of nice restaurants along the road next to the promenade to choose from.
If you have the time before heading to Tavira, there are more things to do in Olhão. Take a stroll through the labyrinth of narrow streets, explore the rich history of Olhão through the city's murals, and visit Igreja Matriz de Nossa Senhora do Rosário.
From Olhão to Tavira, it takes approximately 25 minutes. You can get there by car, bus, or train.
Depending on when you arrive in Tavira and have settled in at the hotel, take your time either sightseeing in the old town or crossing the river to find a place to have dinner.
Tavira's relaxing atmosphere will surely make for a wonderful evening and give you a feel of what tomorrow is going to bring.
Where to stay in Tavira: Check in at the wonderful Tavira House. The wonderful boutique hotel is perfectly situated in the center of the old town.

Authentic Tavira Hotel is a great hotel in the heart of Tavira with a swimming pool on the rooftop terrace.

Solo travelers might prefer a hostel, HI Tavira – Pousada de Juventude is an excellent option.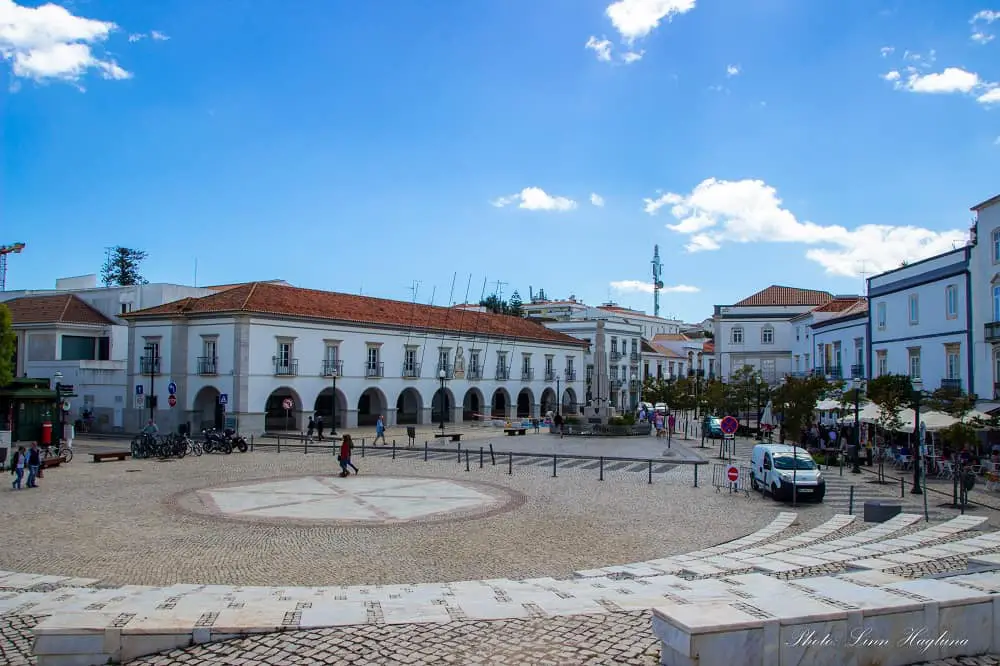 Day 3 – Tavira Island and sightseeing
Get up early for your 3rd day of this itinerary for Algarve as you're heading to another of the stunning barrier islands that protect the east coast – Tavira Island.
There are several ways to reach Tavira Island, but if you're not driving, I recommend taking the ferry from Tavira Town. The ferry starts running at 9:40 in the morning so it gives you time for a good breakfast first.
The ferry takes you to Praia da Ilha de Tavira where you can rent sunbeds and get a tan – or walk the 5 kilometers to Barril beach and the Anchor Cemetery (and back.)
There are restaurants and toilets on both beaches.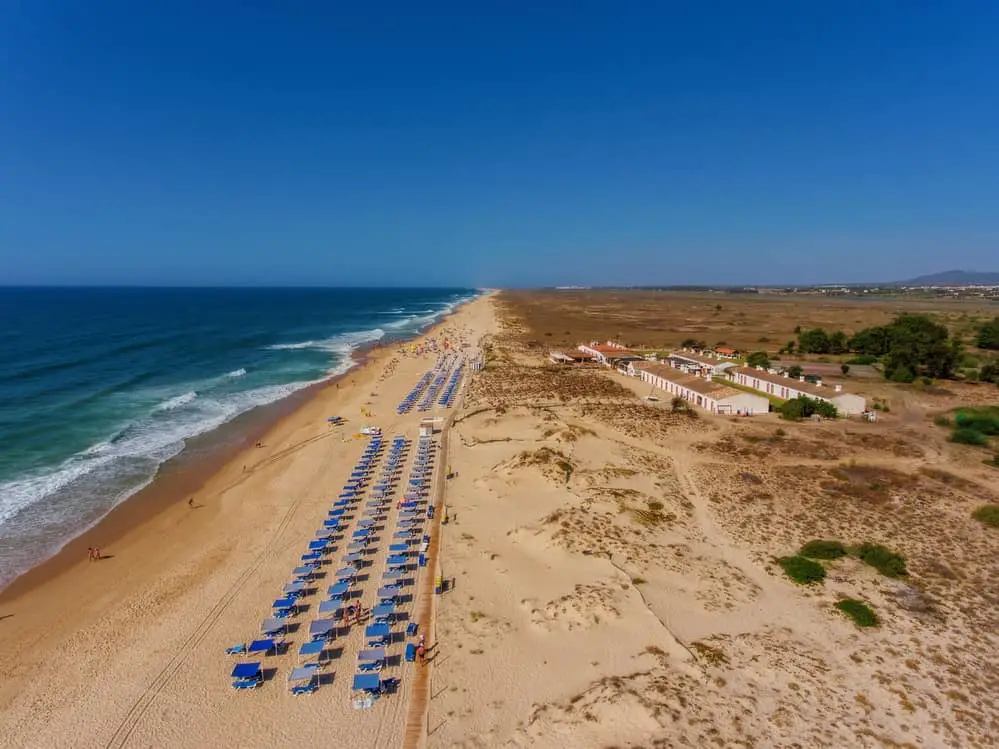 If you have a car, you can drive a few minutes to the Pedras d'El Rei resort where there's parking and a walking bridge crossing to Tavira Island. From the other side of the bridge, you can either take a tiny tourist train to Barril beach or walk the 1.3 kilometers through the natural park.
The end of the trail/train ride takes you to the curios Anchor Cemetery made up of more than 200 old, rusty anchors from the tuna fishing era – lined up side by side on the sand dunes behind the beach.
I suggest you have lunch at Tavira Island before heading back to Tavira for an afternoon of sightseeing.
There are many wonderful things to do in Tavira, but with half a day I suggest you start with the remains of Tavira Castle, the Camara Obscura, and venture down to Praça da Republica for a coffee before crossing the Roman bridge, and find a nice spot for dinner.
Day 4 Tavira to Albufeira
With a jam-packed Algarve itinerary, 7 days go fast. You're about halfway through and it's time to explore the staggering coastline that this region is so famous for.
Get up for an early breakfast so you can check in at your hotel in Albufeira and hit the beach. Make sure you check out my post about the best places to stay in Albufeira.
The easiest way to get from Tavira to Albufeira is by train. You'll have to change train in Faro and it takes more or less 1 hour and 30 minutes for the total journey. There are buses too, but with the bus changes it's usually a waste of time. Driving to Albufeira from Tavira takes 45 minutes.
There are a lot of cool things to do in Albufeira and if you have more than 7 days in Algarve you should spend a couple of days more. But today, we'll start with one of the top activities in Albufeira, a boat trip to the mesmerizing Benagil Cave.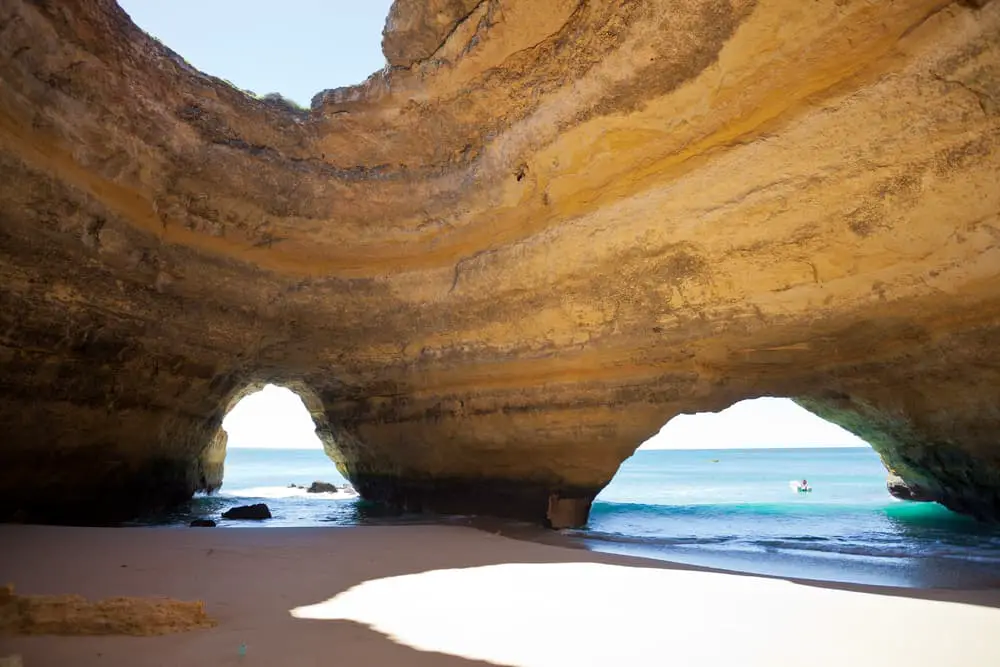 This is one of the absolute highlights of any Algarve itinerary. The sea cave is covered with a fine sanded beach lit up by natural sunlight penetrating through a large sinkhole in the ceiling.
There are plenty of tours, but I suggest booking in advance and my preference is to combine it with a dolphin safari to see these amazing creatures in an ethical way.
You can book yours here.
Top tip! There are also kayaking tours from Albufeira to Benagil Caves, they let you enter the cave as opposed to the boat tours. Check my top picks for kayaking in Albufeira here.
After your boat tour, go for a stroll through Albufeira Old Town and search for a nice place to enjoy your lunch. There's no shortage of restaurants to choose from, both local and international food.
Places worth seeing either before or after lunch are the Municipal Archaeology Museum, Igreja Matriz, Miradouro do Pau Bandeira, and Igreja de São Sebastião. Albufeira is also a great spot to go shopping in the Algarve.
If you want to spend your afternoon doing water activities, why not go parasailing or take surf lessons?
After dinner, you can either have a few relaxing drinks in the old town or by the beach. But if you'd like to add some partying to your itinerary, Algarve has no better place than "the strip" in Albufeira.
Where to stay in Albufeira:

Hotel Sol e Mar Albufeira – Adults Only is a fabulous hotel on the beach in the center of Albufeira and perfect for a honeymoon or romantic getaway.

Casa dos Arcos – Charm Guesthouse is an excellent place to stay and one of the most charming properties in Albufeira with a cozy outdoor area. They have both private rooms and dorms which makes it perfect for any type of traveler.

Another cool hostel for solo travelers is the Orange Terrace Hostel.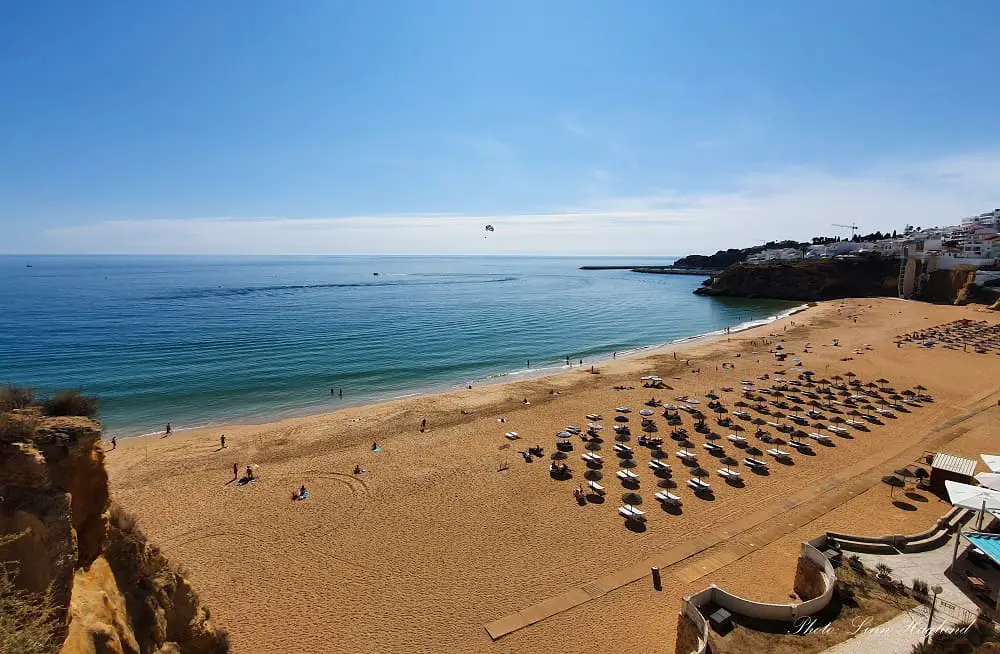 Day 5 – Albufeira to Carvoeiro
With an early breakfast, you'll get to Carvoeiro as soon as possible. This will be an active day if you want the most of it – or you can make it a relaxing day by spending most of it on Carvoeiro beach.
Getting from Albufeira to Carvoeiro can take time if you don't have a car and are on a budget. Buses stop at Lagoa and from there you have to change to Quinta das Andorinhas. From there, it is a 20-minute walk to Carvoeiro or a short taxi ride. If you don't drive, you can do the 30-minute drive by taxi which could cost you 30-40 Euros.
There are many scenic things to see and do in Carvoeiro. The quiet, beautiful Algarve town is situated rigth next to a part of the most staggering coastline on the Algarve.
Once you've left your luggage at your hotel and strapped on your walking shoes, head to Carvoeiro boardwalk. The wooden boardwalk takes you on top of stupefying cliffs where you can take a detour through tunnels and archways to explore the cliffs up close.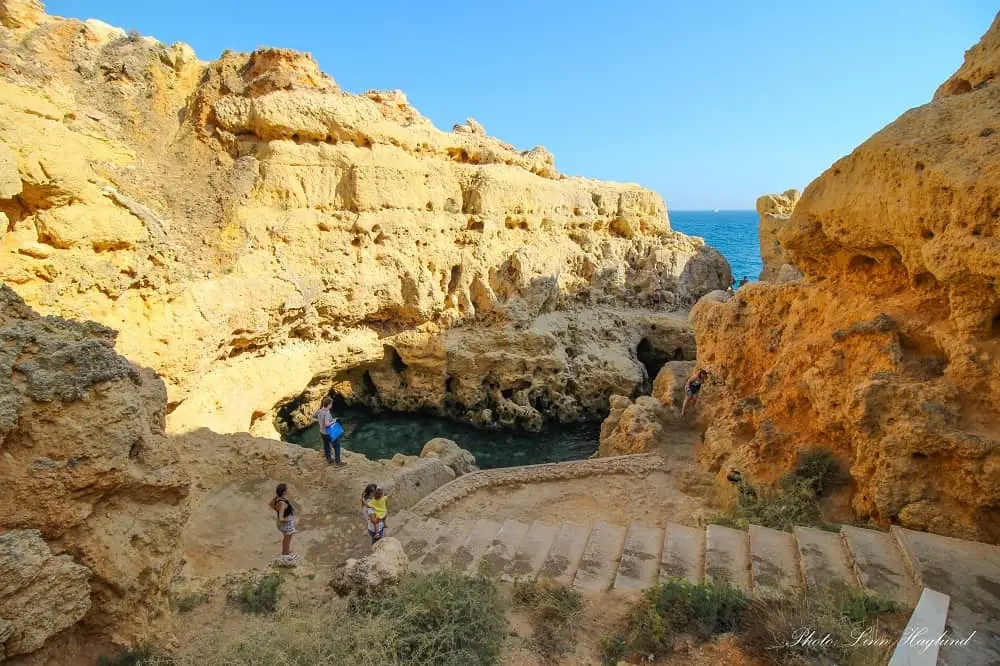 At the end of the boardwalk you reach the natural monument of Algar Seco where you can have lunch at the restaurant or relax with a cold drink with a view. There, you'll also be able to explore the cave with natural windows looking out at the Atlantic and maze at the natural pool created by underwater currents pushing the waves under the cliffs.
Now, you can choose if you want to head back to Carvoeiro and relax on the beach or wander around the village looking for souvenirs or if you're up for a seriously gorgous hike across the cliffs.
The Seven Hanging Valleys Trail takes you past the Alfanzina Lighthouse, Benagil beach, across massive sinkholes, offering views of natural arches and other impressive rock formations in the ocean before taking you to one of the most stunning beaches in Algarve, Marinha beach.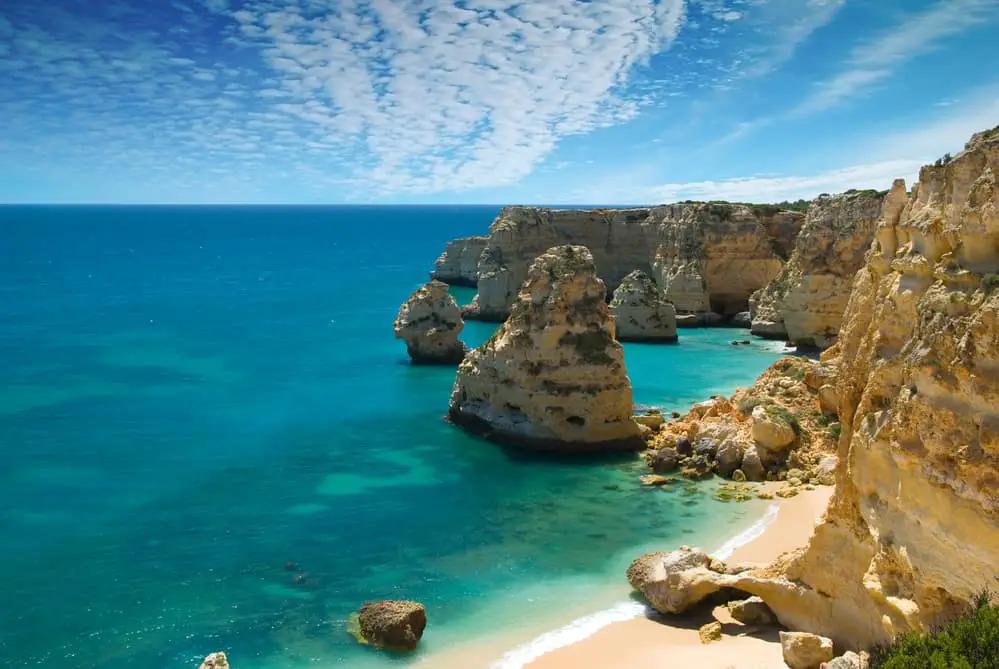 The whole hike takes about 6 hours return. If you don't feel like you have the time or energy to do the whole hike, you can do parts of it or go to Marinha beach and do the part to the natural arches from there, which might be the most beautiful part.
Where to stay in Carvoeiro:

Tivoli Carvoeiro is a fantastic luxury hotel on top of the cliffs with outdoor pools and a spa & wellness center to charge your batteries during your vacation.

Villa Welwitshia is a wonderful hotel with a pool and only a short walk to the beach.
Day 6 – Carvoeiro to Lagos
The best way to get to Lagos by public transport is to take the bus to Lagoa and change bus to Lagos from there. The journey takes 35-45 minutes. Driving takes just over half an hour.
Once you're settled in your accomodation in Lagos, it's time to hit those beaches. There's no secret Lagos has some of the most beautiful beaches in Algarve. Starting with Estudiantes beach, Dona Ana beach, and the mesmerizing Camilo beach, you'll have a blast!
Head back to town to have lunch before walking around the old town. Make sure you don't miss out on the Ponta da Bandeira Fort, Igreja de Santo António, Castelo dos Governadores, and the Slave Market Museum.
Lagos' atmosphere will surely pull you in and you can enjoy a drink out in the sun before dinner time.
Where to stay in Lagos:

Iberostar Selection Lagos Algarve is a great all-inclusive in Lagos situated right on the beach a short walk from Lagos Old Town. You can enjoy the beach or the hotel's pools, or relax in the hotel's spa.

Costa d'Oiro Ambiance Village is an amazing hotel with a nice outdoor pool area close to town and close to the beach.

The best hostel option is the Olive Hostel Lagos situated in the heart of Lagos.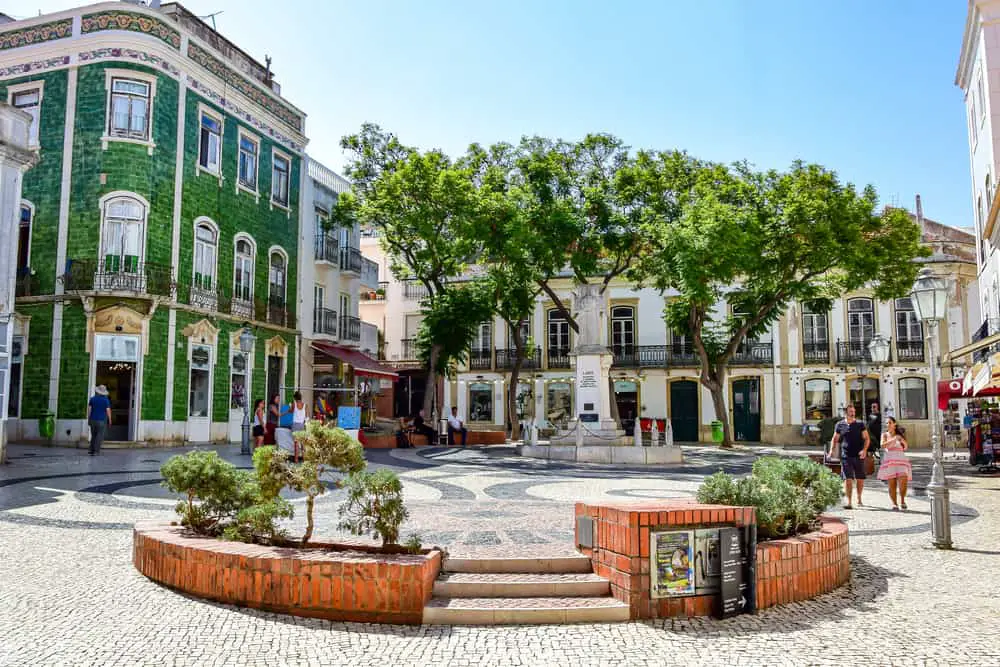 Day 7 – Ponta da Piedade – Sagres – return to Faro
According to Afar, the western Algarve is the best part of the region, and I totally agree. I'm not gonna deny that I saved some of the best places on this Algarve itinerary for last.
From Lagos, take the bus or drive to the stupifying rock formations of Ponta da Piedade – it's only a 10-minute drive from Lagos. It's also possible to walk, and this takes about 40 minutes.
Some of the best boat trips in Lagos also go to Ponta da Piedade, so if you want to explore the unique site from the Ocean, this is the way to go (highly recommended!)
There, you can walk on top of the cliffs, walk down the stairs to the bottom, take a boat tour, or walk along the boardwalk before continuing to the far west tip of the Algarve – Sagres.
If you don't drive, I recommend that you go on a guided tour as the public transport is really poor in this part of the Algarve.
This tour is great for exploring the top things to see in Sagres. It covers the village, fortress, and Cape St Vincent with the wild cliffs and beaches. If it works better with the tour, do Ponta da Piedade after Sagres.
An alternative is to go on a guided kayak tour to Ponta da Piedade. If you choose that, check out this tour.
When you get back to Lagos, you can either have dinner there before leaving or wait until you get back to Faro.
There are trains from Lagos to Faro that take up to 1 hour and 45 minutes. Driving takes one hour.
Reflections on this southern Portugal itinerary
I hope you've enjoyed this one week in Algarve itinerary exploring some of my favorite highlights of this amazing Portuguese region.
This is a good starting point to explore the Algarve as a first-timer, but even if you have been before, there's no reason not to visit the same cities and towns again, as you'll get the chance to discover new corners and sights that you might not have seen the first time around.
What I love about the Algarve is that there's always something new to see and endless reasons to return. Happy travels!