In the middle of the Seven Hanging Valleys Trail sits the astounding Benagil beach (Praia de Benagil), mostly known for the easy accessibility to the world-famous Benagil Cave.
Steep, golden cliffs curtain down to the popular beach on both sides creating a natural shield for beach dwellers. But this is by no means the regular beach on the Algarve go to relax on the beach interruptedly for a whole day.
Water activities are easily accessible and you see more GoPro's here than on any other of Algarve's beaches.
Most people go there for one reason. To explore the caves. Here is a complete guide for getting the most out of your day at Benagil beach, Portugal.
Disclosure: This post may contain affiliate links. That means that if you make a purchase through one of those links, I will get a small commission at no extra cost to you.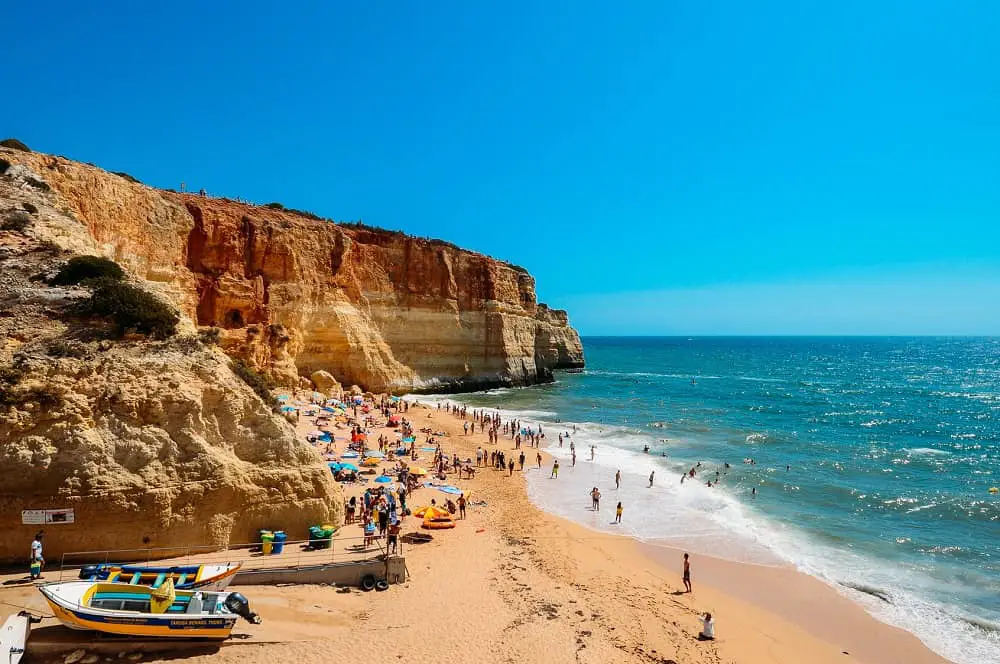 How to get to Benagil beach
There's no public transport that takes you directly to Benagil beach. However, you can take bus 107 from Lagoa's Terminal Rodoviário to Carvalho beach.
The journey takes 40 minutes and from Carvalho beach, you'll have to walk another 15 minutes westwards until you reach Benagil beach.
Most major towns in the Algarve are connected with Lagoa by bus.
However, the easiest way to get to Benagil beach is by car. It's easily found by plotting in 'Benagil beach' in the GPS. Yet, you'll see brown beach signs with the beach name on them once you get to Carvoeiro.
There is a large area for parking next to the beach. The beach itself is down a steep hill in a U-turn so you will likely pass the beach (which seems super small from the road as most of the beach is hidden behind the cliff) on your way to the parking.
There is no sidewalk so you have to walk down along the road.
It takes 15 minutes to drive from Carvoeiro to Benagil beach. From Lagos it takes 40 minutes, and from Armação de Pêra it takes 20 minutes.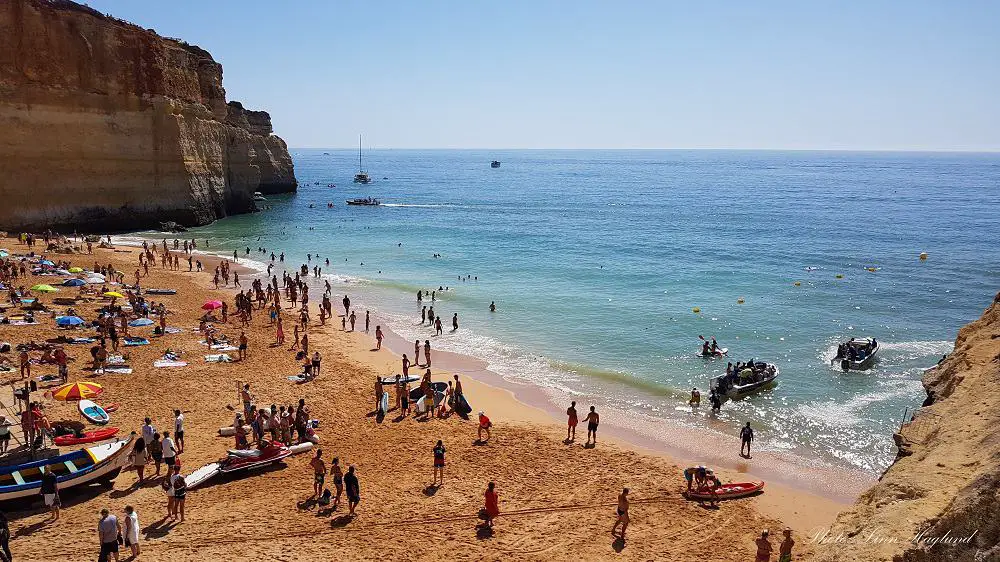 Facilities at Benagil beach
Benagil beach does not have parasols and sunbeds for rent, so you will have to bring your own. It's highly recommendable to take a parasol as there is no natural shade.
This is a beach for water activities – mainly transport to see Benagil Cave and the rest of the hidden Benagil beaches and caves.
Here are the facilities you can find at Benagil beach:
Lifeguards in the summer season
Kayak rental
Paddleboard rental
Boat trips
Restaurant
Parking
Even in the off-season, you can rent kayaks, and paddleboards, and go on boat trips to see the Benagil Cave and the rest of the intriguing coastline of the area.
In the summer months, it's highly recommended to get there early to see the cave before the crowds come. It does lose a bit of charm when the beach inside is jam-packed with people and there are boats queueing outside to peak into the cave.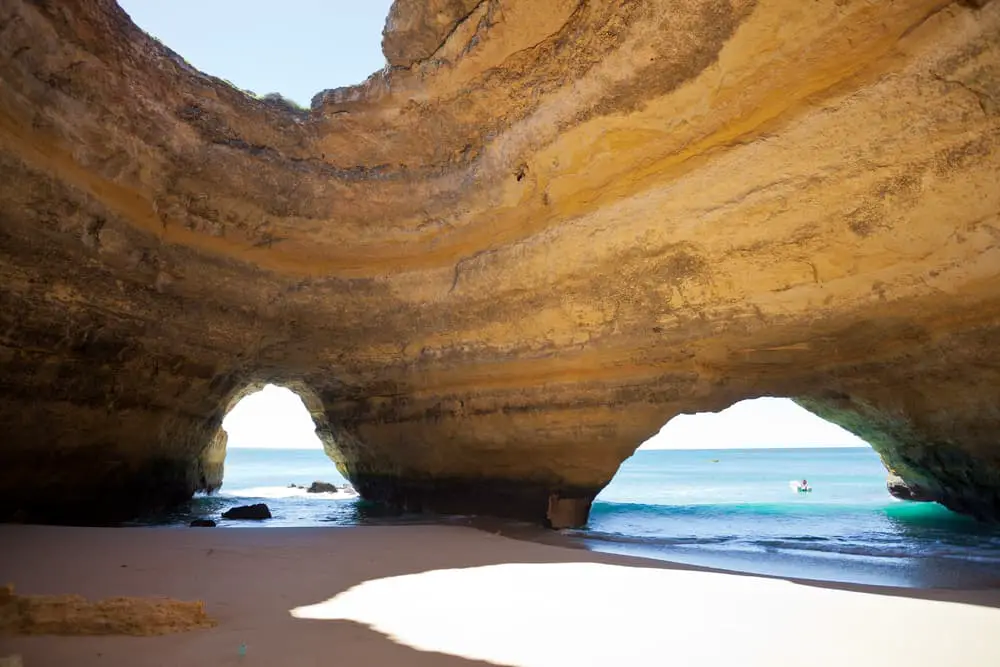 Heading out on a Benagil beach boat tour? Check out these tours:
Read my complete Benagil Cave guide here.
How to spend a day at Benagil beach
As mentioned, I highly recommend starting the day by renting a kayak or SUP to see the Benagil Cave before it gets crowded. Make sure you have a waterproof camera, like a GoPro, or a waterproof mobile phone bag so you can take pictures at the beach inside the cave.
Benagil Cave has been nominated as one of the best caves in the world several times by major travel magazines like Condé Nast Traveler so this is truly a worthy place to visit.
Other than relaxing at the beach and dipping in and out of the glittering water, you can walk on top of the cliffs to see Benagil Cave from above.
There are many other sinkholes along the coast and you can choose to go for a short stroll or take on your hiking shoes and follow the trails to Marinha beach on one side or Algar Seco on the other. If you opt for this, there is a restaurant in each of these places where you can have your lunch.
Even though you've explored Benagil Cave and probably other beaches and caves by paddleboard or kayak, it's fun to go on a boat trip too.
If you choose to hang out at the beach and nearby the whole day, you can get a bit to eat at the restaurant by Benagil beach.
Important Note! Do NOT try to swim from Benagil beach to Benagil Cave. The distance is not far, but there can be insane underwater currents and changes in tides so it can be dangerous!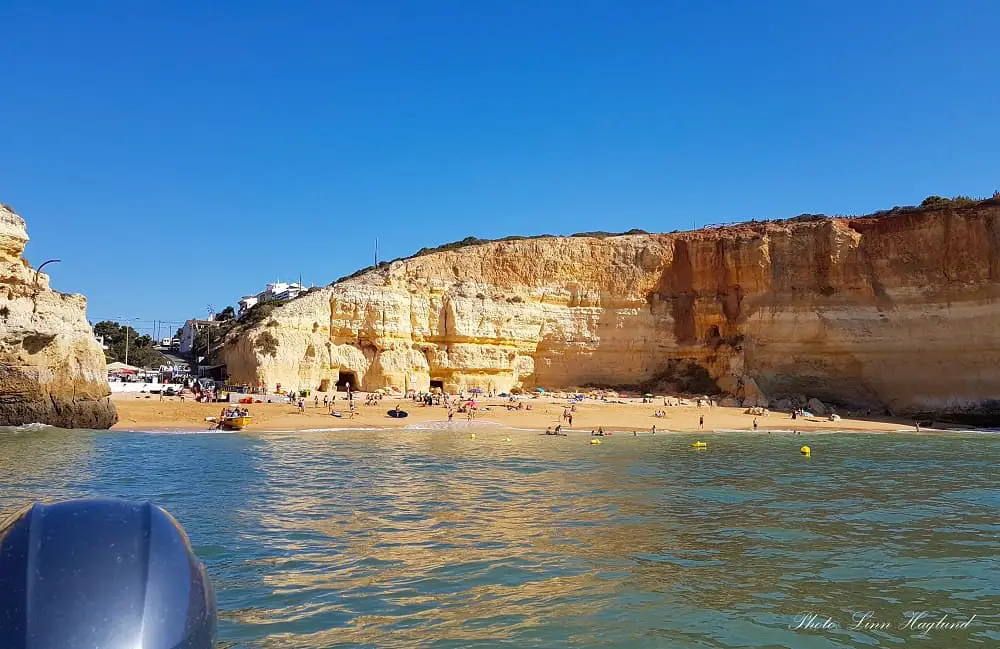 Things to do near Benagil beach
There are a lot of things to do near Benagil beach. It's pretty much placed in between the most astounding nature on this part of the Algarve and is a popular stop on the Seven Hanging Valleys Trail. So here are my favorite activities to do around Benagil beach in Algarve, Portugal.
Hike the Seven Hanging Valleys Trail
Benagil beach is situated halfway through the stunning Seven Hanging Valleys Trail. You can either walk the whole trail from Algar Seco to Marinha beach and take a long stop at Benagil beach or you can walk from the beach and do half the trail either way.
This is without a doubt one of the most beautiful hikes in Algarve and you'll pass all of the mentioned attractions mentioned below.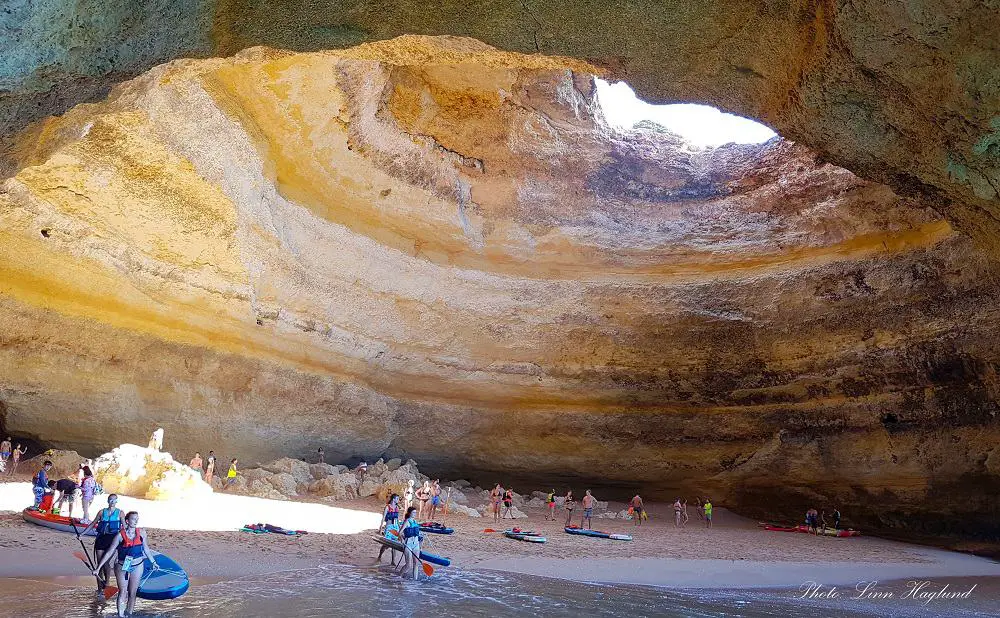 Explore the Alfanzina Lighthouse
Alfanzina Lighthouse is one of Algarve's most iconic lighthouses. In 2020 it turned 100 years old. You can find it not far from Benagil beach which makes for a nice walk with beautiful views. Make sure you have proper shoes when walking on the trails around Benagil.
Discover the hidden caves of Algar Seco
Algar Seco is one of the most unique places near Praia de Benagil. get spoilt with dramatic walkways around the rocks, caves with natural windows, and a natural pool.
However, be careful when swimming in the natural pool as the underwater currents can be extremely powerful as they are powered by the waves on the other side of the rocks.
Take a picture at the Natural Arches
A walk from Benagil beach, Algarve's famous twin arches stand proudly in the water attracting thousands of people. To get a specifically cool picture, look for the spot where the arches create a heart shape with the foreground.
But be careful and don't walk out on the edges as the cliffs can have loose ground and be fatal.
Have lunch in Carvoeiro
Carvoeiro is truly one of the most charming towns in the Algarve and not far from Benagil. Algarve's picture-perfect white houses, painted with bright colors around windows and doors make an appearance throughout Carvoeiro's streets.
There are plenty of nice places to have great local food for lunch and you can go for a refreshing dip at Carvoeiro beach before eating. You can read more about what to do in Carvoeiro here.
Walk Carvoeiro boardwalk
Carvoeiro boardwalk is not far from Benagil beach. Connecting the quaint town of Carvoeiro and Algar Seco, the wooden boardwalk makes for a stunning walk.
Venture down the rocks, through tunnels, and discover caves and natural windows.
Hang out at Marinha beach
If you get easily restless and want to change beach halfway through the day, Marinha beach is your best alternative. Nominated one of the most beautiful beaches in the world, you can expect a stunning canvas of rock formations emerging from the crystal clear water.
The steep cliffs drop dramatically down to the golden beach that expands along a long untamed stretch and the adventurous will climb across the rock formations at the far end.
Other spectacular beaches in Algarve
Reflections on Benagil beach
Benagil, Portugal is truly a wonderful place that should be on your Algarve itinerary. Both Benagil beach and cave are amazing.
By making it a half-day or a full day while taking advantage of the water activities and hiking opportunities in the area you will not regret going there. I can truly say that this is one of the best things to do in Algarve.
Have fun!