Albufeira is one of the top cities to visit in the Algarve in southern Portugal. There is an incredible number of epic activities you can do in Albufeira which makes it one of the most sought-after adventure destinations on the Algarve.
But it's not always easy to get there, especially if you're coming from Lagos. Albufeira is quite a bit of distance from Lagos, but it's well worth the effort as one of the most beautiful towns in the Algarve.
It is also one of the best places to stay near Faro, so if you have a flight out of the country it is a great place to base yourself.
I know you want to know how to get from Lagos to Albufeira without all the hassle and overwhelm of researching and scouring every piece of data on the internet.
Don't worry, I got you.
No more researching "exactly how far is Lagos from Albufeira?" or "where do I find the Lagos to Albufeira train timetable?" because I've got it all here in this neat little blog post.
Here's everything you need to know about traveling from Lagos to Albufeira so that you can explore all the amazing things to do in Albufeira!
Disclosure: This post may contain affiliate links. That means that if you make a purchase through one of those links, I will get a small commission at no extra cost to you.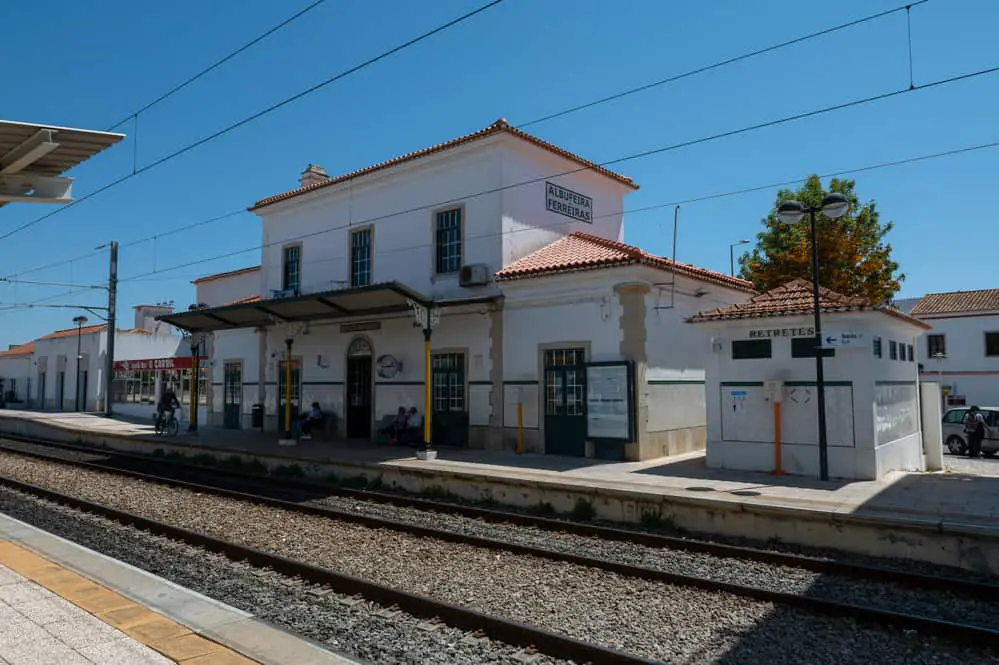 How to get from Lagos to Albufeira by public transportation
The most budget friendly way to travel from Lagos to Albufeira is by public transportation. 
There are a few different ways to do this, but the most direct route is by bus. The train is also a good option, as I'll show you later. No matter how you choose to travel on your Algarve itinerary, I've got you covered.
Note that availability can be different if you travel from Lagos to Albufeira in winter or in the summer.
How to travel from Lagos to Albufeira by bus
One of the most efficient ways to travel Algarve is by bus. Lagos to Albufeira, in particular, is filled with gorgeous views and sceneries at no major expense to your wallet. You can easily go on a day trip to Albufeira from Lagos by bus.
To get started, know that there are many different bus companies that operate in Lagos, so you will need to do some research to find the one that best suits your needs. I have done that for you so here's what you need to know.
The main operators that provide services taking you from Lagos to Albufeira are:
1. Alsa
Across Europe, Alsa is probably the one of best options if you're looking for a hassle-free ride via bus. Lagos, Albufeira, and Faro, among many other towns in Algarve are fortunately served by the Alsa bus company.
They offer direct services that will cut short the typical journey from Lagos to Albufeira to just around 60 minutes depending on the traffic.
It's also a preferable option for many who prefer a luxurious drive as their Standard class has free WiFi on board, touch navigation screens for entertainment, and footrests for the comfort of their passengers.
The cost of a one-way direct ticket is around €15+. You can book a ticket from the Central Bus Station of Lagos to Albufeira bus station from almost every ticketing website online.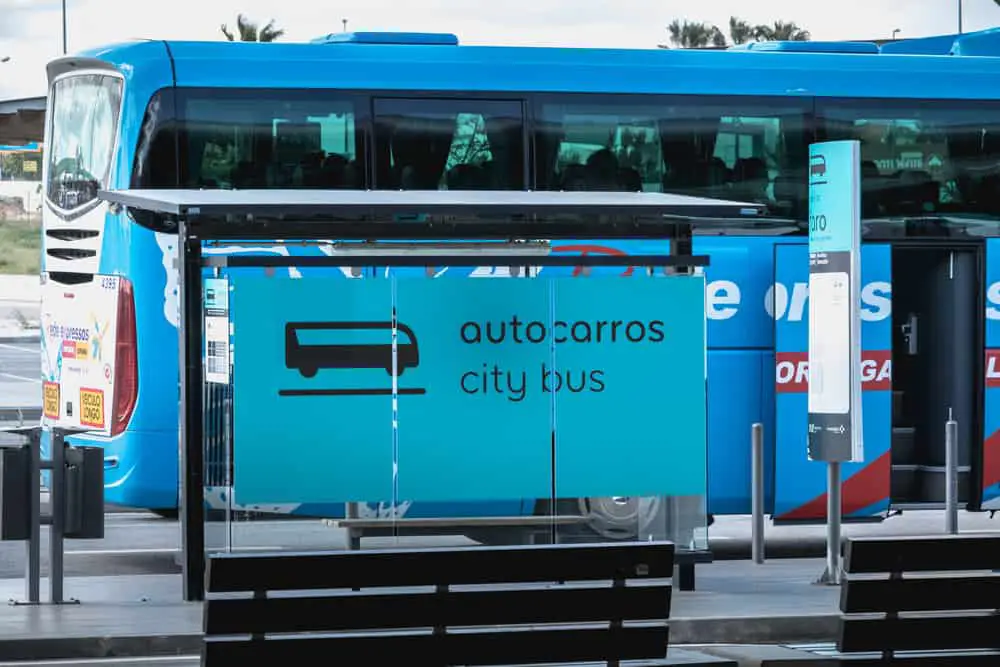 MAKE SURE YOU DON'T MISS OUT ON YOUR TRAVEL DATES…
2. EVA Transrapido
EVA's TR Line requires you to head to Lagos Road Terminal and inquire about a ticket to Albufeira.
From the Road Terminal, there will be 10+ stops between the station and Albufeira Bus Terminal, depending on the route you choose. The ride will take around 90 minutes or so.
Due to the amount of stops, EVA's TR Line is the cheapest option to get from Lagos to Albufeira with tickets ranging from only €4-6.
You can check out their schedules and prices on their official website but buses typically arrive at the bus station in Lagos every 2 hours.
3. RenEX
RenEX is also a good option for cheap tickets, with pricing typically ranging from €5-8.
Like EVA TR, this Lagos-Albufeira bus ride will take about 90 minutes as well.
The main difference between the two operators is that RenEX typically embarks only 4 times a day from the station so make sure to not miss your bus as it will be quite a while before the next one arrives.
4. Rede Expressos
The Rede Expressos, like Alsa, is more of a premium bus line, with 4G Internet connection, comfortable spacing between seats, leather upholstery, and electrical outlets for charging equipment in all rows of seats.
Tickets range from €8-11 at Rede Expressos and the drive will typically take around 60 minutes.
Unfortunately, this bus line only leaves from the Lagos bus station twice a day which makes it a bit of a hassle.
For each mentioned bus from Lagos to Albufeira earlier, I have compiled a small summary for your convenience and reference.
| | | | | | | |
| --- | --- | --- | --- | --- | --- | --- |
| Bus line | # of stops | Length of ride | Frequency | Price | Features | Contact |
| Alsa | Direct | 60 minutes | 6x(6:15am, 8:00am, 10:30am, 15:30pm,17:00pm)  | €15+ | WiFi, touch Navi screens, footrest | N/A |
| EVA TR | Depends | 90 minutes | Every 2 hours | €4-6 | | +351 289 899 700clientes@eva-bus.com |
| RenEx | Depends | 90 minutes | 4x | €5-8 | | +351 707 223 344cliente@rne.pt |
| Rede Expressos | Direct | 60 minutes | 2x | €8-11 | WiFi, leather seats, outlets per row | +351 21 75 24 524cliente@rne.pt |
For all these bus operating companies, especially for Rede Expressos and Alsa, advanced booking, whether via phone, email, or booking website, is preferred over on-site booking.
Although buses are typically the cheapest mode of transportation, they are not without their cons.  
Buses can be subject to traffic, which can make the journey longer than anticipated.  Additionally, if you are traveling with luggage, there may be an extra charge.  
And finally, bus schedules can be limited, with buses only running from 9:00 to 18:00.
If the bus seems like the best option for you, check availability here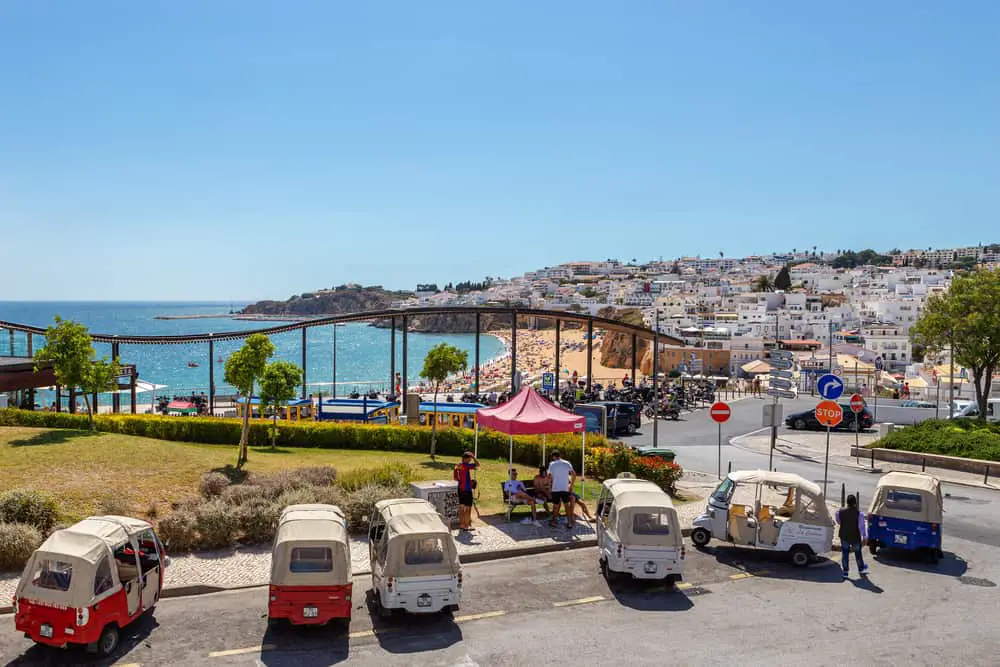 How to travel from Lagos to Albufeira by train
If you ever change your mind, the Lagos station is just a kilometer away from the central bus station if you ever want to take the train. Lagos to Albufeira is a journey of about an hour, so traveling by train is totally doable if you plan a day trip from Lagos.
From Lagos to Albufeira, train rides are operated solely by Comboios de Portugal.
The regional train from Lagos to Albufeira will go through 11 stops before arriving at the station in Ferreiras, which is unfortunately 7km from the city center of Albufeira.
You can either leave from Lagos station or Meia Praia since the stations are just 4 minutes apart anyway.
A ticket will cost you somewhere around €4-5 to board the 2nd Class or Tourist carriage.
Trains leave at quite random times from the station so it's more helpful to check the schedule at cp.pt rather than rely on any patterns or predictions of frequency.
From Ferreiras, you can take a local Giro bus to Albufeira. The bus will make several stops along the way, but the entire trip should take no more than 20 minutes.
A one-way ticket on the Giro bus costs €1.40 which you can purchase from the driver.
Alternatively, you can book a private transfer.
Altogether, a Lagos-Albufeira train should be a solid alternative to taking the bus as there are few differences in terms of comfort, price, and speed.
Check availability on your dates here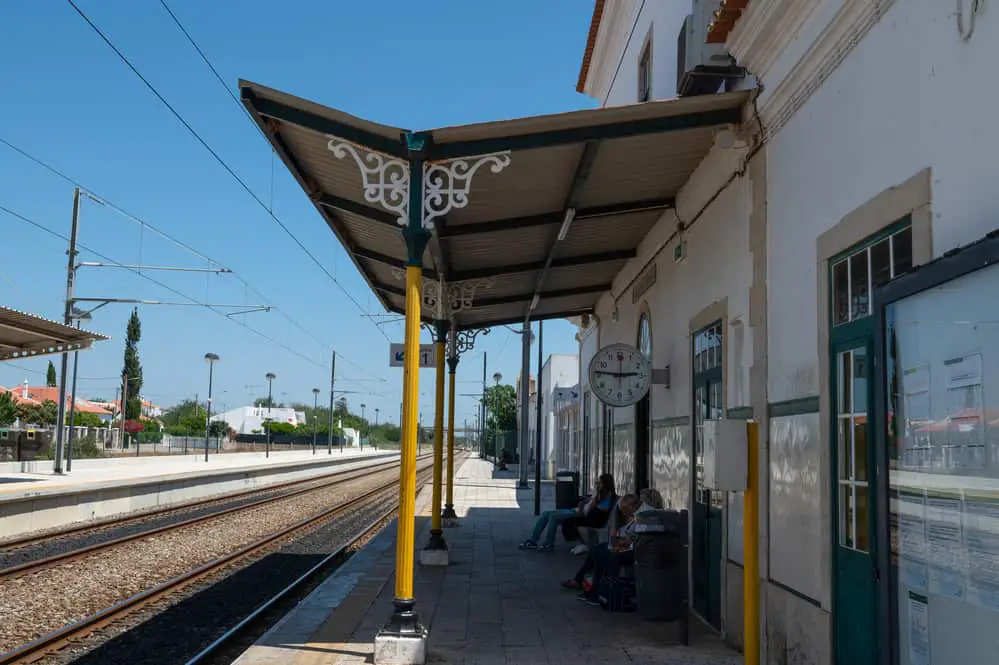 How to travel from Lagos to Albufeira by private transportation
While there are many options for public transportation from Lagos to Albufeira, there are also a number of other ways to make the trip.
Private transportation is always an option if public transportation doesn't work for you. 
The most comfortable way to travel from Lagos to Albufeira is almost always via private ride. This includes options such as hiring a car or using a taxi or ride-sharing service. 
By private transportation, the journey time is cut down to around 45 minutes and the distance without all the stops buses usually take is shortened to just 58.9 kilometers.
Here are a few things to keep in mind when making the trip from Lagos to Albufeira by private transportation. Note that if you only have a weekend in Algarve, this will save you time that you can spend exploring the best things to do in Algarve instead of waiting for public transport.
Check prices for private transportation here
How to travel from Lagos to Albufeira by rental car
If you're looking to rent a car during your stay in Portugal, there are a few things you should know before hitting the road. 
First, you'll need to have a valid driver's license and an international driver's permit if your license is from a country outside the European Union. 
You'll also need to be at least 21 years old to rent a car in Portugal, and some rental companies may require you to be 25. 
Once you have all of your paperwork in order, you can start shopping around for car rental rates.
A rental car is a great option for those who want the freedom to explore at their own pace. The drive from Lagos to Albufeira is a relatively easy one, taking a little less than an hour to complete.
Be sure to have a good map and allow plenty of time to enjoy the scenic coastal drive.
The cost of renting a car will depend on a number of factors, including the type of car you rent, the length of your rental, and any optional insurance or other add-ons you purchase. 
In general, you can expect to pay anywhere from €30 to €100 per day for a basic economy car.  For a more luxurious vehicle, you could pay €100 to €200 or more per day. 
Prices will also vary depending on the time of year you rent. You can check prices for your trip dates here.
Keep in mind that these prices do not include petrol, which will be an additional cost.
If you want to go on an Algarve road trip and rent a car, make sure you book early to secure the best price! Especially during high season, rental cars get sold out quickly and the most expensive ones remain last. Check availability and prices for your trip here.
Finally, one of my favorite reasons to travel by car is that you get to stop by some amazing places along the way, like some of the most beautiful beaches in Algarve or epic attractions like Benagil Cave.
Check availability and prices here
How to travel from Lagos to Albufeira by taxi
For those looking to save a bit of money, taking a taxi is almost always cheaper than keeping up with the costs of a rental.
For reference, the average taxi fare from Lagos to Albufeira is upwards €50.
Taxis are one of the most popular ways to travel from Lagos to Albufeira after all.
And, while they may be more expensive than other options, they offer a number of advantages, including door-to-door service and the ability to avoid traffic.
In addition, taxis are a good option for those who do not want to deal with the hassle of renting a car. 
Since taxis are also so popular in Portugal, they are relatively easy to find.  Just be sure to agree on a price before getting in the taxi, as there have been reports of some taxi drivers overcharging tourists.
Of course, it's important to choose a reputable taxi service, as there are a number of scams that target tourists in the area. 
When booking a taxi, be sure to use a licensed service, and avoid any driver who seems unfamiliar with the route or who quotes a price that is significantly higher than the going rate.
How to travel from Lagos to Albufeira by private transfer
Private transfers are a great way to travel from Lagos to Albufeira, especially if you are traveling with a group. 
Private transfers can be booked in advance and they offer door-to-door service. 
In addition, private transfers are usually more comfortable than other options and they can be customized to fit your needs. 
The only downside to private transfers is that they are usually more expensive than other options.
The average cost for a private transfer from Lagos to Albufeira is €100+ for up to four people. So if you're sharing with a group, that's just €25+ per person.
Unfortunately, if you're traveling solo, the cost will be the same so it might not be your first option.
The price might also increase if you have a larger group or if you require additional services, such as luggage transport or a child seat. 
A private transfer is a good option for those who want the convenience of door-to-door service and don't mind paying a bit extra for the comfort and convenience.
Overall, it's a comfortable way to travel and can be arranged through your hotel or a tour company.
I highly recommend Welcome Pickups, you can check availability for your trip here.
How to travel from Lagos to Albufeira by tour
Joining a tour is another great way to travel from Lagos to Albufeira, especially if you're short on time since you're on a jam-packed schedule.
It's also a great way to see the sights and learn about the culture and history of the area.
Tours typically include round-trip door-to-door transportation, a guide, and admission to attractions.  They can be booked through your hotel, a tour company, or online. 
Prices vary depending on the length and type of tour but expect to pay €50 to €100 or more per person.
Reflections on a Lagos Albufeira trip
Overall, the best way to travel from Lagos to Albufeira depends on your budget, travel style, and preferences. 
If you're looking for the cheapest and most efficient option, the bus and the train are the way to go. 
For those who want a little more comfort and flexibility, renting a car is a great option. 
And, for those who want to arrive in style, there are a number of private transfer and taxi options available.
Whatever it is you choose, remember to enjoy yourself when you get there. Whether you want to go on a kayak tour in Albufeira, laze on the beach, or go shopping in the quaint old town, there is plenty to do.
Don't forget to be a responsible traveler as well. Avoid places advocating unethical animal tourism, leave no trace, respect local culture, and most importantly, have the time of your life!
Algarve is a beautiful place with so many things in store for you to discover.
If you haven't booked your accommodation yet, make sure you check out my complete guide to the best areas to stay in Albufeira.
Happy travels!