If you're wondering if winter in Faro, Portugal is worth it, you're in the right place. Especially if you come from colder winter destinations, you might long for sun and warm weather to break the winter depressions.
Faro absolutely delivers sun, beach, nature, attractions, cafés, and more. In fact, there are so many things to do in Faro that you won't get bored even by spending most of the time on your Algarve itinerary in this lovely city.
After spending winter in the Algarve numerous times, I can tell you that it's more than worth it. There are so many things to do in Faro in winter, and many of them are better done in winter than in the summer.
Especially things like hiking and visiting museums. Because let's be honest. The hot summer months are best spent on Algarve's beaches and carrying out thrilling water activities.
Read on to find out everything you need to know about winter in Faro, what the weather is actually like, and the best things to do.
Disclosure: This post may contain affiliate links. That means that if you make a purchase through one of those links, I will get a small commission at no extra cost to you.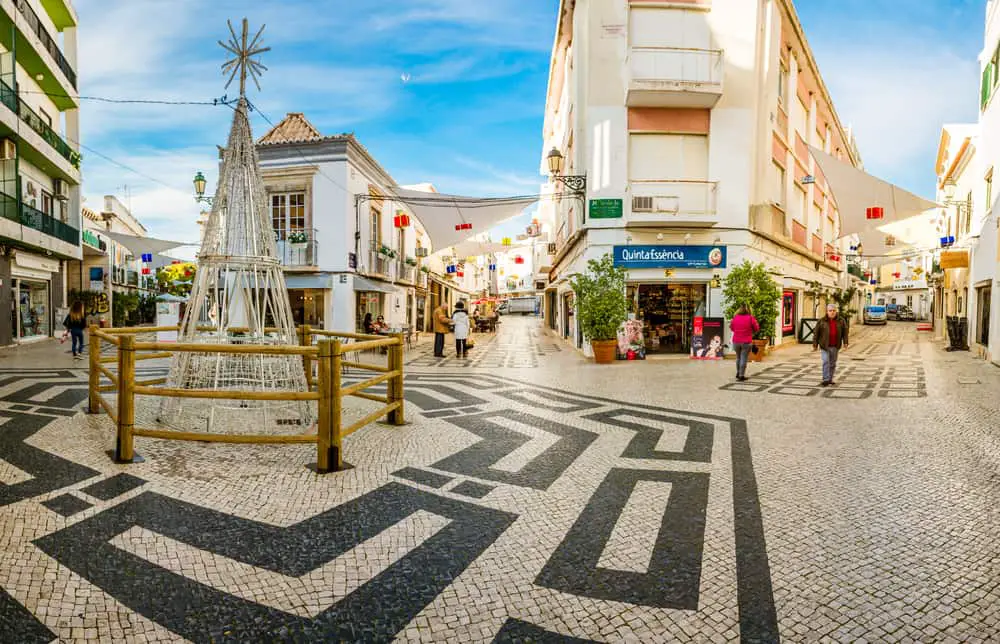 Faro winter weather
Faro winter weather is usually mild with sunny days, but that is no guarantee. With winter temperatures ranging between 15 and 18 degrees in the daytime and going down to an average of 8 degrees at night, you must be prepared to layer up.
On average, the winter months in Faro see 5 days of rain a month. Of experience, these can come scattered out one and one or be clustered into a two-week period of torrential rain.
So if you choose to visit Faro in winter, make sure you bring an umbrella and a raincoat. It's better to be prepared than to get soaked.
I also recommend preparing your Faro itinerary with room for a change of plans – like visiting museums or cuddling up in a café or restaurant with hot drinks if the weather doesn't play on your side.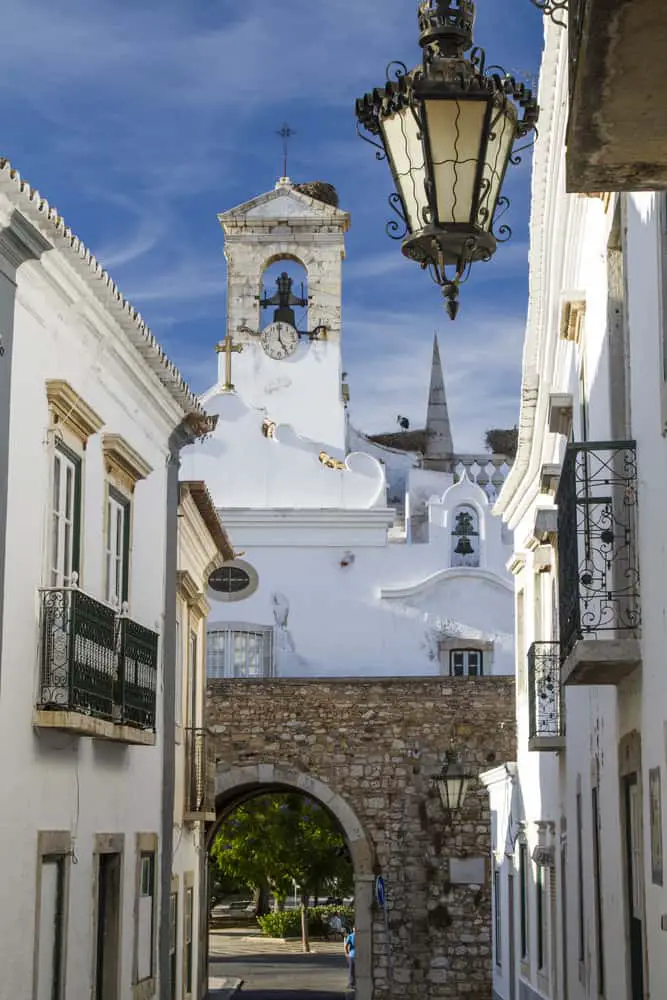 How to get to Faro in winter
Even during winter, Faro airport receives a high number of international flights, although there are a lot fewer tourists than in the summer months.
To get to the city center, you can either take the bus or book a private transfer which will get you straight to your hotel.
Check prices with Welcome Pickups here.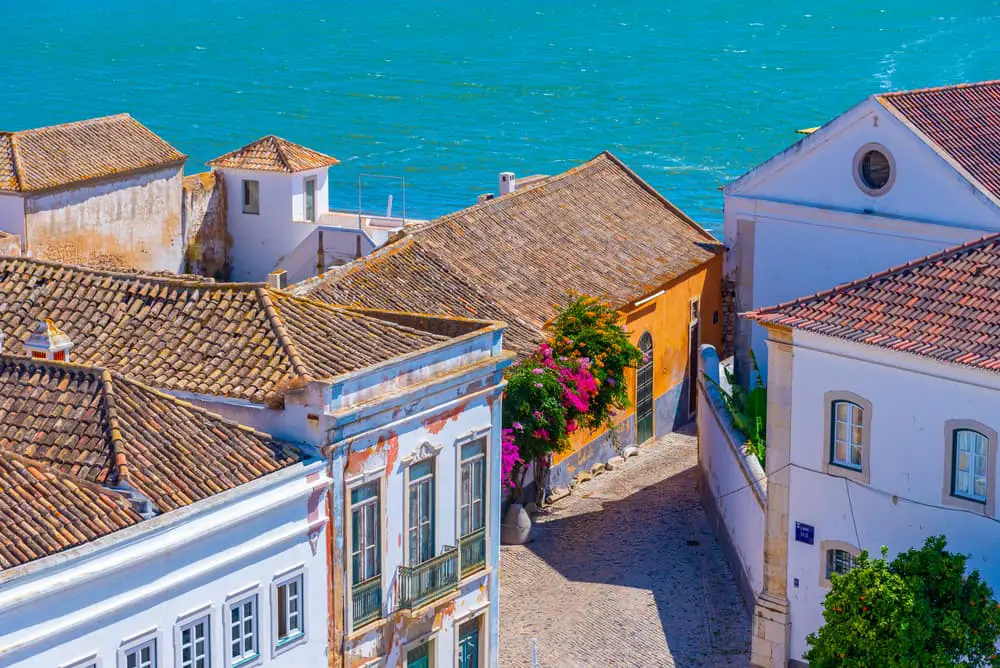 POPULAR ACTIVITIES IN FARO PORTUGAL
Where to stay in Faro in winter
There are many great places to stay in Faro. For first-timers, I recommend staying around the Old Town and Downtown areas. To make it easy for you, I'll list up some of my top hotel recommendations here.
TOP HOTEL PICKS FOR WINTER IN FARO:

LUXURY: 3HB Faro -fabulous hotel with 2 pools and restaurants, bar, and a spa and wellness center.

MID-RANGE: Le Jardin Secret de Faro Guesthouse – beautifully decorated guesthouse in the heart of Faro.

BUDGET: Sunlight House – private rooms with options of shared or private bathrooms with a shared kitchen for making your own meals.

APARTMENT: a D'Amelie – beautiful apartments in the heart of Faro Old Town, some of them with a terrace or balcony.

HOSTEL: Hostel Casa d'Alagoa – situated right outside the old city walls there are plenty of restaurants and bars nearby. Lovely, young atmosphere.
Things to do in Faro in winter
Visit the bone chapel
One of the best things to do during winter in Faro is to visit the spooky Bone Chapel. This is also among the best activities if it rains.
The ossuary chapel is part of the Nossa Senhora do Carmo church and is decorated with the bones of thousands of Carmelite Monks.
You must enter through the church and will find the chapel at the far end. Entry includes both the church and the Bone Chapel.
Opening hours summer: Monday-Friday 10:00-13:00 and 15:00-17:30, Saturday-Sunday 10:00-13:00
Opening hours winter: Monday-Friday 10:00-13:00 and 15:00-18:00, Saturday-Sunday 10:00-13:00
Entry Fee: 2 Euros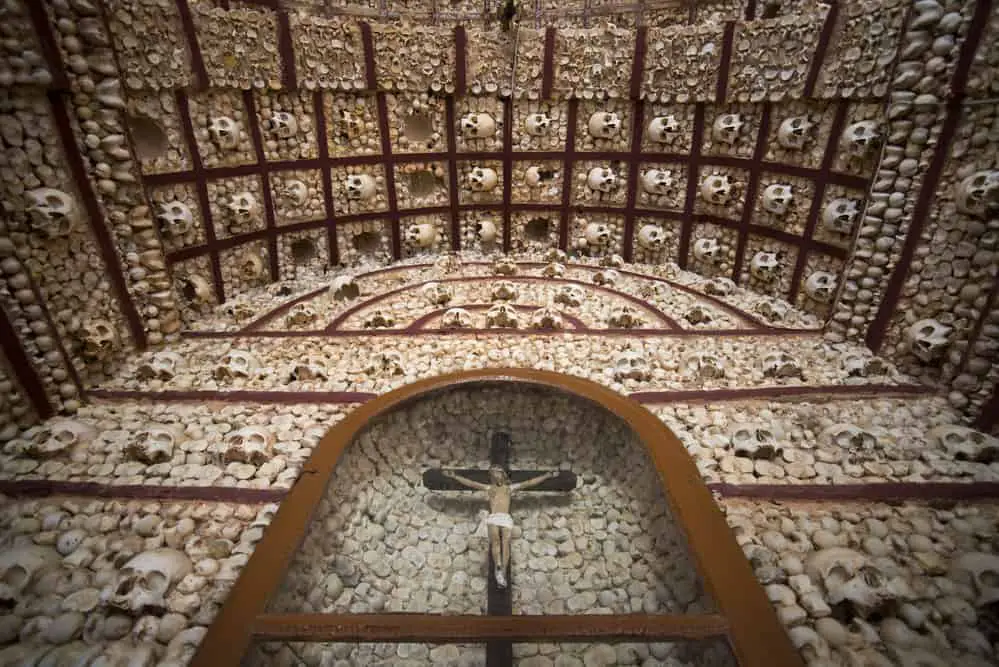 Grab a beer in the sun
Alright, so while you can head inside and escape the cold when it's raining, you can also soak in the sun on warm days in the winter in Faro.
There are so many cute cafes and restaurants with outdoor seating where you can soak in some winter sun. You might also find some open bars along Faro Beach.
This is a great place to be if you want to combine a drink in the sun with walking in Ria Formosa Natural Park, as you have the Ludo Trail right across the bridge.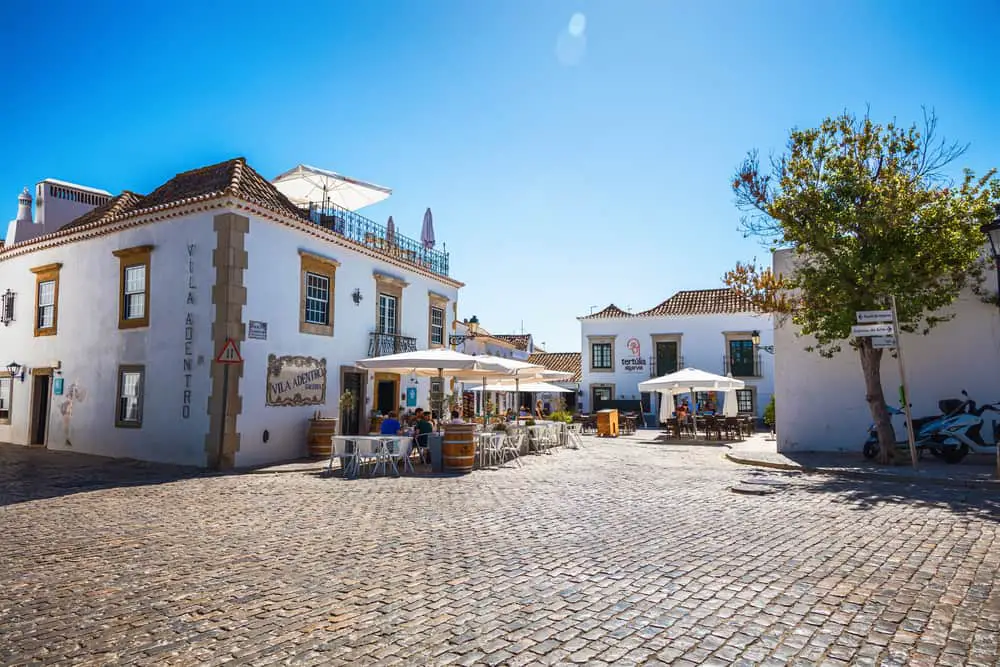 Go Christmas shopping
Faro in December is perfect for Christmas shopping and the city has no shortage of shopping malls and cute shopping streets.
Stroll through the Rua Santo Antonio in the old town to find handicrafts and local boutique shops or swing by Forum Algarve outside town for a 2-story shopping mall. Especially before Christmas, it is cheerfully decorated and takes the Christmas spirit seriously.
If this doesn't cut it for you, the MAR Shopping Algarve sure will. Among the 85 stores, you also find one of Portugal's largest Primark stores there, and a multitude of cafes and restaurants.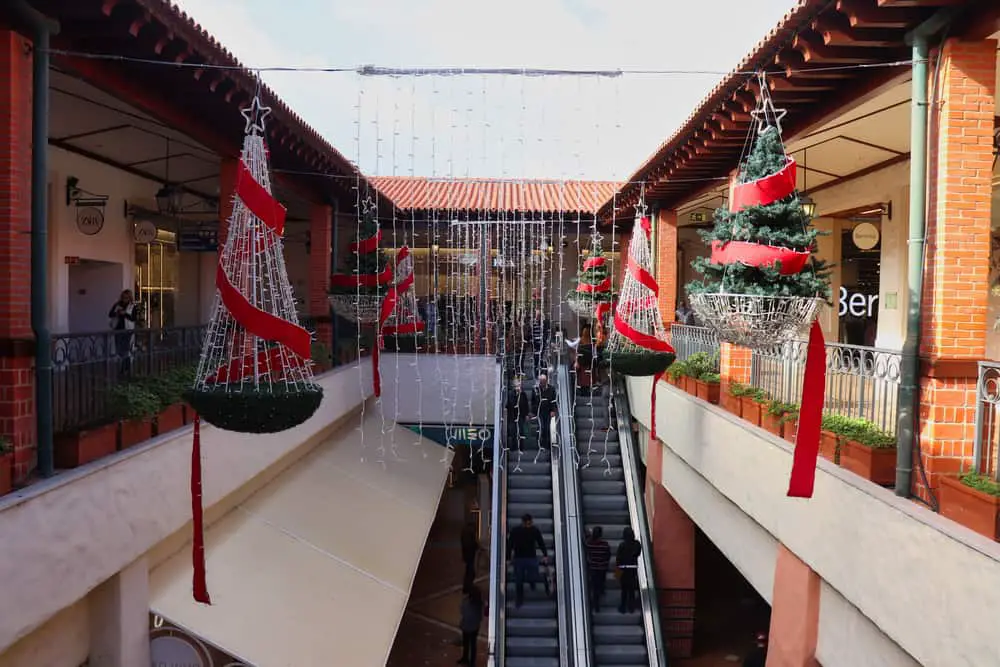 Visit Faro Cathedral
Among other things you should add to your Faro itinerary is a visit to Faro Cathedral. The 13th-century cathedral is situated on the Largo da Sé, which is one of the largest squares on the Algarve.
The most impressive inside the cathedral are the blue and white tiled decorations on the walls. Besides, you can witness a splendid golden chapel that will take your breath away.
In my opinion, Faro Sé is the most beautiful on the Algarve.
Opening hours winter: Monday-Saturday 10:00-17:00
Opening hours summer: Monday-Saturday 10:00-18:00
Entry fee: 3 Euros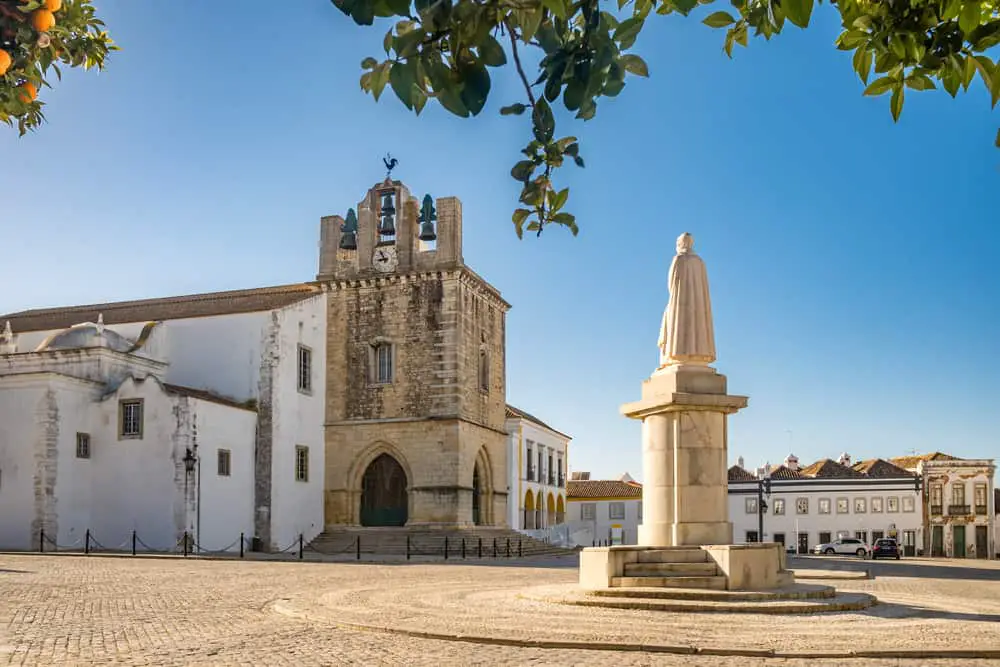 Hike in Ria Formosa Natural Park
The mild Faro winter temperature is perfect for hiking, and lucky for you, the city flanks the impressive Ria Formosa Natural Park.
There are multiple trails to choose from, but an easy and pleasant hike is the Ludo Trail which goes near Faro Beach. The natural park is also an amazing place for bird enthusiasts as you will see a wide range of birds in the area.
Ria Formosa Natural Park is also one of my favorite places to walk at sunset, as the tide pulls back and the pink sky paints the thin rivers that remain across the vast marshland.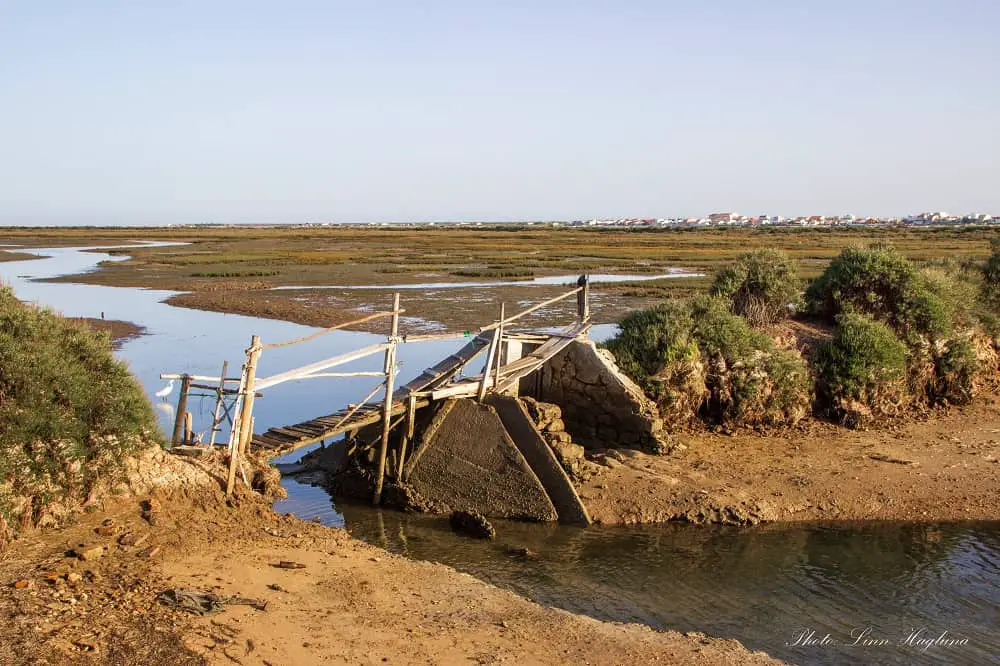 Go for a stroll on the beach
In winter, Faro might not be a beach destination, but it is a beautiful time of the year to go for a walk on the beach anyway.
It is usually emptier than other beaches in Algarve where there is surf at its excellence in the winter, like Arrifana Beach and Monte Clerigo Beach.
Yet, Faro Beach is a lovely place to walk your dog or even watch the sunset to the sound of the waves and the salty air in your nostrils.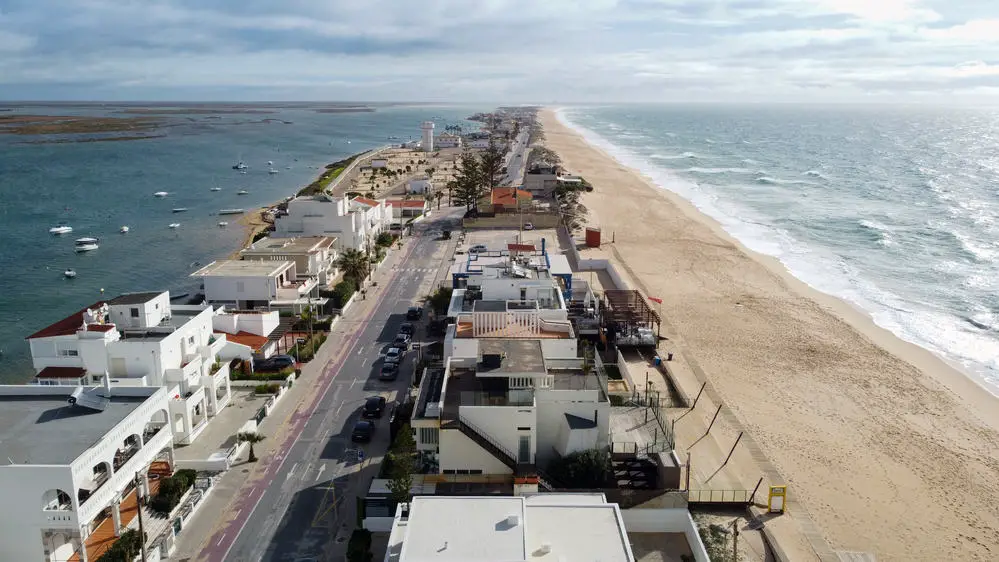 Try the traditional King Cake (Bolo Rei)
The traditional Christmas cake in Portugal, the Bolo Rei, is a must-try when having a true Faro Portugal winter experience.
Similar to the Three King's Cake in Spain, the Bolo Rei is a ring of brioche pastry – but with Port wine (we are in Portugal after all!) The cake is filled up and decorated with dried fruit of multiple colors.
Traditionally, there used to be a bean inside and the one getting the slice with the bean would be responsible to bring the cake for next year's celebration.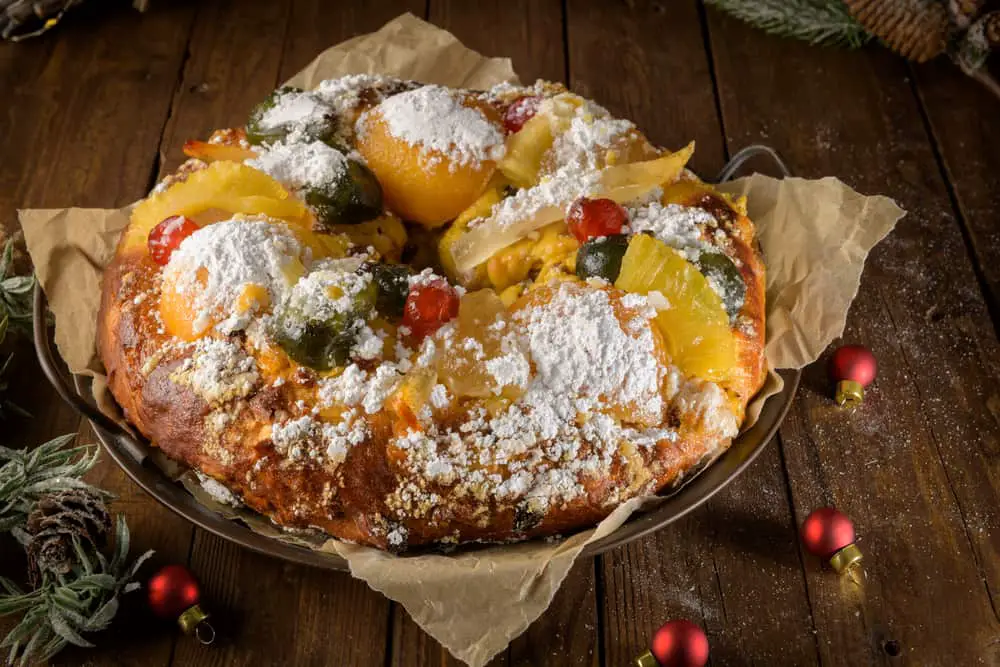 Boat tour to Benagil cave
One of the most impressive things to do in Algarve is to take a boat tour to Benagil Cave. The benefit of winter in Faro is that there are fewer crowds, thus it is easier to see the cave without too many boats around. And there are still Faro boat tours operating.
Yet, the water is pretty cold, so you might avoid paddleboarding or kayaking which are the only ways you can actually enter and see the cave properly from the inside. That said, in my experience, the boats get pretty far inside the cave so you do get a good look.
Check out availability for your dates here.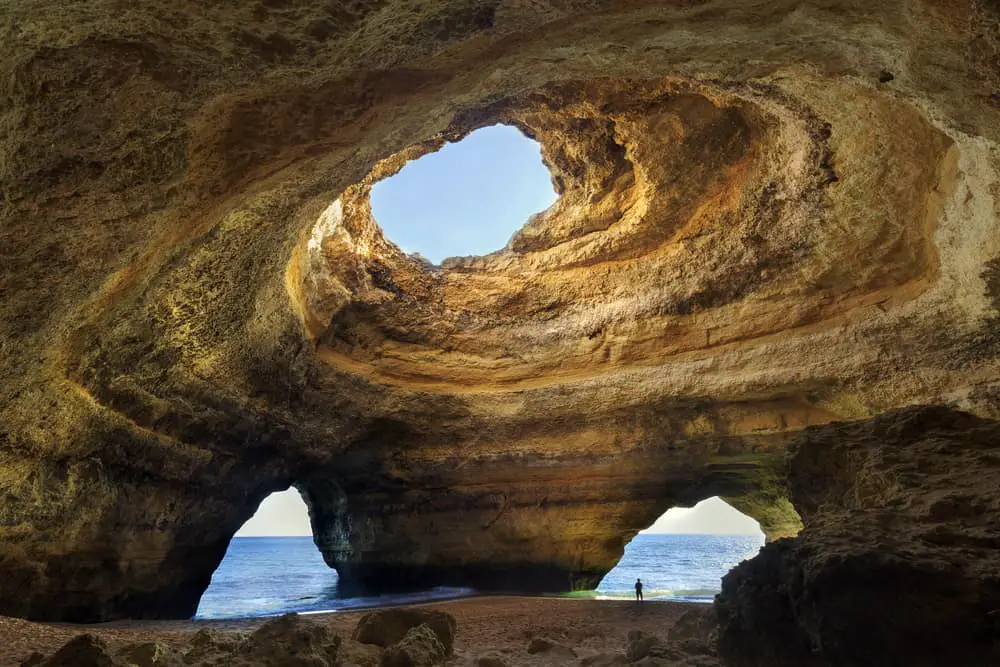 Explore the Roman ruins of Milreu
One of the best day trips from Faro is to the Roman ruins of Milreu in Estoi, just 10 kilometers inland from Faro city. The ruins date back to the 1st, 2nd, and 3rd centuries and are among the best preserved in the Algarve.
You can explore a bath house, a villa, and a temple that is believed to have been dedicated to a sea god due to the colorful mosaics depicting fish in the sea. After the Roman era, the Moors used the temple as a mosque and a burial site, and in later times it was turned into a farmhouse.
While you can see the ruins in Estoi, to get a deeper insight, head to the Museu Municipal where several of the archaeological finds are placed.
POPULAR TOURS FROM FARO
Take a boat trip to the barrier islands
One of the absolute best things to do in winter in Faro is to visit the barrier islands of Ria Formosa Natural Park. The boat tours from Faro typically stop at Farol Island and Desert Island where you can walk on the white-sanded beaches and enjoy nature.
It is so tranquil to ride through the backwater canals and Farol Island is perfect for an island lunch. On the boat, you will learn about the flora and fauna as well as the marine life in Ria Formosa.
These boat tours are in my opinion among the top Faro winter activities you can do, especially on a sunny day.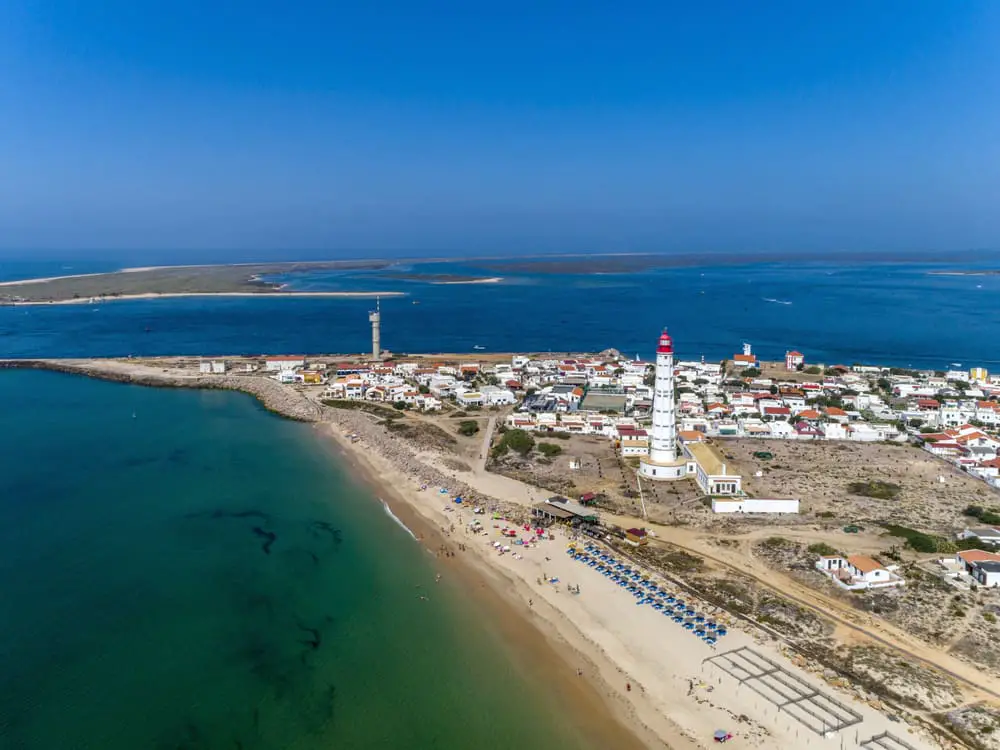 Go on a day trip
There are so many cool day trips you can take from Faro either by train, bus, or car. Among my favorites are Tavira, for its relaxing atmosphere and lovely vegan restaurants, Albufeira for its fun activities, and Carvoeiro for its picturesque setting and beautiful nature walks.
Among the best things to do in Tavira, are to visit the castle ruins and gardens, experience the Camera Obscura, stroll through the fisherman quarter, and cross the Roman Bridge.
Next, there are a lot of cool things to do in Albufeira. Walk the old town, go shopping, or visit museums. Albufeira in winter is a joy and even though you might find it too cold to dip in the water, there are plenty of cool activities in Albufeira, like quad biking and 4WD tours of the countryside.
If you like nature walks and want to uncover some of the most unique rock formations in the central Algarve, there is a lot to do in Carvoeiro. Walk from the picture-perfect Carvoeiro Beach to Carvoeiro Boardwalk where you will walk across the sunkissed cliffs all the way to Algar Seco.
There, you will find a natural pool (which is probably too cold to even consider dipping your feet in during winter) and A Boneca, a natural cave with two natural windows inside with splendid sea views.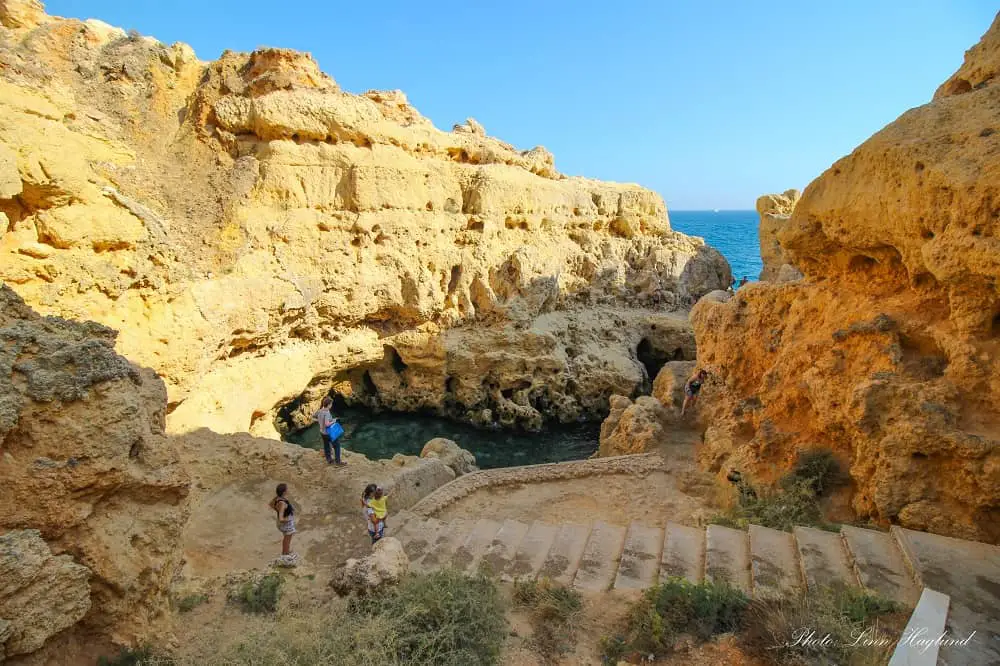 Reflections on winter in Faro Portugal
There is no shortage of what to do in winter in Faro, Algarve. What I like the most is that there are noticeably fewer tourists around so even though Faro isn't exactly a crowded Algarve destination, it feels nice and calm in winter.
Faro is generally a lovely city to explore all year round and even in the summer, I find that there is free parking around, though you might have to look a little longer. I travel by van mostly, so I like to find parking spots that are more tranquil.
No matter which month you go to Faro in winter, you will surely find something unique to do.
Happy travels!
WHERE ARE YOU HEADED NEXT?
How to get from Faro to Tavira
How to get from Faro to Albufeira