Suppose you're looking for a tranquil destination after spending a few days of your Algarve itinerary in popular resort towns like Albufeira and Lagos, Alvor is the perfect place for you.
Despite being such a small town in the shade of Portimão, there are loads of things to do in Alvor Portugal and its surroundings.
Compared to other towns in Algarve, Alvor boasts a local and serene atmosphere that is perfect for winding down whether you visit the Algarve in winter or summer.
Being among the most charming towns in the Algarve, with whitewashed houses framed with bright colors, an ancient Moorish castle, and idyllic sand dunes taking you down to the mesmerizing beach.
If you plan to set your holidays to Alvor, this is for you! Read on to find out all the best things to do in Alvor.
Disclosure: This post may contain affiliate links. That means that if you make a purchase through one of those links, I will get a small commission at no extra cost to you.
RELATED: How to get from Faro to Alvor
Things to do in Alvor Portugal
Alvor boardwalk
Alvor boardwalk stretches over 3 kilometers across the Ria de Alvor Nature Reserve. Every spring and autumn, you can witness a whole migrating population of different bird species as they stop there on their travels between Africa and northern Europe.
The natural park is also an excellent spot for seeing flamingos on the Algarve.
Next to the Alvor boardwalk, you reach Alvor beach. For exploring more of the natural park, take any of the trails from the beach, car park, or near the church in Alvor.
However, the boardwalk is perfect for those in a wheelchair or with small children in a stroller to explore the dunes and natural park.
Soak in vitamin D at Alvor Beach
When in Alvor, things to do must include a trip to the beach. Alvor Beach is situated on the western side, connected to Praia dos Tres Irmãos in the east.
You find all the necessary facilities on Alvor Beach. From sunbeds and shade for rent to excellent beach bars and restaurants.
When you're done toasting in the sun, you can rent kayaks or jet skis to explore the coast from the water.
Igreja Matriz de Alvor
Alvor's main church, also known as Igreja do Divino Salvador de Alvor, is worth a visit. Dating back to the 16th century, it has the typical façade from the era of Discoveries.
The interior is clean with elegant arches supported by columns leading up to the altar as you can typically see in Portuguese churches from this period.
The church is open to the public all day so you can respectfully pay it a visit while exploring Alvor.
Stroll around Alvor old town
Alvor has truly kept its charm by avoiding high resort buildings lining the coastline. Go for a stroll through its alluring cobblestoned streets where whitewashed houses with traditional colorful paint along walls, windows, and doors reminds you that you're in Portugal.
Little shops with handicrafts sell locally made artifacts and there are cute cafés and bars to sit down for a drink.
The main attractions in Alvor old town are the castle and the Matriz Church.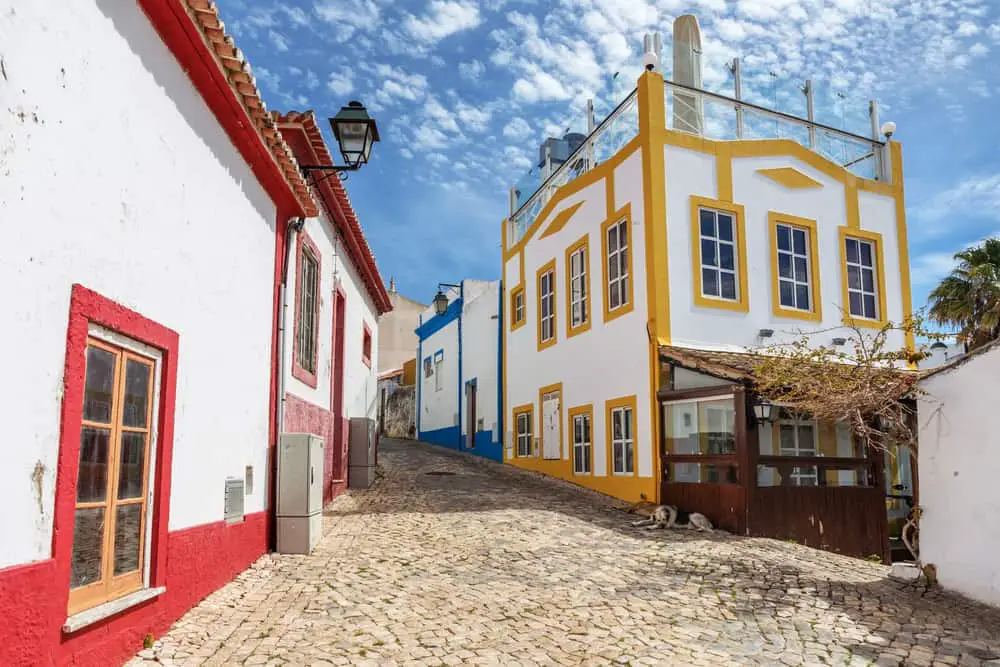 Alvor Castle
Among the best things to do in Alvor is to visit Alvor Castle. The castle itself, has been destroyed time after time through history just as much as it has been rebuilt. However, the 1755 earthquake took a toll on Alvor town and the castle.
In general, the Moorish remains on the Algarve are mostly erased, so it's nice to see the ruins of what once was a core site for battle throughout centuries.
That said, the grounds of the castle are perfect for relaxing on a bench, have a snack if you carry any with you, and a lovely playground for children.
Walk the promenade
A walk along the promenade is one of the best things to do in Alvor. You can take a rest at any of the cafés and people watch over a coffee or cold beer before continuing the walk.
Passing stalls selling tours, restaurants, and bars, you can glance out at the calm water dotted with yatchs, saling boats, and fishing boats.
There is a peaceful feel to Alvor compared to many other costal towns in Algarve and the promenade reflects exactly that.
Take a boat trip to Benagil Cave
Among the most fun things to do in Alvor, make sure you take a boat tour to see the world famous Benagil Cave. There are different tours and you can combine it with a dolphin watching tour or a BBQ on a secluded beach.
The enormous sea cave has a golden sandy beach inside lit up by the sunlight beaming through the hole in the natural dome ceiling.
Note that boats are not allowed to let tourists off inside the cave, for entering you would have to take a kayaking tour instead.
If you prefer to go individually, an Algarve road trip is the perfect excuse to stop at Benagil beach to rent a kayak or a paddleboard and paddle the short distance to this incredible natural landmark.
POPULAR BOAT TOURS FROM PORTIMÃO
Shop for souvenirs
When it comes to things to do, Alvor offers a lot considering its small size. This includes shopping. Being a small fishing village, you will not find big shopping malls or fancy shops in Alvor.
On the other hand, you will find many cute local shops selling quirky handmade stuff where you can find unique souvenirs and gifts for friends and family to take with you home.
On Sundays, you can also go to the farmer's market near the Fisherman's Huts. It is open from around 8:00 to 13:00.
Alvor is the perfect place to shop for those who are sustainable travel conscious as the money you spend shopping will gain the local community.
For those looking for a bigger scale shopping, head into Portimão and you'll find everything you need.
Relax at Praia dos Tres Irmãos
Recognized by its three rocks in the water, Praia dos Tres Irmãos is most likely the most picturesque beach in Alvor and one you should visit even if it's not bathing season.
Situated on the eastern side of Alvor, the blue flag beach is connected to Alvor beach by the mesmerizing rock formations, tunnels, hidden caves, and the iconic three rocks in the ocean.
Praia dos Tres Irmãos means "The beach of the three brothers" coming from the three rocks in the water. It is a great destination for snorkeling in the clear water around the rocks and cliffs.
On the beach, you can have fun exploring the caves and tunnels, but be aware of falling rocks, so don't be tempted to lay down your towel right next to the rock walls.
Like Alvor beach, there are sunbeds and shade for rent, restaurants and bars to eat and drink, and lifeguards covering the first part of the beach.
Explore the coast by paddleboard
One of the best ways to explore the coast of the Algarve is by paddleboard. Alvor is no different. There are a few places in the town where you can rent a paddleboard or go on a guided group tour if that feels safer.
Exploring the golden cliffs, secluded beaches, and caves from the water is an incredible experience that you should not miss out on.
If you think kayaking is more fun, don't worry. You can rent that too. Get ready to get adventurous!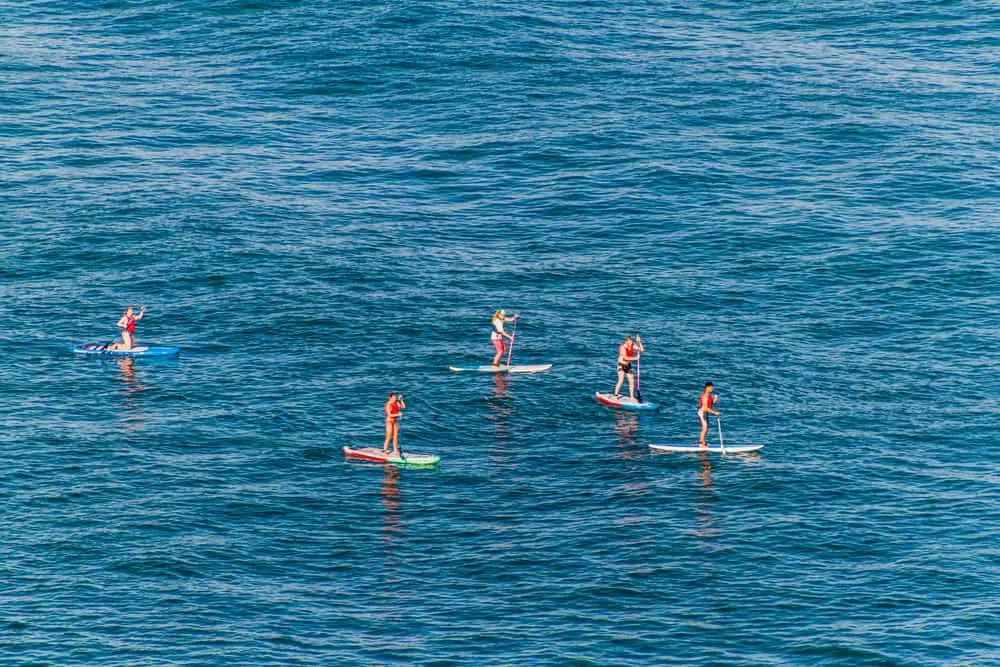 Reflections on what to do in Alvor Portugal
So, now that you know what to do in Alvor you should be all set to explore this charming little coastal town. One of the things I like the most about Alvor is that it's completely overshadowed by the more popular holiday destinations Lagos and Portimão, the latter being one of the most visited cities in Algarve.
Therefore, you won't find the same crowds and it gives it an easygoing atmosphere so typical to the smaller fisherman's towns and villages like Santa Luzia and Carvoeiro.
If you are up for a relaxed holiday with a pleasant balance between small-town, beach, and nature walks, there are enough things to do in Alvor Portugal.
On top of that, there are epic places to visit near Alvor if you want to change the pace.
Happy travels!