If you're considering taking your winter holidays to a warmer destination, more specifically Albufeira in southern Portugal, but are not quite sure if it's a good choice, this post is for you.
I've spent winter in Albufeira several times so I'll let you in on everything you need to know to spend your vacation in Albufeira in winter.
Being situated in one of the sunniest parts of mainland Europe, Albufeira's winter weather is one of the main draws for traveling there. While Algarve in winter is amazing, there are so many reasons to choose Albufeira as your winter holiday destination and I'll go through it all in this post.
So if this sounds like you, read on to find out what to do in Albufeira in winter and what to expect from this popular summer destination in the off-season.
Disclosure: This post may contain affiliate links. That means that if you make a purchase through one of those links, I will get a small commission at no extra cost to you.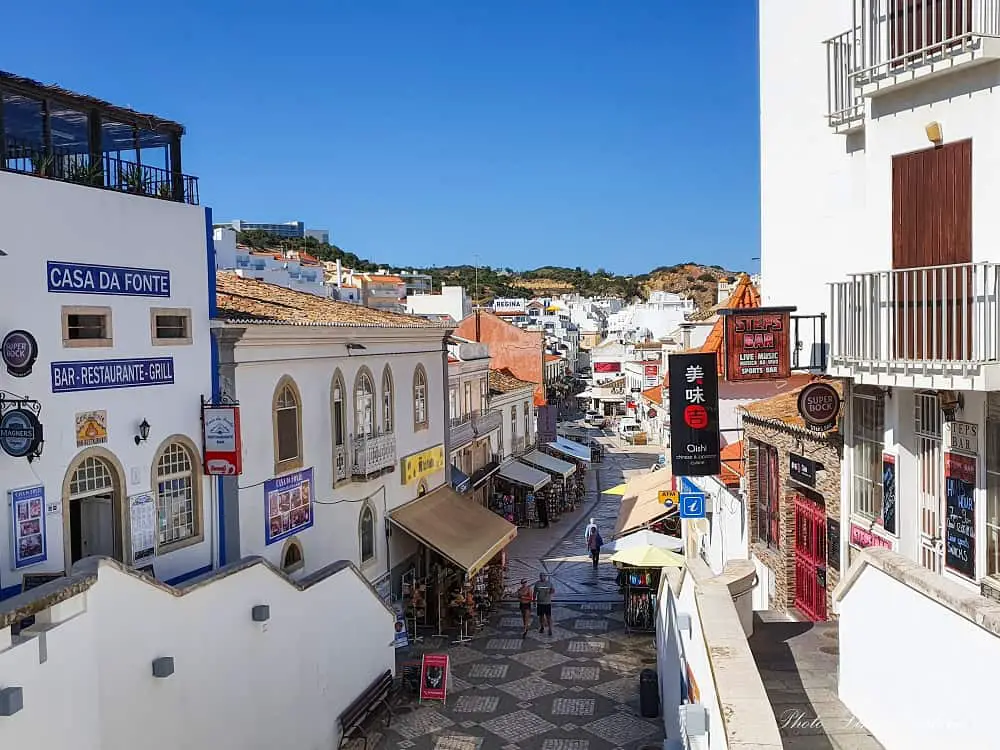 Albufeira winter weather
Albufeira winter weather is absolutely splendid compared to other places in Europe. Boasting 300 days of sunshine a year, it's not surprising that Albufeira is a popular winter destination.
The average temperatures in Albufeira in winter usually range between 15 and 17 degrees Celsius in the daytime and drop down to 8-9 at night.
You'll rarely experience lower temperatures than 4 degrees Celsius at nighttime, though it means that you need to cover up at night compared to in the day.
That said, a clear, sunny day can often feel like 20 degrees and more which makes it perfect for beach dwellers, though the Atlantic Ocean is super cold (even in summer,) so you might think twice before going for a swim.
January is usually the month that sees the most rain during the winter in Albufeira with an average of 7-8 days of rain.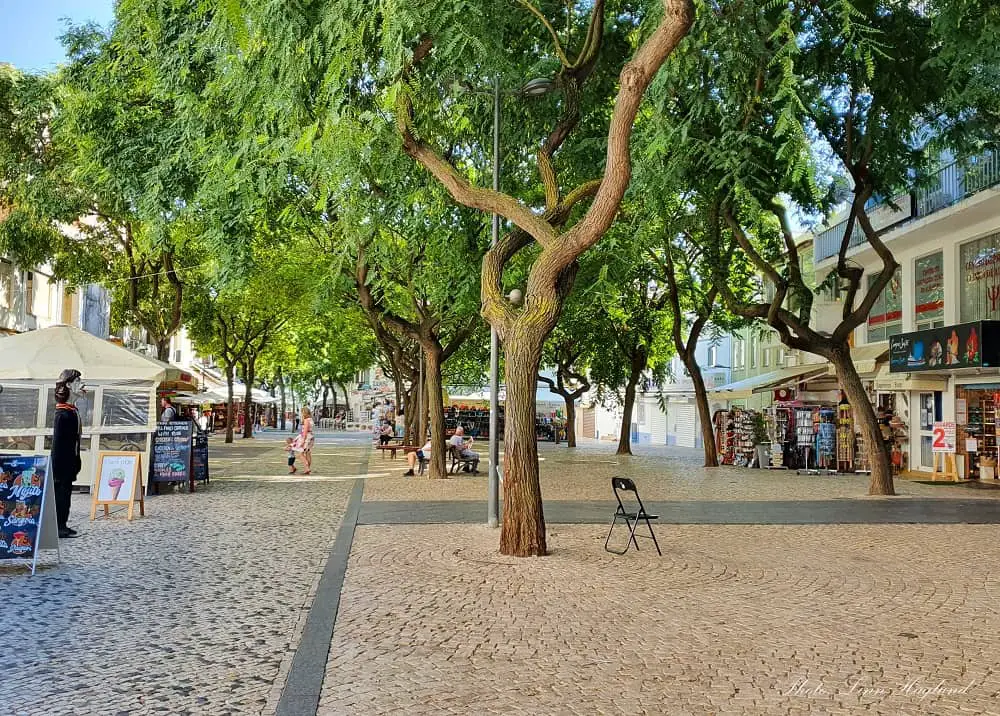 How to get to Albufeira in winter
Albufeira is easily reached by bus and train from Faro, where you find Algarve's only international airport. The train station in Albufeira, however, is 7 kilometers from the center, so I highly recommend taking the bus for budget travelers or getting a private transfer for ease.
Reserve your private transfer here.
You can read everything you need to know about traveling from Faro to Albufeira here.
Here is a complete guide for traveling from Lagos to Albufeira.
If you visit Albufeira as part of a longer Algarve itinerary or plan to spend 3 days in Algarve and want to see more than only Albufeira, a rental car is surely the best option.
I highly recommend reserving your rental car early so that you get the best deals, especially if you travel during the holiday season as Christmas in Algarve is very popular for road trips.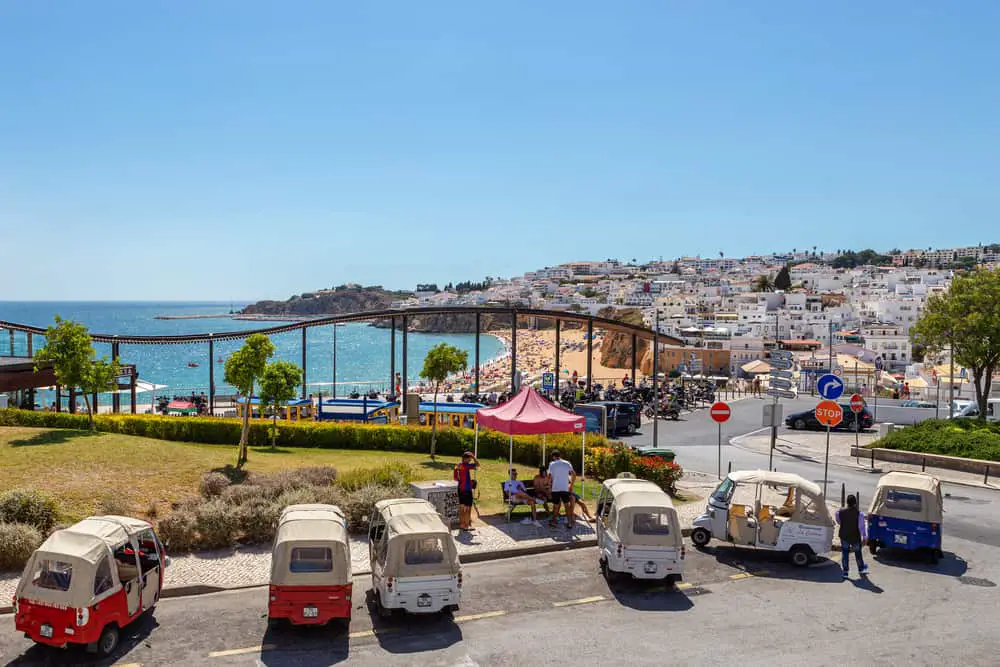 What to pack for winter in Albufeira
Since Albufeira winter temperatures vary so much from daytime to nighttime, from the sun to the shade, the best thing to do is to pack plenty of layers to take on and off as the temperature changes so that you don't get sick.
And of course an umbrella in case it rains!
Here are the basics you should pack for your Albufeira winter holiday:
Warm jacket
Skarf
Beanie
Mittens
T-shirt
Sweater
Long pants
Shorts/Skirt
Comfortable shoes
Umbrella
Toiletries/Underwear
Camera
Where to stay on your Albufeira winter holiday
Staying in Albufeira is surely a top choice when it comes to staying near Faro. There are endless hotels to choose from for your Albufeira winter holiday, so I've narrowed it down to a few of my top picks here to make it easier for you to plan your trip.
You might also read my complete guide to the best neighborhoods to stay in Albufeira.
Vila Algarvia Boutique & Suites – This is a lovely place to stay in the heart of Albufeira with walking distance to everything you might need. This is an adult-only hotel with epic views from their rooftop terrace. There is also free parking only a couple of minutes from the property.
Vila Gale Collection Praia – Truly one of the best hotel experiences you can have in Albufeira with lovely staff, a relaxing spa, epic beach views, and a luxurious restaurant and bar. The hotel is situated right next to Galé beach. The free parking nearby is often full in summer, so the winter months are perfect for parking up the car with no further hassle.
Rich & Poor Hostel Albufeira – This is the perfect budget option, especially for solo travelers that want to meet other travelers. Situated in the heart of Albufeira, the hostel offers everything you need, including tour bookings so that you easily can connect with other travelers.
Albufeira winter – things to do and see
In winter in Albufeira, there is a great deal of things to do, and since you avoid the summer crowds, you can enjoy many of these activities a lot more than in the summer. The milder temperatures also make for a better experience for many of these exciting activities in Albufeira.
Read on to find out the top things to do in Albufeira in the winter months.
Relax on the beach
A hot and sunny day in winter in Albufeira Portugal is perfect for working on that tan and soaking in some long-needed vitamin D. While the water might be too cold for swimming, a hot day can make it tempting to dip in a toe or two.
My favorite part about the stunning Albufeira beaches in winter is that there are way fewer tourists. The normal facilities might not be available, but hanging out at the beach in Albufeira town, to still get easy access to bars and restaurants near the beach.
Hit the hiking trails
Hiking in Algarve is best done in the winter months as the rest of the year is too hot and you most likely prefer spending time in the water and hitting the Algarve beaches.
But the rugged coastline is crisscrossed with hiking paths taking you along a splendid coastline of jaw-dropping cliffs.
Among the best hikes, you should hike the spectacular Seven Hanging Valleys Trail from Algar Seco in Carvoeiro to the picturesque Marinha beach. This is a lovely day hike taking you along the cliffs past lighthouses, beaches, sinkholes, and natural arches.
Strap on your hiking boots and slap on some sunscreen and caps, and fill up your backpack with your favorite snacks and a whole lot of water. No matter which trail you end up doing, you're guaranteed an amazing experience!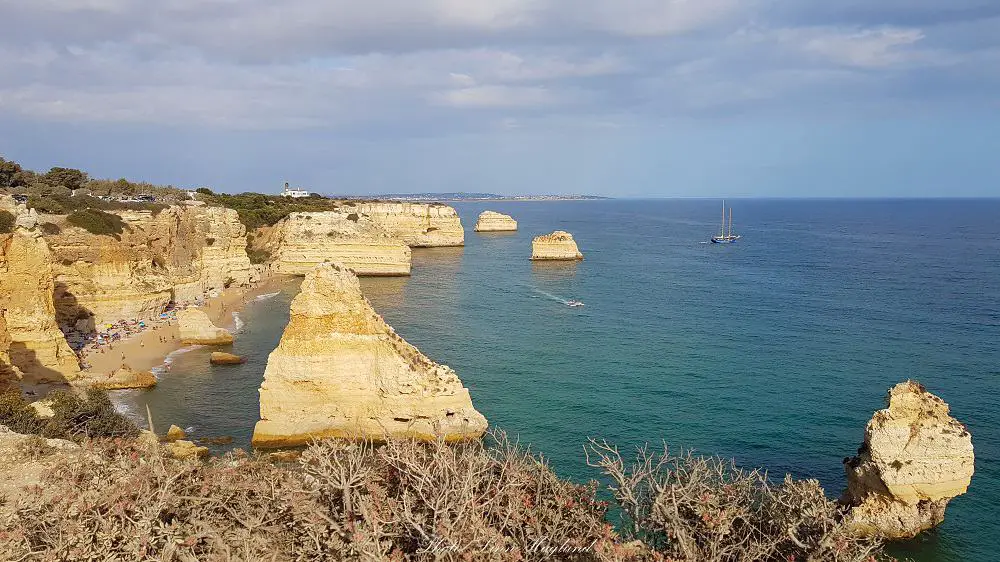 Go on a quad tour
One of the most exhilarating experiences you can have in Albufeira, winter being the best season for it, is going on a quad tour exploring the inland.
Taking a quad tour, driving through the countryside is a different adventure than the usual water activities which makes your Albufeira winter holiday unique.
I highly recommend this tour taking you to the Paderne Castle along gravel roads. Note that you must have a valid driving license for Portugal (alternatively an international driving license,) and a 100 Euro deposit in cash for the insurance.
Sandals and flip-flops are not allowed, so make sure you wear comfortable shoes and clothes for driving a quad.
Take a boat tour to Benagil Cave
One of the best day trips from Albufeira is to explore the epic Benagil Cave. Even in the winter, Albufeira offers boat trips to see the cave.
Depending on your preferences, you can take a boat tour including dolphin watching, which means you'll look for dolphins on the way to and from the cave. The boat crew knows where there are good chances to see them, though they are wild animals, and sights are not guaranteed.
Other tours include kayaking into the cave. This is highly recommended as it's not allowed for the boats to drop off tourists inside the cave. You can check the top-rated Albufeira kayak tours for availability in winter.
Thus the only way you can actually enter this heavenly cave is by paddleboard or kayak, and trust me when I say it's an experience of a lifetime!
Note that if the waves are too furious, kayaking can be canceled. Check availability here.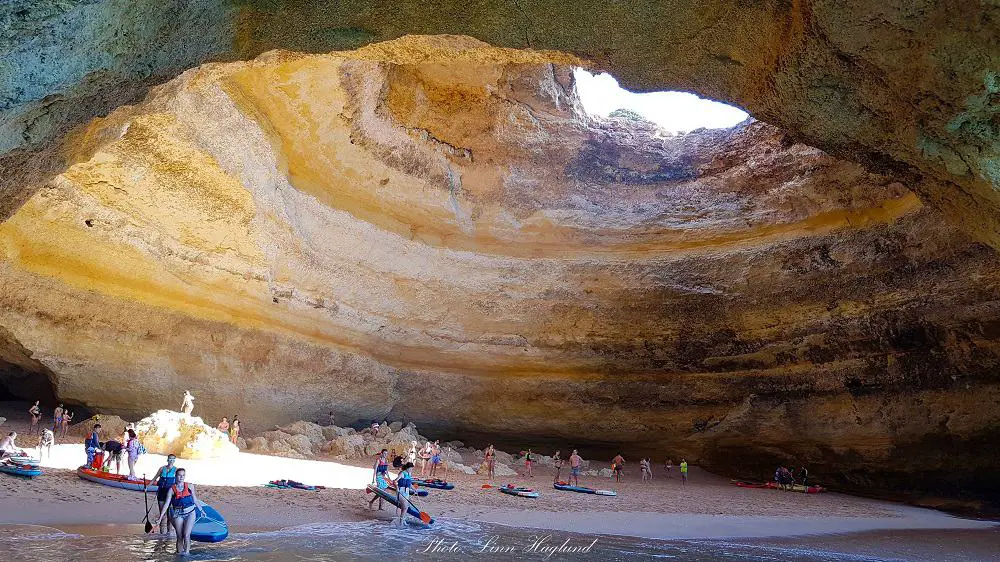 Go dolphin watching
Dolphin watching is the perfect winter activity in Albufeira for the entire family. Seeing these incredible creatures in their natural habitat is otherworldly.
Dolphins are such playful souls and you can often see them playing around the boat and surfing the waves that the boat leaves behind. This is truly an experience of a lifetime, no matter how many times you've seen dolphins before.
There are several boat tours leaving from Albufeira, most of them including the impressive sea caves along the Algarve coast.
Check out this tour for availability.
WHY YOU SHOULD NEVER SWIM WITH CAPTIVE DOLPHINS
I do NOT recommend going to the Zoomarine in Albufeira. Swimming with captive dolphins is a harmful activity for the dolphins and purely a "for profit" activity.
Dolphins in captivity tend to get depressed (don't be fooled by their apparently smiling face!) due to the lack of space to swim for long distances that are natural for them.
They also often get diseases from malnutrition from being fed different food than they would in the wild and they might pass diseases to humans. You can read more about why you should never swim with captive dolphins here.
Surf the Atlantic winter waves
Winter in Albufeira is the perfect time to go surfing. In fact, the Algarve is a popular surf destination in the winter months and there are several surf schools in Albufeira where you can take surf lessons or rent gear.
If you're new to surfing, it's a great experience to learn how to surf in Albufeira. You'll get all gear like surfboard and wetsuit included and the instructor will take into account your skills and level so you don't have to worry about if others in the group are more or less advanced than you.
I highly recommend this 2-hour surf lesson which also includes insureance, something that comes in handy in case something should happen.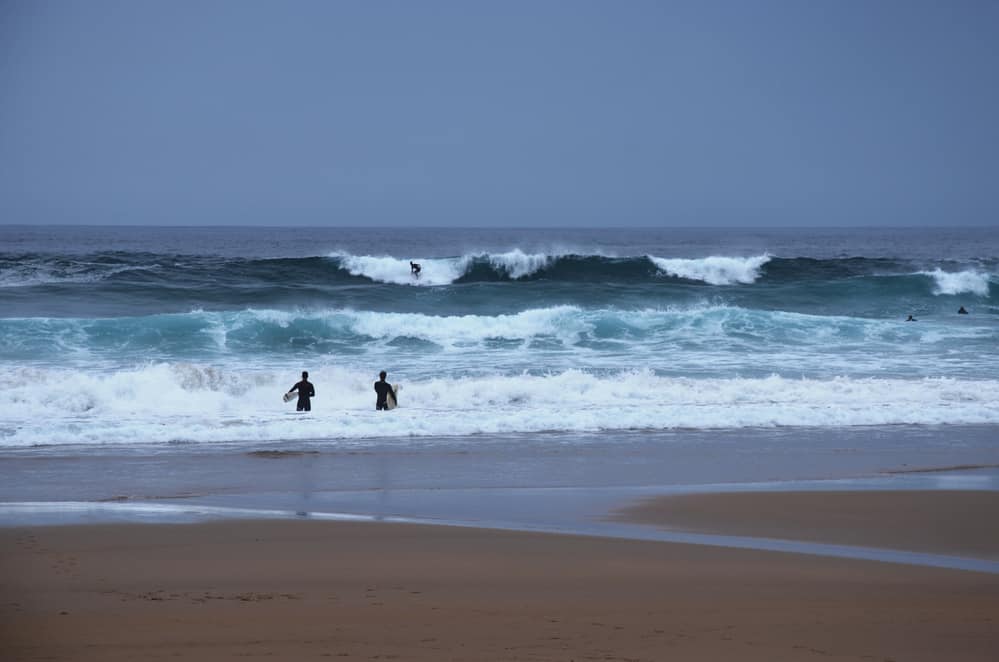 Shop ´til you drop
As one of the best cities in Algarve, the shopping in Albufeira is great! From holiday gifts to clothes, and souvenirs, you can find what you need in the shopping streets of Albufeira old town, Avenida da Liberdade and Rua 5 de Outubro. The latter is perfect for those looking for handicrafts and ceramics.
But there are also shopping malls, and I highly recommend heading to the Albufeira Shopping near the city center where you find clothes, electronics, and restaurants and cafes to fill up with energy.
If you're looking for a larger shopping mall, Algarve shopping is situated a little outside town, but if you're on an Algarve road trip, you can easily drive there in about 10-15 minutes and park for free at the mall.
This is also perfect to keep you busy on a rainy winter day.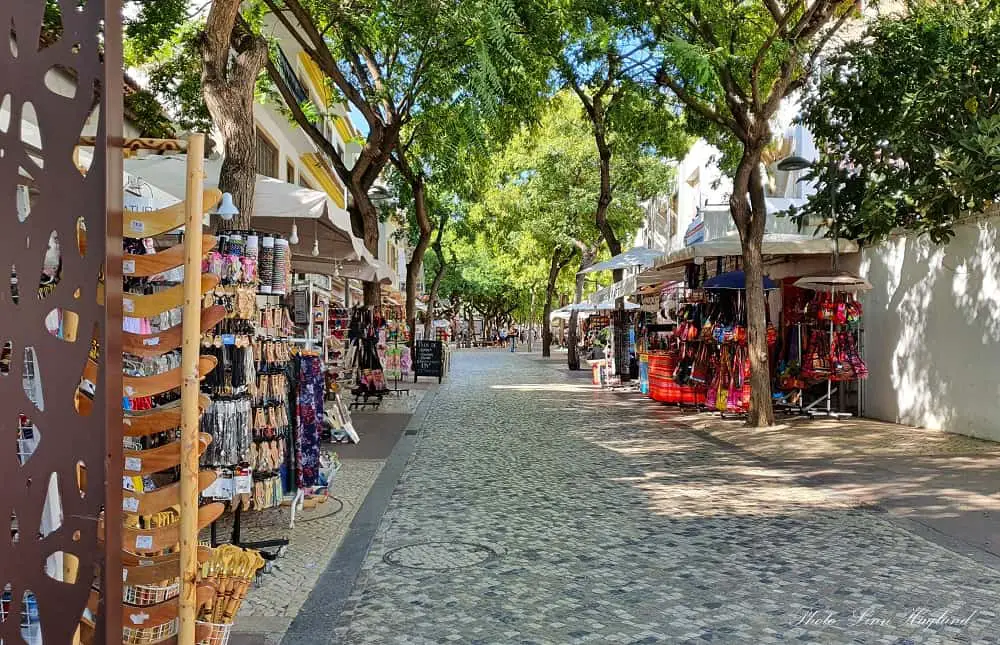 Indulge in local and international food
Albufeira has an array of restaurants and bars where you can indulge in anything from local cuisine to international specialties.
Whether you want to eat a romantic dinner with a view, grab a casual meal on an outside table in a cozy cobblestoned street, or sit inside to hide from the rain on a wet day, there are options for you.
Being the most popular tourist resort town on the Algarve, Albufeira caters to all kinds of tourists. Look for pizza, falafel, Indian, tapas, Italian, or a traditional Portuguese meal and you'll find it in Albufeira.
Try parasailing
One of the coolest things to do in Albufeira, winter being no exception, is parasailing. Go on a thrilling experience hanging in the air after a boat with a birds-eye view of the whole coastline – it doesn't get much better than this!
There are many companies offering parasailing in Albufeira, but I can vote for this tour where you get a safety briefing before you embark on the boat and everyone gets about 10 minutes in the air.
You can choose to go alone or with one or two friends, though it depends on the weather conditions.
It's a super exciting experience and a great family activity where children from 4 years and up can fly, so if you haven't tried parasailing before, I highly recommend it!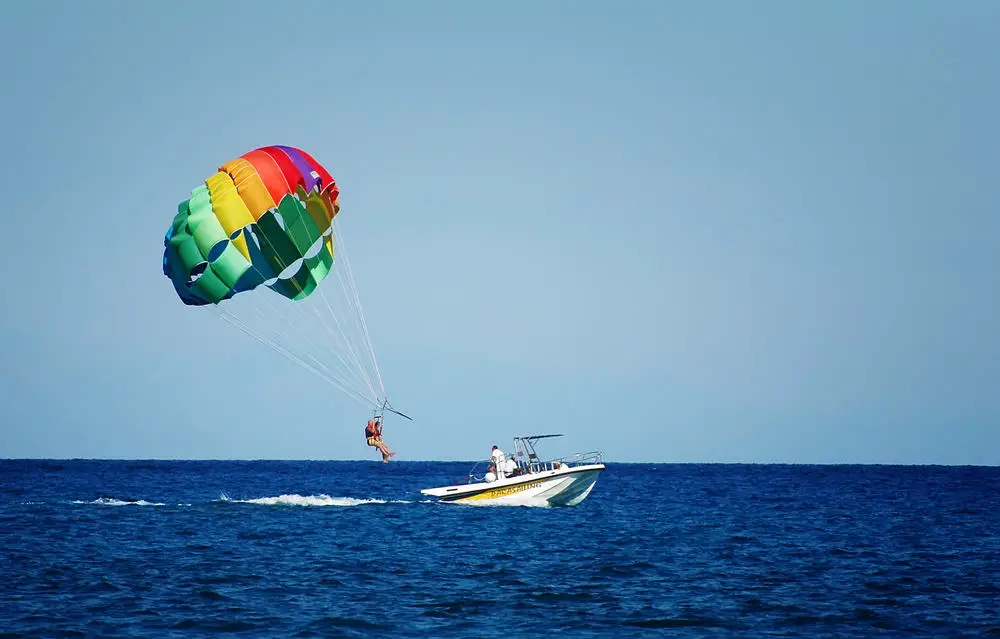 Have a cold beer in the winter sun
Especially if you come from colder countries, you know how delightful a cold beer in the heat of the winter sun feels. And the sunny Albufeira winter weather certainly invites for one or more.
There are endless bars in the enchanting Albufeira old town and most of them have outside tables so that you can feel the sun warming your face while purely enjoying your golden bubbly delight.
Because let's be honest, beer tastes so much better in the sun!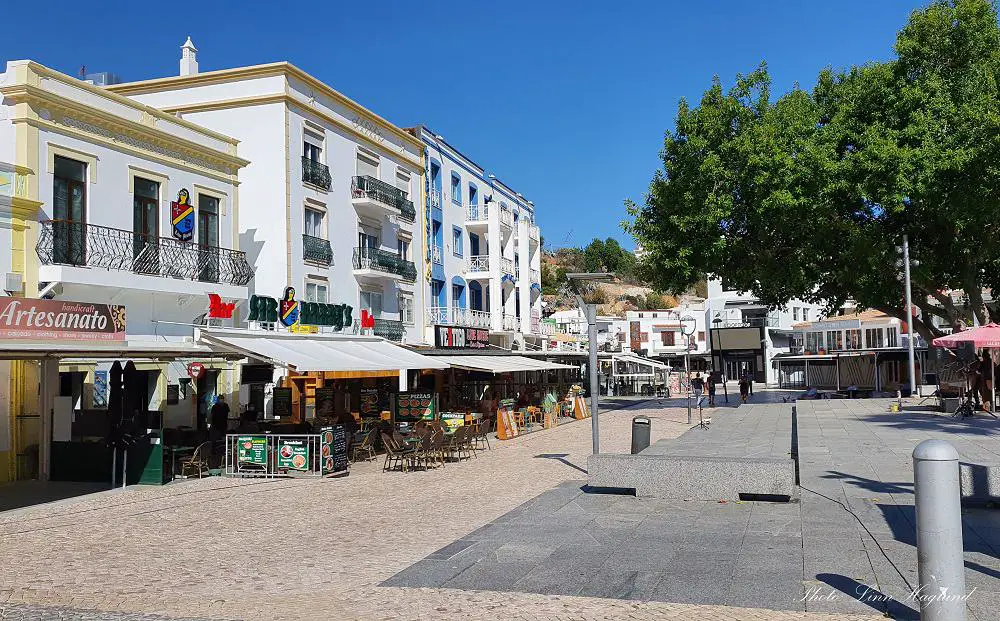 Reflections on winter in Albufeira
As you can see, there is a great deal of reasons to experience winter in Albufeira. Winter is warm enough to relax on the beach at the same time as it's perfect for hiking and doing inland activities like quad biking and 4WD tours.
The winter in Albufeira is also a great time of the year to escape the crowds and the summer partygoers which makes it a much more attractive destination for families compared to the rest of the year.
One of the best things about visiting Albufeira in the off season is that you can do all the fun activities without it being swamped with tourists. It's still a wonderfully pleasant town to wander around and enjoy good food and drinks in the whitewashed streets.
RELATED READING: