The Algarve is jam-packed with astounding beaches wrapped in rugged cliffs featuring breathtaking scenery. It can be hard to know where to go and to actually find the best beaches on the Algarve.
Lucky for you, I've spent a whole lot of time traveling this mesmerizing Portuguese coastline and I've seen my share of beaches. Trust me, there is a lot to fall in love with.
I'll make it easy for you and share the most beautiful Algarve beaches so that you can spend your time enjoying the beach and not looking for one, especially if you only have 2 or 3 days in Algarve.
Disclosure: This post may contain affiliate links. That means that if you make a purchase through one of those links, I will get a small commission at no extra cost to you.
Best beaches on the Algarve
Here is my pick for the most beautiful beaches in Algarve. They are spread along the coast from the west to the east so that no matter where you are in Algarve you should find one that isn't too far away.
However, the best way to explore the best beaches in Algarve is on a road trip!
Praia da Marinha
Praia da Marinha has been nominated among the most beautiful beaches in the world several times and not without a reason. This beach is absolutely stunning and the start/endpoint of the spectacular Seven Hanging Valleys Trail.
The beach is reached by a set of stairs and has a beach bar and restaurant with toilets. The beach itself is set on the foot of the cliffs with several cliff formations on the beach and the water in front of the beach.
Once you get down to the beach past the restaurant, you can walk through a tunnel to the left to a tiny secluded beach where there isn't space for many people but it's truly worth a visit.
You can easily find Praia da Marinha by putting it into your GPS. There is a large parking lot where you can leave your car and a few places to buy cold drinks by the top viewpoint of the beach before walking down the steps.
There are no other facilities like umbrellas or sunbeds on this beach so you'll need to bring your own.
Praia do Camilo
Camilo Beach is close to Lagos and Ponta da Piedade and is one of the absolute best Algarve beaches. There is a good set of stairs to get down to the beach which means you have an astounding view all the way down.
The beach is quite short, cut off by cliffs on each side which adds to its beauty. Also Camilo Beach has a secret tunnel on the left side to a secluded beach that you can explore.
There have been lifeguards there when I've gone to the beach, but not sure if they operate in winter. There are no sunbeds or umbrellas there, so you'll need to bring your own. There are also rubbish bins at the beach that you can use.
On top of the stairs, there is an overpriced restaurant where you can eat, but I do suggest you bring your own lunch and eat at the beach.
There is also a large parking lot by the restaurant where you can park, but I recommend coming early as it fills up quite quickly.
The beach is only half an hour's walk from the popular Algarve town, Lagos, so if you're based there and don't have a car you can still access this mesmerizing Algarve beach.
Praia da Ilha da Culatra
Ilha Culatra is situated in Rio Formosa Natural Park off the coast from Olhão. The stunning long white beach is about a 15-minutes walk through the tiny fishing village from the marina and is without a doubt one of the best beaches of Algarve.
The fishing village has around 1000 inhabitants and the final boardwalk over to the beach is peaceful as you cross the natural park's sand dunes.
There are sunbeds for rent and a beach bar. However, there is plenty of beach space away from these if you prefer your privacy on your own towel. At the start of the boardwalk, there are even nets that you're encouraged to bring with you to collect any rubbish and bring back.
You can easily get to Culatra by boat from Olhão. There is a lot of parking spots by the marina where you can leave your car both paid and free if you leave it in the back streets.
Praia do Carvoeiro
One of the most enchanting beaches in the Algarve is Carvoeiro beach, situated right off the tiny town of the same name.
Elegantly walled by limestone cliffs on each side and the whitewashed houses of Carvoeiro with bright colored lines around windows and doors spilling onto the beach makes it a jewel to the eye.
This also means you can access the beach easily from the town and have access to bars and restaurants all day long.
There are public toilets you can use, and in the summer months, there's a lifeguard on the beach. On the other hand, there are no sunbeds for rent so you will have to bring a beach blanket and shade if you plan on spending the day.
Among the best things to do in Carvoeiro is to head to the viewpoint for an iconic view of the beach, walk Carvoeiro boardwalk, and explore Algar Seco.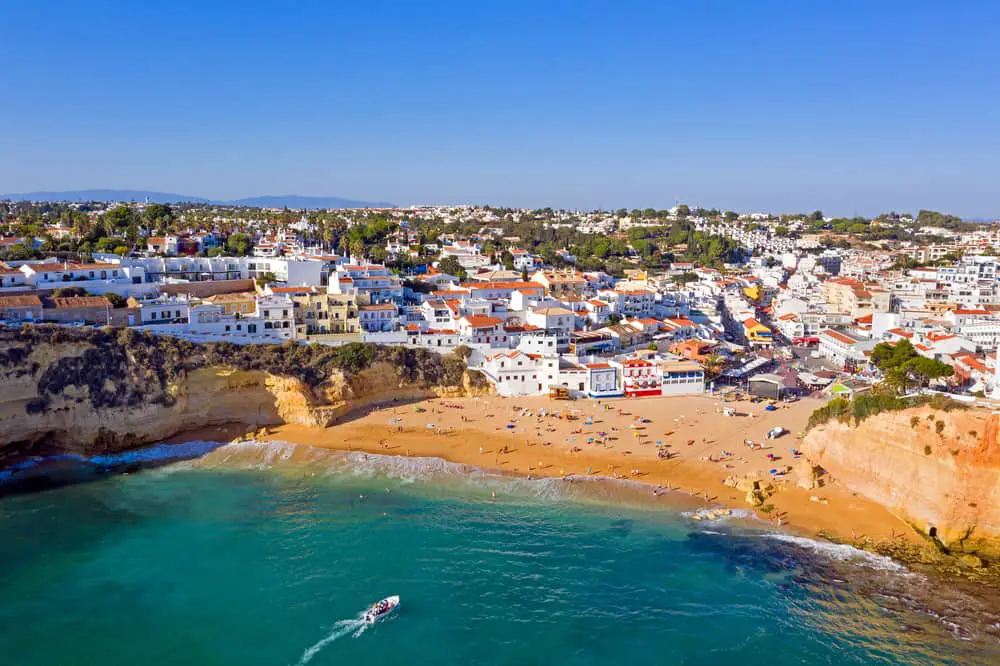 Praia do Barril
Praia do Barril is another astounding beach in Rio Formosa Natural Park. It's situated on Tavira Island, close to Santa Luzia, a tiny fishing village outside Tavira.
The beach can be reached either by walking 15-20 minutes or by taking a tourist train the 1,3 km from the mainland. The train only costs 1,50 Euros each way but has to be paid in cash.
The biggest attraction at the beach is the Anchor Cemetery which makes it one of the best beaches Algarve has to offer for its uniqueness.
Barril beach is also well equipped with parasols and sunbeds for rent, lifeguards, and there are a handful of bars and restaurants as well as a healthy fresh juice bar! There are also public toilets.
The white beach is long, wide, and has plenty of space if you want some privacy. Just walk away from the sunbeds and set up your own wherever you want. Praia do Barril is no doubt one of the most astounding Algarve beaches.
It's easy to park along the road before the train ride or walking path starts.
Praia da Arrifana
On Portugal's west coast you find another one of Algarve's best beaches. Praia da Arrifana is situated right outside one of the best towns in Algarve, Aljezur. Popular among surfers, this is a stunning beach at the foot of tall cliffs.
There are astounding views of the beach from above, especially from a viewpoint north of the beach.
You need to walk down a narrow road and a set of stairs to get to the beach but it's well worth the effort. Arrifana beach is not guarded and you'll need to bring your own towel to lay on and parasol if you want shade.
You can park either by the viewpoint or along the road down to the beach if there are any free spots. Otherwise, there is a large dirt car park right on the top of the road going down to the beach where you can leave your car.
In the summer months, I do recommend going there early to assure you find parking as it's a popular beach.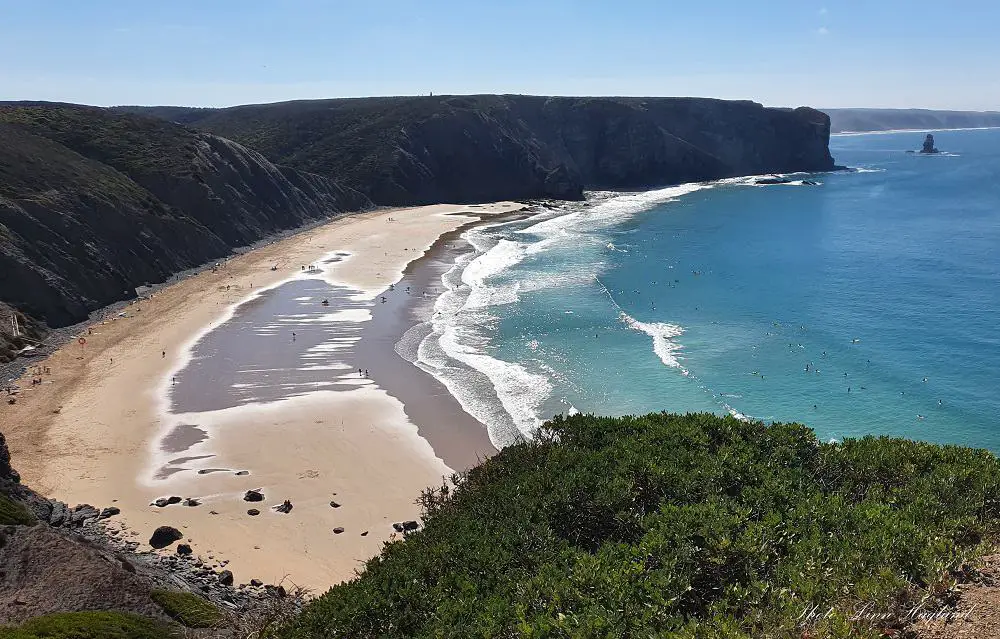 Praia da Rocha, Portimão
Praia da Rocha is another one of the absolute best beaches in Algarve as it's situated along the cliffs in the popular beach town Portimão. The beach is jam-packed with water activities and fun, but it's also beautiful to relax there with all the beautiful rock formations.
This is a long and wide beach and the water is shallow so it's perfect for families. It's also a great place for bodyboarding on the beachfront.
There are numerous beach bars and restaurants as well as sunbeds and shade for rent, and in the summer months, lifeguards guard the beach.
There are regular buses between Portimão and the beach. But you can also find plenty of parking in Praia da Rocha, though they fill up very quickly in the summer months so make sure you head out there early or you might find yourself walking a long walk from the car to the beach.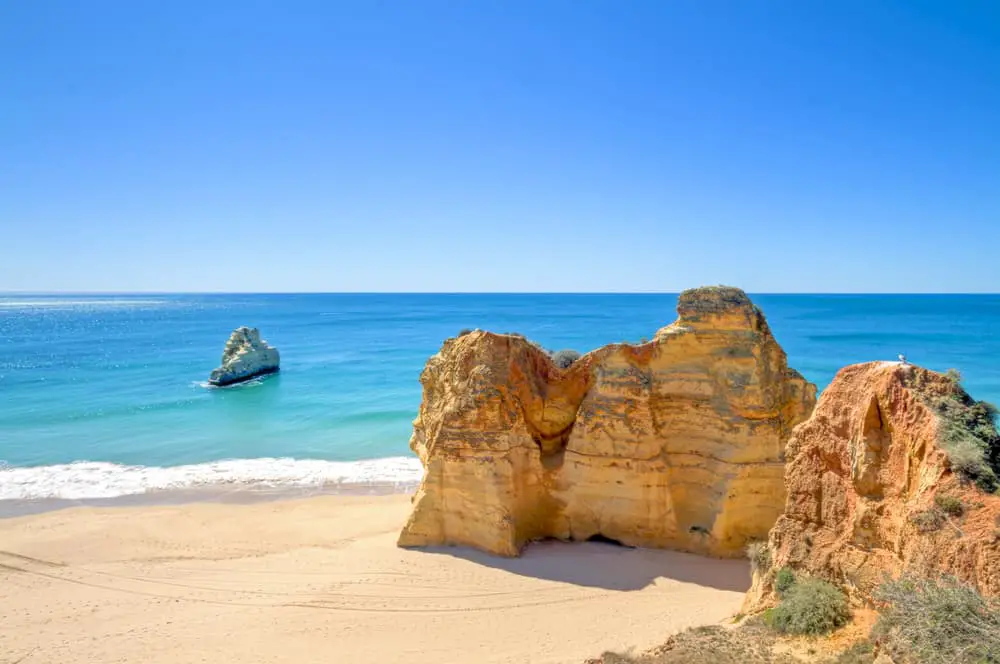 Praia Dona Ana
Another Algarve beach is that is absolutely mesmerizing is Dona Ana beach. It's situated next to Camilo beach close to the limestone cliffs of Ponta da Piedade in western Algarve.
Though it's a 20-minute walk from Lagos, you can reach the beach by bus 2 (blue route.)
Until 2016, Dona Ana beach was a small local beach, but after extending the beach to become a 300 meter long and 70-meter wide beach, adding all the amenities like parasols, sunbeds, lifeguard, and a beach bar, tourists started streaming.
It's still one of the most astounding beaches in Algarve wrapped up in cliffs and lining turquoise water perfect for snorkeling and paddleboarding.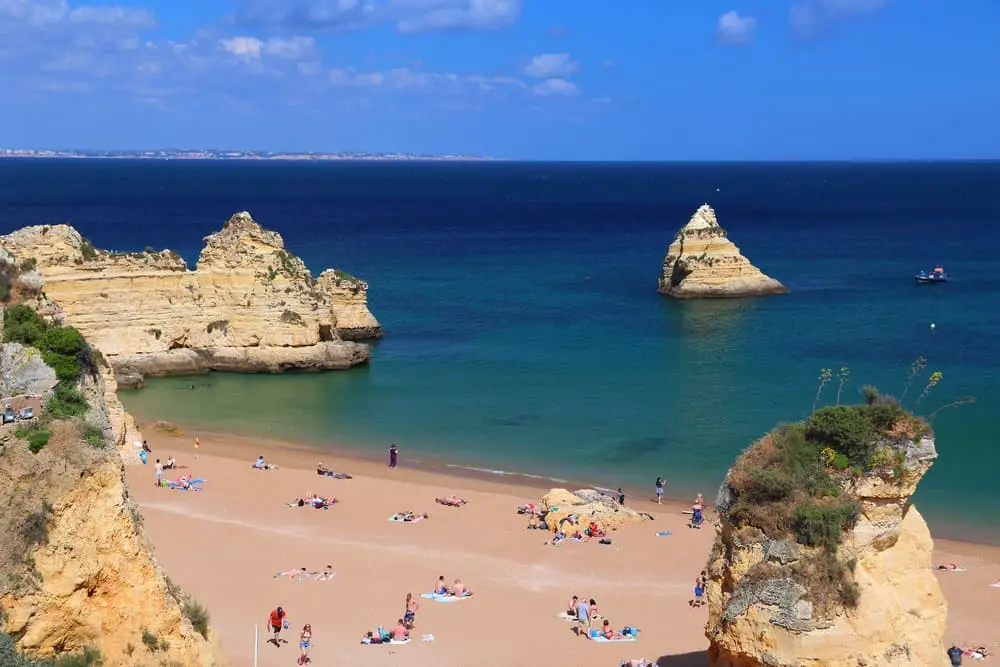 Praia da Amoreira
Amoreira beach is without a doubt one of the most beautiful Algarve beaches. Situated at the west coast of the Algarve, about 8 km north of Aljezur, it's a popular spot for surfers.
Flanked by sand dunes, there is a boardwalk taking you down to the beach and the views are spectacular with the rocky cliffs at the end of the beach.
Praia da Amoreira is quite a unique beach as it's placed by a river going out in the sea, which means you can swim both in salt water and fresh water.
There are no sunbeds or shades for rent on this beach but toilets and restaurants are available. But driving from Aljezur, there are a few parking spots close to the steps down to the beach.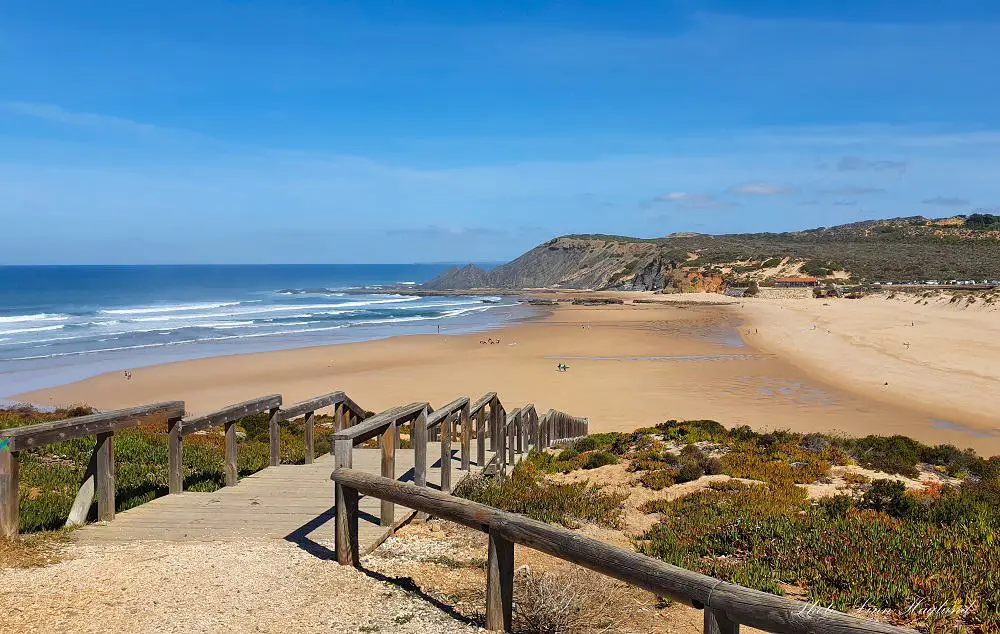 Meia Praia
Meia Praia is one of the largest Lagos beaches with its 4 km stretching from Lagos to the Odiaxere River on the other side. What I love about this beach is that even in high season it's so big that you find a spot without sharing your towel with strangers.
This beach has shade and sunbeds for rent, but there is still plenty of room to settle down with your own beach gear if you want privacy.
The beach actually has quite a relaxed atmosphere and there are a few beach bars and restaurants spotted along the beach.
You can walk to Meia Praia from Lagos, past Praia de Sao Roque or drive. There is plenty of parking by the beach.
Praia do Benagil
Benagil beach had to make it among Algarve's best beaches as it's the gateway to the famous Benagil Cave. The beach itself is small, tucked between cliffs on each side, and the only place the Seven Hanging Valley's trail leaves the actual path.
But the beach is one of the most popular beaches for water sports, mainly thanks to the Benagil Cave which attracts thousands of tourists by boat, standup paddleboard, and kayak. But there are plenty of other caves to explore close to the beach and it's a popular destination for water sports.
There is a large parking lot on top of the cliffs above the beach and you'll have to walk down the road for a bit to get access to the beach.
Benagil Beach doesn't have sunbeds or parasols, but who needs that when you'll be spending most of the time in the water anyway?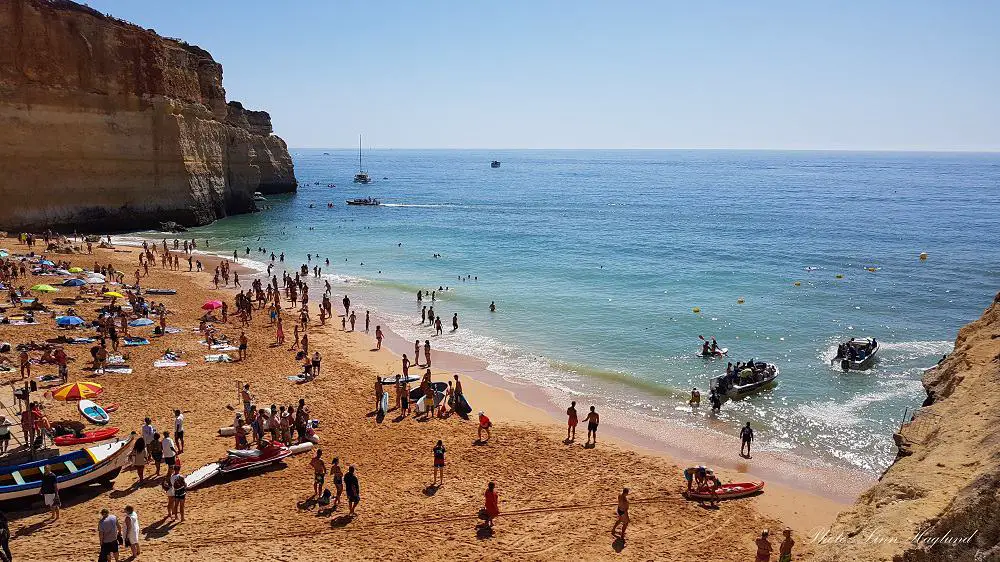 Praia de Monte Clérigo
Monte Clérigo beach is yet another of the most beautiful beaches Algarve has to offer on the lesser-visited west coast. It's situated just south of Amoreira beach. This is a popular surf and bodyboard spot and there are no sunbeds or umbrellas on the beach.
But you get rewarded with mesmerizing sand dunes rolling down to the long, white beach. There are boardwalks taking you down to the beach which makes it easier to walk.
Praia de Monte Clérigo is just astounding and you can rent a surfboard and take lessons if you're a newbie.
There are several parking spots along the road passing the beach, but they can fill up quickly in summer. There is also a small beach bar and restaurant where you can eat.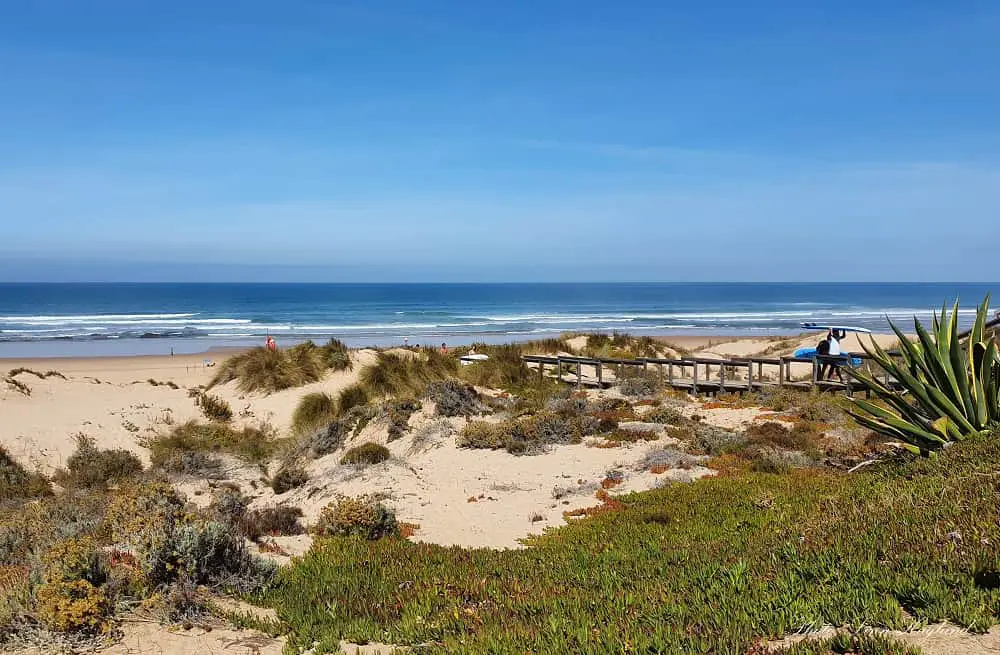 Praia do Tonel
Praia do Tonel is one of the most astounding beaches in the Algarve, situated at the foot of the famous Sagres cliffs at Algarve's western-most point. You can see the views from Sagres Castle where most tourists take a picture of the numerous surfers dipping in the water and leave.
But take the trip down to the beach, untouched and raw, this is an amazing Algarve beach worth a visit and one of the best things to see in Sagres.
The parking lot by Sagres Castle is a great place to leave the car and walk along the cliffs to get down, otherwise, there are possibilities to leave your car closer to the boardwalk down to the beach.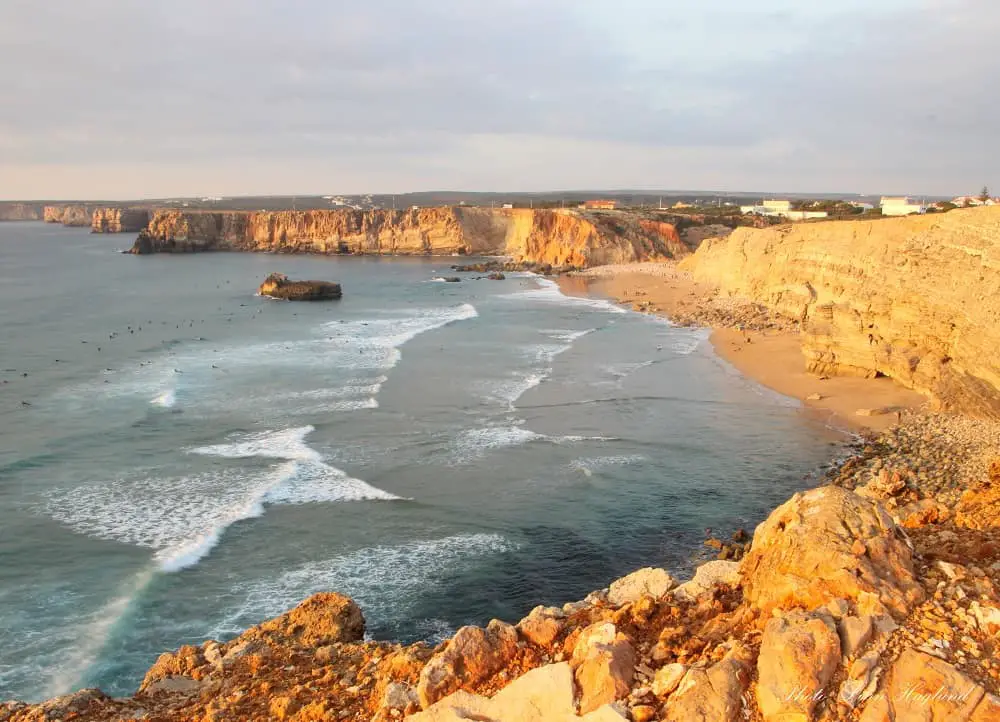 Reflections on visiting the Algarve beaches
There is no doubt there are a lot of astounding Algarve beaches and it's hard to pick the best ones. However, after spending quite some time on the coast, these ones have definitely stuck out!
There are so many different options for those that like all the facilities, water sports, or the natural gems.
I hope you found a favorite for your Algarve itinerary.