If you're in the eastern Algarve, Tavira island (Ilha de Tavira) in Ria Formosa Natural Park is one of the places you should visit at least once and makes a wonderful day trip from Faro.
The astounding island used to be an important center for tuna fishing from the mid-1800s to the mid1900s and still today, you can see the old fisherman cabins on the island. Today transformed into tourist facilities and restaurants.
Because the island is within the protected area of Ria Formosa Natural Park, it's not allowed to build new houses on the island, or sell the existing ones.
Covered in a protected wasteland, the island is home to an incredible eco system and a resting place for migrating birds that travel between Europe and Africa.
But besides that, you find sweeping beaches on Tavira island. Algarve is surely full of them, but the ones on the barrier islands are particularly stunning as they melt into a desert land dotted with shrubs and frequented by wildlife.
This area is also the calmer coast of the Algarve where the waves are too calm to attract surfers and it's perfect for families to enjoy a calm day at the beach.
Even during the winter in Algarve, you can enjoy lazy days walking on the beach, though the water might be too cold for most of us, there are always some daring souls that go for a quick dip!
Can you think of a better place to add to your Algarve itinerary?
In this guide, I'll go through everything you need to know to explore Tavira island, Portugal's natural treasure.
Disclosure: This post may contain affiliate links. That means that if you make a purchase through one of those links, I will get a small commission at no extra cost to you.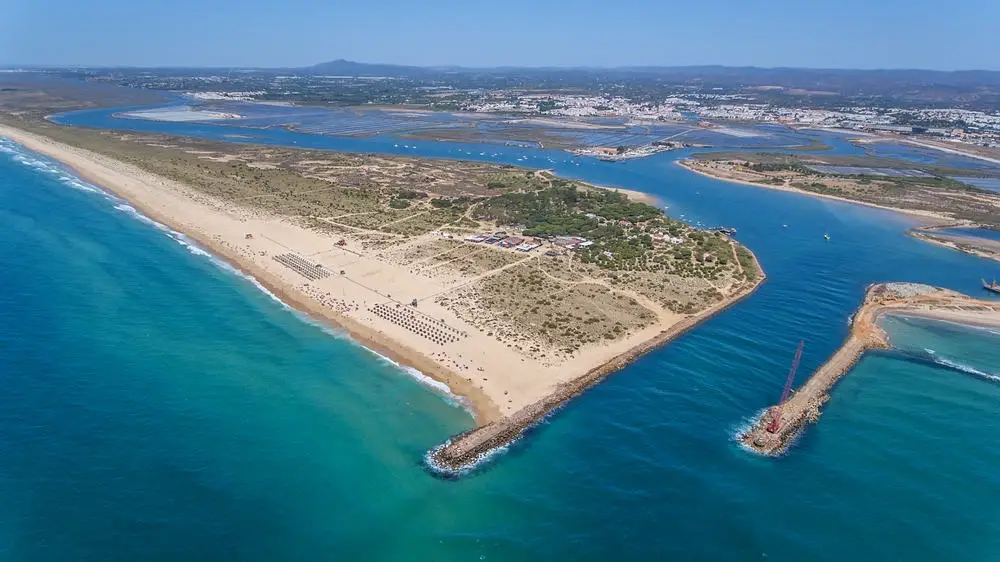 Where is Tavira island?
Tavira island is the second eastern-most of the barrier islands in Ria Formosa Natural Park, Algarve, between Cabanas island and Armona island.
Its eastern part is situated south of Tavira and its long sanded beaches stretch for 11 kilometers to the west. Going there is truly one of the best things to do in Tavira.
The island is one of the five barrier islands in the natural park protecting a unique natural area of swamp, sand dunes, marshes, tidal flats, salt pans, and saltwater lagoons.
How to get to Tavira island
By boat
You can travel to Tavira island by ferry boat from two different locations. From Tavira Town and from Quatro Águas.
The Ilha de Tavira ferry from Tavira Town leaves 6 times a day, starting at 09:40, and costs 1.20 Euros each way.
The boats from Quatro Águas pier also have 6 departures a day, starting at 10:00. This cost 1.00 Euro one way and 1.70 return.
The boats take you to Tavira beach on the east side of the island. You can see the updated timetables and prices for both alternatives here.
Tickets for the Tavira island ferry are bought and paid for when boarding the boats.
Alternatively, you can get an Aqua Taxi which takes a shorter time and goes outside the regular ferry hours. This is also way more expensive, costing 18.00 Euros per trip from Tavira Town for 1-6 people and has to be pre-booked. Traveling from Quatro Águas is from 8:00 Euros.
Note that night fares are about 25% more costly, starting from 21:00.
The good thing about this option is that they can take you to other islands too if you want to visit more than one island during the day. You can find more information about booking here.
From Santa Luzia, you can take a water taxi to the lesser-visited Terra Estreita beach which is situated between Tavira beach and Barril beach.
Once you get on the dock in Tavira island, there's a short walk through some woodland to get to Tavira beach.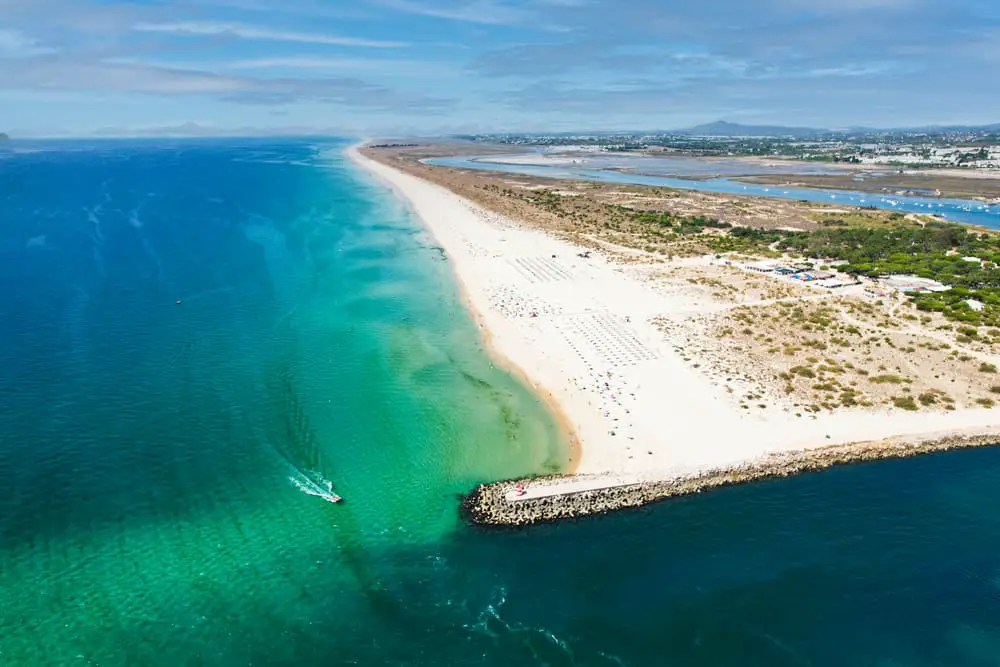 By train
In contrast to the other barrier islands in Ria Formosa, Ilha de Tavira is connected to the mainland with a footbridge. The path starts in front of the Pedras d'El Rei resort right west of the small fisherman's village Santa Luzia.
After crossing the footbridge, you'll reach a mini train station serving a tiny steam-train imitation that takes you the 1.3 kilometers across protected land to Barril beach and the Anchor Cemetery.
You can buy train tickets (cash only) before boarding. They cost is 1.50 each way.
The mini-train ride takes about 15 minutes each way and is a great way to see the natural park.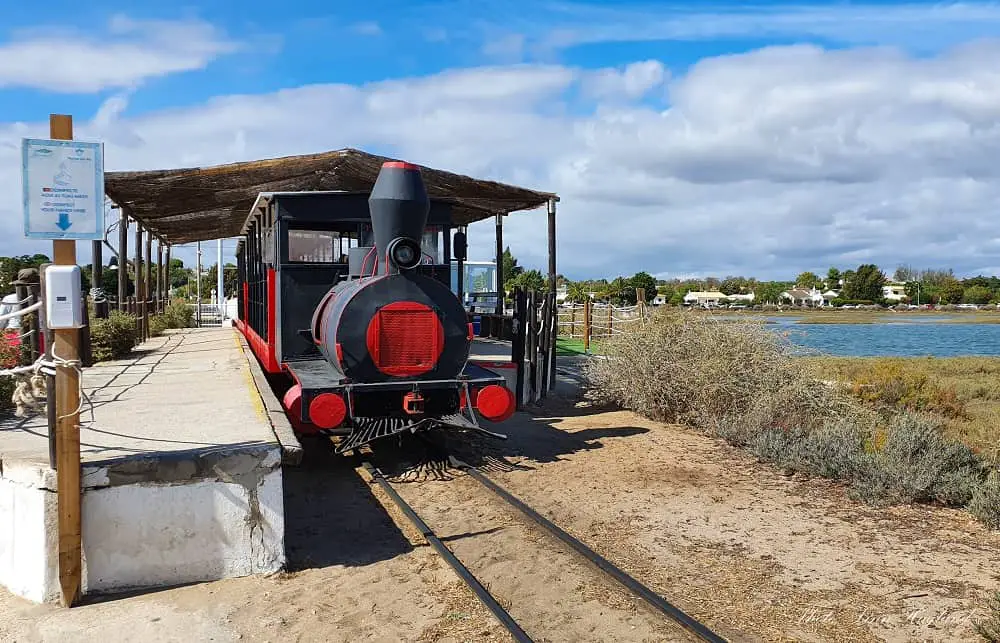 Walking
From the same starting point as the mini-train goes, in front of Pedras d'El Rei resort, you can walk along the train lines as the only free option to get to Tavira island.
It is a beautiful walk taking between 25 and 30 minutes one way. If you walk with children you should expect it to take a little longer.
The trail is easy to follow and can surely be done in flip-flops, but I do recommend wearing sneakers to avoid any accidents as there are uneven sections.
There are information signs along the trail where you can learn about the island's biodiversity as you go. If you spot birds along the way, it's a good idea to bring your binoculars.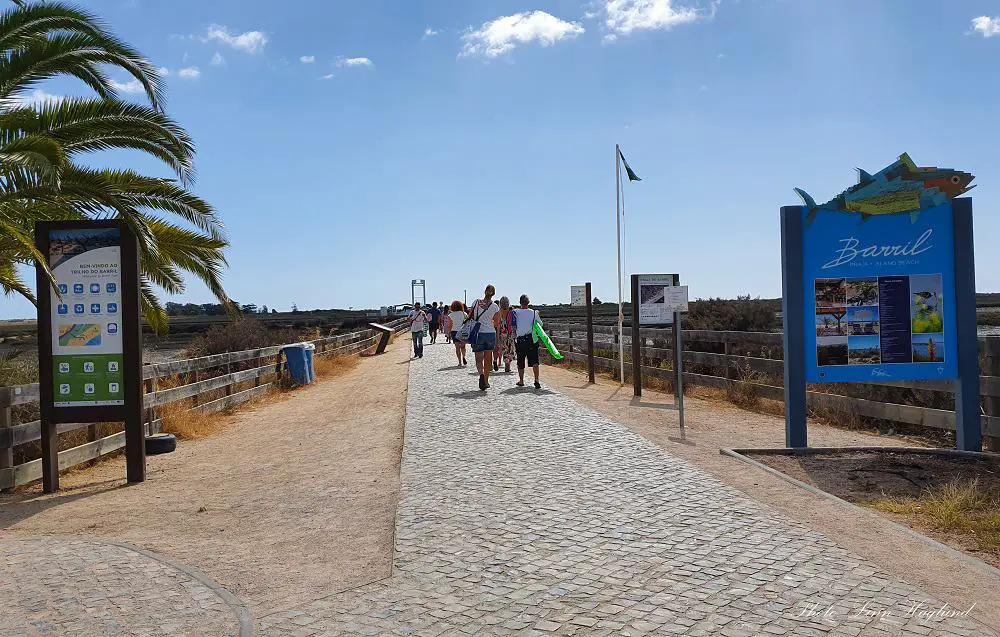 Facilities on Tavira island
Sunbeds and parasols
Lifeguard in summer
Restaurants
Toilets
On both Tavira beach and Barril beach, you find all the commodities of a tourist beach.
However, along the many kilometers in between the beaches and past Barril beach, there is space for those who want tranquility.
If this sounds like you, bring a blanket, a nice lunch for a picnic, a parasol for shade, and walk along the fine beach until you find the perfect spot.
Popular activities
Where to stay on Tavira island
In contrast to other barrier islands in Ria Formosa Natural Park, like Armona and Culatra, there's only one option for staying the night in Tavira island.
Camping Ilha de Tavira offers tents for rent with chairs, a table, and a cabinet to store belongings. Some of them have beds, electricity, and cooking facilities in separate tents for cooking.
On-site, you'll be able to use barbeque facilities and shop in the mini-market.
The campground is a lovely place to stay to get away from the more traditional Algarve vacation and retreat into nature.
Things to do on Tavira island
Walk around the old fisherman settlement
The way the old traditional fisherman's huts have been transformed into charming restaurants and cafes in both Tavira beach and Barril beach is well worth a look.
This has become a wonderful way of keeping the memory of the region's history alive instead of letting the structures fall apart and turn into lost memories.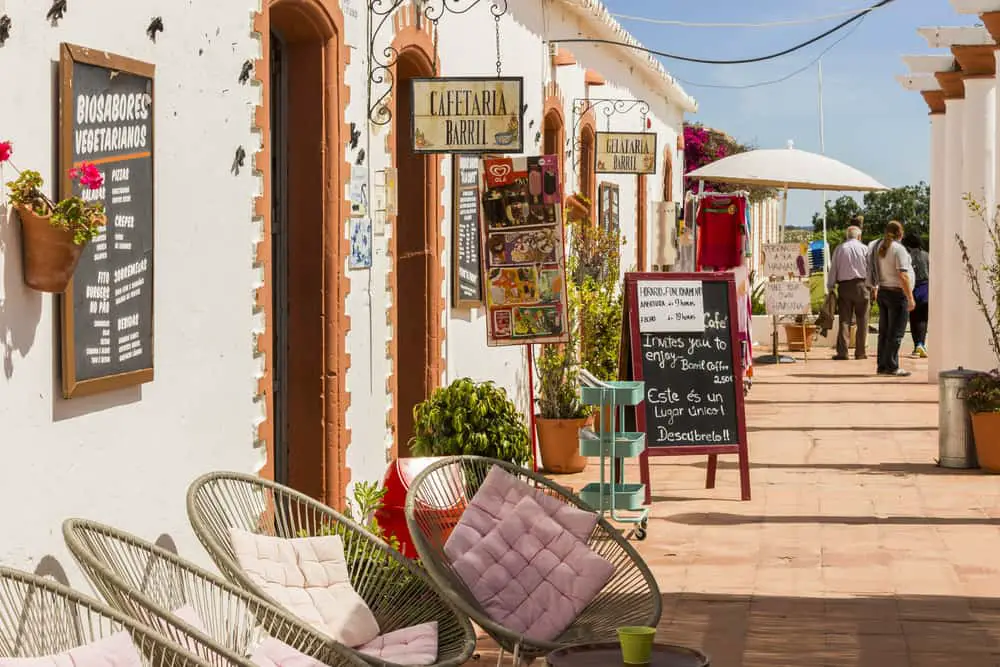 See the Anchor Cemetary
The unique Anchor Cemetery on Barril beach is one of the coolest things to see on Tavira island. Portugal has quite a few unique spots, and this is truly one of them.
These anchors, which no one really knows who placed neatly next to each other on the dunes behind the beach, now symbolize the lost tuna fishing culture that once was so prominent in this area of the Algarve.
This is truly one of the most quirky attractions you'll see in the Algarve.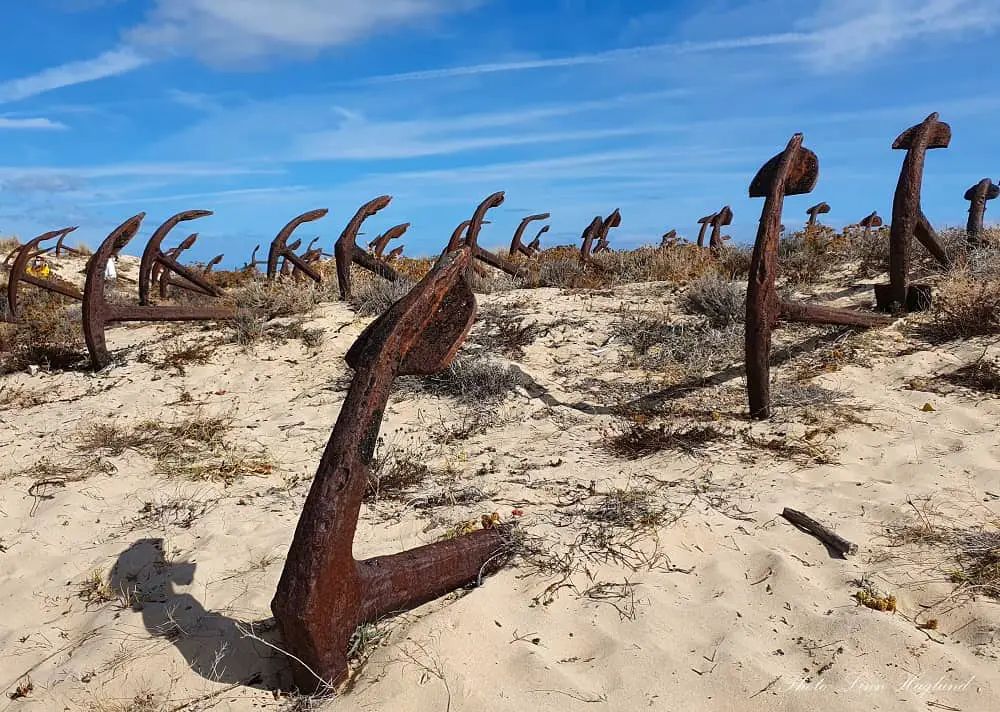 Chill at Barril beach
Barril beach, back to back with the Anchor Cemetary is a lovely place to relax and is the beach you reach when hiking or taking the mini-train to Tavira island. This is without a doubt one of the most beautiful Algarve beaches.
Here you'll find all the facilities you need in the summer months and you can have a bite or a fresh fruit juice at any of the restaurants in the old fishing cabins.
If you don't want to rent a sunbed (or they're all occupied,) head a little down either side of the beach where you'll find fewer people and can set up your own parasol and lay out your beach blanket.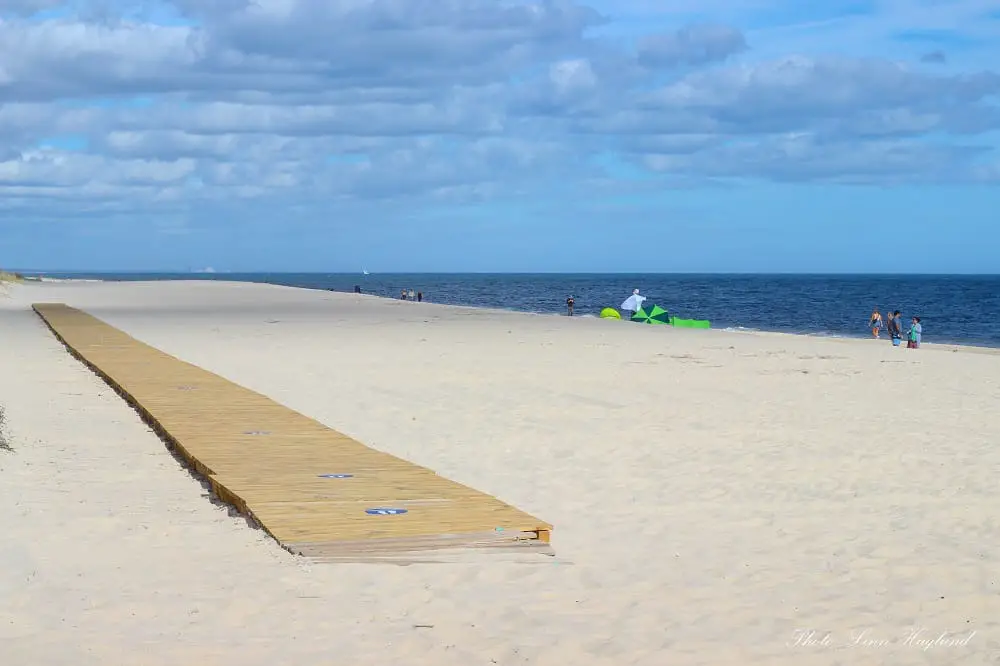 Stroll along the beach
With 11 kilometers of beach, you can have a really lovely walk along the beach. If you come by ferry to Tavira beach, you can walk the 5 kilometers to Barril beach and the Anchor Cemetary.
This is a great place to have lunch or a cold drink before either walking back to the mainland or taking the train. Alternatively, you can keep on walking to the other end of the island, to the astoundingly deserted Barra da Fuseta beach, and back again.
There's also a 3-km long nude beach between Barril beach and Barra da Fuseta beach. It's in a remote location without any facilities, but a truly stunning spot.
But don't forget to bring sunscreen and clothes to cover up if you plan on eating at a restaurant.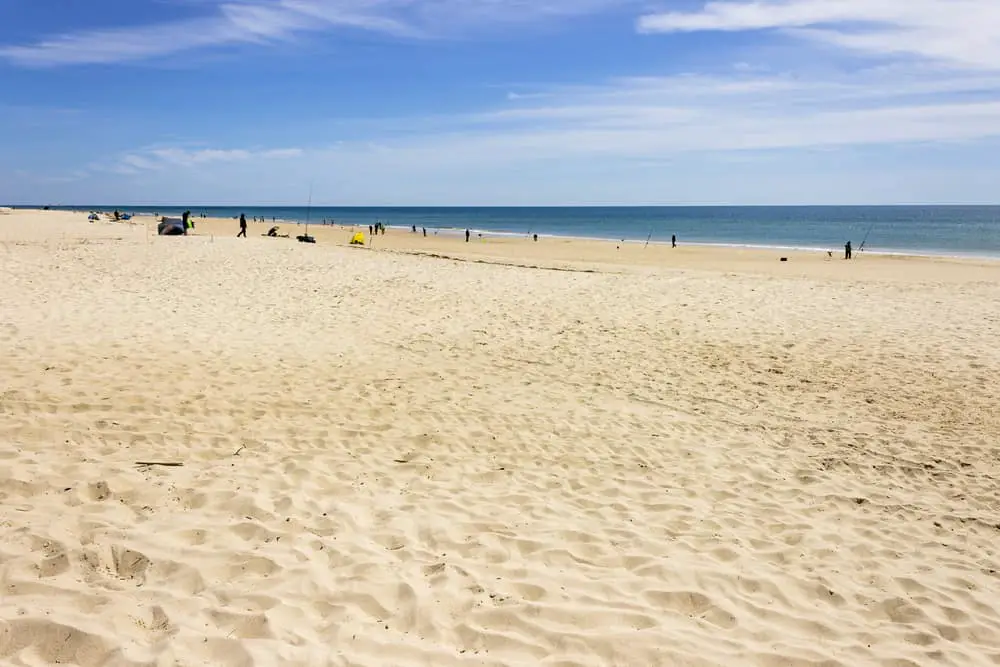 Hang out at Tavira beach
Most tourists coming to Tavira island by boat stay at Tavira beach without venturing any further. And that makes for a wonderful, relaxing day at the beach with everything you need available.
You can also rent kayaks and paddleboards to take for a paddle on the crystal clear water when you need a break from the tanning and swimming. this is also a great way to see the island from a different perspective.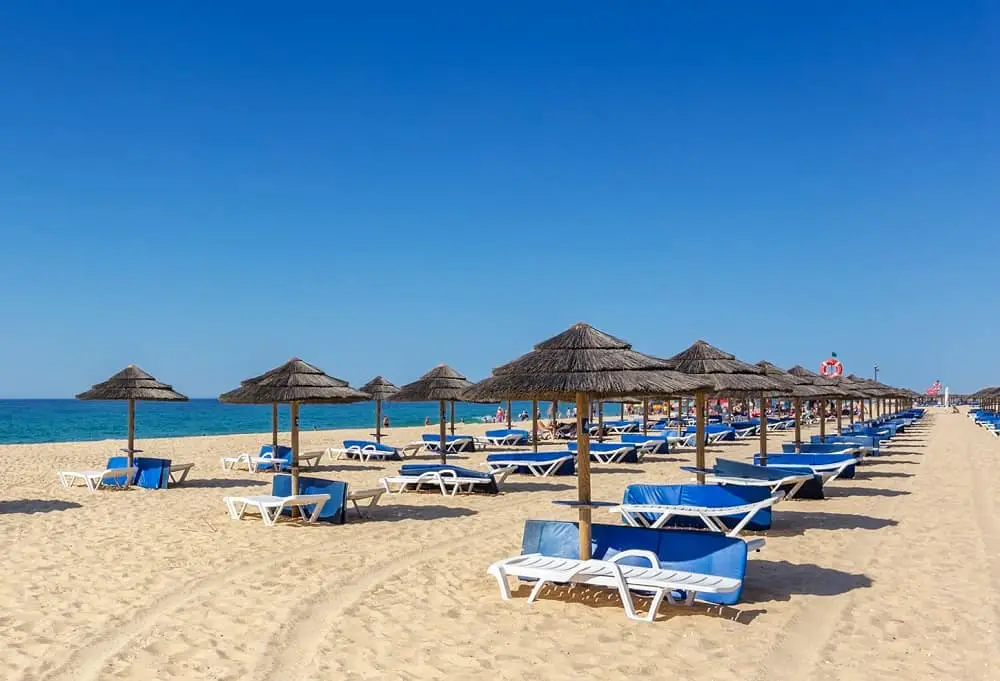 Terra Estreita beach
Located between Tavira beach and Barril beach is the lesser-visited Terra Estreita beach. The name means "narrow land" and not surprisingly, the beach is situated on the narrowest part of Ilha de Tavira.
It's directly accessed by boat from Santa Luzia. There's a short boardwalk from the dock to the beach of a couple of hundred meters. Otherwise, it's accessible only by walking from either Barril beach or Tavira beach.
There are some kayaks, paddleboards, umbrellas, and sunbeds for rent in the high season when you're also protected by lifeguards.
That said, this beach is much less equipped than Tavira beach and there's only a small bar with drinks compared to the restaurants on the beaches on either side.
Reflections on Tavira island
There's no questioning Tavira island, Algarve, is one of the most incredible places to go to escape the mainland's hustle and bustle.
With astonishing beaches for every person's liking, activities like paddleboarding, unique wildlife – especially interesting for birdwatchers – and don't forget the island has held onto its history even though it's been converted into a touristic place.
It's a great way to convert an income from tuna fishing no longer possible to an income from tourism. And as it's a protected area – eco tourism. Make sure you do your part and don't litter.
READ NEXT: Best towns in the Algarve