The beguiling Benagil Sea Cave (Algar de Benagil) hides majestically in the rugged cliffs of Portugal's Algarve coast.
The inside is elegantly decorated with natural brushstrokes of yellow and orange shades while the beach is lit up by the spotlight of natural sunlight shining through a large sinkhole in the cave ceiling, also recognized as "The Eye".
No arguing one of the prettiest places in Portugal and one of the absolute bucket list places in the Algarve, Benagil Cave mesmerizes millions of travelers every year. If you need to add one place to your Algarve itinerary, let it be Benagil Cave.
The huge sinkhole gives you the opportunity to get a glance of the cave's inside from the cliffs above. But once you enter the cave by kayak or paddleboard from the glittering Atlantic, you'll be left in awe by the grandeur of this natural treasure.
If you're wondering how to explore the much sought-after Benagil Cave too, you're in the right place. In this guide, I'll go through everything you need to know to explore this natural wonder by kayak, paddleboard, and boat.
Disclosure: This post may contain affiliate links. That means that if you make a purchase through one of those links, I will get a small commission at no extra cost to you.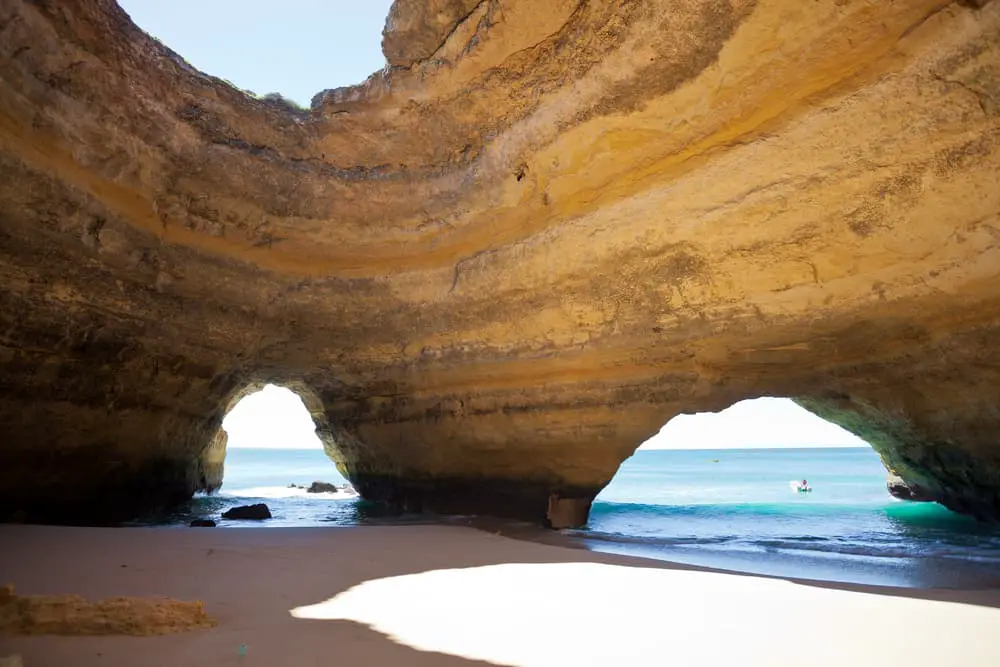 Where is Benagil Cave, Portugal
Benagil Cave is situated in the Algarve in Portugal's southern region. It's only 7 kilometers south of Lagoa where most public transport reaches and 60 kilometers west of Algarve's capital city, Faro.
The closest towns to Benagil are Carvoeiro and Lagoa.
How to get to Benagil Cave in Algarve, Portugal
The best way to get to Benagil Cave by public transport is from Lagoa. The town is well connected to other towns on the Algarve by bus and train. From Terminal Rodoviário in Lagoa, take the 107 bus to Carvalho beach.
From there, you have to walk 15 minutes to Benagil beach to get to the caves.
Finally, the easiest way to get to Benagil Cave is by car. Once you pass Lagoa or Carvoeiro, there are brown signs pointing you to Benagil. I usually just plot in Benagil beach on the GPS and it leads me straight to it.
Distance by car to Benagil from other Algarve destinations:
Faro to Benagil: 55 min
Albufeira to Benagil: 35 min
Armação de Pêra to Benagil: 20 min
Carvoeiro to Benagil: 15 min
Lagoa to Benagil: 15 min
Lagos to Benagil: 40 min
Portimão to Benagil: 25 min
If you don't drive, the best option for you might be to book a tour straight from where you're based. You can check out tours from different destinations further down in this post.
If you're going from Lisbon to Benagil Caves, the bus ride takes around 3 hours to Lagoa. Driving directly from Lisbon to Benagil Caves takes 2 hours and 40 minutes.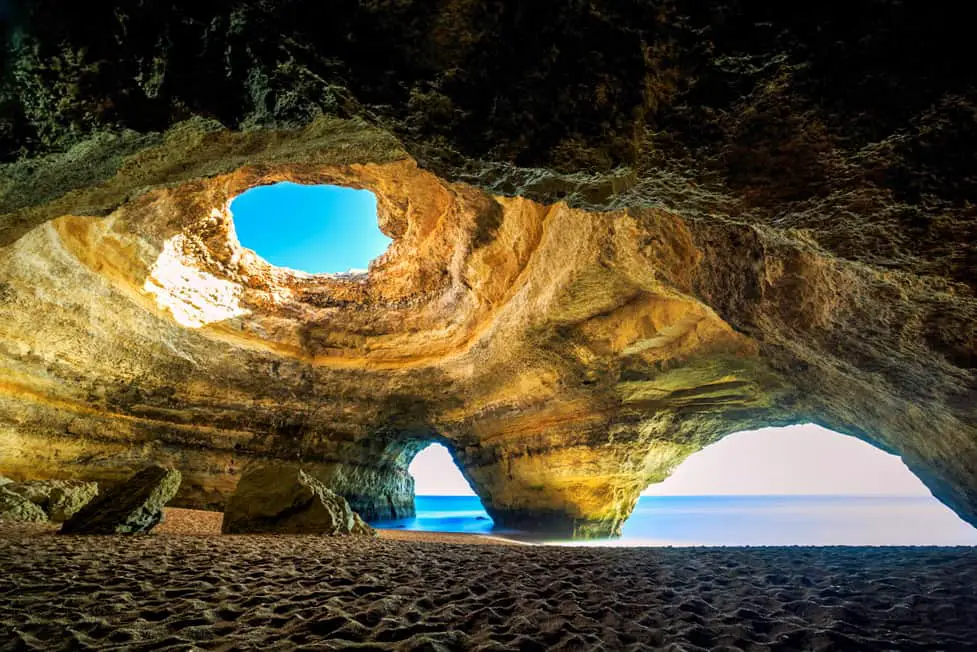 Benagil caves parking
Benagil beach is situated at the bottom of a steep U-turn. On top of the hill, there is a large parking space where you can leave your car free of charge. In the summer months, you should get there early so that you avoid getting to a filled-up parking lot and having to park on the steep, narrow road.
The walk down to the beach from Benagil caves parking is steep but short. You pass a couple of shops where you can rent kayaks and paddleboards on the way down, but there is also a tiny booth on the top of the beach.
Boat tours can be booked at the beach too.
Best time to go to Benagil Caves
The best time to visit Benagil Caves is spring and autumn. Though the caves can be visited all year round, the water is cold in winter and the crowds can be intense in summer.
If you visit Algarve in winter and want to see the caves, I suggest wearing a wetsuit if you go kayaking or paddleboarding – otherwise, the best alternative is to take a boat trip to stay dry. Keep in mind that boats don't run if the waves are furious.
With that in mind, I always try to go there as early as possible in the morning to avoid the daytime crowds. It surely gets busier throughout the day.
Especially in summer, I recommend booking a tour in advance so you avoid long waiting time or that there are no available ways to get there.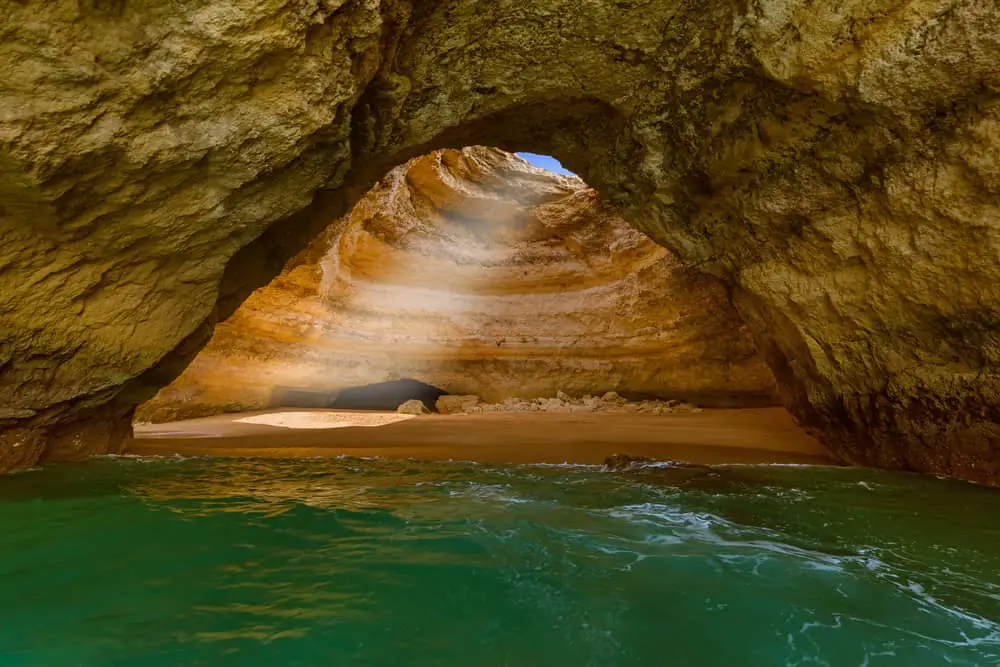 Best way to visit Benagil Cave
There are three ways to explore this Portuguese treasure and I'll list them all with their pros and cons here so that you can decide what is the best way to visit Benagil Cave for you.
Kayak
Going on a Benagil Cave kayak tour is no arguing one of the most rewarding ways to see the cave. Going by kayak also means you can enter the cave and walk on the sand, getting epic pictures from inside the sea cave.
I highly recommend going as early as possible in the morning so that you avoid the crowds. As one of the most popular tourist attractions in the Algarve, I'm sure you can imagine how crowded it can get later on in the day.
Another thing to keep in mind is the boat traffic to the mouth of the cave that gets busier and busier throughout the day. You will also discover more of the breathtaking Benagil caves kayaking along the coastline.
You find Benagil Cave kayak rental at Benagil beach – either when entering the beach or along the road between the parking and the beach.
You have the option to go on your own or join a guided tour, which I recommend if you're not used to kayaking. If you've done a lot of sea kayaking before and are not fond of going in large groups, you'll have a blast going solo!
You can book a kayak tour here.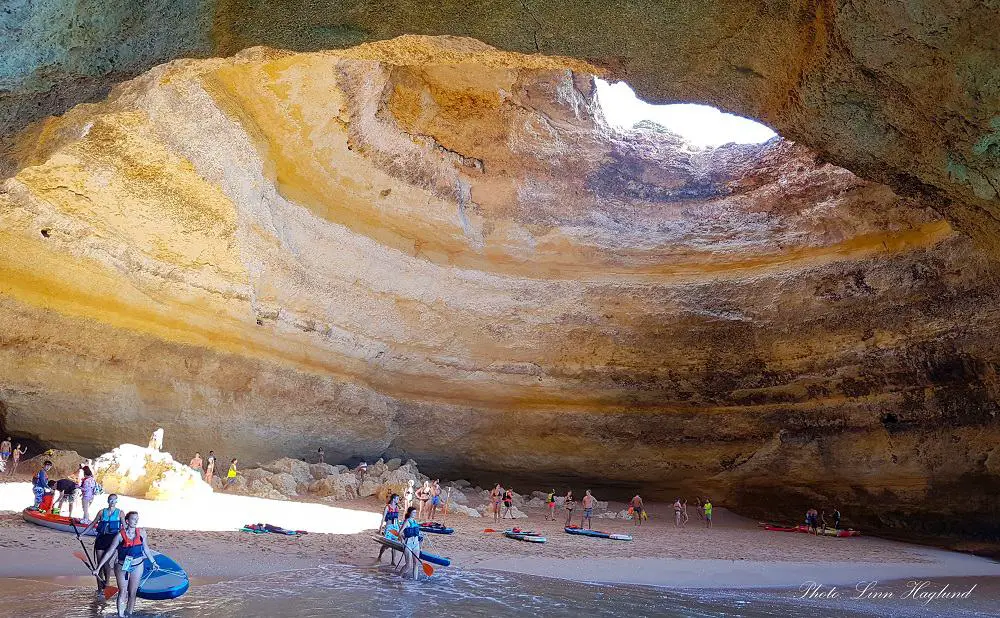 Standup paddleboard
Discovering the Benagil Cave by standup paddleboard gives you all the same benefits of visiting it by kayak. Yet, it's a different adventure, and some like it more than kayaking (read: me). What I love about this, is that you get time inside the cave and can truly feel the magic and grandeur of the cave.
Paddleboards can be rented at all the same places as kayaks along the road from the parking to the beach.
If you haven't tried standup paddleboarding (SUP) before and are curious about it, don't worry. You can go on a guided SUP tour where the guide will give you a mini-lesson on how to use the board before getting in the water. It's also easy to stand on your knees if you struggle to keep balance on your feet.
Book your Benagil Cave standup paddleboard experience here.
Boat
The last way to see Benagil Cave is by boat. This is a great way to see the cave if you don't want to get in the water, don't want to make the effort of paddling, or don't feel comfortable on a kayak or paddleboard.
It's also the only way to go if you're not a strong swimmer as it's not recommended to do either previous activities if you're not comfortable in the water.
The con about going by boat is that you'll only be able to see the cave from the outside. It's not permitted to let tourists get off the boat and enter the cave.
That said, it's an exceptionally comfortable way to see the most bewildering cave of the Algarve.
Benagil boat tours leave from Benagil beach and can be booked directly on the beach, but you can also find loads of boat tours from other towns in Algarve.
Many of these include dolphin watching which is a great opportunity!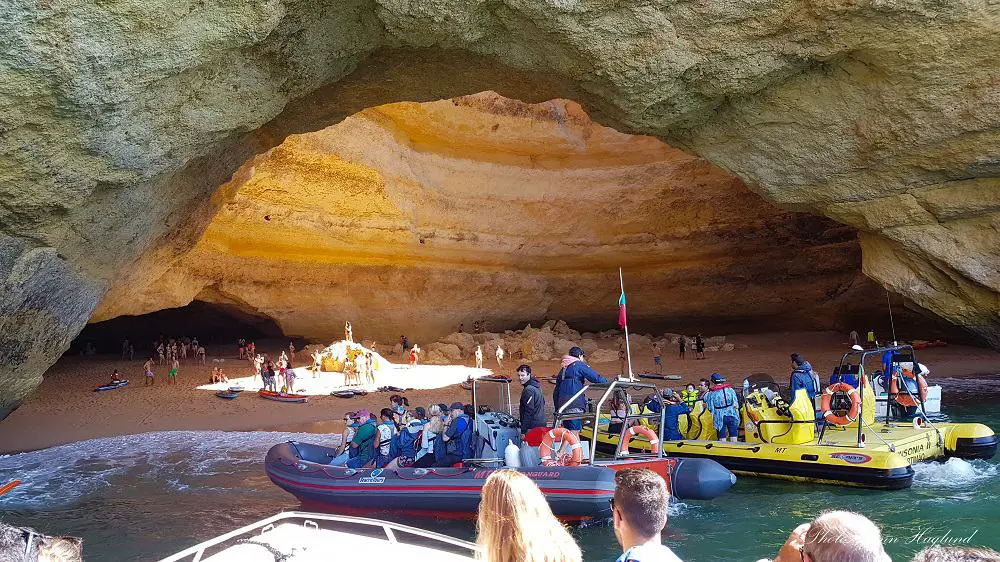 Can you swim to Benagil Cave?
While it's not far from the beach to Benagil Cave, there are strong underwater currents in this area of the Algarve. The tides also shift quickly.
For this reason, it can be extremely dangerous to try to swim from Benagil beach to Benagil sea cave.
I don't recommend attempting to swim there as it's a huge risk that can be fatal. It's not that expensive to rent a paddleboard or a kayak to stay safe.
Find the best Benagil cave tour for you
There are numerous Benagil caves tours from all over Algarve. Here are a few options including tips so you can find the best Benagil Cave tour for you. All tours include a safety brief and life vests. Swimming will always depend on the water conditions – satefy first.
As for dolphin spotting, remember that they are wild animals and might or might not be spotted. The boat crew on the dolphin-watching boats are trained to look for them and will know the right spots, but there is still no guarantee.
Benagil Caves tour from Portimão
If you're looking for an action-filled Benagil Caves tour from Portimão, board a speedboat adventure tour and you're guaranteed to fly across the waves.
Along the way, you can be lucky and see packs of dolphins playing in the waves and you're sure to dart past an incredible coastline of cliffs, sea caves, and hidden beaches.
This tour is for you if:
You're an adrenaline junkie
You love high-speed boats
This tour is not for you if:
You're pregnant
You have back problems or other disabilities
You're not comfortable around boats and water
If you want to float along the coast in a slower pace with a bar and toilets included, this unique pirate ship cruise is a great adventure.
This tour takes you on a relaxing journey where you might spot dolphins and have the opportunity to go swimming in front of the breathtaking Marinha beach.
A small boat will take you from the ship to see the caves, including Benagil Cave, so you can see it close-up.
This tour is for you if:
You like relaxing boat trips
You want to have a cold drink onboard
You want a varied adventure including swimming
You travel with kids
This tour is not for you if:
You're not comfortable changing boats
You get easily bored on large boats and want high speed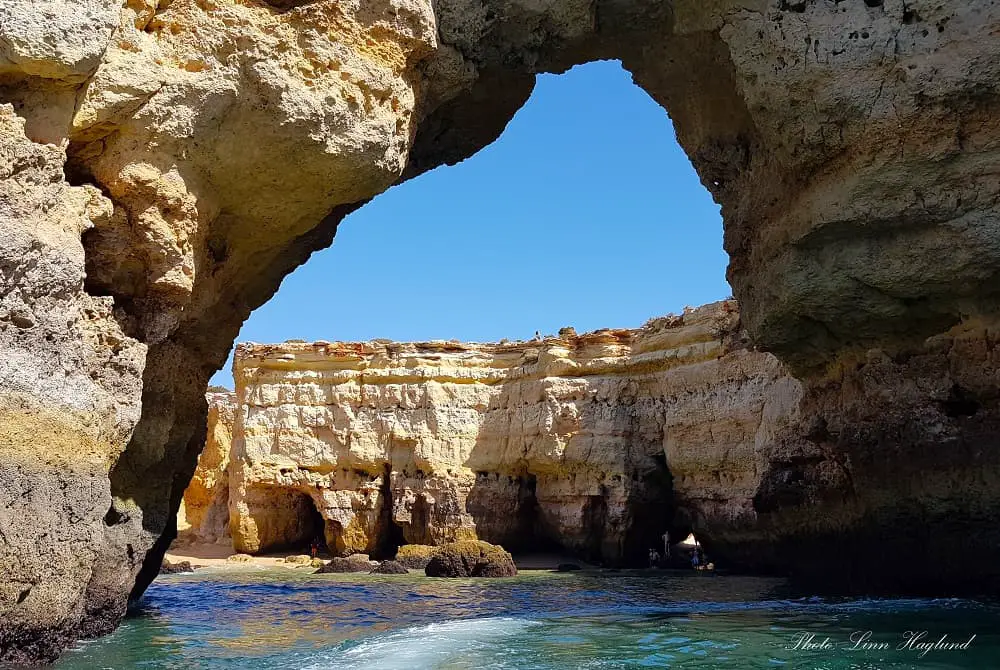 This tour takes you by catamaran from Portimão to where you'll transfer to the kayaks. The local guide will take you inside Benagil Cave as well as to see other known sea caves and hidden beaches along the way.
It will of course be time for a dip if you want to go for a swim – so don't forget your swimsuit and reef-safe sunscreen.
If you're traveling with friends or family and not all of you want to kayak, there is the opportunity to stay on the catamaran and sunbathe while the rest go kayaking.
But keep in mind that they will miss out on seeing Benagil Cave, so I'd rather recommend a boat tour where everyone can get a good glimpse of the cave.
This tour is for you if:
You love physical activity
You want to see Benagil Cave from the inside
You want to swim in the crystal clear water
This tour is not for you if:
You can't swim
You use a wheelchair
Benagil Cave tour from Albufeira
This tour is exceptional for animal lovers as you'll be on board with a marine biologist that will teach you everything you want to know about the wild dolphins in the area. If you're lucky, you might even spot a flock of these incredible creatures playing in the waves.
This speedboat tour also stops along the way so you can jump into the crystal clear water for a refreshing dip. But don't forget your sunscreen as it will be 2.5 hours on the water.
This tour is for you if:
You want to learn about dolphins
You love wildlife
You're an adventure-seeker
You want to go swimming as part of your cave tour
This tour is not for you if:
You're pregnant
You have backproblems or other physical disabilities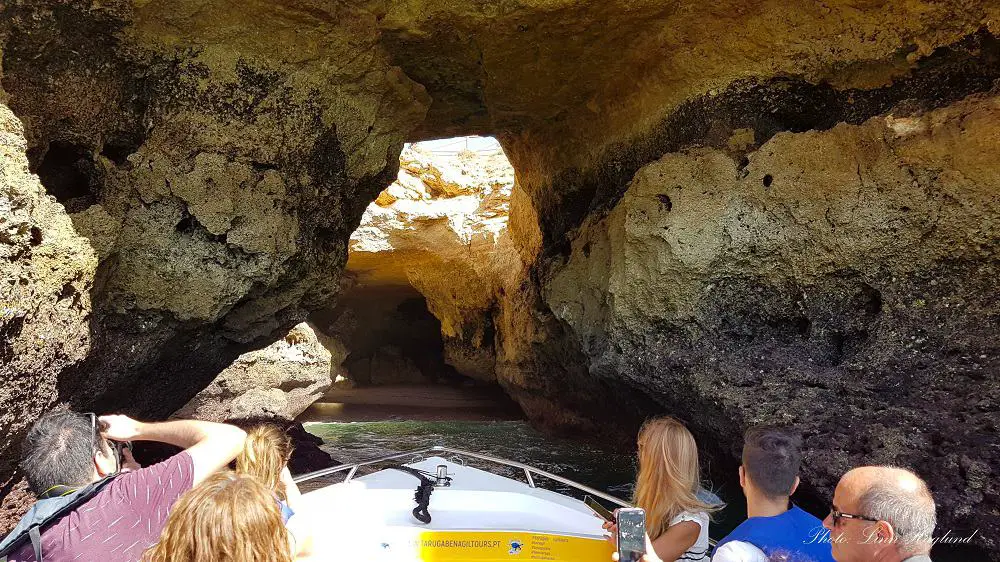 If you're a lover of catamarans and the luxury of a glass of bubbles on board, this is the tour for you. This tour takes you along the coast, with music on the boat and a friendly atmosphere.
You can go for a swim on this tour and the catamaran is small enough to enter the mouth of Benagil Cave to get a peek inside.
This tour is for you if:
You love catamarans
You want to enjoy a glass of bubbles on the boat
You want to go for a swim
This tour is not for you if:
This tour is excellent for those who want to explore the Benagil caves and hidden beaches by kayak or paddleboard. You'll get picked up in Albufeira by boat which takes you the first 40 minutes along the coast until you transfer to the kayaks or SUPs.
This tour offers free pictures and you get to enter the caves and explore the hidden beaches first-hand. So bring reef-safe sunscreen and swimwear!
This tour is for you if:
You love physical activity
You want to enter Benagil Cave and get pictures from the inside
You want to swim in the crystal-clear water
This tour is not for you if:
You can't swim
You're pregnant
You travel with kids under 4 years of age
You use a wheelchair
See the top kayak tours from Albufeira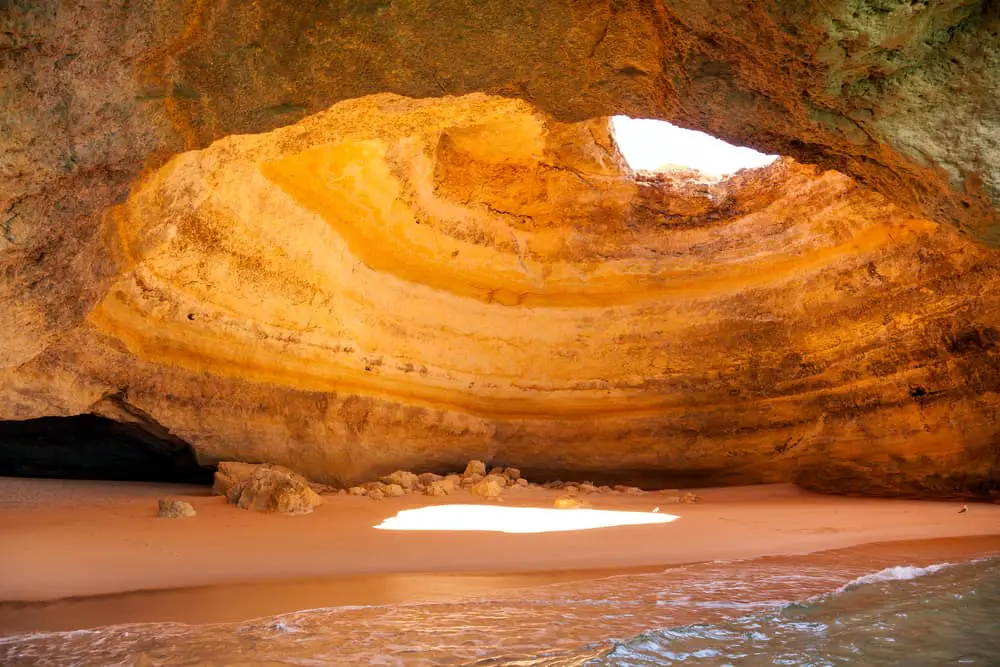 Benagil Cave tour from Lagos
This Benagil Caves boat tour from Lagos takes you to several caves and secluded beaches along the coast. The local guide will tell you all about the history of this rugged coastline that's so full of hidden treasures.
This thrilling boat tour from Lagos is a fun adventure for adventure-seeking travelers wanting to see the amazing caves Benagil, Algarve hide.
This tour is for you if:
You want to learn more about the history of Algarve's sea caves
You want an action-filled boat tour
This tour is not for you if:
You travel with children under 8 years
You're pregnant
You have mobility impairments
Benagil tour from Vilamoura
This action-filled speedboat tour is perfect for anyone wanting to combine dolphin watching with an unforgettable view of the most famous cave beach Portugal has seen. This tour promises a thrilling adventure.
This tour is for you if:
You love to look for wild dolphins
You want to learn more about the secluded beaches and caves of Benagil
Love a thrilling adventure
This tour is not for you if:
You travel with children under 2 years
You're pregnant
You have back/neck problems
What to expect from a Benagil Cave tour
You can expect quite a different experience of Benagil Cave depending on how you visit and when you go. In August, it will get crowded and boats queue outside the cave entrance to let tourists get a peek inside the cave.
Also, be aware that the bigger boats don't get that far into the cave so you should go on a smaller boat to actually see the cave. The smaller boats can also mean a bumpy ride as they speed more and water can splash into the boat.
But the smaller boats also enter more of the Benagil caves along the rugged coastline. Depending on the tides, boats take you far inside hidden caves where you can touch the cave ceiling and almost feel as there's no space for the boat.
Most boat tours visit 10-20 caves and last 1-2 hours.
Going by kayak or paddleboard gives you a more hands-on experience. Whether you rent individually or go in a guided group, you can visit more of the caves and beaches along the coast.
Personally, being close to the water and feeling nature up close, getting off at hidden beaches, and feeling the caves right there is a much more exciting experience. Yet I know, it's not for everyone.
Going on a guided tour gives you the safety of the guide knowing the tide and safety of entering the different caves and I highly recommend it if you plan on visiting more caves than Benagil Cave.
Where to stay near Benagil Cave
The best place to stay near Benagil Caves is the enchanting seaside town of Carvoeiro. From there, you can walk a coastal walk to get to Benagil beach.
Here are a few options of where to stay in Carvoeiro for different budgets.
For a luxury high-end stay in Carvoeiro, check in at the astounding Villa Welwitshia. At this luxury resort, you'll have access to a big outside pool and can indulge in a mouthwatering breakfast.
A wonderful mid-range option is the Vale d'El Rei Hotel & Villas in Carvoeiro. Go for a dip in the outside pool, read a book at one of the sunbeds, or enjoy a nice meal at the poolside terrace with a sea view.
A budget option that is excellent with nice, light rooms, and an outdoor pool for guests is the O Quintal Guesthouse. Close to Carvoeiro beach, this is a perfect place to stay for active travelers wanting to hike to Benagil.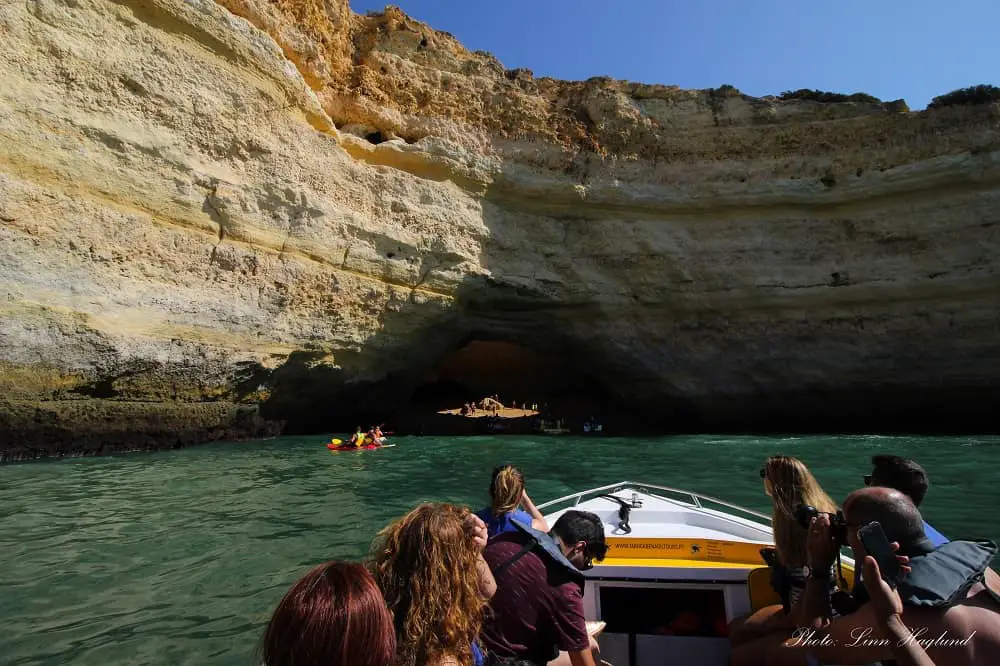 Explore places around Benagil Cave Algarve Portugal
Reflections on visiting the Cave of Benagil
After visiting the mesmerizing Cave of Benagil for the first time, I was in no doubt why Huffington Post listed it as one of the top 10 coolest caves in the world.
Before I went, I was personally not sure if Benagil cave was worth visiting and if it would feel totally overrated. Truth is, once I entered the cave and set foot on the beach, I was completely overwhelmed!
I've traveled extensively in the country and can say that this is the coolest sea cave Portugal has to showcase. If you have the chance to include one cave in Algarve, Portugal on your itinerary, make sure it's a Benagil Cave tour.