When it comes to fun things to do, Lagos, Portugal will not disappoint! It's one of the best places to stay in the Algarve and is especially popular among backpackers and surfers.
Situated on the coastline boasting some of western Algarve's finest beaches, surf, and dramatic rock formations, you're guaranteed to have a blast.
But Lagos also has a rich military history, was a center for the slave trade in Portugal, and it was from the port of Lagos explorers set out and discovered the Madeira and the Azores archipelagos. This town is a must for your itinerary in Algarve.
Lagos has been one of my go-to places for years and I'm super excited to share with you the absolute best things to do in Lagos, Portugal.
Disclosure: This post may contain affiliate links. That means that if you make a purchase through one of those links, I will get a small commission at no extra cost to you.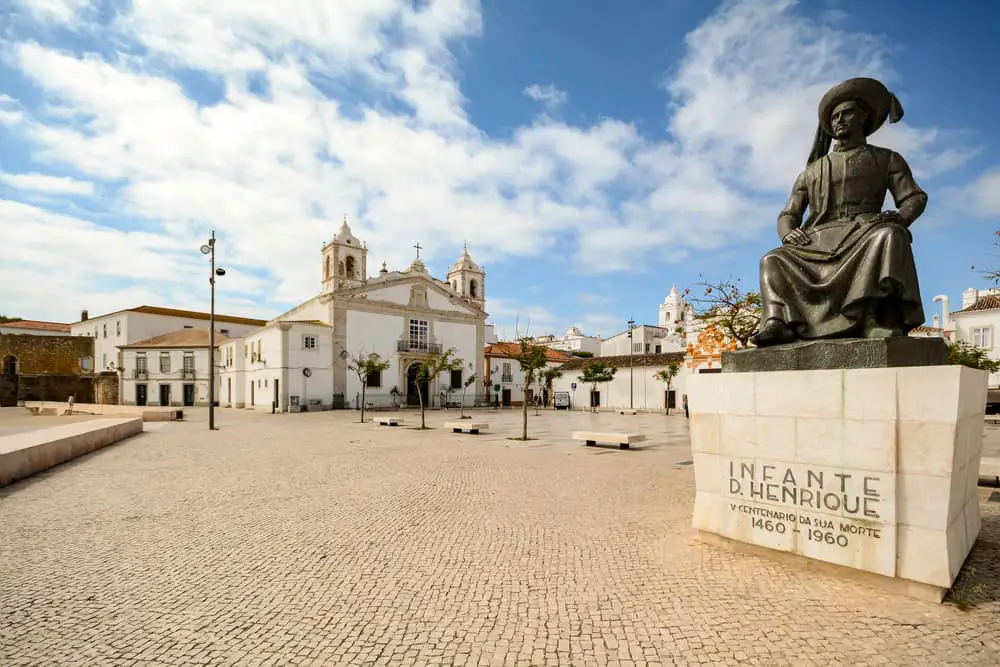 Best things to do in Lagos, Portugal
Wander through Lagos old town
Take a stroll around Lagos old town through cobblestoned streets, quaint squares, and tiled houses. With plenty of restaurants, bars, and tourist shops, the old town is always full of life and leaves no doubt as to why Lagos is one of the most charming towns on the Algarve.
Make sure you pop into the Igreja de Santo António. Seemingly plain on the outside, you'll be mesmerized by flashing gold and traditional azulejos on the inside.
Take time to learn about Lagos' dark slave history at the Slave Market Museum showing slave history back to the 15th century when the first slaves were brought to Lagos. There's also the Museu Municipal nearby with a large archaeological section.
Don't forget to check out the medieval castle, Castelo dos Governadores nearby.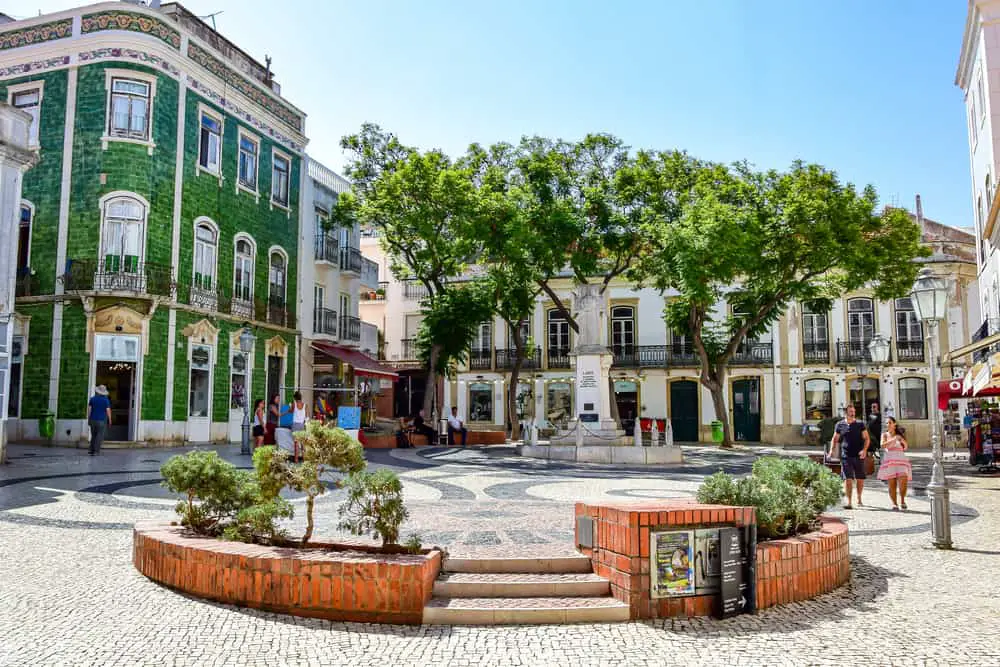 Explore Ponta da Piedade
One of the most stunning things to see in Lagos Portugal is without a doubt the rock formations of Ponta da Piedade.
This dazzling coastline is one of the most breathtaking in the Algarve. The best views are from the clifftop, but you should walk the stairs down to the bottom too and get close to the glittering water.
take a stroll along the Ponta da Piedade boardwalk for more captivating views or visit this site by boat.
There's a large parking lot on top of the cliffs if you drive. Otherways, there are buses taking you from Lagos to Ponta da Piedade. Walking takes about half an hour one way.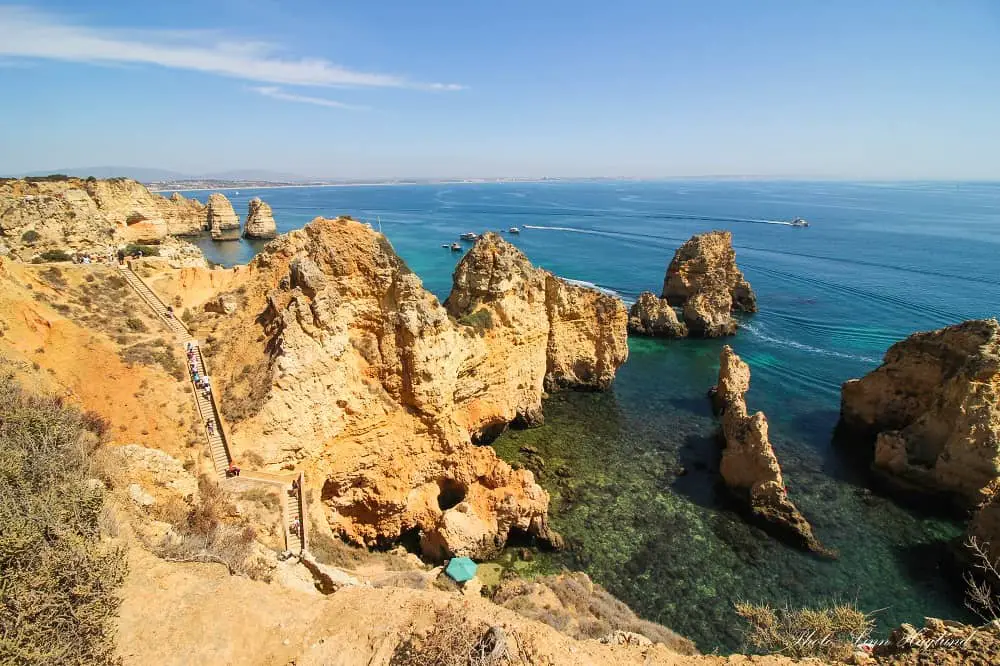 RELATED READING:
Chill at Camilo beach
One of the most beautiful beaches in Lagos is without a doubt Camilo beach. With a long set of wooden stairs leading down to the golden sand, you're treated to dazzling views all the way down.
Bring a snorkel to explore beneath the crystal clear water or rent a paddleboard on the beach to paddle around to Ponta da Piedade.
There's parking on the top of the cliffs, but it's just a short walk from Lagos.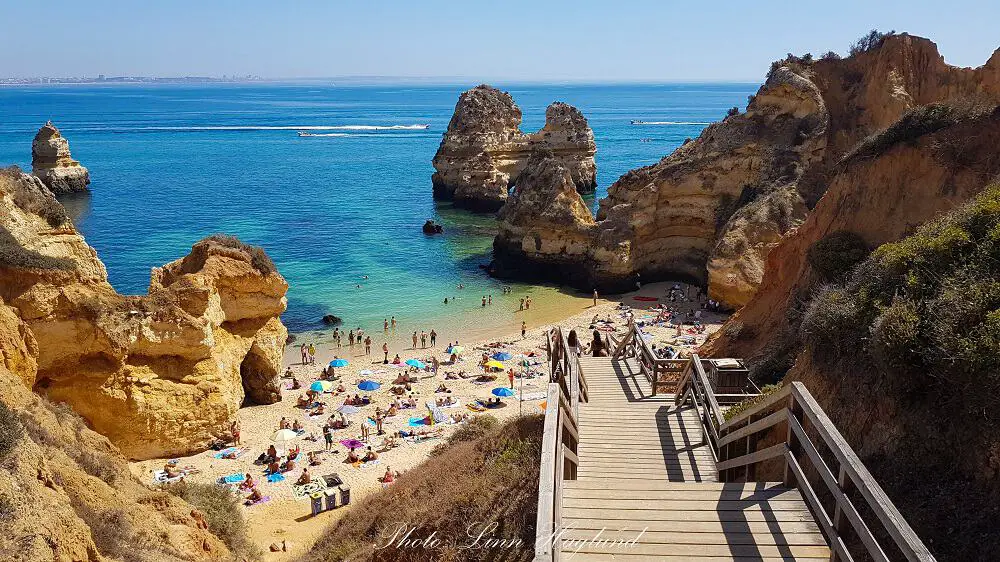 OTHER NOTEWORTHY BEACHES ON THE ALGARVE:
Ponta da Bandeira Fort
The seaside fort was an important part of Lagos' defense, guarding the city against attackers from pirates and the Spanish since it was built in the late 1600s.
It was used as a military structure until the 20th century. In the 1960s, the fort was renovated and is now open to the public.
The fort offers sweeping views of Lagos and the coastline and is truly worth visiting to get an insight into the military structures from the times Lagos was an important defense city in the Algarve.
Inside, there's a small museum showcasing local artwork and you can visit the little chapel inside that's decorated with azulejos on the inside.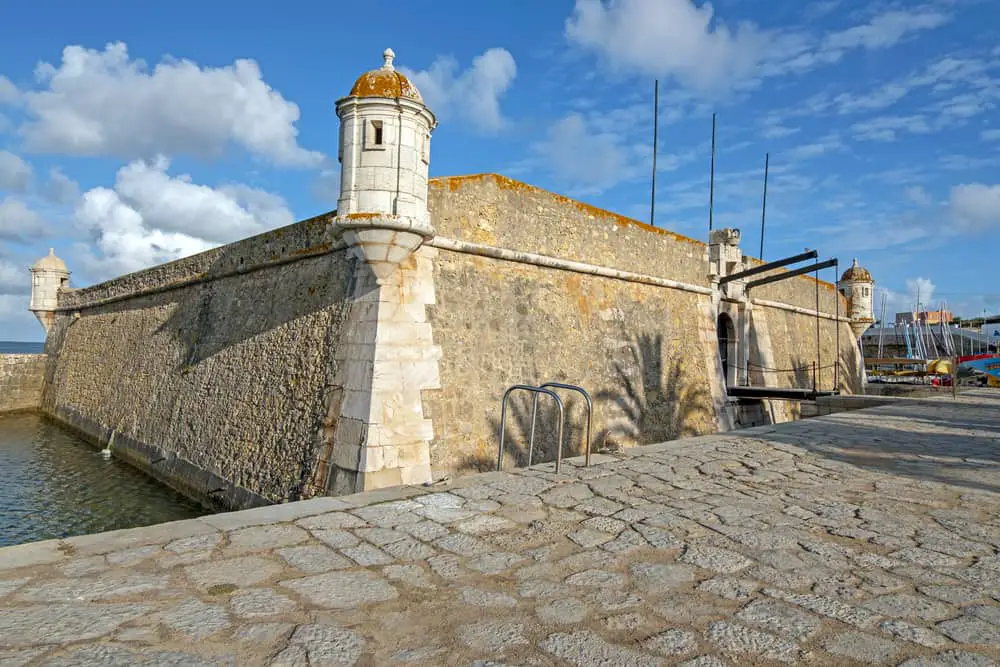 Explore the coastline by paddleboard
There's no better way to see the coastline of Algarve than going for a paddle to discover hidden caves and secret beaches. The coastline in Lagos is among the most spectacular, which makes it the perfect place to rent a paddleboard.
You can head to Ponta da Piedade or to Algar Seco and Benagil Cave to see some of the grandest sights on the coast, or you can spend the day looking for hidden places with no other people around.
If you're new to paddleboarding, a guided tour is most likely the best so you get comfortable before you head out by yourself.
READ: The most thrilling activities to do in Albufeira
Head to "the end of the world"
Sagres and Cabo de Sao Vicente is the south-western-most point in Portugal and also known as "the end of the world".
Just about half an hour's drive away and you can gaze out at a jaw-dropping scenery of vertical cliffs dropping straight into the ocean.
This is no arguing one of the top highlights in Lagos Portugal. Activities like surfing and hiking are popular in this area, but the main attractions (other than the cliffs) are the Cabo de São Vincente Lighthouse and Sagres Fort.
There's an abundance of parking in both places.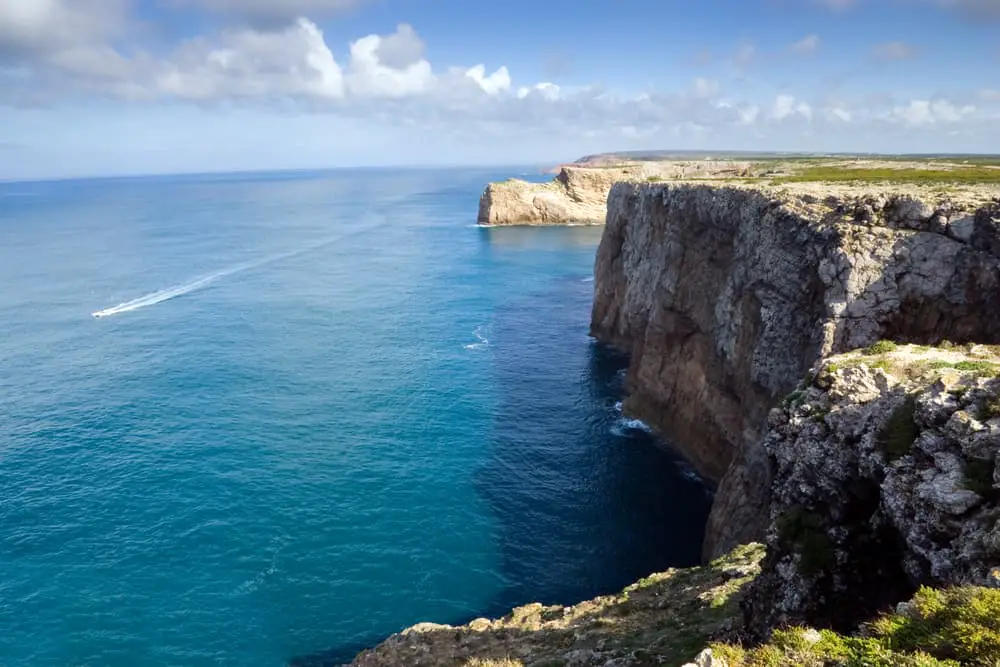 Learn how to surf
Lagos is one of the best places to learn how to surf in the Algarve, with several surf schools in town. This is one of the best activities for anyone wondering what to do in Lagos. Portugal is jam-packed with ideal spots for surfing, and the beaches around Lagos are great for newbies as well as seasoned surfers.
Whether you want to do a private lesson or join a week-long surf boot camp, you'll find your adventure in Lagos. The good thing is that you can surf there all year round, so even during the winter in the Algarve you can get on your wet suit and ride the waves!
Check availability for surf lessons here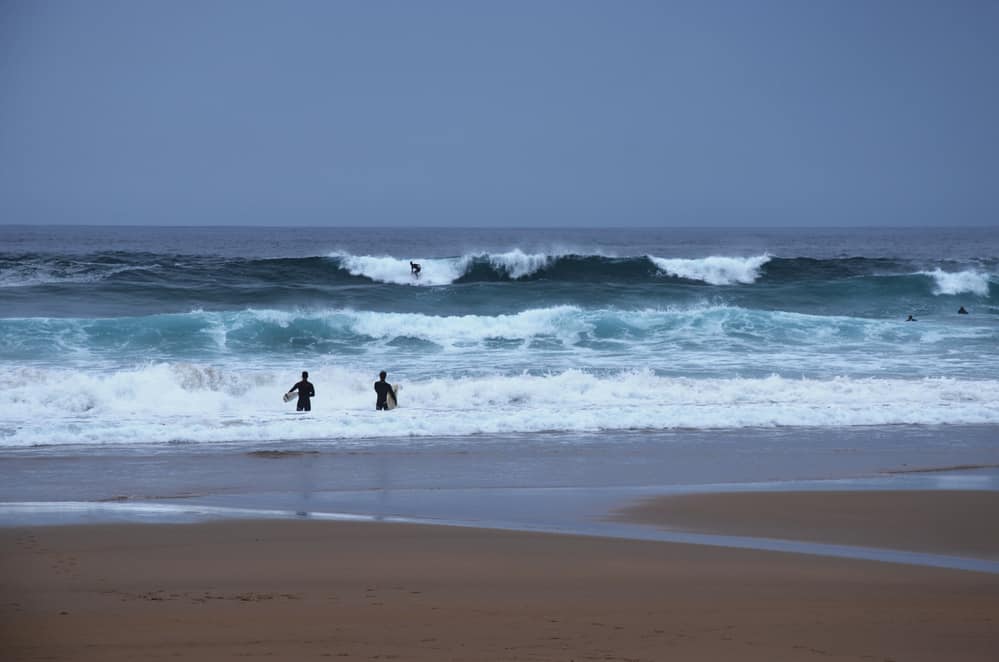 READ: Exactly how to get from Lagos to Albufeira
Hike the Seven Hanging Valleys Trail
One of the best hikes in Algarve is the Seven Hanging Valleys Trail not far from Lagos. Strap on your hiking shoes and head out on this astonishing hiking route across the golden cliffs between Carvoeiro and Marinha beach.
Highlights along the route are the Alfanzina Lighthouse, Benagil beach and cave, massive sinkholes, and the sea carved arches and limestone towers.
This is a good 6-hour hike there and back. It's a good idea to drive all the way to Marinha beach to start the hike since there's more parking space there.
This is truly one of the best things to do in Algarve for adventure seekers and outdoor lovers.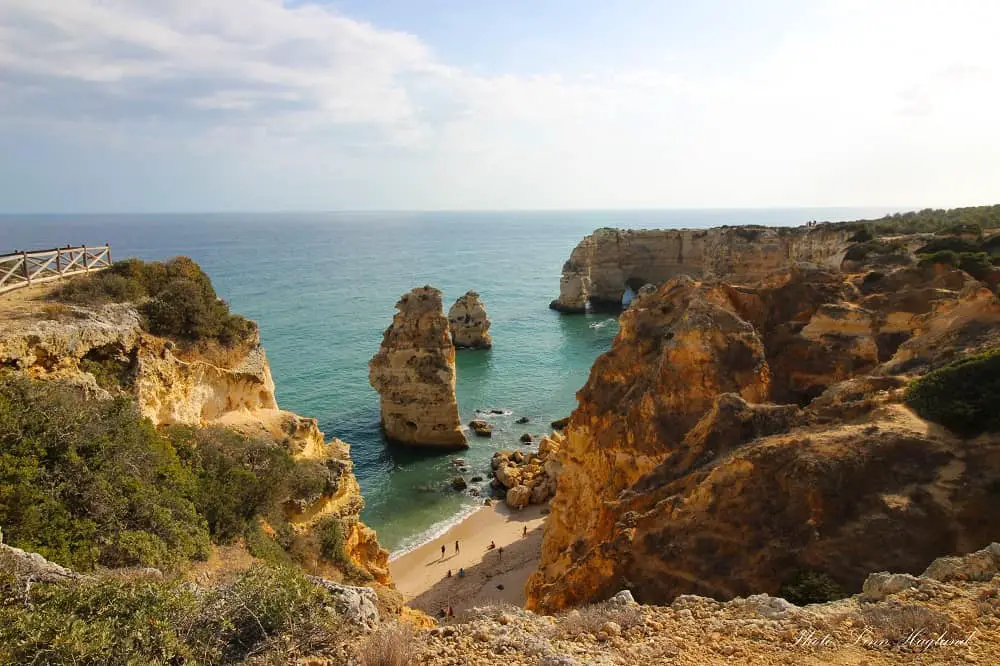 Take a boat trip to Benagil Cave
Taking a boat trip to Benagil Cave is no doubt one of the top things to do in Lagos. Algarve's most famous sea cave can be visited on boat tours all year round and most of them take you to a whole world of different sea caves and hidden beaches along the coast.
Some of these tours also search for dolphins along the way. Either way, you're assured to be entertained and have a memory for life. Here are some of the best Lagos boat tours.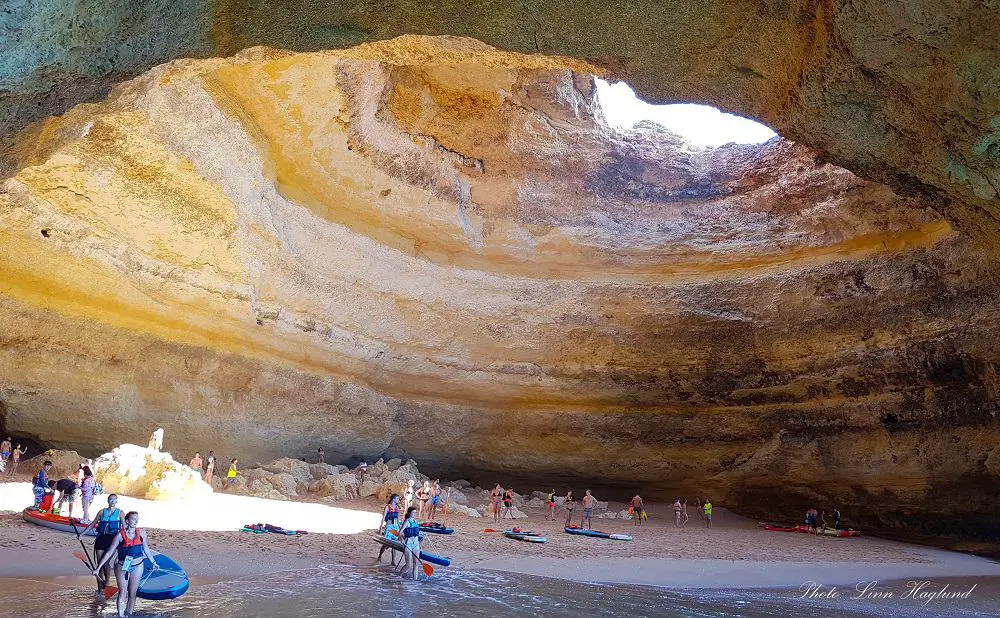 Snorkel at Dona Ana beach
One of the must-see Lagos beaches is the enchanting Dona Ana beach. With a serious set of stairs taking you down to the golden beach dotted with limestone formations both on the beach and in the water, it's a true paradise.
Bring your snorkel and discover the vivid underwater life in the crystal-clear water. This is one of the most memorable things to do in Lagos, Portugal.
Kayak along the cliffside
One of the best ways to explore the staggering cliffs of Lagos is by renting a kayak or going on a guided kayak tour.
It's amazing to get this close to nature. You're guaranteed to be mesmerized by all the hidden beaches and caves along the way, feeling so tiny below the colossal cliffs towering above you.
You can also go on a kayak tour to Benagil Cave which gives you the chance to enter the actual cave and walk onto the beach inside.
Relax at Praia dos Estudantes
You might wonder what to see in Lagos, Portugal after visiting only a couple of beaches, but don't leave it with that. There are so many incredible beaches in Lagos and Praia dos Estudantes should not be missed!
With man-made tunnels on each side leading to Batata beach and the next cove and the Roman bridge connecting the mainland to a rock in the ocean, this beach is a true pleasure.
Praia dos Estudantes is a short walk from Lagos old town easily reached by foot.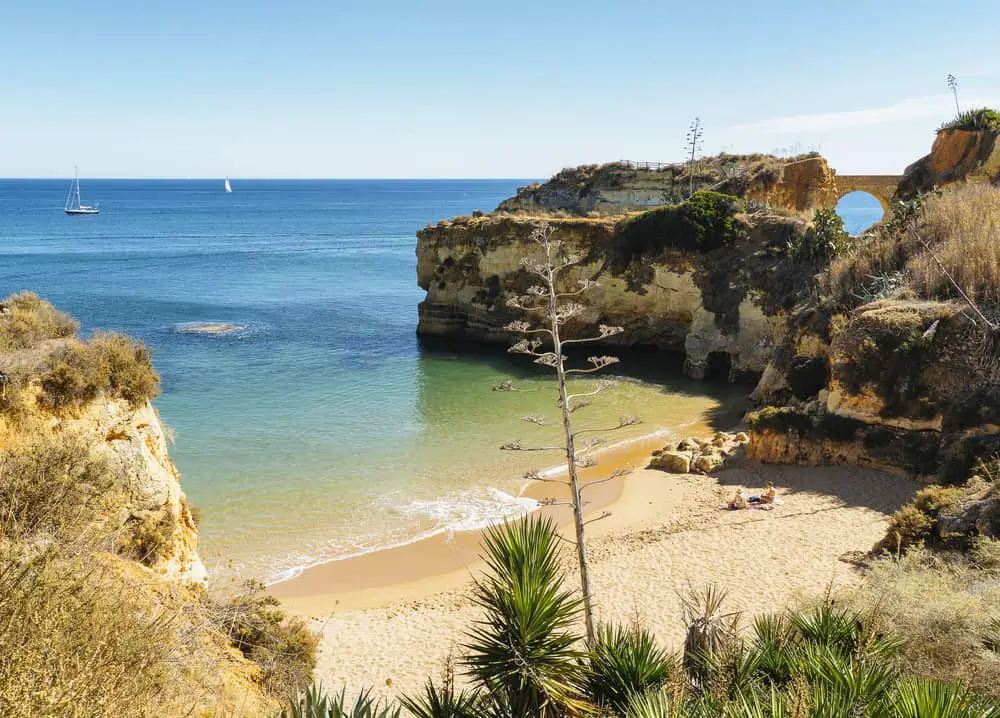 Go dolphin watching
In Lagos, Portugal, things to do on the ocean are in abundance, but one of the most rewarding activities is to go dolphin watching. There's nothing quite as magical as observing wildlife in their natural habitat.
And let's be honest, dolphins are quite special beings. If you're lucky, you'll experience a pack of dolphins playing around the boat.
But if you don't see any, there's still a staggering coastline to enjoy from the boat. Some boat tours even let you swim by one of the bewildering beaches.
No matter if you spot them or not, you're guaranteed to have a wonderful day out on the ocean.
I highly recommend going out with a Marine Biologist so that you can learn more about dolphins and the different species, at the same time as you support important research and preservation work. Here's a great tour for that.
MY TOP PICKS FOR DOLPHIN WATCHING TOURS FROM LAGOS:
Walk the Ponta da Piedade boardwalk
If you're wondering what to do in Lagos on a winter day when it's too cold in the water to go swimming, head to Ponta da Piedade and stroll along the boardwalk on top of the sun-kissed cliffs.
This idyllic boardwalk takes you all the way to Canavial beach. There and back, it's about 2.5 km and a couple of hours of leisurely walking.
The boardwalk is a great way to see the cliffs and views for wheelchair users and families taking their babies in strollers.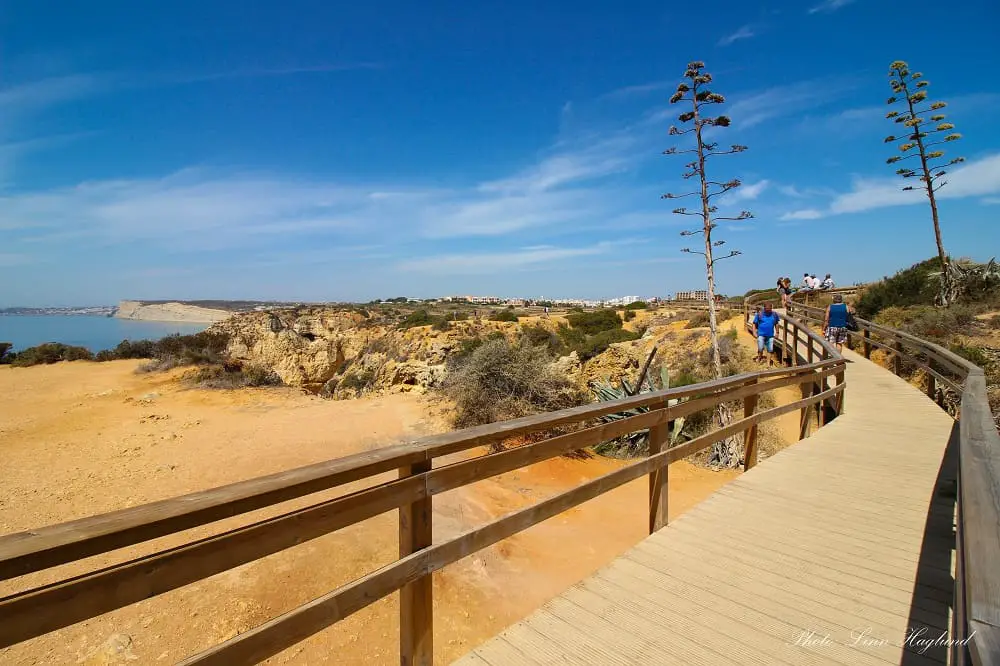 Discover the underwater caves scuba diving
Scuba diving is one of the best things to do in Lagos for adventure travelers and may be one of the most underrated activities. You'll be surprised by the incredible underwater world of caves and marine life hiding under the surface.
There are various diving centers in Lagos for divers of all levels. You can also take a scuba diving license if you're new to diving.
If you're not sure if scuba diving is something for you, try out this guided scuba diving discovery dive.
Reflections on what to do in Lagos, Portugal
When in Lagos, Portugal, what to do completely depends on your interests, but it should surely include some kind of water or beach activity with a coastline like this.
There are so many amazing things to do in Lagos which is probably why it's been a long-time favorite of mine and I see people return time after time.
If you stay for a while, you might also want to go on any of these amazing day trips from Lagos Portugal.
Make sure you leave no trace when you visit Lagos Portugal, be kind and curious towards the locals, and only interact with ethical animal tourism (so, no touching, no holding, and no captivity outside of ethical sanctuaries.)
With these things in mind, you'll be sure to have a fantastic and memorable vacation at the same time as you know you'll only leave a positive impact on the destination.
Where are you heading next?
FAQ on Lagos Portugal
Where is Lagos Portugal?
Lagos Portugal is situated on the coast in the western part of the Algarve in southern Portugal.
What is Lagos Portugal known for?
Lagos Portugal is known for epic beaches with spectacular rock formations, vibrant nightlife, social and fun hostels, and water activities.
Is Lagos in Portugal nice?
Lagos in Portugal is a charming coastal town with narrow, cobblestoned streets weaving through whitewashed houses. It has a lovely atmosphere and is popular among backpackers, surfers, and outdoor lovers.
Where do you fly into for Lagos Portugal?
The closest airport to Lagos Portugal is Faro international airport which is a 1-hour drive away.
Do they speak English in Lagos Portugal?
In general, most people in Lagos Portugal speak English, especially those working in the tourism and hospitality industries. However, you might encounter locals whose English is not very good, but in my experience, they always try to help you out through visual communication.
Is tap water safe to drink in Lagos Portugal?
Yes, tap water is safe to drink in Lagos Portugal, so there is no need to buy water as you can safely fill up your reusable water bottle with tap water.
Can you swim in Lagos Portugal?
Lagos Portugal is blessed with breathtaking beaches where you can swim in crystal-clear water.