With one of the most enchanting towns of the Algarve literally spilling onto the golden sand, Carvoeiro (Portugal) beach is a natural favorite among locals and tourists alike.
The proximity to restaurants and bars, boat trips, and kayak rentals, as well as cliff walks leading to alluring Algarve adventures, makes this the perfect beach destination for every type of person.
The natural amphitheater perfectly wraps in Carvoeiro beach (Praia do Carvoeiro) with golden cliffs on each side where traditional fishing huts hug onto the cliffside as it steepens up on each end.
The picture-perfect setting makes Carvoeiro beach one of the most sought-after beaches in the Algarve. In this post, you'll find everything you need to know to visit the beach, whether you go on a day trip from Lagos or Albufeira, or you plan to stay in Carvoeiro for a few days.
Disclosure: This post may contain affiliate links. That means that if you make a purchase through one of those links, I will get a small commission at no extra cost to you.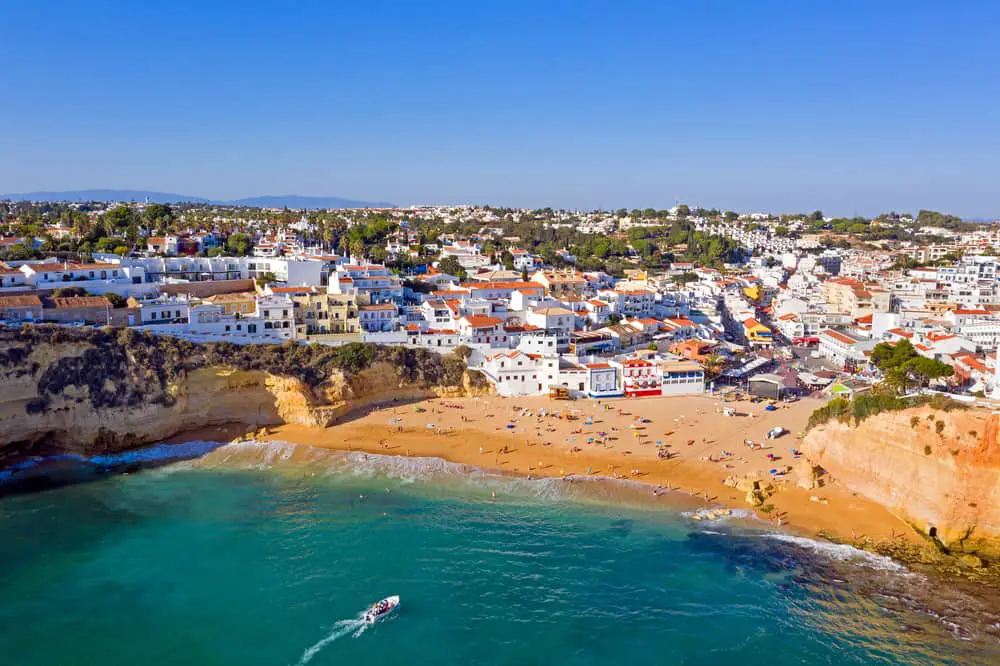 How to get to Carvoeiro beach, Portugal
To get to Carvoeiro beach you have to take the bus or drive to Carvoeiro. Parking can be a bit of a challenge, so unless you're on an Algarve road trip, I recommend taking the bus from either Lagoa or Portimão.
Driving to Carvoeiro beach
If you drive, look for parking along the streets, even down towards Algar Seco, and walk back to the beach. Be aware of some of the parking spaces along the streets around the village are paid.
If you're in doubt, it's always a good idea to ask the locals. They've always been helpful to me when I needed help.
Driving to Carvoeiro is easy. Just plot "Carvoeiro beach" into the GPS and it'll take you there. Once you reach the town, start looking for a parking spot straight ahead.
The town is so small you won't be walking far. You might find yourself spending more time driving around looking for parking if you skip the first you find.
Driving time from some of the nearby towns and cities:
Portimão to Carvoeiro beach: 20 min
Lagoa to Carvoeiro beach: 10 min
Armação de Pêra to Carvoeiro beach: 20 min
Albufeira to Carvoeiro beach: 35 min
Lagos to Carvoeiro beach: 40 min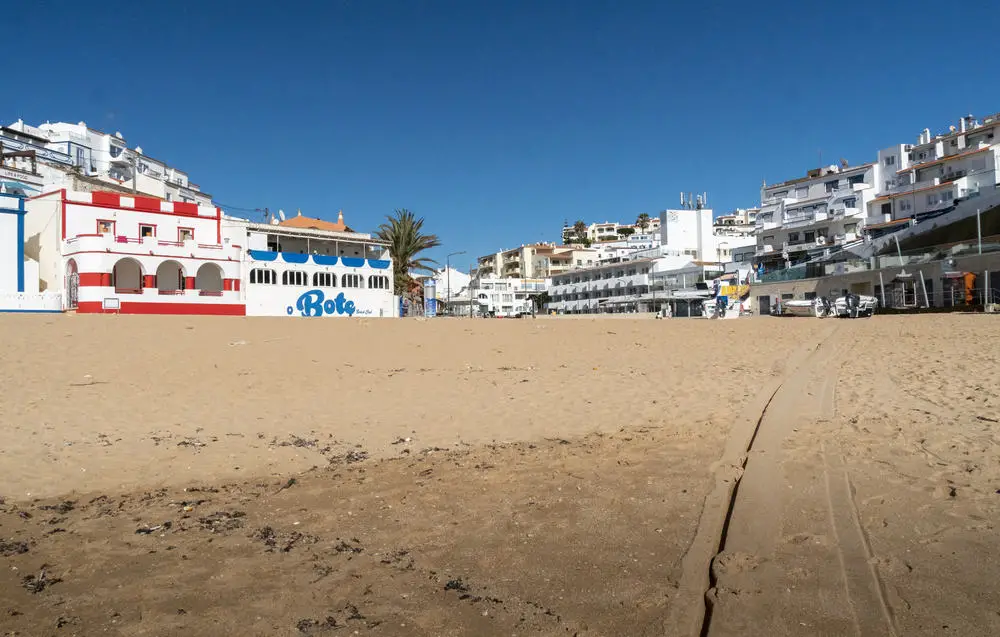 Bus to Carvoeiro beach
There are two buses that go to Carvoeiro. Bus no. 110 goes between Lagoa and Portimão and stops on the hill above Carvoeiro. From there you have to walk down. The bus stops in Monte Carvoeiro in both directions. See more information about the bus tables here.
Bus no. 107 goes goes between Portimão and Praia do Carvalho with stop in Lagoa. It stops in Carvoeiro on the way to Praia do Carvalho and back. See more information on the bus tables here.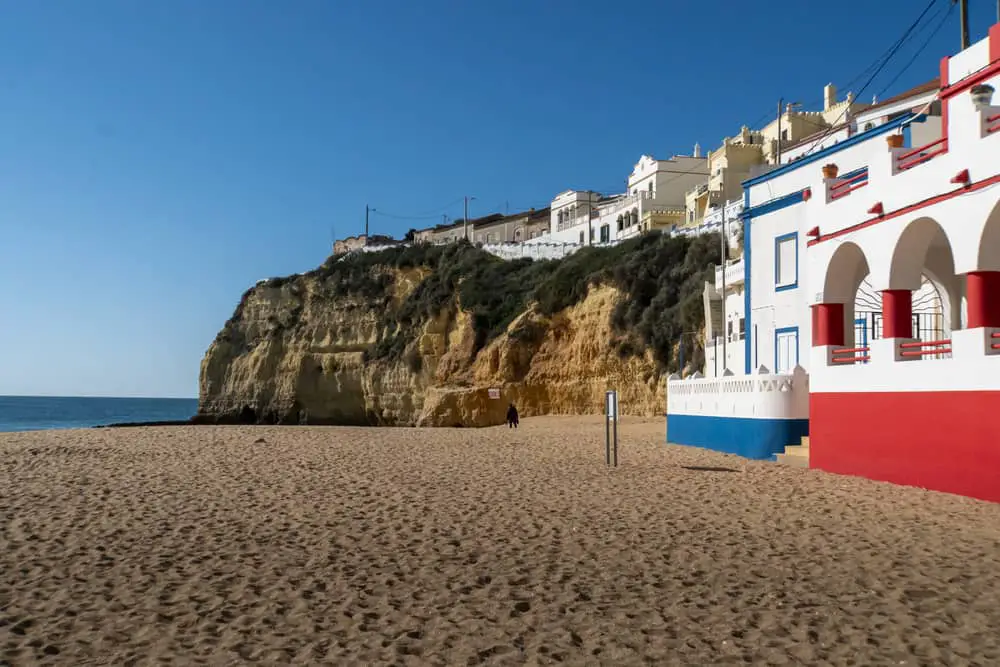 Facilities at Carvoeiro beach
Praia do Carvoeiro offers the main facilities mainly because of its central placement. There are public toilets and showers available by the beach and restaurants and bars line the beach. But even walking a little further into the village, there are a plethora of local eateries with succulent local food.
Toilets
Showers
Lifeguards in the summer months
Restaurants and bars close to the beach
Kayak/SUP rental
Boat trips
Wheelchair accessible
In the summer months and the main tourist season, you'll also find boat trips to the nearby sea caves and secret beaches.
The more adventurous can rent a kayak or paddleboard and venture out to explore the fabulous coastline and sites like Algar Seco and Benagil Cave on their own count.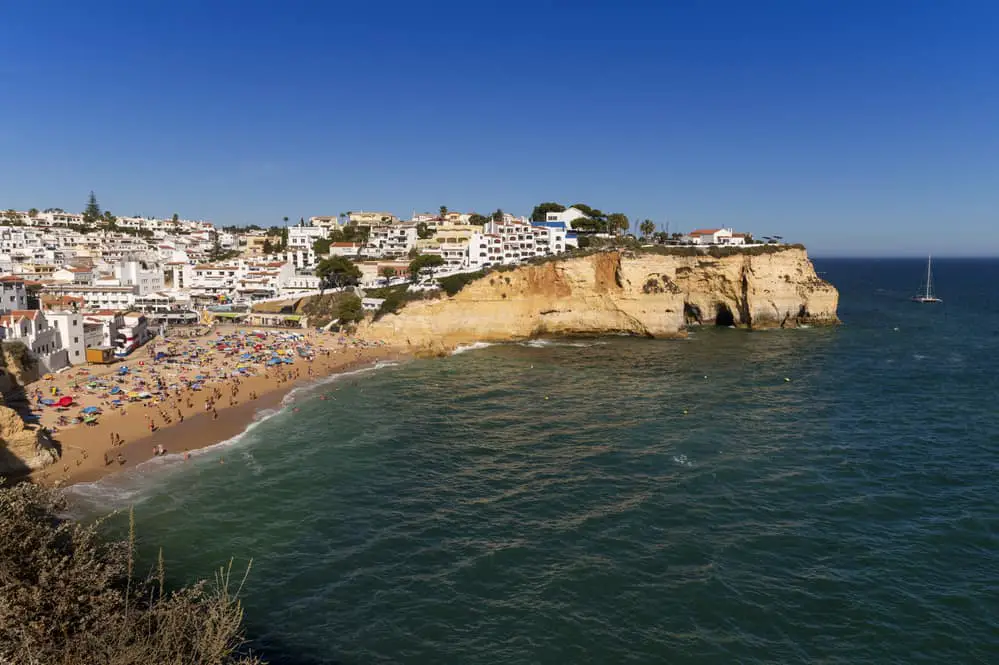 How to spend a day at Carvoeiro beach
Spending a whole day dipping in and out of the glittering water, and getting tanned reading a light summer novel might not be for everyone.
If you like a bit more action during your day at the beach, head up to the top of the cliffs for the iconic view of Carvoeiro beach. Algarve is famous for its cliff walks too, and Carvoeiro isn't any exception.
Take a stroll on Carvoeiro boardwalk, drop down on the cliffs to explore caves, tunnels, and unique cliff formations.
On the beach, you can rent kayaks and paddleboards to paddle along the mesmerizing coastline and visit hidden beaches only reached by boat.
There are also boat trips from Carvoeiro beach that take you to the world-famous Benagil Cave, other caves and beaches, or out on the open ocean to search for dolphins. This is without a doubt one of the most rewarding things to do in Carvoeiro.
If you want to stay active in the water, grab a snorkel or a ball from one of the beach shops and play on the waterfront or explore the unique life underwater.
A day at Carvoeiro beach won't get you bored if you only take advantage of the opportunities around you.
Note! Lay your towel far from the cliff walls. Like the rest of the Algarve cliffs, they are rather unsafe and you shouldn't be surprised if a large chunk of limestone breaks off somewhere above your head. You really don't wanna set camp under that spectacle.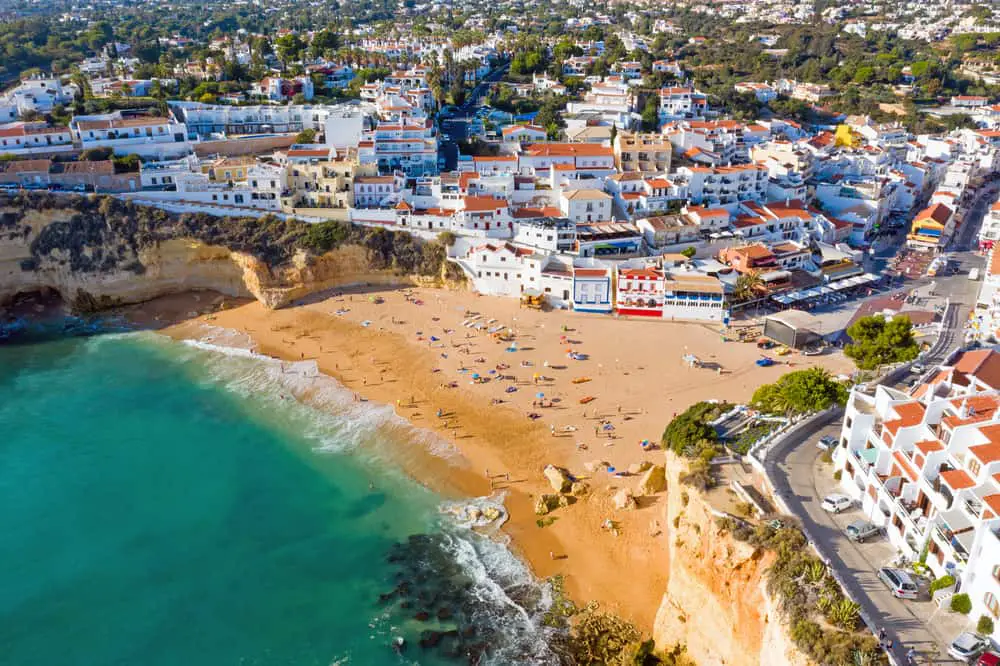 Things to do near Carvoeiro beach
If you're looking for things to do near Carvoeiro beach, you won't be disappointed. Here are some of the top sites, which can all be reached by foot or by boat.
Carvoeiro boardwalk
One of the best things to do near Carvoeiro beach, Portugal, is to walk the Carvoeiro boardwalk on top of the cliffs. The views are spectacular and it's wheelchair accessible.
You can do a detour off the boardwalk halfway and discover tunnels, walkways, and cool cliff formations. It ends at the distinctive Algar Seco cliff formations.
You can read my complete guide to the Carvoeiro boardwalk here.
Algar Seco
At the end of the Carvoeiro boardwalk is the astounding Algar Seco. Featuring a natural pool, blowholes, caves, natural windows with the best views of the Algarve, and unique rock formations, this is one of the best places to see in the Algarve.
You can read my complete guide to Algar Seco here.
Seven Hanging Valleys Trail
Starting by Algar Seco, you can do one of Algarve's most breathtaking hikes. Stretching across the coastal cliffs all the way to Marinha beach, The Seven Hanging Valleys Trail is well worth the journey! Slip into your hiking shoes and head out on an experience of a lifetime.
Benagil Cave
Known as the most beautiful cave in Portugal, Benagil Sea Cave attracts millions of travelers. Also known as "The Cathedral", the cave feels like stepping into a cathedral of massive size.
The golden sand is majestically lit up by a natural spotlight from the huge sinkhole in the cave's ceiling. The cave can only be seen by kaya, paddleboard, or boat. You can get them directly from Carvoeiro beach or from Benagil beach.
Read my complete guide to Benagil Cave here.
Marinha beach
Nominated one of the world's most beautiful beaches, Marinha beach takes the price when it comes to beaches to visit near Carvoeiro. With picturesque limestone formations towering out of the glittering water, the beach is set for success at the foot of steep golden cliffs.
Read my complete guide to Marinha beach here.
---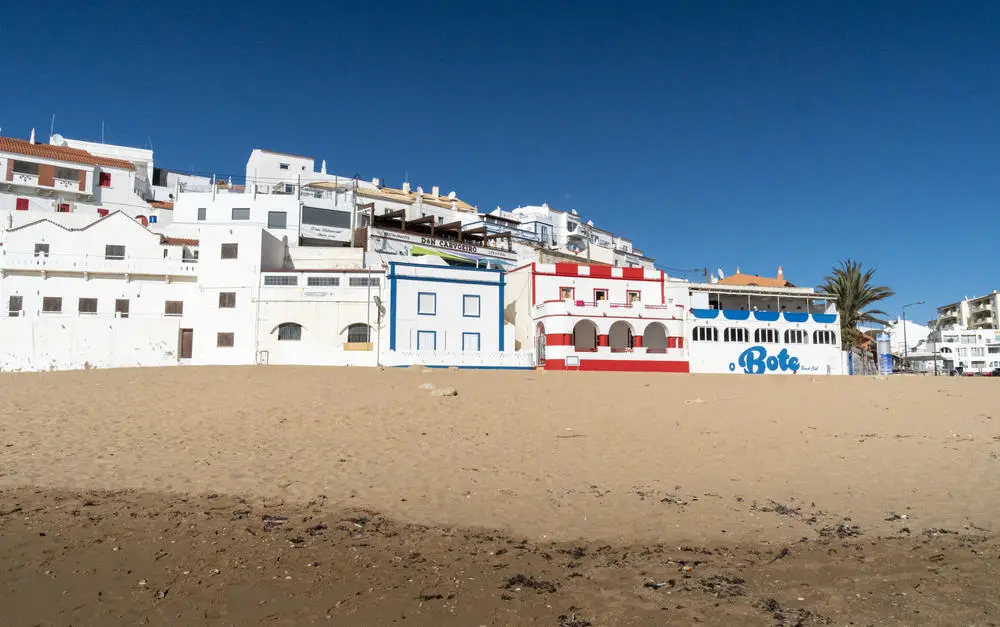 Reflections on Carvoeiro beach
Carvoeiro beach, Algarve Portugal. What can I say? There's nothing really not to like about it. It's a fairly small yet spacious beach surrounded by awesomeness and worthy of any Algarve itinerary.
Carvoeiro town is as enchanting as any town in the Algarve can get and for the restless, there are enough activities to do around the beach to fill a whole day of adventures.
You're assured to have a lovely day out at the beach with these surroundings.