If you're planning for an active vacation in Albufeira and not sure what to do, look no further. Albufeira is a haven for active tourism with a multitude of fun activities from water sports to quad biking.
With an incredible coastline of jaw-dropping cliffs, sea-carved caves and arches, hidden beaches, and an underwater world like no other, there are thrilling activities in Albufeira for everyone.
In this post, I'll share some of the best activities Albufeira has to offer so you can have the holiday of your dreams whether you visit the Algarve in winter or in the summer!
Disclosure: This post may contain affiliate links. That means that if you make a purchase through one of those links, I will get a small commission at no extra cost to you.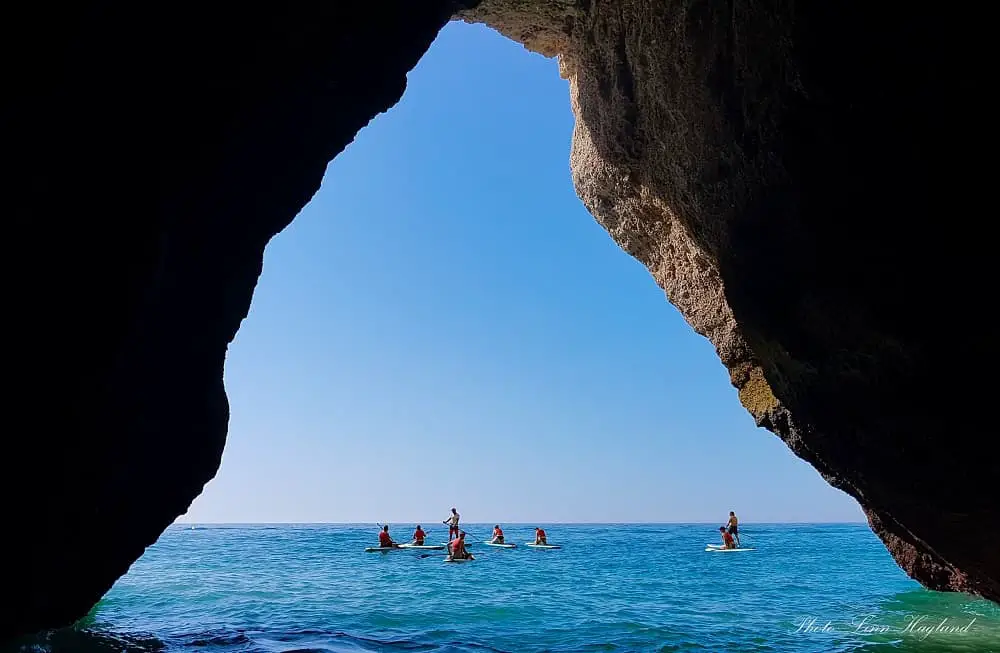 How to get to Albufeira
Albufeira is easily reached by bus and train from other Algarve cities and towns nearby.
If you come by plane to Faro Airport, you'll first have to travel to the Faro bus or train station. From there, you can easily continue the journey which is about 40 minutes by bus – the train takes a lot longer, is more expensive, and has to be combined with a bus or taxi.
Read everything you need to know about getting from Faro to Albufeira here.
There are also buses from towns like Lagoa and Portimão that take 30-40 minutes.
When is the best time to go to Albufeira
Albufeira is a great travel destination all year round. However, winters in Albufeira are somewhat quieter while the summers are pumping with life. Summer is no arguing the best time to go if you want to have access to all the activities that happen there.
However, in spring and autumn, you can avoid the crowds but still have an adventurous experience.
In general, you can do all the activities in Albufeira all year round, though there might be fewer providers that offer it in winter. With a wetsuit, you can easily get in the water even in January.
STILL NOT BOOKED YOUR ACCOMMODATION?

Make sure you read by complete neighborhood guide to the best places to stay in Albufeira.
Best activities in Albufeira
Now, let's have a look at the best things to do in Albufeira for active travelers to create the perfect Algarve itinerary even with as little as 3 days in Algarve.
Paddleboarding
One of the most rewarding Albufeira activities is going paddleboarding. This is a great way to see the coastline, and discover hidden caves and beaches only reached by sea.
Rent a paddleboard or book a guided tour to assure you get to explore the best spots. You'll always get a security brief and guidance to use the paddleboard if you're new to it. If you struggle to hold the balance in the beginning you can sit on your knees, so don't let that scare you.
Check availability for tours here.
Kayaking
Kayaking Albufeira to see the hidden sea caves and beaches on the coast is another excellent way of spending the day. Especially, if you're two, you can share a kayak and make an unforgettable experience.
You can paddle all the way to Benagil Cave and back if you're up for a real adventure!
Rent a kayak individually, or book a guided tour to make sure you don't miss out on the best spots. You'll get a security brief and life vests either way.
Check availability for guided tours here.
Parasailing
One of the coolest things you can do is Parasailing. Albufeira is pretty much the best place to do this activity on the entire Algarve.
There are multiple companies offering parasailing and you can choose between single and double or triple if you travel with friends.
You can check availability and book your adventure upfront to secure a spot here.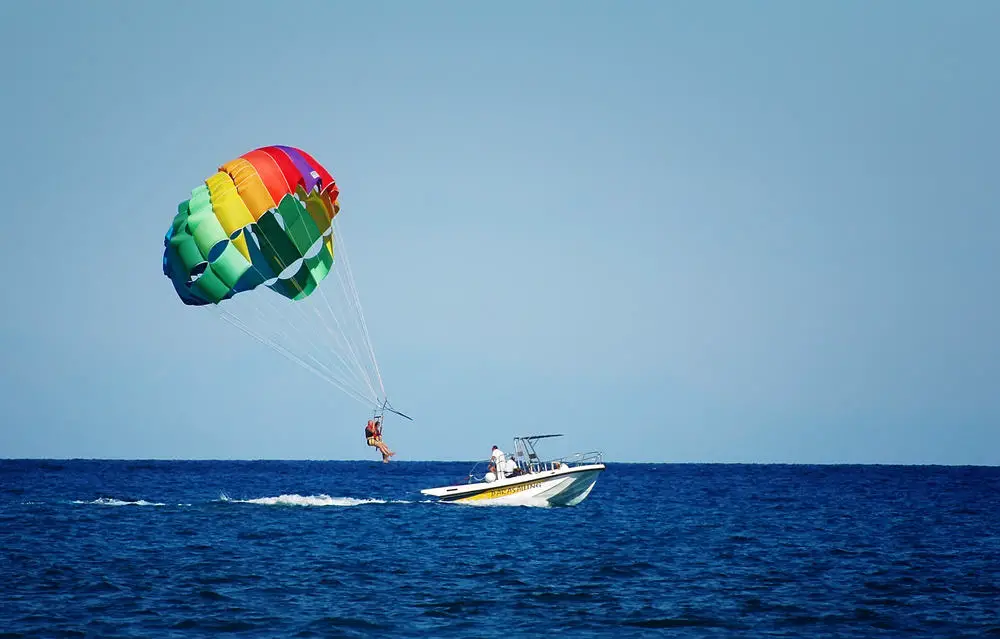 Scuba diving
Scuba diving is one of the most magical experiences you can have, and exploring the underwater caves and tunnels of the Algarve is a true adventure.
If you haven't dived before, you can take beginner class with theory, one pool dive, and one dive in the ocean. This is an amazing way to get started to explore a whole different world!
See prices for beginner divers here.
Take surf lessons
When you think about surfing, Albufeira might not be on top of your mind, but there's great possibilities to learn how to surf on the Albufeira beaches.
You'll head to the astounding Falesia beach where the instructors will teach you according to your level, so it doesn't matter if it's your first or fifth time on the board.
Wet suit and surfboards will be lent to you, so you won't need to bring any equipment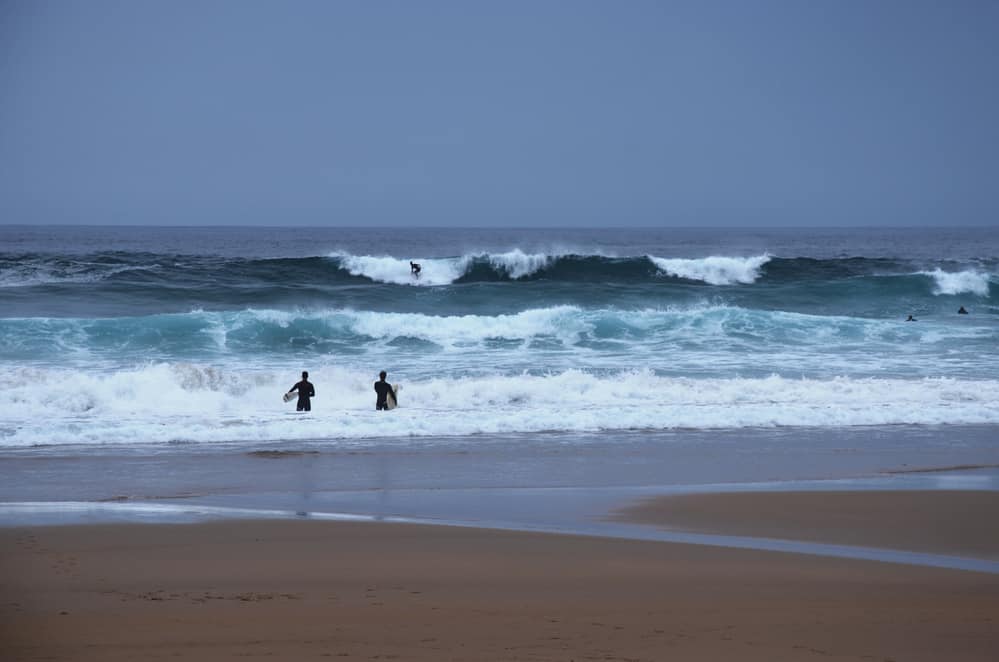 Off-road buggy tour
One of the most thrilling Albufeira activities is to go on an off-road buggy tour. You'll get the chance to explore the astounding backcountry of Albufeira in a fun way.
This tour also takes you to the castle of Paderne, so if you haven't visited it already, it's well worth the entry fee.
You'll get a security brief from your guide before you go, and don't worry if you haven't tried driving a buggy before, you'll get the training you need. It's both easy and super fun!
Dolphin watching
If you want to go dolphin watching, Albufeira will not deisappoint. Daily tours take you out on the open ocean to look for these incredible creatures.
Though they are wild animals and there's no guarantee you'll see them, spottings are frequent, and the guides on the boats know where to look. Nonetheless, you'll get a tour of the mesmerizing coast with caves and hidden beaches.
Going dolphin watching in Albufeira will surely be an unforgettable adventure for the whole family!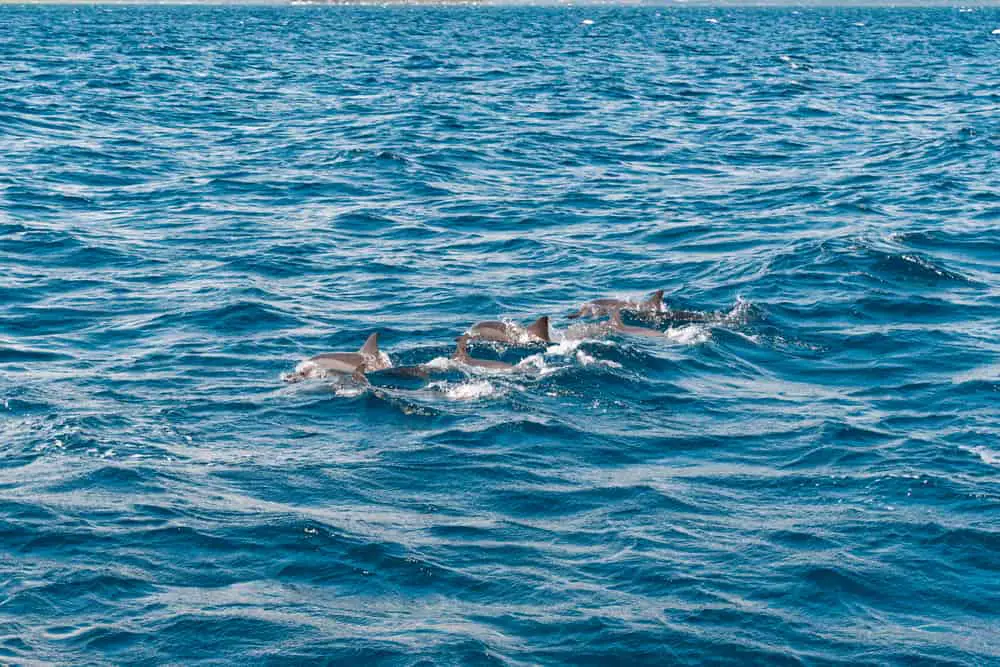 Cave catamaran tour
One of the most popular activities in Albufeira is for sure to go on a boat tour. Albufeira is, as mentioned before, situated perfectly to see the rugged cliffs, sea carved caves, and secluded beaches.
A nice alternative is to take a catamaran tour to see the caves, including the stupefying Benagil Cave. This will also give you the opportunity to sunbathe on deck, as opposed to a regular boat trip, and you can go swimming on a hot day.
Paragliding
If you're a little bit like me and like to see the world from above, make sure you try paragliding! Albufeira makes for the perfect place and the views of the Algarve coastline are mesmerizing.
If this sounds like something for you, I won't try to convince you any more. This might just be the most spectacular activity you can do outside water!
You might also like…
Quad tour
Quad biking Albufeira is another cool activity for adventure seekers. This is a great way to explore the backcountry of Albufeira while having lots of fun.
The quad tour takes you off-road through Algarve's countryside and includes a stop at the Paderne Castle for those who want to visit that too.
You'll get a security brief and helmet. If you haven't tried to drive a quad before, you'll get an introduction so that you can feel safe trying a new adventure.
Find your quad biking adventure here.
Jetskiing
One of the most exhilarating water activities in Albufeira is no arguing jet skis. Going for a fast pace spin around the ocean while exploring the mesmerizing coast is definitely a good choice for the adrenaline junkies!
If you haven't tried jet skis before, do not worry. You will get a full security brief and necessary training before you head out on the ocean flying over the surface.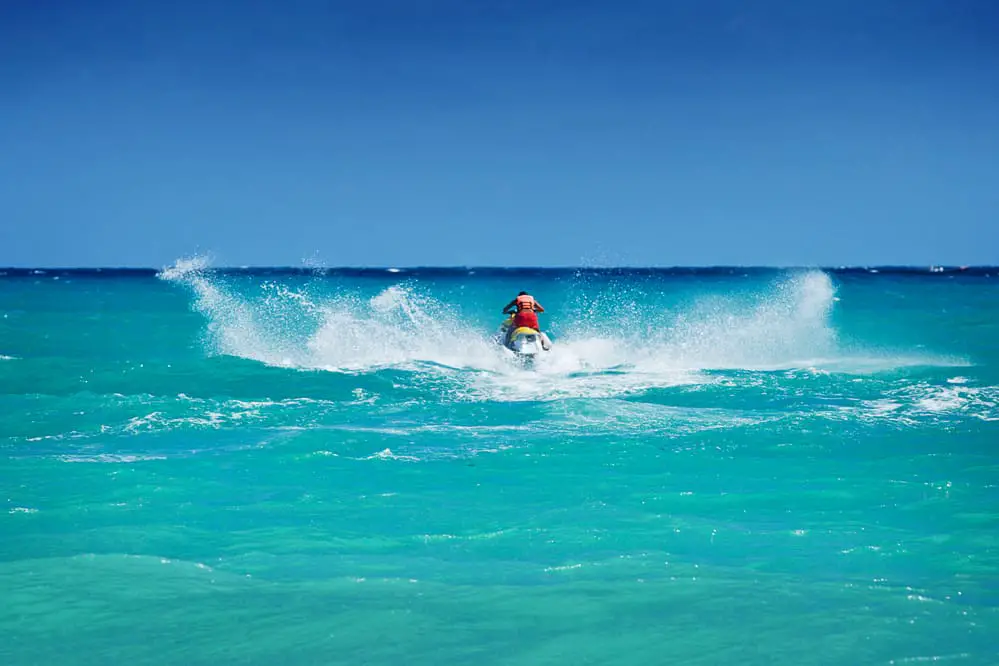 Jeep safari
If you're keen on going on a jeep safari, Albufeira is the place. You'll be venturing off-road, through enchanting rural villages, try local produse at a farm, taste local liquor, and go swimming in a river. Can you think of a better way to spend the day?
On top of that, you'll learn more about the local flora and fauna on this fun jeep safari through Algarve's inland.
Cruise and beach BBQ
A great activity in Albufeira is to go on a cruise to see the mesmerizing coastline, snorkel in the turquoise water, and end with a mouthwatering BBQ at a secluded beach.
A day out on the sea typically offers water sports gear like paddleboards, snorkels, and ball games to play with on the beach to have the ultimate adventure.
This is truly an activity that's popular among groups of friends to create memories of a lifetime with laughter, fun, good food, and drinks.
Reflections on Albufeira activities
There's no arguing, when it comes to water sports, Albufeira is the place to be. But even other cool activities are available in Albufeira which makes it such an awesome destination for adventurous travelers and adrenaline seekers.
I'm pretty sure, with this list, that you'll find some activities that you'll love in this lovely town!
READ NEXT: Most beautiful towns in Algarve