If you're planning a getaway for a weekend or a long weekend, Algarve is the perfect place to go. Jam-packed with natural wonders, enchanting towns, and a coastline that will take your breath away, you're up for a trip of a lifetime.
Having spent excessive time in the region, I've picked out some of the absolute top highlights to pack into 3 days in Algarve so that you can be confident you have an awesome trip.
Read on to explore Algarve's rugged coastline, mesmerizing beaches, and sea caves. There is no end to the amazing places you can discover and even on a weekend trip you can take in a lot!
Disclosure: This post may contain affiliate links. That means that if you make a purchase through one of those links, I will get a small commission at no extra cost to you.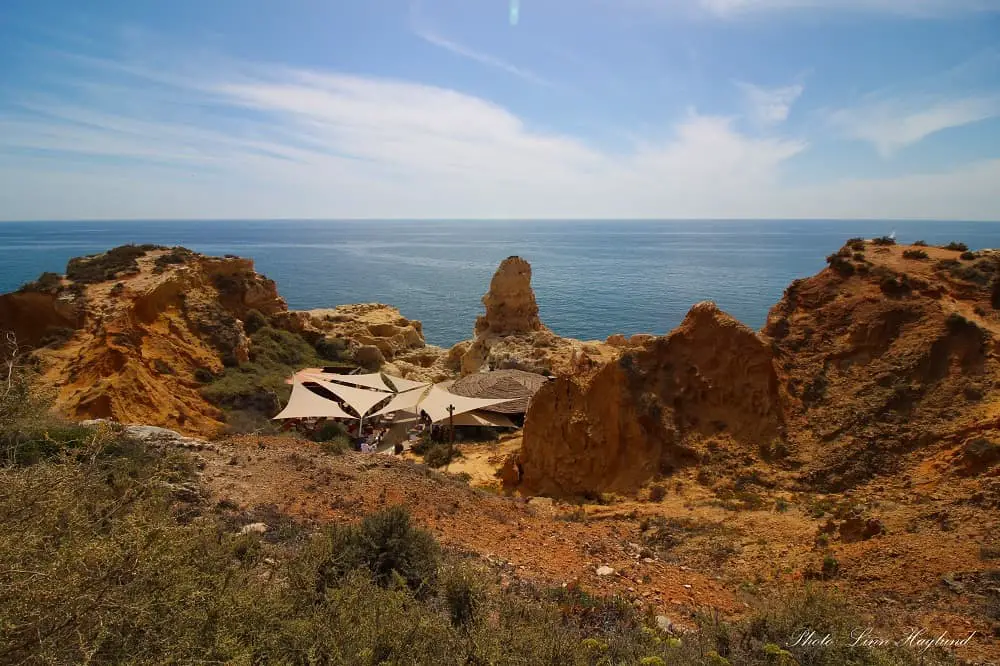 How to get to Algarve
The Algarve is well commuted with the rest of Portugal as well as big parts of Europe with their international airport in Faro and both train and bus connections.
By plane – Faro International Airport is the main hub for travel to the Algarve with millions of passengers passing by every year. You can rent a car at the airport so that you get easily around.
Alternatively, some travelers choose to travel to Lisbon International Airport which might be a good option if your Algarve 3 days trip is part of a longer Portugal trip.
By train – Faro Train Station is well commuted with other major cities like Lisbon and Seville. You can rent a car from the train station here.
By bus – Terminal Rodoviário Faro – Próximo – Bus Station is situated next to the train station and is well connected with Seville and Huelva in Spain and to most cities in Portugal. Rent a car from Faro bus station here.
By car – This 3 days in the Algarve guide starts in Faro where you'll arrive easily by car from Spain or from other cities in Portugal.
Note that when entering Algarve from Andalucia, you will have to register your credit card for the automatic toll roads. If you rent a car in Portugal, make sure to ask if it's included. Rent a car here.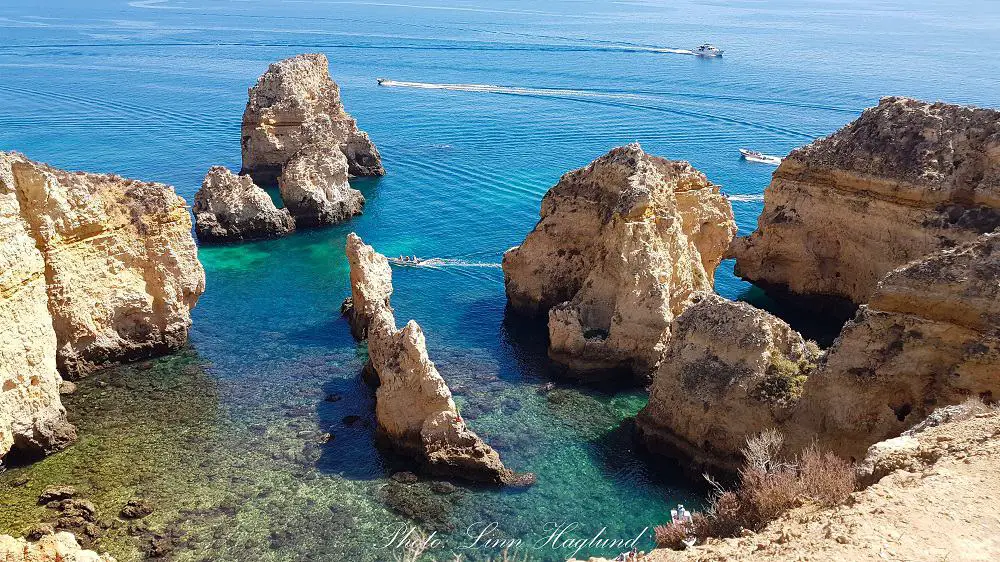 How to get around the Algarve
With only 3 days in Algarve, I highly recommend renting a car to get around to all the places you want to see and to avoid wasting time on poor public transport connections.
Check prices and availability for rental cars here.
I do recommend that you book your rental car in good time to get the best deals, especially if you're traveling in the summer as cars get quickly booked out.
However, if you don't drive and prefer to travel by public transport, there are buses and trains for most of the stretches I have included in this itinerary.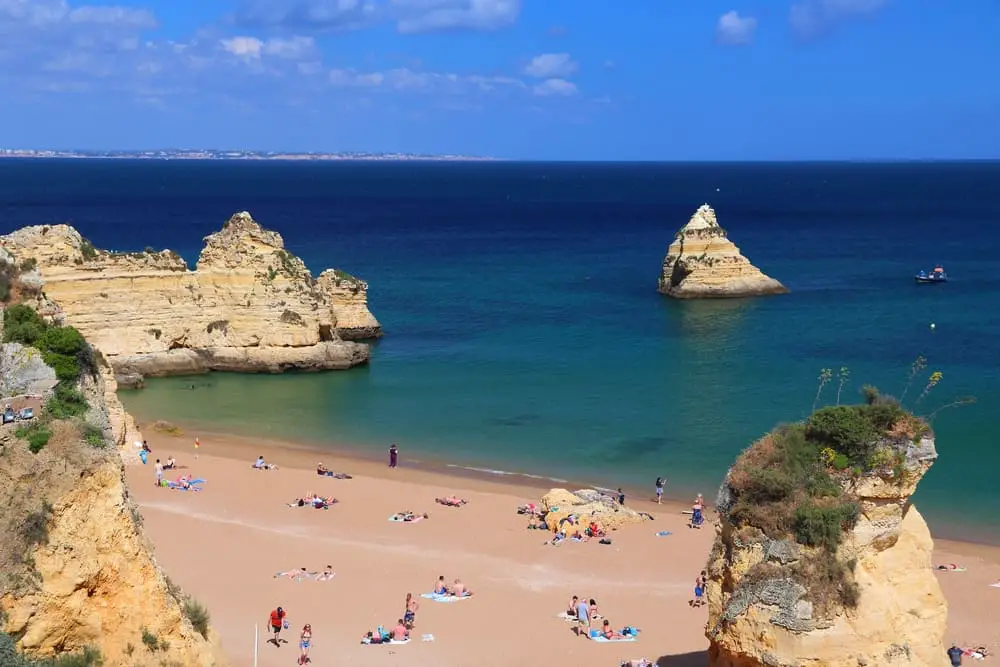 Best time to spend a weekend in Algarve
This weekend Algarve itinerary is perfect all year round as all activities can be done both summer and winter. However, it can be good to know what to expect from the different times of the year.
Summer in Algarve is no doubt the busiest and hottest time of the year and definitely the time of year you want to go if you want to go swimming when you visit the beaches.
Spring and autumn are less crowded and temperatures are slightly milder. Spring can bring a wee bit more rain than autumn and autumn is usually good for swimming still until temperatures go down for winter.
The winter in the Algarve can be cold with daytime temperatures down to 15 degrees and this is the time of the year with the most rain. Still, you can experience splendid sunny days. Water activities can be done with a wetsuit.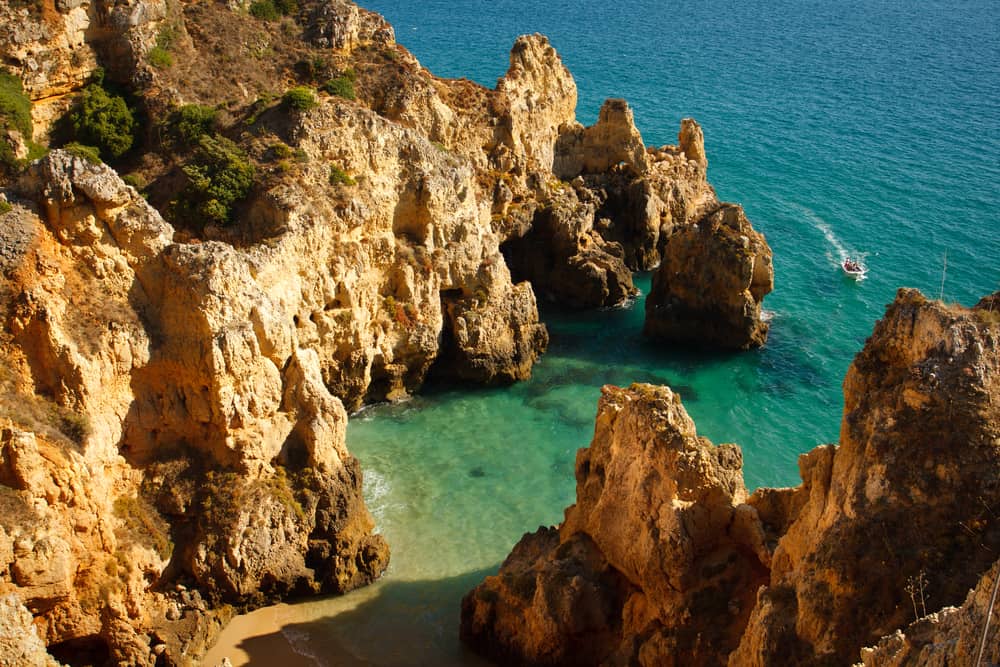 ---
YOU MIGHT ALSO LIKE MY 7 DAY ALGARVE ITINERARY
---
3 days in Algarve itinerary
Now, let's get to the fun part and dig into this epic Algarve 3 day itinerary for an action-filled long weekend trip to Portugal's south coast. This itinerary can easily be adjusted if you only have two days or two and a half days for your weekend Algarve itinerary
Day one – Faro and Ria Formosa Natural Park
If you have a weekend in Algarve arriving in the afternoon, meaning you only have a few hours to enjoy on your first day, I suggest you spend the day in Faro and skip Ria Formosa Natural Park.
Faro is one of the most beautiful cities in Algarve and is often mistakenly overlooked. Even winter in Faro is delightful and you can walk the cobbled streets, enjoy a beer in the sun, or visit museums.
However, if you have 3 whole days in the Algarve, start your day by heading to Olhão, a 15-minute drive from Faro, and jump on a boat tour of the barrier islands in Ria Formosa Natural Park.
The boat tours typically take you to the barrier islands of Culatra, Armona, and Farol. In the summer, you might stop for snorkeling too. Being a protected area, the islands boast some of the most stunning beaches in the Algarve with calm waters.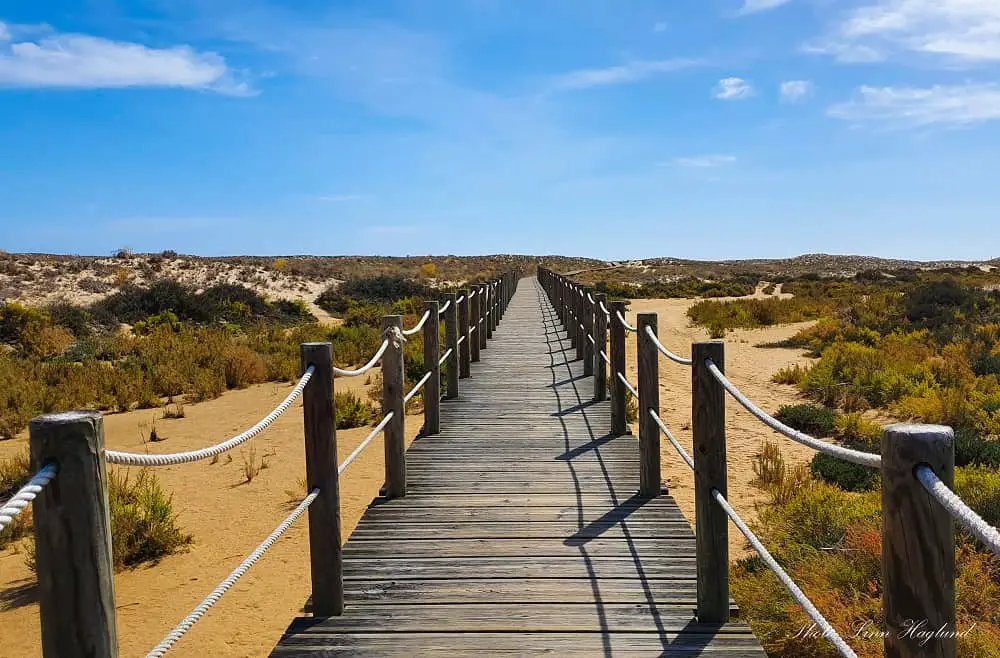 Mainly made up of saltwater lagoons, marshland, and shrubs, the natural park is an important habitat for several species of birds and reptiles.
After your boat tour, you can either have lunch at Olhão food market, the red brick buildings on the harbor, which is one of the most famous on the Algarve, or head to Faro for lunch there.
There are lots of things to do in Faro so the rest of the day will be exciting. I suggest visiting Faro Cathedral and the chilling Bone Chapel. Then spending the rest of the day wandering the streets of the old town before finding a nice place for dinner.
Where to stay in Faro:

3HB Faro is a fabulous high-end hotel with 2 pools and restaurants, bar, and a spa and wellness center.

Roots Hotel is a wonderful option in the heart of Faro with a small and narrow parking where you can leave the car. Alternatively, there's free parking in the street, though it tends to fill up, especially in the high season.

The Portuguese Element is an excellent centrally situated budget option with free parking nearby.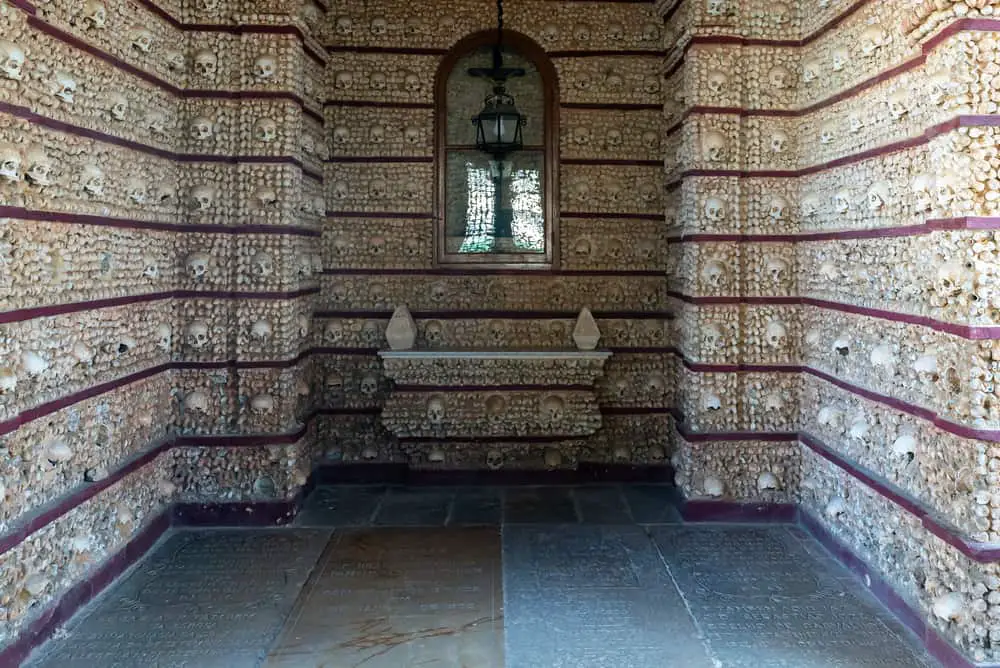 Day two – Carvoeiro and Benagil Cave
Day two of this itinerary you'll get up early and head to Carvoeiro. There, you can walk the old town and down to Carvoeiro beach, which is one of the most iconic of the Algarve with the old houses spilling onto the beach between the cliffs on each side like an amphitheater.
One of the best things to do in Carvoeiro is to walk on top of the cliffs on the Carvoeiro boardwalk to the famous cliff formations of Algar Seco. You can have lunch at the restaurant there or bring a lunch pack with you for the day.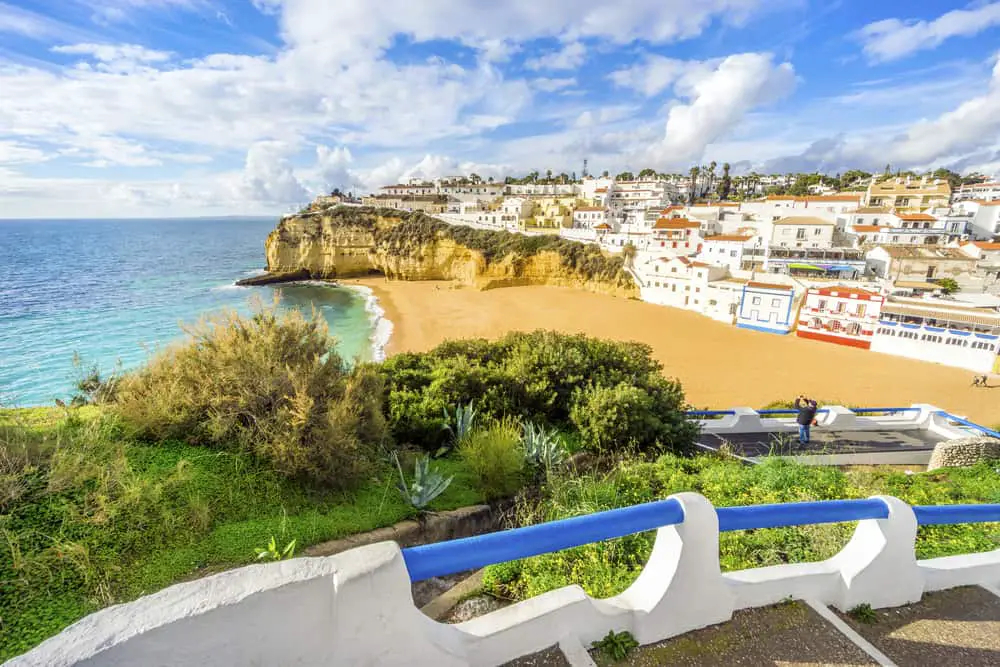 From there, you can choose to walk part of the Seven Hanging Valleys Trail to Benagil beach, or you can drive there. You'll find plenty of parking above the beach.
This is where you'll embark on one of the most iconic boat trips in the Algarve – to see the Benagil Cave!
The boat trips usually include a lot of other caves and hidden beaches in the area. They also take you past the natural arches and the mesmerizing Marinha beach.
However, if you want to enter the famous cave to experience the grandeur first-hand, you'll have to rent a kayak or paddleboard to be allowed inside.
I highly recommend going on a guided kayak tour taking you inside Benagil Cave and other caves and beaches along the coast. Check availability here.
After spending the day in the water and on the rugged coastline, it's time for dinner.
I suggest you end the day by driving to Lagos and spending the night there, so you might as well have dinner in the quaint surf town.
Anyhow, if you travel by public transport, it might be tight on time for you and you might have to spend the night in Carvoeiro. I've added a couple of hotel recommendations for both towns.
Where to stay in Carvoeiro: Villa Welwitshia is a lovely hotel in Carvoeiro with a pool and free parking on site. It's a short walking distance to Carvoeiro beach. A good budget option with free parking is Carvoeiro Hotel, also with a swimming pool in summer, and about a 10 -minute walk to the beach.
Where to stay in Lagos: Hotel Marina Rio is a fabulous hotel in Lagos, close to the beach, and with free and paid parking. A budget alternative is the Good Vibes – Lagos Guesthouse in the heart of the old town. There is a free parking area not far from the guesthouse.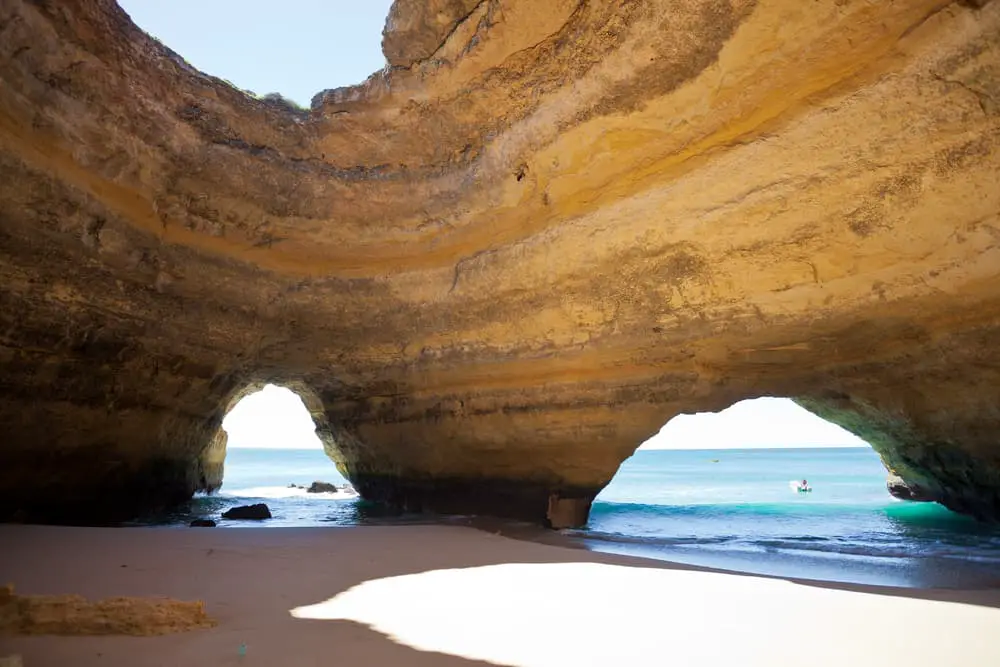 Day three – Lagos and Sagres
On the last day of your 3 day Algarve itinerary, you'll start in Lagos. Take a stroll through the old town and discover the 17th-century Ponta da Bandeira Fort before exploring the dramatic coastline.
One of the best things to do in Lagos is to walk from beach to beach. You can actually walk all the way past Dona Ana beach and Camilo beach to the breathtaking cliff formations of Ponta da Piedade.
Alternatively, you can take a boat trip from Lagos to Ponta da Piedade to see it from the sea. This is one of my favorite ways of seeing one of the most stunning coastlines on the Algarve. I highly recommend this tour. Check availability here.
I have also rounded up the best Lagos boat tours in a separate post that you can check out.
Have a nice lunch in Lagos old town before you head to Sagres to witness the region's most forceful cliffs unless you brought a lunch pack for the day. If you don't drive, I recommend you take an organized tour to Sagres from Lagos as the buses don't go very frequently.
In that case, you might have to shuffle your day and go to Sagres in the morning and Ponta da Piedade in the afternoon depending on what time you get the tour. Check availability here.
Depending on when you have to be back in Faro for your return, you can have dinner in Lagos or Faro. Otherwise, I suggest that you bring something for the road.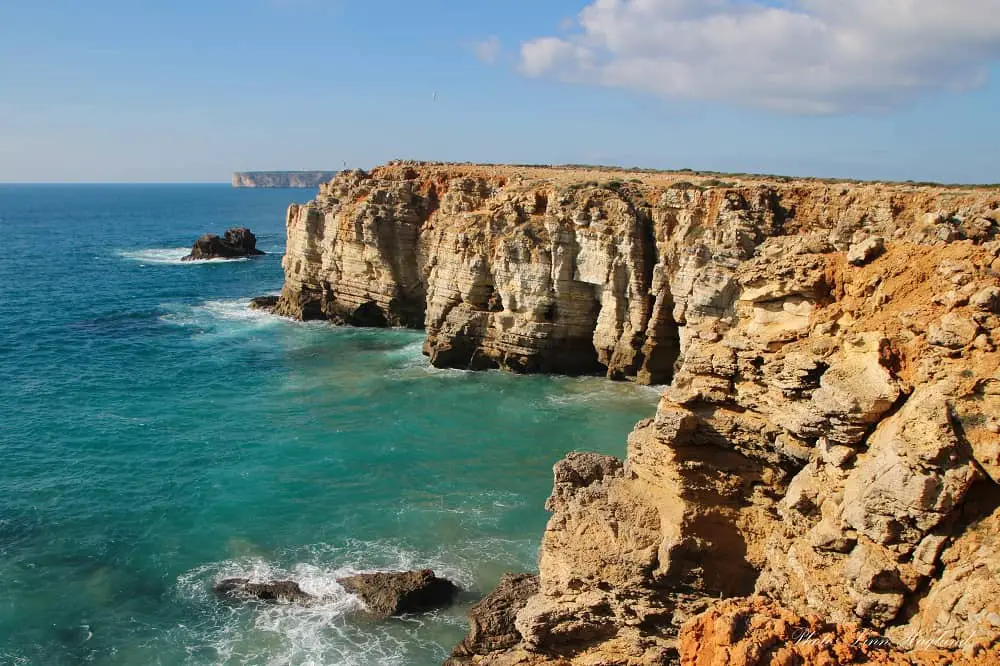 Reflections on a weekend Algarve 3 day itinerary
If you ask me, when planning an Algarve itinerary, 3 days is far from enough. However, I understand that you might not have more time on your hands, which is why I've packed all the above into your weekend trip.
Personally, I think this gives a good picture of the Algarve and shows the variety and beauty of this amazing region in a short time. Algarve in 3 days is definitely doable and highly rewarding.
I hope you enjoy and leave the Algarve with a wish of coming back again soon to see the rest of what southern Portugal has to offer.
Enjoy your Algarve trip!