While Algarve's capital city is a lovely place to spend your vacation, there are a plethora of amusing day trips from Faro to take!
After exploring the best things to do in Faro, it's time to devour the rest of the region. After traveling extensively in the Algarve I know the best spots and I'll share them with you in this post.
With the most beautiful towns in Algarve within a short distance, Faro is the perfect base for day trips whether you drive or take the bus. With that said, not all places in the Algarve are as easily reached by public transport, especially if you visit Faro in the winter.
A rugged coastline, fascinating sea caves, and mesmerizing beaches meet natural parks. Get ready to explore what I find to be the best day trips from Faro, Portugal that you should consider adding to your Algarve itinerary.
Disclosure: This post may contain affiliate links. That means that if you make a purchase through one of those links, I will get a small commission at no extra cost to you.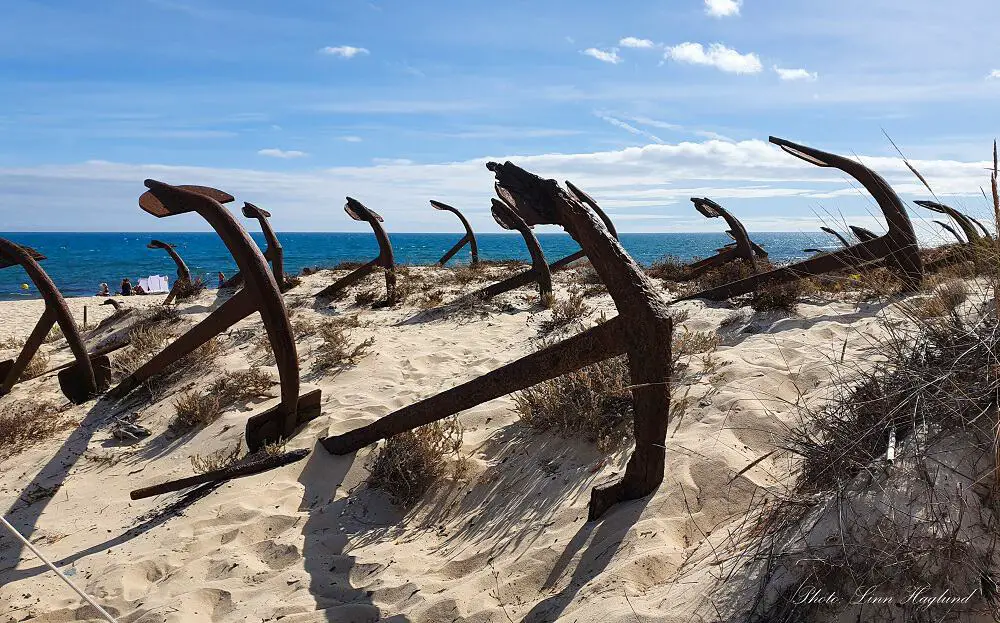 Best day trips from Faro, Portugal
Olhão
One of the most underrated cities in the Algarve and a gateway to the breathtaking and tranquil Ria Formosa Natural Park.
Only a 15-minute drive or bus ride from Faro you can get lost in a labyrinth of narrow streets getting you to hidden squares and unknown corners.
If you enjoy street art, there's also a cool street above the marina where you can follow the town's fishing history through murals painted from old photographs.
However, one of the best things to do in Olhão is to take a boat trip to see the islands of Ria Formosa that protect the coastline.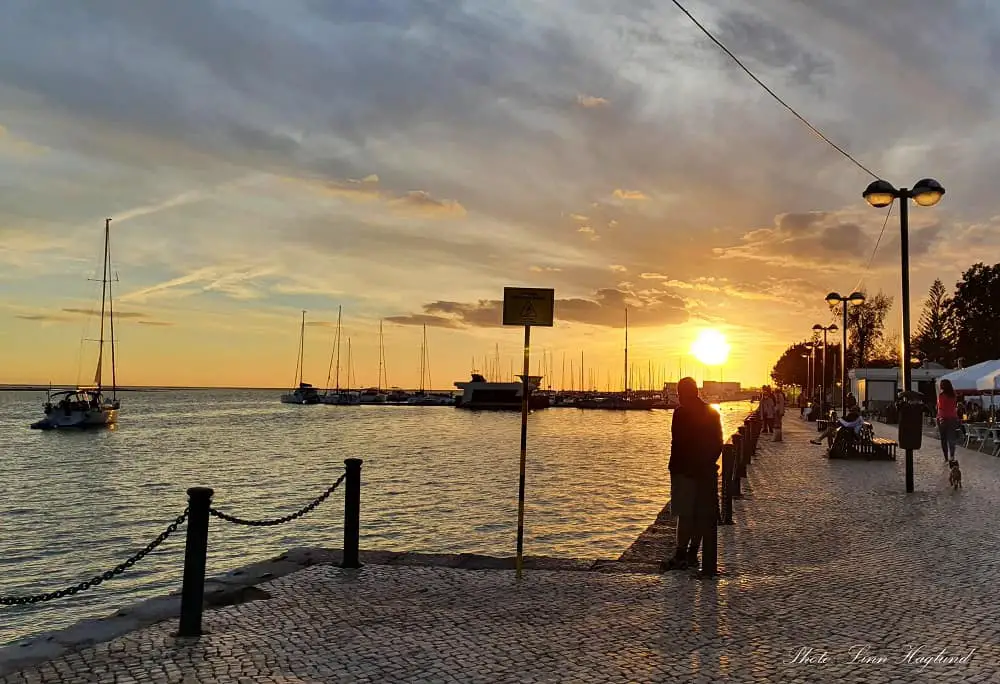 Tavira
One of the most lovely day trips from Faro is without a doubt to Tavira. Split by the Gilão river, the tranquil fisherman's town is becoming more popular among travelers for its proximity to Ria Formosa Natural Park and easy access to Tavira Island.
There are endless things to do in Tavira, but a boat trip to Tavira island or a walk to the anchor cemetery at Barril beach is a must.
Tavira Castle and Camera Obscura are also worth a visit. But the main charm of Tavira is to wander the streets and take in the tiled houses, eat good food, and relax with a coffee at an outdoor table.
Traveling from Faro to Tavira is just over half an hour by car or you can take the bus in about an hour or train in about the same journey time as driving. Read my complete guide to how to get from faro to Tavira here.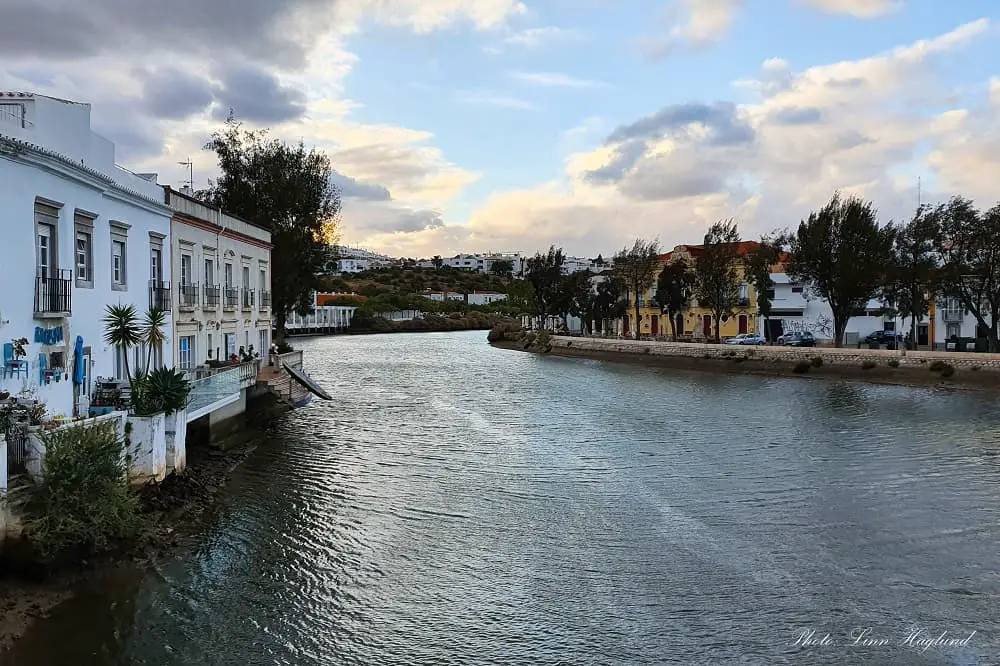 Ria Formosa Natural Park
The mesmerizing Ria Formosa Natural Park deserves a day trip for sure. There are day tours from Faro taking you to the islands of the natural park which are just as valuable in summer as in winter.
Walk on endless boardwalks across sand dunes and shrubs. Relax on white-sanded beaches, snorkel, or bring your binoculars for some serious bird watching. You can even see flocks of flamingos!
One of the most quirky attractions in the natural park is found on Ilha de Tavira on Praia do Barril. There's an anchor cemetery on the dunes in front of the beach.
A collection of 203 rusty anchors that were used for the sustainable tuna fishing that once was so important for the region's economy.
Ria means a saltwater river that comes from the ocean and will follow high and low tides. Ria de Formosa is accessible straight from Faro or you can access it from any of the nearby towns like Olhão or Tavira.
You can also go on an organized bike tour or an eco friendly solar boat birdwatching tour to get the most out of it.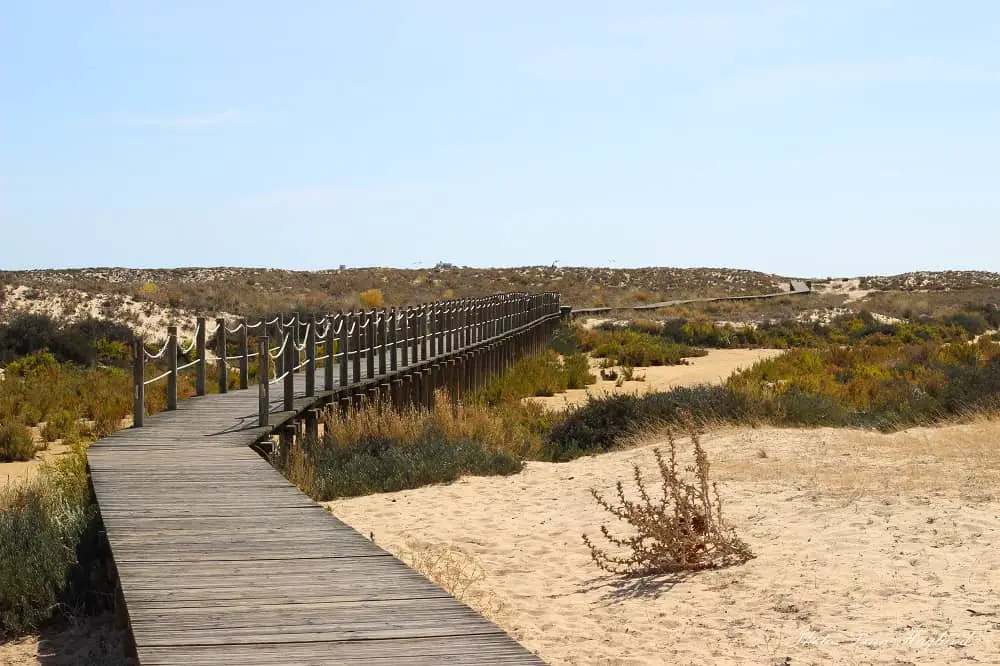 Benagil Cave
One of the most mesmerizing natural sights in the Algarve is without a doubt Benagil Cave. Every year, tourists flock to this natural wonder and with more and more boat traffic, it's now prohibited to leave tourists off the boats in the cave.
If you want to explore the cave from the inside, you'll have to rent a standup paddleboard or a kayak. Yet, a Benagil boat tour from Faro is well worth it and most tours will take you to other caves and hidden beaches along the coast.
If you travel by car, it takes about 50 minutes to get to Benagil beach where you have to park. The beach itself is in a narrow u-turn, but just above it, there are large parking areas.
At the beach, you can rent a kayak or paddleboard. Alternatively, book a boat trip. Either way, you decide to see the cave, make sure you get there early, especially in the summer months, as tickets sell out quickly.
Whether you have a week or you're on a short weekend trip in Algarve, this will surely be one of the highlights of your trip!
Expert advice! Do NOT try to swim to the cave. The underwater currents can be deadly in this area. You can also read my complete Benagile Cave guide.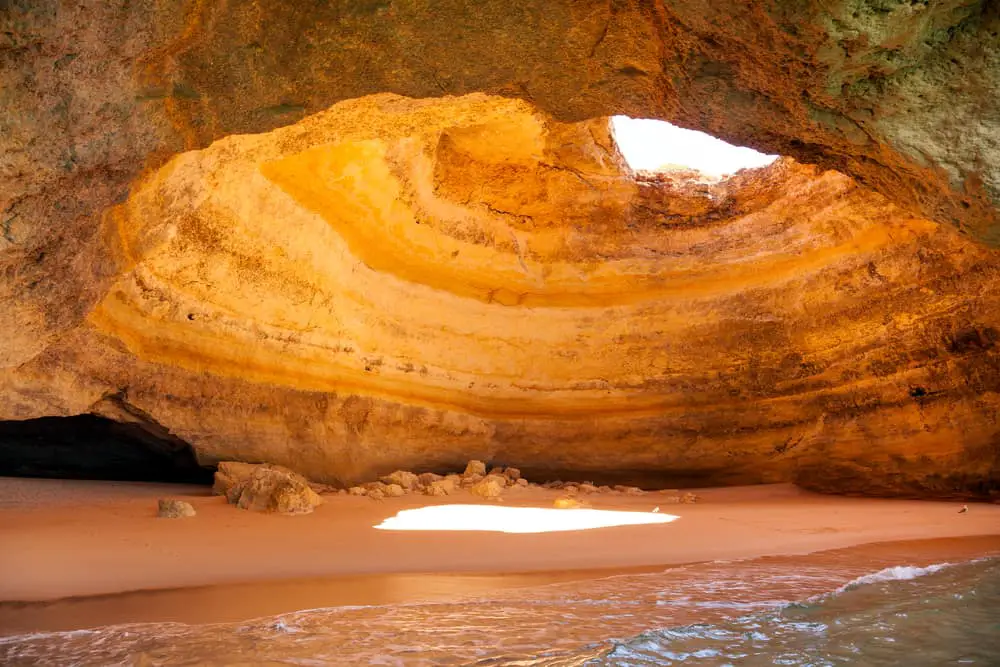 Lagos
As one of the most popular Algarve destinations, Lagos makes for a fantastic Faro day trip. It's only an hour by car. If you opt for the bus, however, you can expect it to take close to two hours.
Lagos has an enchanting old town, vibrant life, a fortress, and some of the most astounding beaches in the Algarve. Head to the mesmerizing Camilo beach, Dona Ana beach, or Praia dos Estudiantes for a chill day at the beach.
It's also a popular base for surfers cruising the waves of the nearby beaches and scuba divers explore the unique underwater caves and ocean life.
Do I have to say more?
A day in Lagos is definitely worth your time if you can't stay longer.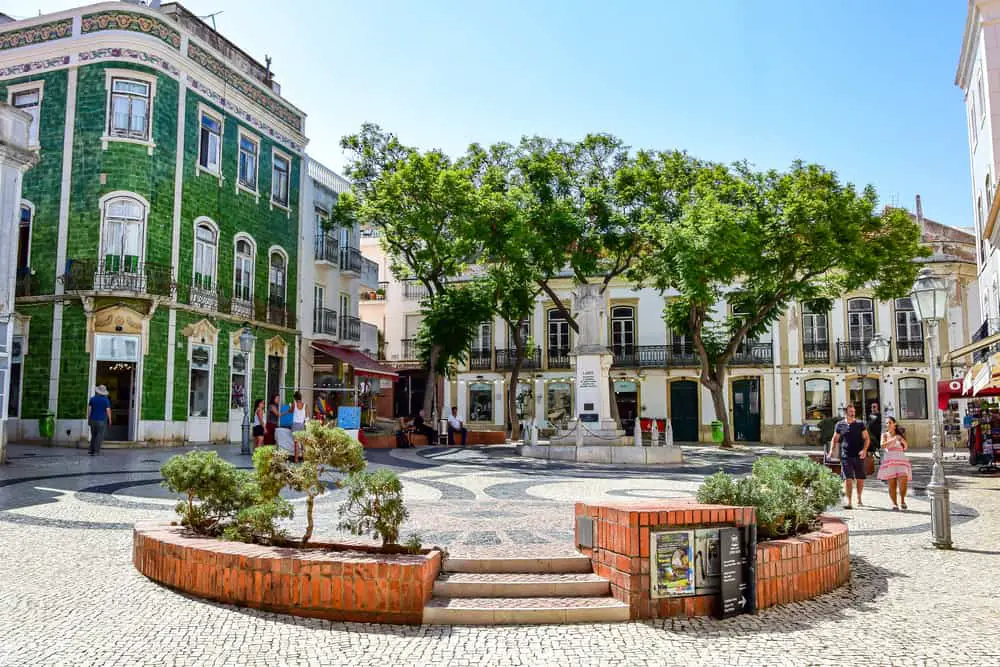 Carvoeiro
One of the most charming towns on the Algarve and one of the best day trips from Faro you can do. On top of visiting the town and getting lost in its streets, head to the stunning Carvoeiro beach which is lined with particularly picturesque houses.
You get a good look at them from the viewpoint on the east side cliffs. If you fancy walking, you should take advantage of the Carvoeiro boardwalk that takes you all the way to Algar Seco with a natural pool, caves, and dazzling cliff formations.
Before reaching Algar Seco, make sure you take the detours that that boardwalk offer. This is without a doubt one of the best things to do in Carvoeiro.
Driving from Faro to Carvoeiro takes about 50 minutes.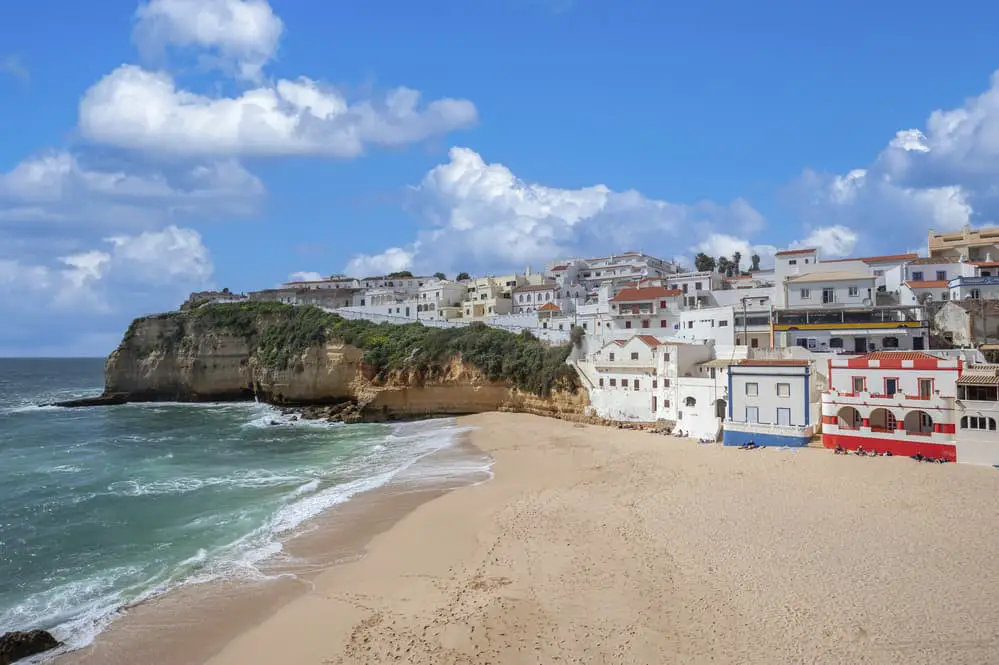 Albufeira
There's no denying, Albufeira is one of the most popular resort towns on the Algarve but does that mean it's not worth a day trip from Faro?
It absolutely is! The quaint beach town has a charm like no other. Built on the cliffside, Albufeira offers a large beach with lots of exciting water activities.
Albufeira old town has a lively atmosphere with souvenir shops and restaurants – you won't be bored here! Albufeira is also Algarve's adventure capital with so many cool activities to do!
If you want to experience a slower pace, traveling in winter to Albufeira is perfect for you.
Albufeira is only about a 35-minute drive from Faro, but there are both train and bus connections between the two. You can read more about how to get from Faro to Albufeira here.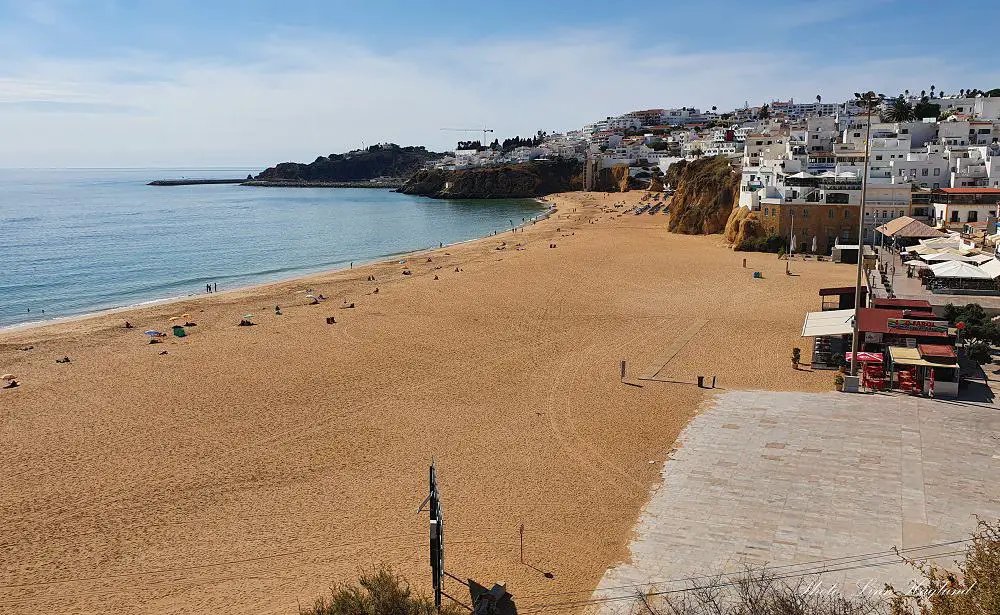 Ponta da Piedade and Sagres
Ponta da Piedade is situated just past Lagos about an hour's drive from Faro. In my opinion, this is one of the absolute most breathtaking cliff formations on the entire Algarve.
Whether it is or not, it surely deserves your attention and makes an amazing day trip from Faro. However, you can fill up the day with another sight – unless you decide to hike along the cliffs for hours (which is also an amazing way to spend the day!)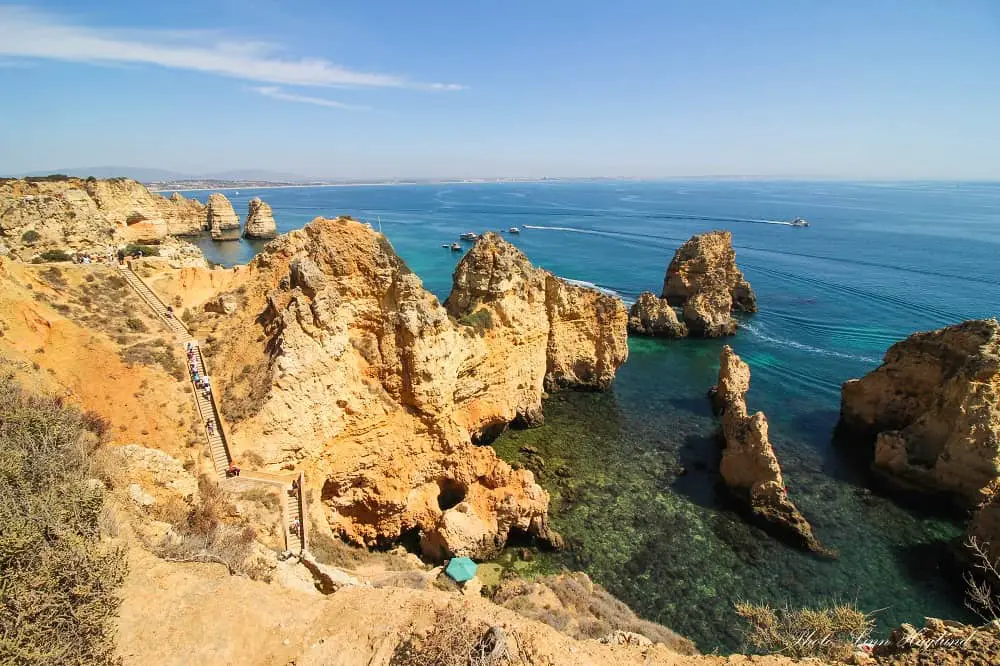 Sagres is situated on the far western side of the Algarve, about a half an hour's drive from Ponta da Piedade.
With dramatic cliffs diving into the ocean this is a popular spot for surfers and sunset chasers. Sagres deserves a few hours at least to visit the fortress and lighthouse, but also to meander along the cliffside.
Both sites have large parking areas, yet in the summer months they fill up fast.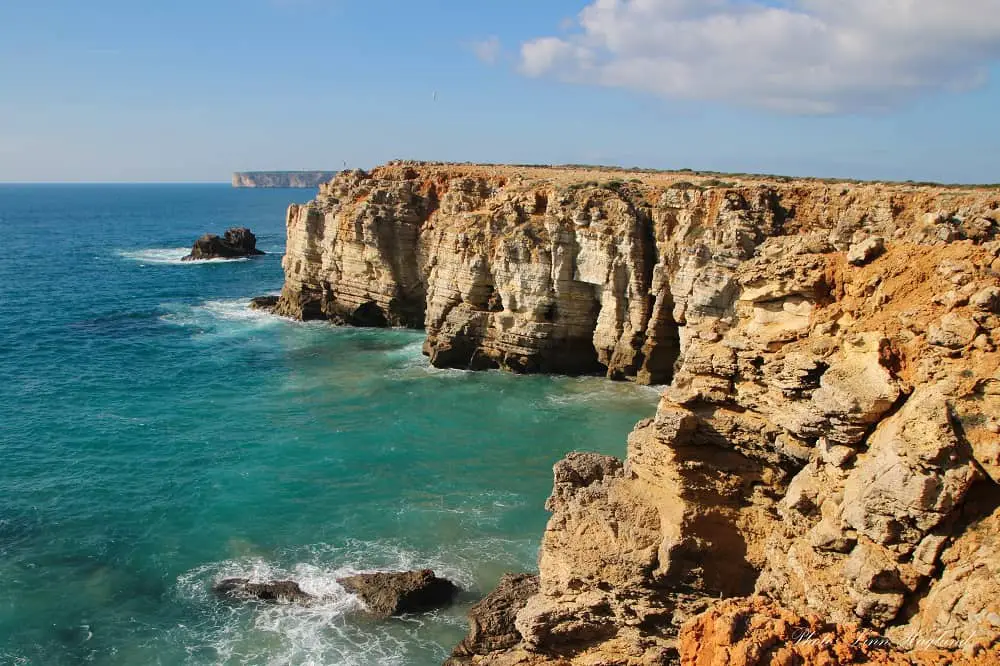 Silves
One of the most amazing Faro day trips is to the inland town of Silves, Algarve's ancient capital. The main draw is the Silves Castle towering elegantly above the town.
Between the 9th and the 12th century, it was a defense fortress used by the Moors to protect the region. Silves was also an important trading center in this period and used the Arade river to trade with northern Africa.
Silves is a beguiling town with plenty of history from entering the historic center at the fortified city gate, Portas da Cidade to the mighty cathedral.
Driving from Faro to Silves takes about 50 minutes. Alternatively, you can catch a train in only an hour.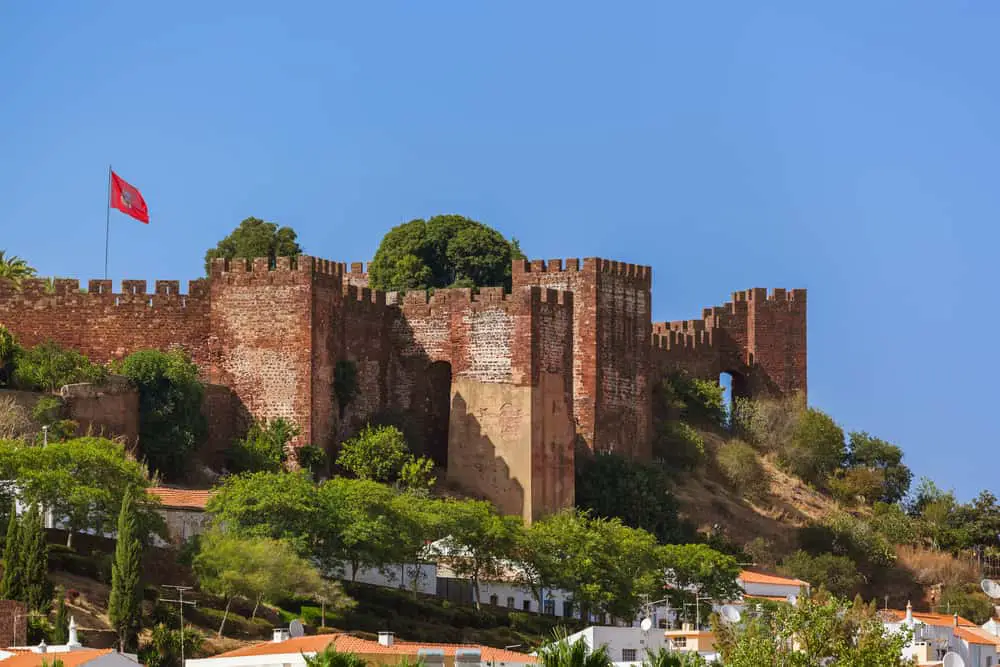 Portimão
Portimão is no denying one of the most popular places to visit on the Algarve coast and makes for a great day trip from Faro.
Dive into Portimão's history at the Portimão Museum set in an old tuna factory, head to the Santa Catarina Fortress, or witness the 5000-year-old megalithic tombs of Alcalar.
There are heaps of water activities taking off from Portimão too if you want to add a pinch of action to your day trip.
The trip to Portimão from Faro is less than an hour by car and it takes an average of an hour and a half by bus or train.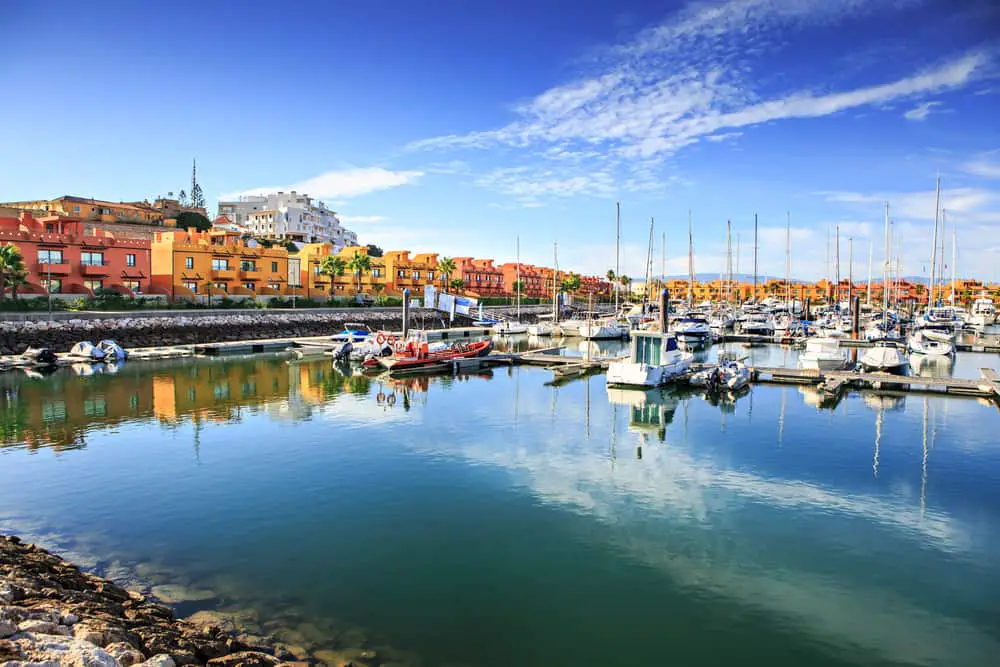 Final thoughts on Faro day trips
With this, I hope you got one or more ideas about fabulous day trips from Faro that you want to take. Personally, I think these are some of the absolute best, albeit there are hundreds more to choose from.
The Algarve is jam-packed with awesome things to do and you are pretty much guaranteed a successful vacation with an urge to get back to see all the places you didn't get the time to explore.
Happy travels!