You're excited about your trip to the tourist capital of the Algarve but find it overwhelming how to get from Faro to Albufeira.
I totally get you. There are multiple local routes and transportation options to figure out both from Faro city and Faro Airport and often so many different places to collect information from. And this can feel pretty exhausting when all you want to do is relax on the beach in one of the Algarve's most quaint cities!
But don't worry, I'll go through it all here in one post so that you can avoid the stress and comfortably choose the best option for you. 
Whether it's by transfer, taxi, or bus, landing and traveling from Faro Airport to Albufeira city should be easy as 1-2-3. That's why I've broken it down for you in this guide so you can easily travel to Albufeira from Faro.
Disclosure: This post may contain affiliate links. That means that if you make a purchase through one of those links, I will get a small commission at no extra cost to you.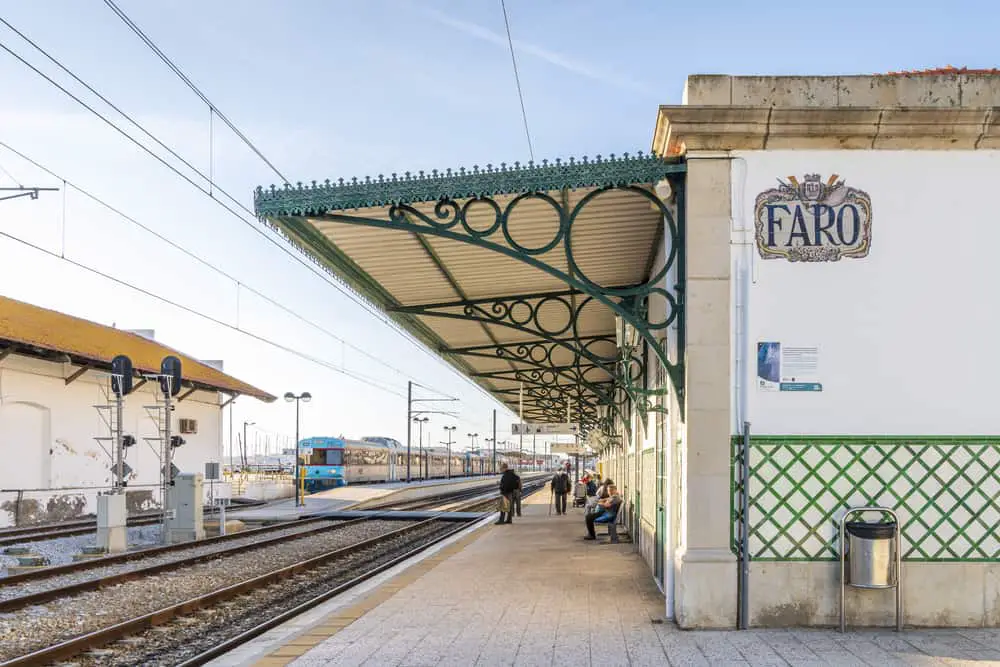 STILL NOT BOOKED YOUR ACCOMMODATION?

Make sure you read my Albufeira neighborhood guide to the best areas to stay.
How to get from Faro to Albufeira using public transportation
The best way to get to Albufeira from Faro is by public transport. Not only is it cheaper, but it's also an excellent way for you to get a feel of the city. 
Unfortunately, there are no direct routes from the airport to Albufeira using public transport. There is neither a direct route via train nor bus from Faro airport to Albufeira. If you wish to head to Albufeira by bus or train, you will have to travel to the city's main transport hub, Terminal Rodivario.
You can take the train from Faro to Albufeira station, which takes about an hour (we'll be diving deeper into this later). Alternatively, you can take the bus from Faro to Albufeira, which usually takes about an hour and a half and costs less than the train.
Check bus and train availability and price here
How to get from Faro airport to Faro terminal
When you arrive at the airport (Faro's as there is no such thing as an Albufeira airport), you must take the Próximo company circuit 16 bus, generally known by the public as the pink lane.
It leaves every 30-40 minutes except between 12:10 AM and 5:20 AM. 
You can also opt to take Bus 14 for a more scenic route along the beach if you can wait a bit more since fewer buses are operating along this route compared to the number of Bus 16 buses.
The trip will generally take you 20 minutes from Faro airport to Terminal Rodivario and cost you €2.35 a ticket for adults and €1.50 for children.
You can purchase tickets from the driver or the ticket office that typically operates from 6-7 AM to 11 PM. 
You will then arrive at the Proximo bus station in Faro, just beside Terminal Rodivario and a few minutes' walk from the city's train station.
You can also pass by the beach, one of the best in the Algarve region, before you head to Albufeira, as it is just a five-minute walk from the terminal.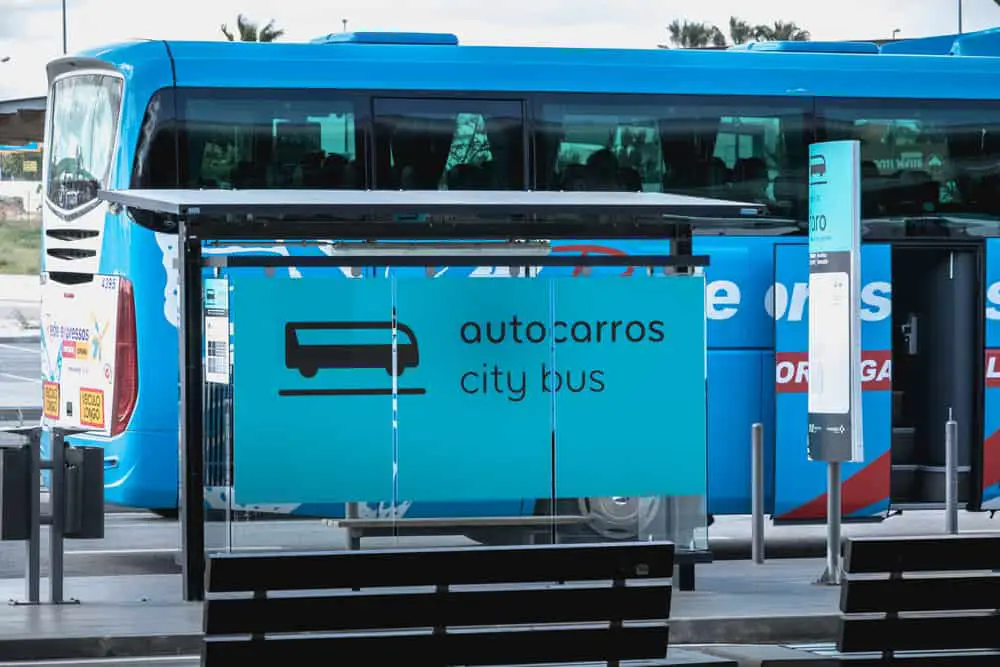 TOP TRAVEL TIP!
How to get from Faro to Albufeira by bus
Three buses travel between the two destinations every day:
Transrápido (TR)
Interurbana Direta (IU-D)
Interurbana Normal (IU-N) 
These are all operated by the bus company EVA. All tickets to Albufeira cost €4.95 for one way and cost €9.90 for return tickets.
Transrápido (Express bus)
This actually travels from Faro to Lagos with Albufeira itself just being a stop, so look for a bus displaying a "Lagos" sign.
It leaves Terminal Rodiavario every day from 8 AM to 7:40 PM and takes 55 minutes to reach Albufeira through the highway Via do Infante. 
The first 8 minutes of this Faro to Albufeira bus goes through the following nine stops—Terminal Rodivario, Arco da Vila, Tribunal, Rádio Naval, Hospital (2 stops), Alto Rodes, Escola Alfonso III, and Figuras—before leaving for Albufeira.
If you're planning on taking this bus, make sure you're on time because you'll be waiting around for 1.5-2 hours for the next one.
Interurbana Direta
The IU-D buses, on the other hand, has Albufeira as their final stop.
Interurbana Direta leaves Faro from 7:15 AM to 7:15 PM and arrives in Albufeira in approximately 1 hour and 15 minutes.
It's more forgiving for latecomers as you only need to wait for 30-60 minutes for the next bus. However, you should note that they do not have lunch (10 am – 1:30 pm) or late afternoon (4:30-7 pm) schedules.
IU-D goes through the following stops: Faro, Almancil, Quarteira, Vilamoura (Praia da Marina), Vilamoura (Aldeia do Mar), Canas, Olhos de Água, Balaia, Aqua Mar, Santa Eulália, Oura, Areias de São João, Continente (shopping center/supermarket), and lastly, Albufeira (Caliços Terminal).
The ones highlighted are the stops unique to IU-D.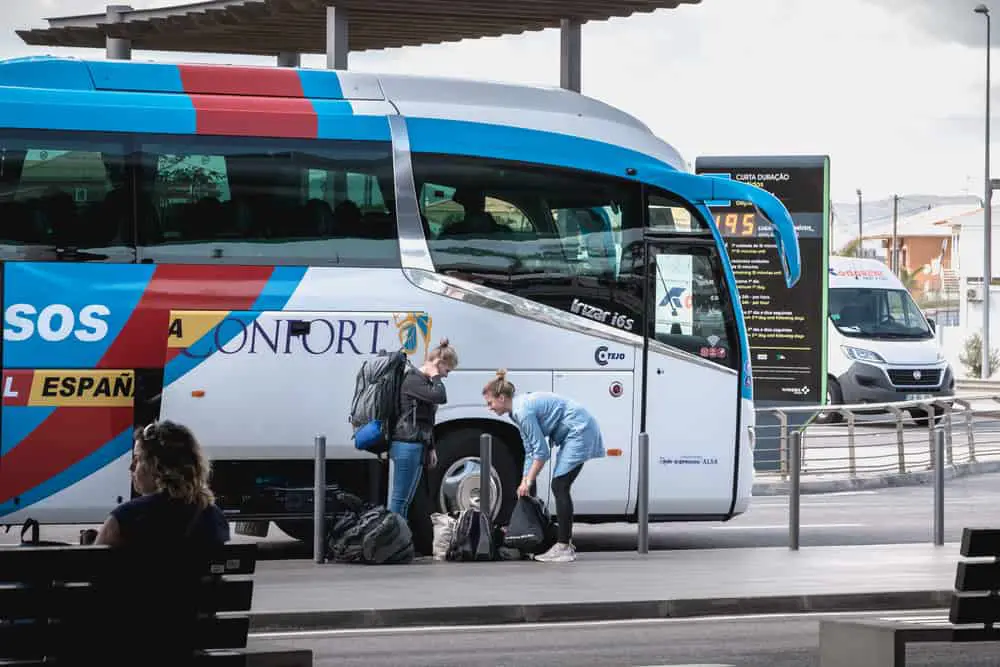 Interurbana Normal
Last but not least, we have the Interurbana Normal that operates from 6:30 AM to 6:45 PM – also with final destination Albufeira.
Traveling using IU-N will take around 1 hour and 45 minutes which leaves every 30-60 minutes.
Besides not passing through the stops unique to IU-D (see highlighted text above), it also passes through the following stops:
Patacao (after Faro and before Almancil) and Aldeia do Golf in Villamoura (before Olhos de Água and after Aldeia do Mar).
Finally, all buses take you along the Faro to Albufeira distance of 44 kilometers of scenic marvel and deposit you in Albufeira's bus station in Caliços, around 1.5 kilometers away from the city center.
It is possible to walk or take a taxi to go around Albufeira from there. 
If there's one major con with taking the bus, it's how crowded it gets during the peak summer seasons.
Tickets sell out like lemonade on a hot summer's day, and here's how we arrive at our second choice of public transport from Faro to Albuferia – train!
Check availability for buses here
How to get from Faro to Albufeira by train
If you want to opt for a cheaper and faster option, Terminal Rodivario is just two minutes away from Faro's train station.
There are almost always seats available, but the distance from the train station in Ferreira to the Albufeira city center is 7 kilometers.
If taking additional transport after the train ride is not a problem for you, tune in.
You can buy tickets from the station or online through Colomboios de Portugal's website.
CP is the only operator of your three train options to Ferreiras. A train from Faro to Albufeira leaves Faro's main train station and arrives in Albufeira a little over half an hour later. 
The regional train, which passes by Parque das Cidades, Almancil, Loulé, and Boliqueime before arriving at Ferreiras, costs €3.35 per person.
If you are hopping on the regional train, make sure you board on time as well, as the next train can take up from one to two and a half hours to arrive.
Interciudades and Alfa Pendular, while faster, passing by fewer stops (Loulé only), and arriving much more frequently (30 minutes for a train to arrive), costs way higher at around €9.10 and €11.10 respectively.
After arriving in Ferreiras, you can take a Giro bus to Albufeira, which costs €1.40 and takes up to 20 minutes of travel time. As an alternative, you can take a taxi which can cost 8-10 euros from Ferreiras to Albufeira. 
Altogether, going by train can take you from 50-90 minutes and cost you from €4.75 to upwards of €20, depending on which combination of trains and modes of transport you hop on.
Check availability for trains here
Read my complete itinerary for the Algarve HERE.
How to get from Faro to Albufeira by private transport
If you're still not convinced that you want to take public transportation, that's fine because there are also options for private transport laid out below.
You can either book taxis or private transfers from Faro to Albufeira. Of the two, the more convenient is the transfer, and I'll explain why in a second.
How to get from Faro to Albufeira by airport transfer
Private airport transfers are probably the most convenient way of travel to Albufeira from Faro. 
The first reason is that you can book a Faro to Albufeira transfer online. There is no need to wait in long lines at the airport for taxis or panic that bus tickets are already sold out. 
Secondly, a transfer from Faro to Albufeira will fetch you directly at Faro airport and deposit you right in the city center.
Lastly, you don't have to worry about lugging your baggage everywhere. A Faro airport to Albufeira transfer knows your needs and, as such, takes care of everything that might come up for a tourist.
There's space for all your suitcases, and this is particularly comfortable if you're a group of people traveling together.
Faro to Albufeira via transfer is genuinely the most convenient way to travel.
And you might ask – how much is the service? Well, it's incredibly affordable.
Transfers from Faro airport to Albufeira can cost you around 30-35 euros per 4-person vehicle, making it somewhere around €8-9 per person if you fill the car.
You can check prices for airport transfers from Faro Airport to Albufeira here
How to get from Faro to Albufeira by taxi
Hopping on a taxi is also a viable option. However, riding a taxi from Faro airport to Albufeira, can for some be more stressful than getting to Albufeira by train or bus.
It has to do with the fact that there are so many taxis in Faro that are not equipped with meters. 
When you get into a taxi from Faro to Albufeira, you have to know the fare to Albufeira as it can surprise you when they charge around €50-60.
If you're traveling in a large group, it can quickly get more expensive than that as 8-seater taxis are less common than 4-seaters in Faro (you'll pay double essentially). 
This, plus other additional charges like the tax for using the highway and the fee for using the boot for your luggage, make taxis the least preferred mode of transport when you're traveling from Faro to Albufeira.
All in all, the Faro to Albufeira taxi cost could potentially be €70. I highly recommend agreeing on a price upfront and if you're not happy with it, move on.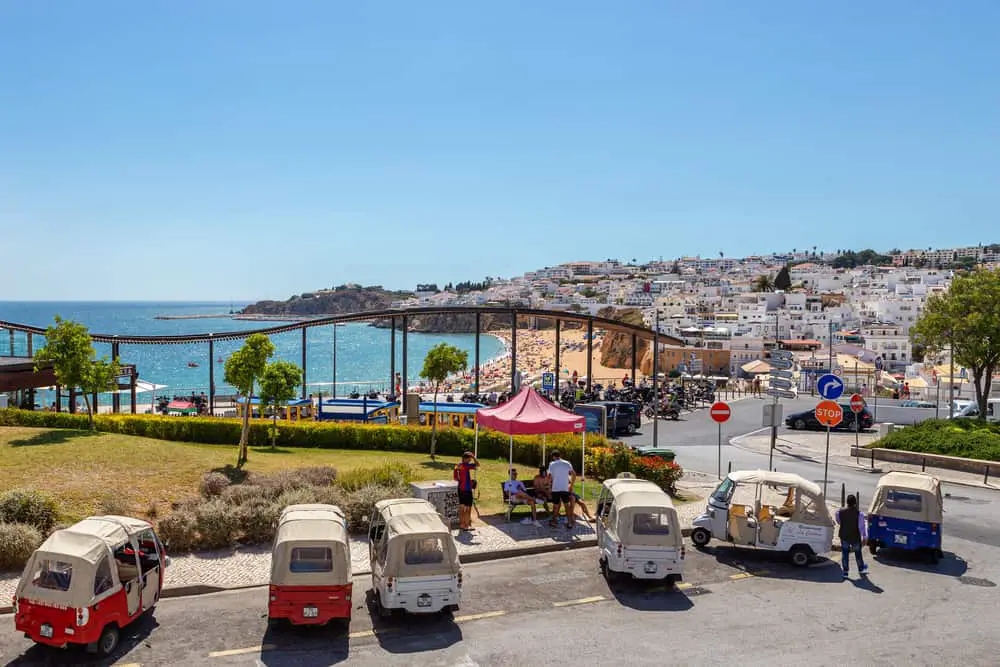 How to travel around Albufeira
You've arrived in Albufeira. What next? Make sure to check out the best things to do in Albufeira and the top activities in Albufeira for adventurous travelers. After seeing everything the city has to offer, you can also check out these Albufeira day trips.
Albufeira is a great, walkable city, especially around Albufeira old town. Alternatively, you can either hail a taxi or ride one of the Giro or EVA buses if you stay outside the center.
When you're there, make sure to practice responsible travel as well. Avoid places advocating unethical animal tourism, leave no trace, respect local culture, and most importantly, have a lot of fun!