Winter in Algarve is like no other European destination. Surfers are riding the waves along the furious Atlantic Coast, northern Europeans are sunbathing on the more tranquil Algarve beaches, and the hiking trails fill up with nature lovers.
You can expect a much more unpredictable weather forecast than in the summer months, but when it doesn't rain, it's usually overly pleasant and you'll find it the perfect time for exploring the enchanting towns in the Algarve.
After spending time in the Algarve in winter for many years, I've fallen in love with this season there for so many reasons. Not only are the temperatures exceptional, but you'll avoid the tourist crowds from the summer months too. While the Algarve is always busy, it's surely more pleasant to spend time there in the winter.
In this post, I'll go through everything you need to know and exactly what to expect from winter in the Algarve so that you can start planning your trip.
Disclosure: This post may contain affiliate links. That means that if you make a purchase through one of those links, I will get a small commission at no extra cost to you.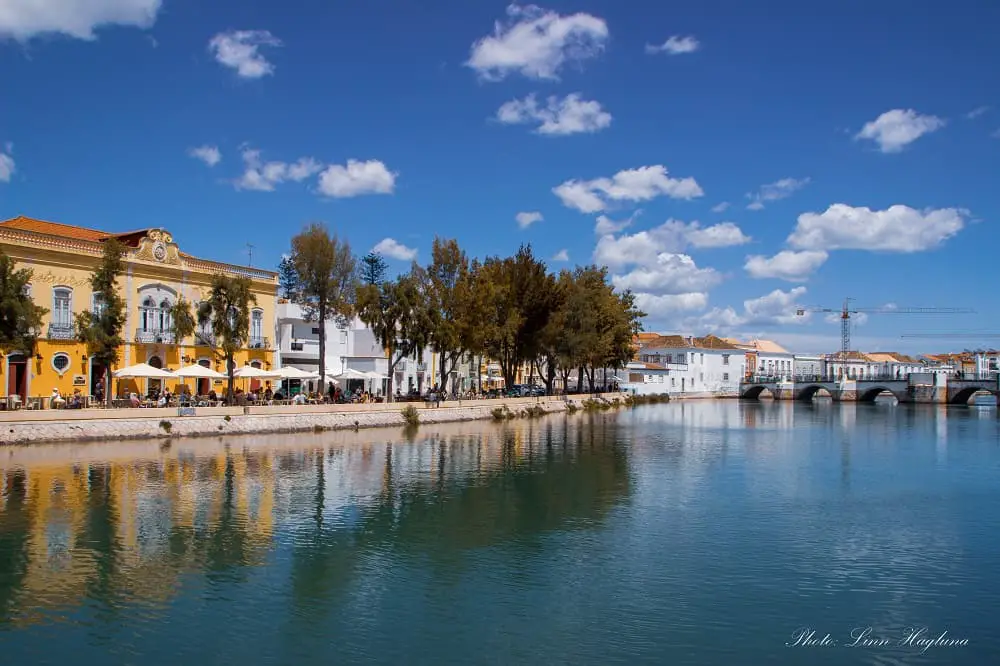 Winter weather in the Algarve
Winter weather in the Algarve can easily be compared with a northern European summer. With more than 300 days of sun in a year, there's no denying most of the rainy days come in the winter months. That said, I've spent numerous winters in the area and the Algarve winter sun has almost always been out.
Average temperatures in the daytime are around 17 degrees Celsius, but can easily climb to 20-25 degrees celsius on a sunny day, yet you'll notice a huge difference between the sun and the shade.
In the nighttime, on the other hand, it can crawl below 10 degrees Celsius, so make sure you bring layers of clothes so that you can take on and off clothes throughout the day.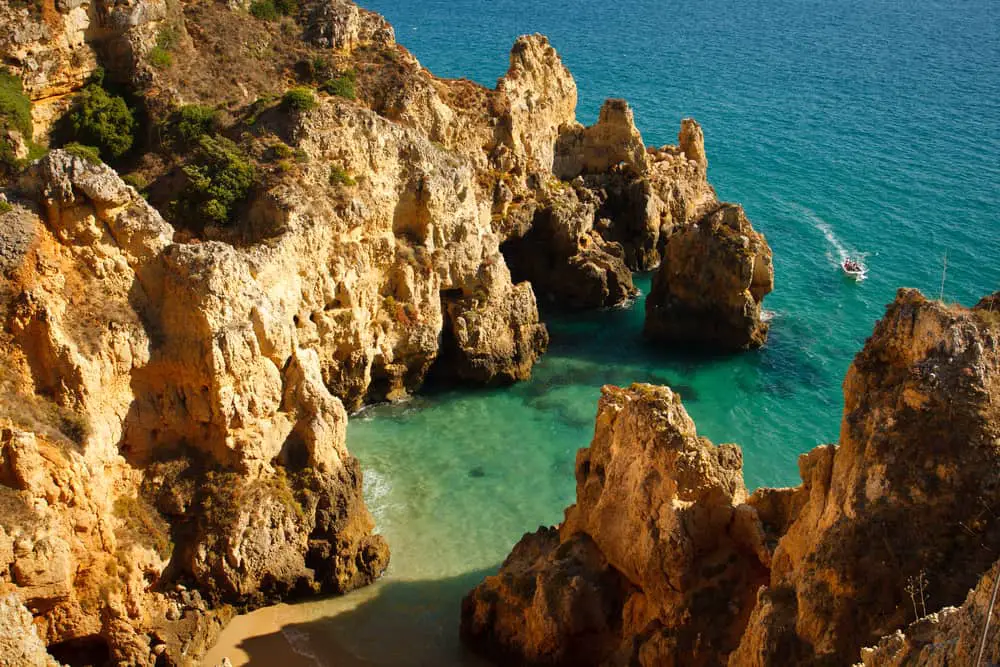 What to pack for an Algarve winter vacation
Due to the shifting weather during the winter in Algarve, and the possibility of both sun and rain, I recommend packing layers of clothes, at least one jacket, a sweater, and a pair of long pants. And don't forget the umbrella as much as the sunscreen!
Whether you plan to go hiking or just want to explore the towns and main attractions, you should bring a pair of good walking shoes. Because there will be a lot of walking no matter what.
To make it easy for you, here is a list of what to pack for the Algarve in winter:
Umbrella
Sunscreen
Swimwear
Long pants
Sweater
Rain and windproof jacket
Comfortable walking shoes
Camera
Reusable water bottle
How to get to the Algarve
The Algarve has one international airport in Faro but is also easily reached by bus and train from the rest of Portugal and from neighboring Spain.
From Faro, you can travel to the rest of the Algarve by train or bus, depending on the destination, as the train line doesn't cover all of the Algarve.
Lisbon to Faro: 2 hours and 40 minutes by car, about 3 hours and 30 minutes by bus, and 3 hours by train.
Seville to Faro: 2 hours and 10 minutes by car, and 2 hours and 30 minutes by bus. There are no direct trains connecting these two cities.
Faro to Albufeira: 40 minutes to drive, the bus takes up to 55 minutes, and the train takes about half an hour.
Faro to Lagos: The drive from Faro to Lagos takes one hour. The fastest bus journey takes 1 hour and 40 minutes. The train takes around 1 hour and 30 minutes.
Faro to Tavira: Driving from Faro to Tavira takes around 35 minutes, you can reach the town by bus in 30-40 minutes, and by train in around 45 minutes.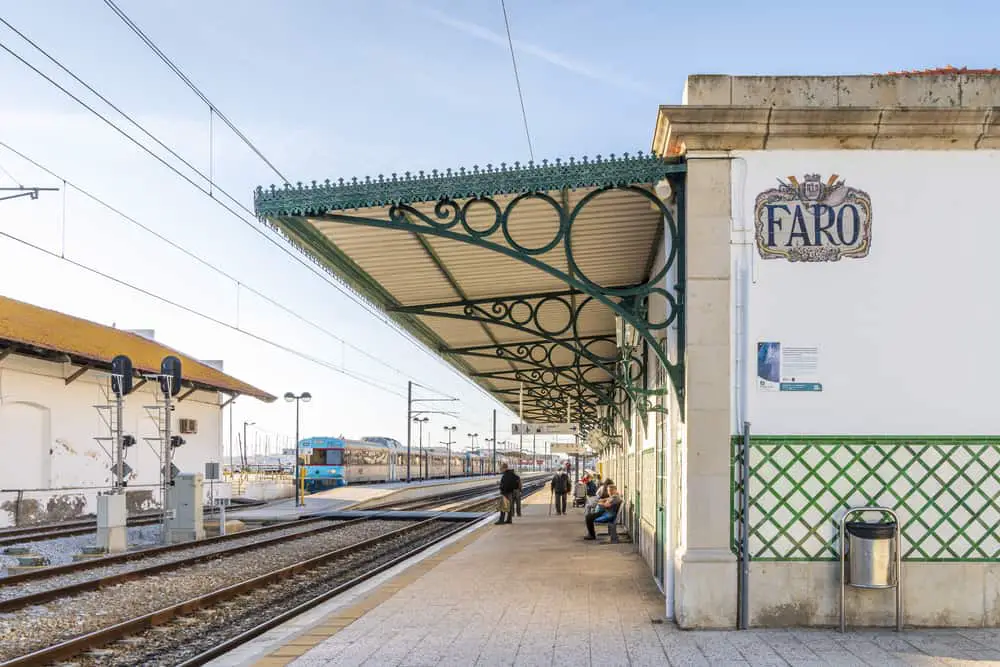 Where to stay in Algarve in winter
If you're not sure where to stay in Algarve in winter, you should, first of all, decide on the town you want to base yourself in.
Good options that give you the opportunity to explore a lot of the best things to do in Algarve are Faro, Albufeira, Portimao, and Lagos. Here are a couple of accommodation options for each of those places.
Where to stay in Faro
3HB Faro: High-end hotel in the heart of Faro where you can indulge in the rooftop pool. See availability here.
HI Faro: Budget hostel within a short walking distance from the top attractions in Faro. Cook your own meals in the kitchen and connect with other travelers in the common area. Choose between a private room or a shared dorm here.
READ: Best neighborhoods in Faro
Where to stay in Albufeira
Vila Algarvia Boutique & Suites: High-end hotel in the heart of Albufeira where you can enjoy sweeping views from the rooftop terrace. Check availability here.
Apartamentos Turisticos Regina: Check in at these cozy studio apartments in the center of Albufeira for a budget option with privacy and a kitchen. Discover the best prices here.
Where to stay in Portimao
Jupiter Marina Hotel: High-end hotel with an epic rooftop pool offering panoramic views within a short walking distance to the center of Portimao. Check availability here.
Aloha Hostel: Budget hostel with shared dorms and private rooms where you can bond with other travelers and cook your own food in the shared kitchen. Check availability here.
Where to stay in Lagos
Hotel Marina Rio: High-end hotel overlooking the marina. Relax in the heated rooftop pool or ask for a room with a bathtub to indulge in the evenings after dinner. Check availability here.
JJs Yard: Budget hostel with shared dorms close to the old town and other attractions. There's always something happening here and you surely won't be bored! Check availability here.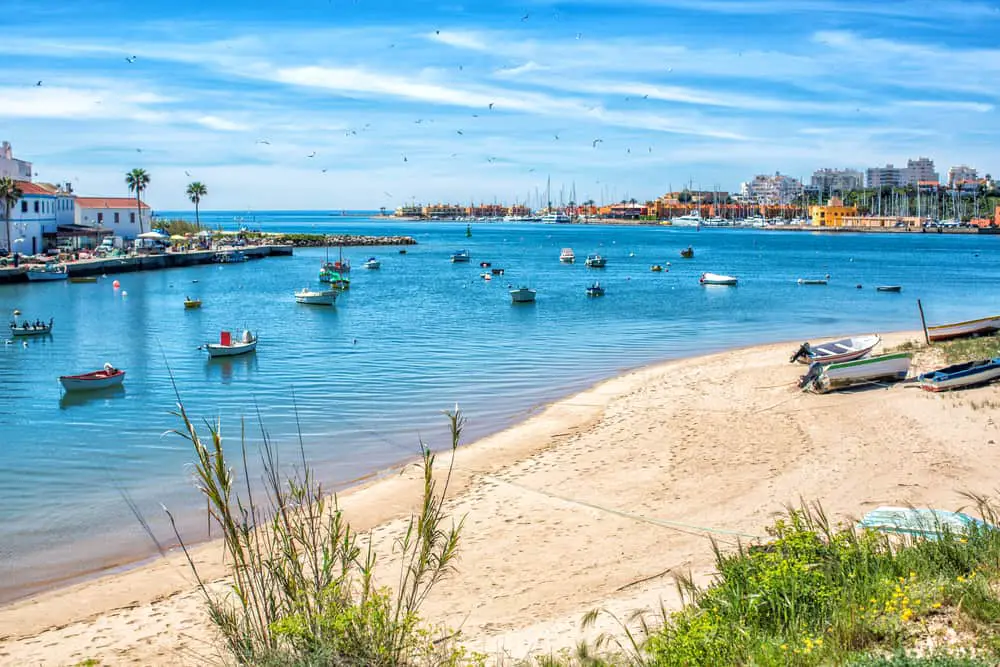 Things to do in Algarve in winter
Surf in Sagres
One of the best things to do in Sagres all year round is to go surfing. The weather in Algarve in winter makes especially the west coast of Algarve perfect for experienced surfers.
There are surf shops to rent all the necessary gear and if you're new to the sport, you can always book surfing lessons where you'll be assured to be taken to a safe beach with waves that fit your level.
Sagres is such a dormant and charming little village compared to the rest of Algarve's surf destinations and is truly the best place to base yourself.
Among the most popular surf beaches in Sagres are Praia do Tonel and Praia do Beliche. But many surfers head up to Aljezur to ride the winter waves of Arrifana beach or even further north to Monte Clerigo beach.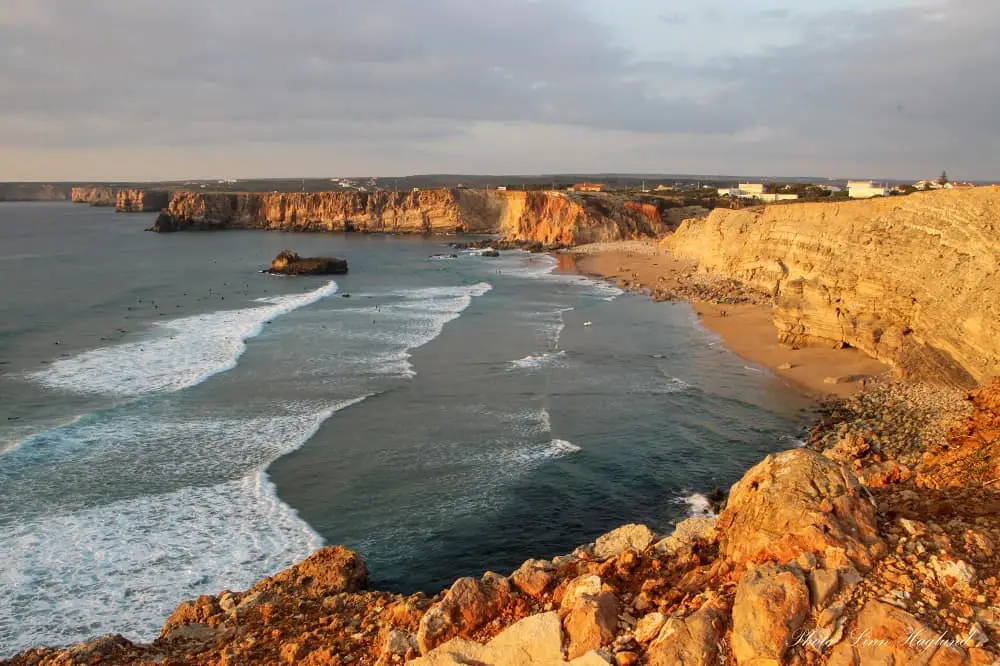 Hike the Seven hanging Valleys Trail
One of the best things to do in Algarve in winter is to hike the spectacular Seven Hanging Valley's Trail. Due to the mild temperatures, you can enjoy the entire 6-hour hike return.
Taking you across the golden cliffs, passing some of the most epic beaches in the Algarve, and flanking large sinkholes and blow holes, natural arches, and altogether breathtaking views.
But don't be fooled by the fact that it's winter in Algarve. The sun is still strong and you must bring enough water, sunscreen, and a hat for this hike so that you don't get burned or overheat your head.
Trust me, I did it once without enough water and another time without anything to cover my head. No, I kinda never learn!
That said, there are places to buy drinks on both Benagil beach, which is more or less halfway, and Marinha beach which is the endpoint where you turn back if you don't start your hike from there.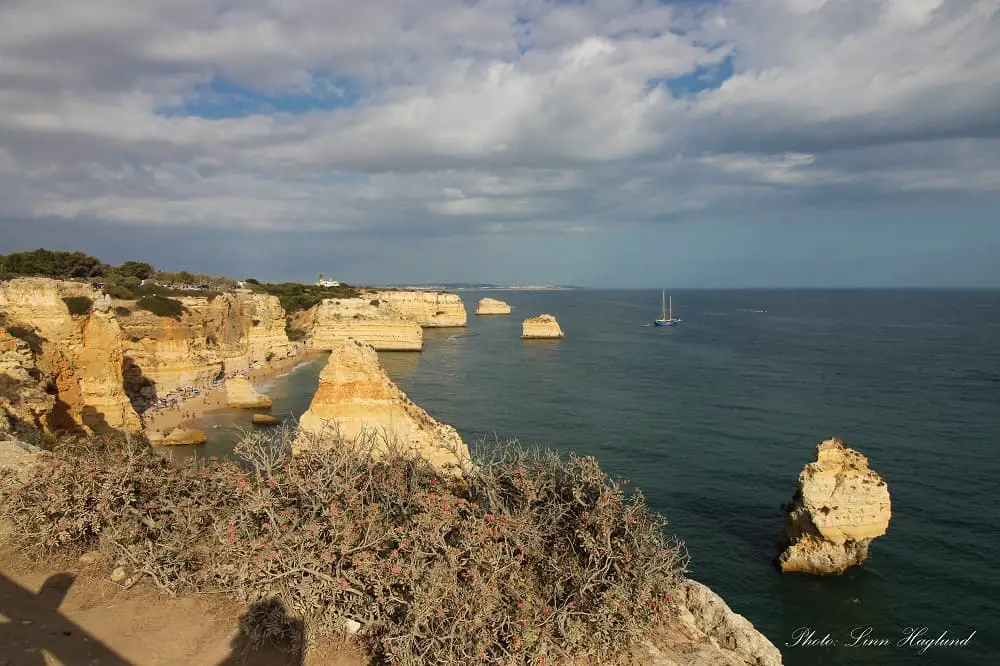 Carvoeiro boardwalk
The Algarve is lined with stunning coastal boardwalks from east to west which are great for walking in the winter months as it's not too hot.
One of my favorites is the Carvoeiro boardwalk taking you from the enchanting town of Carvoeiro to Algar Seco. Midway on the boardwalk, you can take a detour through a little tunnel, down some steps carved into the rock, and along narrow paths, alleys, and natural caves.
Compared to other boardwalks on the Algarve, the Carvoeiro boardwalk is fairly short with its 600 meters length, but the stop along the way and the fact that you reach the breathtaking cliff formations of Algar Seco at the end, make it a stupendous option.
There's a restaurant and bar at Algar Seco where you can stop for a drink or for lunch before turning back too if you wish to make it a half day trip.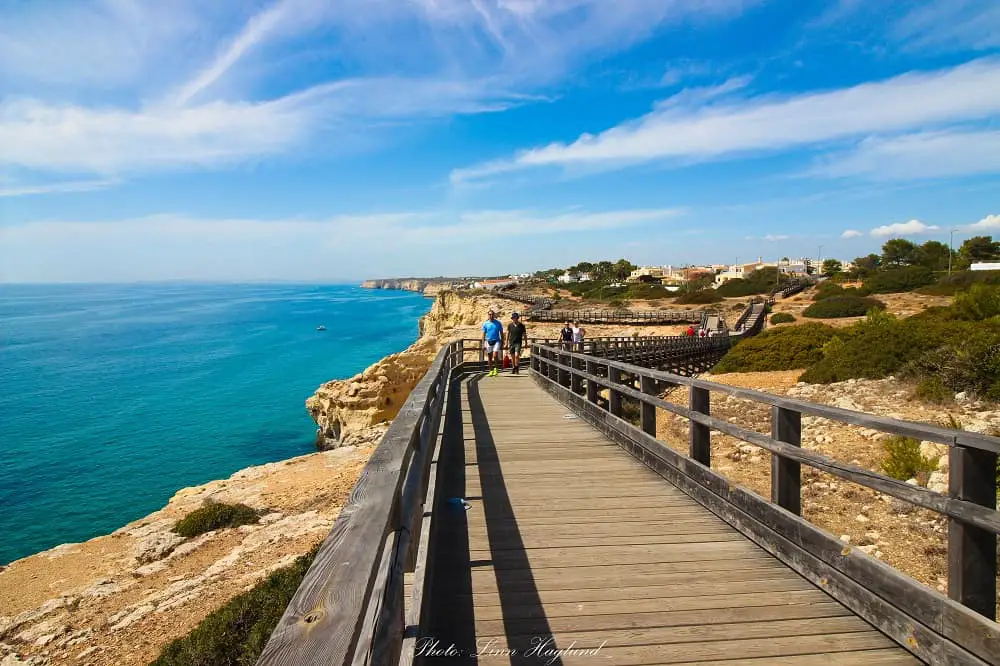 Explore Algar Seco
One of the best places to visit in the Algarve in winter is the natural rock formations and caves of Algar Seco. Connecting the Seven Hanging Valleys trail with Carvoeiro boardwalk, it's one of the most extravagant places to stop for a drink at the bar and an adventurous stroll.
The top attraction is no arguing the cave where you find two natural windows with spectacular views of the glittering water and surrounding cliffs.
There's also a natural pool and in the winter there's a bigger chance you'll see the blowhole in action.
You can read my complete travel guide to Algar Seco here.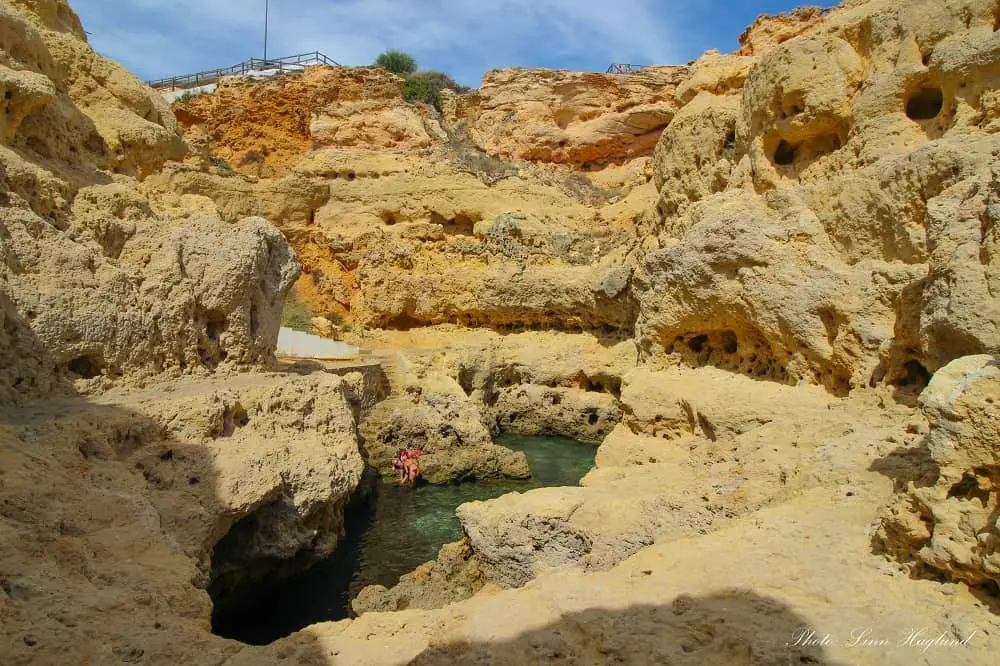 Head to Ponta da Piedade
Ponta da Piedade is one of the most popular tourist attractions in the Algarve and one of the best things to see in Lagos. This might even be the best place in Algarve in winter as it's not as crowded as in the summer months, you get to truly take in the massive cliff formations that tower up from the crystal clear water.
You can reach Ponta da Piedade from Lagos either by bus or by a 10-minute car drive. There is plenty of free parking on top of the cliffs, though even in winter it fills up quickly.
Due to the pleasant temperatures, you might even hike from Lagos past the mesmerizing beaches of Dos Estudiantes beach, Dona Ana beach, and Camilo beach.
Once at Ponta da Piedade, you can walk down to the water, you can walk on top of the cliffs to take epic vacation photos, or walk along the picturesque boardwalk along the cliffs.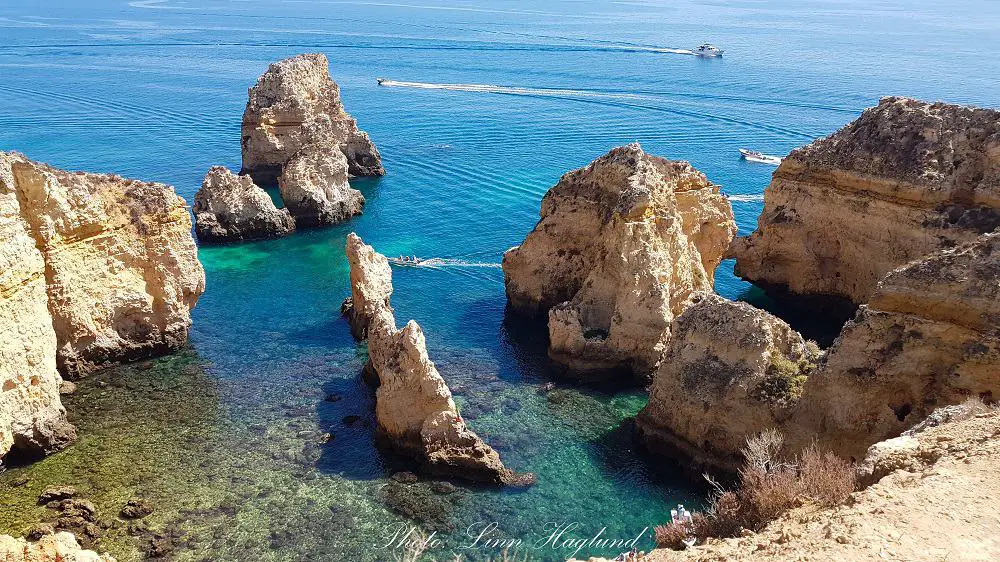 Go on a boat trip
Even in winter in Algarve, it's popular to go on boat trips to discover the mesmerizing coast. Jagged cliffs, hidden sea caves, some of them forming epic sinkholes, and secluded beaches are all on the agenda.
The coastline is also popular among packs of playful dolphins and chances are you'll be lucky to see them play around the boat.
Whether you want to enjoy a silent boat cruise or join friends and other travelers on a pirate ship or for an unforgettable BBQ on a hidden beach, there are options for you.
With the Atlantic Ocean's mood swings, the Algarve Portugal winter might cause canceled bot trips, but if you have a flexible itinerary and a few more days at hand, you should be able to reschedule.
With this in mind, I recommend you plan to start your Algarve winter holidays with a boat trip so that you have time to shuffle around on your plans if the weather gods are not on your side.
Walk or take the tourist train to the Anchor Cemetery
One of the most unique activities you can do in Algarve in the winter is to head to Tavira Island and witness the quirky Anchor Cemetery on Barril beach.
Tavira Island is the only barrier island you can actually walk to, across a footbridge. On the other side of the bridge, there's a small trail next to the train line that once was used to transport tuna from the island to the mainland. Today, you can choose to take a tourist train the 1.3 kilometers to the Anchor Cemetery.
Once at the site, you can chill at the beach, and have lunch at one of the restaurants that are set in what used to be fisherman shacks.
However, the site in itself is awesome. There are over 200 large, rusty anchors lined up on the sandbank. They were left behind by fishermen when the tuna fishing ceased, and no one really knows who set them up. Nevertheless, it has turned into one of the most epic things to see in Tavira.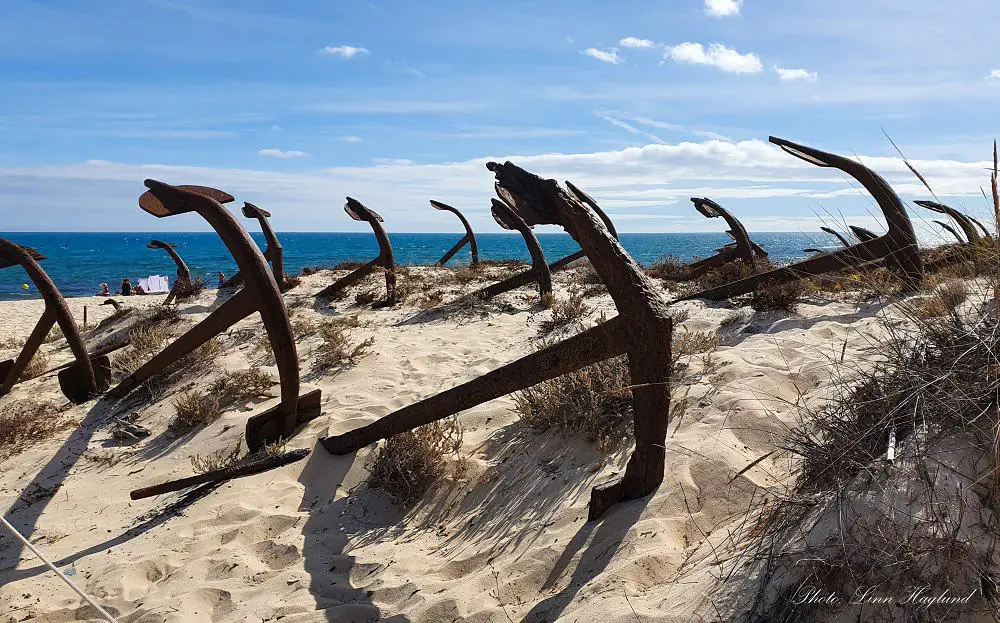 Discover Benagil Cave
In winter, Algarve won't be as packed with tourists as in summer. A fact I've mentioned before, but I'll mention it again. Simply because it means that you have a better chance of seeing Benagil Cave, one of Portugal's most famous caves with a little bit fewer people.
There are daily boat trips from Benagil beach and you can rent a kayak or a paddleboard if you want to enter the caves. If you opt for any of the two latter, make sure you also rent a wet suit if you think you might get into the water as the Atlantic Ocean gets cold in the winter.
You can book a guided tour in advance, here are my top recommendations: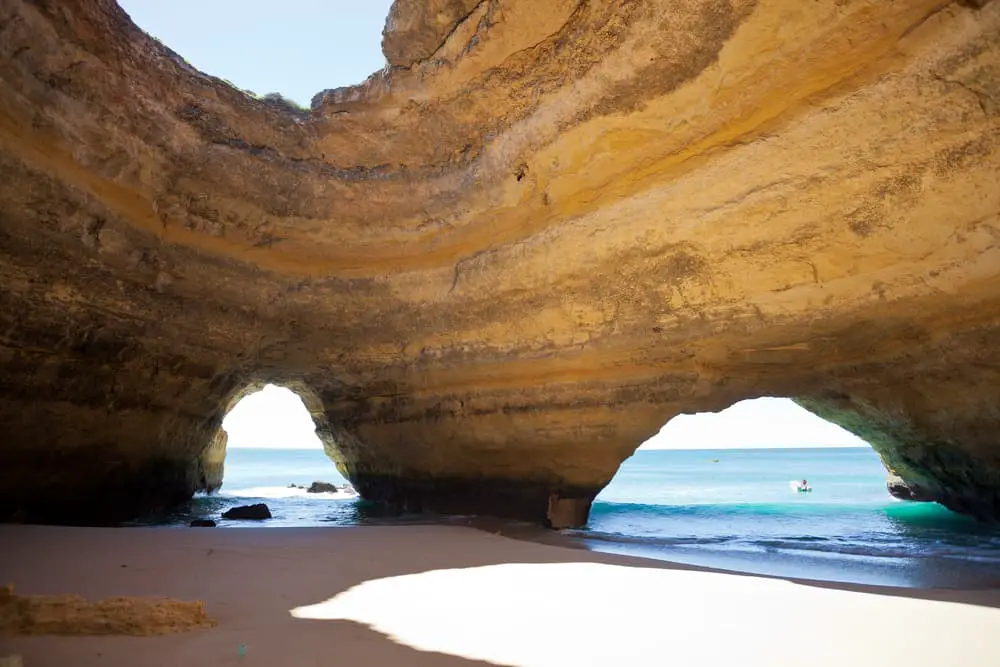 See Faro's bone chapel
Not the only bone chapel in Portugal, Faro's bone chapel is still a unique and quirky site that attracts tourists all year round. In my opinion, the winter in Algarve is perfect to discover places like this, especially if you happen to go to this Algarve city on a rainy day.
Decorated with the bones of thousands of monks, it was a way to honor the individuals serving the church. Legend says that the chapel is haunted and according to multiple reports, apparently there are lights moving inside the chapel at night.
Do you dare to visit?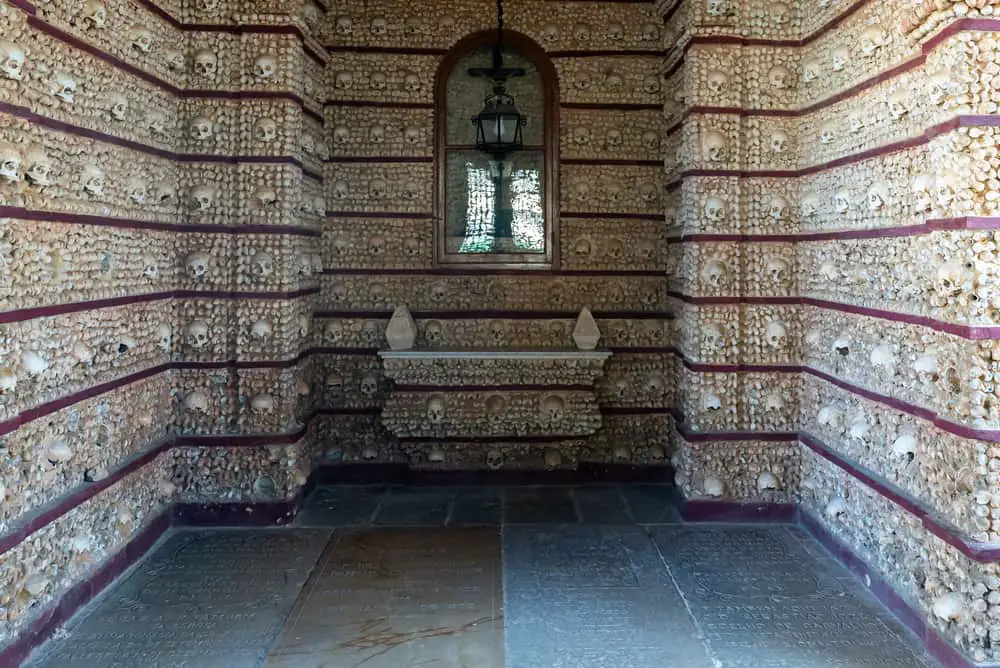 Go on a road trip
One of the best things to do in Algarve in winter is to go on a road trip. No matter if you have 3 days in Algarve or 3 weeks, an Algarve road trip will go down perfectly.
With a whole lot of variation from visiting natural parks like Ria Formosa, going hiking in Monchique, or exploring all the towns and villages, you won't get bored.
Head to the Algarve wine region and stay at a winery for a night and explore the spectacular dormant Sagres at the westernmost point of Algarve where you can walk the jaw-dropping cliffs and take pictures of the lighthouse.
The best about going on a road trip in winter in Algarve Portugal is that you get to all the places that are hard to reach by bus, especially out of the high season.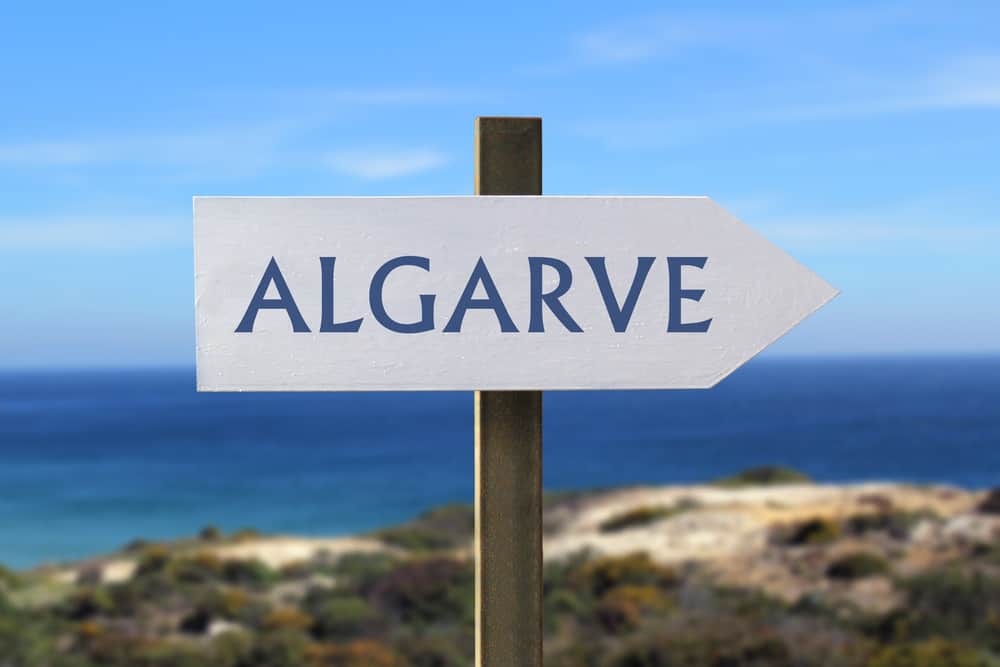 Reflections on winter in Algarve
If you're looking for winter sun, Algarve is for sure a dream destination in Europe. There is so much to do and see that is perfect for the winter months and if you want to relax, you can take a day off at the hotel pool to work on your tan.
There are so many reasons to love Algarve Portugal in winter and I hope you got inspired to set your winter holiday to this corner of the world.
I have so many unforgettable memories from the Algarve, winter being no exception. As I travel with my dog, Ayla, it's also a great time of the year to explore the beaches with her as most beaches don't allow dogs in the summer months.
I hope you enjoy your travels!
READ NEXT: 7 days Algarve itinerary