On the west coast of the Algarve right outside the quaint town of Aljezur, you find one of the most astounding beaches in the region, Praia Monte Clerigo (Monte Clerigo beach.)
With a couple of surf schools and restaurants, this is the perfect place to hang out for a day or two surfing or just relaxing on the wide, picture-perfect beach.
Protected by the Vicentine Coast Natural Park, the beach is beautifully wild and well-protected from over-development and any tourism destruction.
With untamed sand dunes cascading down onto the golden beach, cliffs on one side, and the tiny Monte Clerigo village on the other side, this is no questioning one of the most picturesque beaches in the Algarve.
In this beach guide, I'll take you through everything you need to know to visit Monte Clerigo beach, Portugal so that you can add it to your itinerary.
Disclosure: This post may contain affiliate links. That means that if you make a purchase through one of those links, I will get a small commission at no extra cost to you.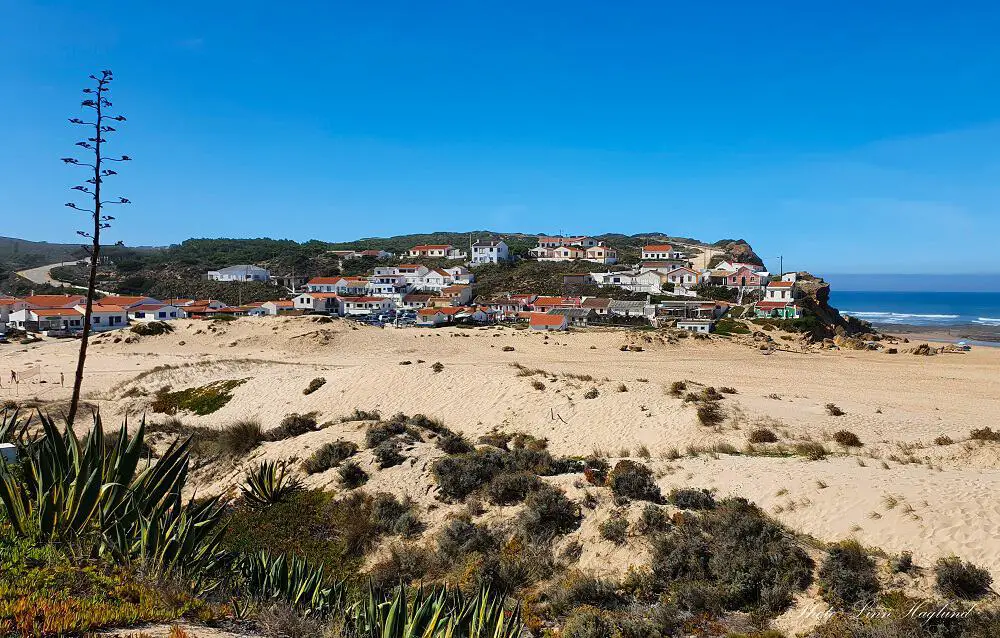 How to get to Monte Clerigo beach Portugal
To get to Monte Clerigo beach, Portugal, you can drive and park above the beach, or take the bus.
From Sagres, it takes about 50 minutes to drive straight up on the N268 road. When you get close to Aljezur, take off to the M1003-1 road.
By bus, you'll have to take the bus to Aljezur from Lagos and change to the local bus that goes to Monte Clerigo beach. This is only available on weekdays.
Best time to visit Monte Clerigo beach, Aljezur
Monte Clerigo beach can be visited all year round and is a popular surf spot even during Algarve's winter months. However, if you're after a lazy day on the beach, dipping in and out of the ocean, make sure that you go in the summer months.
That said, even the spring and autumn season can be wonderful. Especially from September to October, if the weather is warm and sunny, it's wonderful to hang out on the beach.
If you want to learn to surf, you should go in the spring or autumn to avoid the crowds and the coldest water temperatures.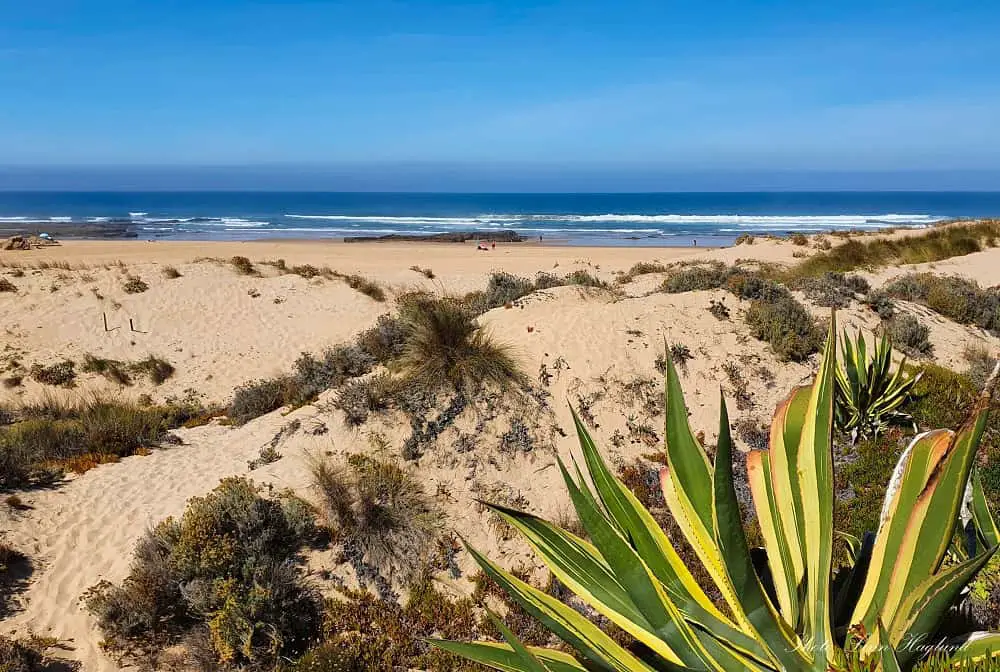 Where to stay near Monteclerigo beach
If you plan on staying in a hotel or hostel, you'll have to spend the night in Aljezur and its surroundings. In Monte Clerigo, you might find apartments for rent.
Endless Summer Surf House is a wonderful place to stay only a 10-minute drive from Praia de Monte Clerigo. The establishment has an outdoor pool where you can indulge after a long day at the beach. You can cook your own meals in the kitchen and relax in the common area.
Arrifana Guest House is another fantastic option, also a 10-minute drive from Monte Clerigo beach. At Arrifana Guest House you can enjoy ample space with a shared kitchen to cook your own meals.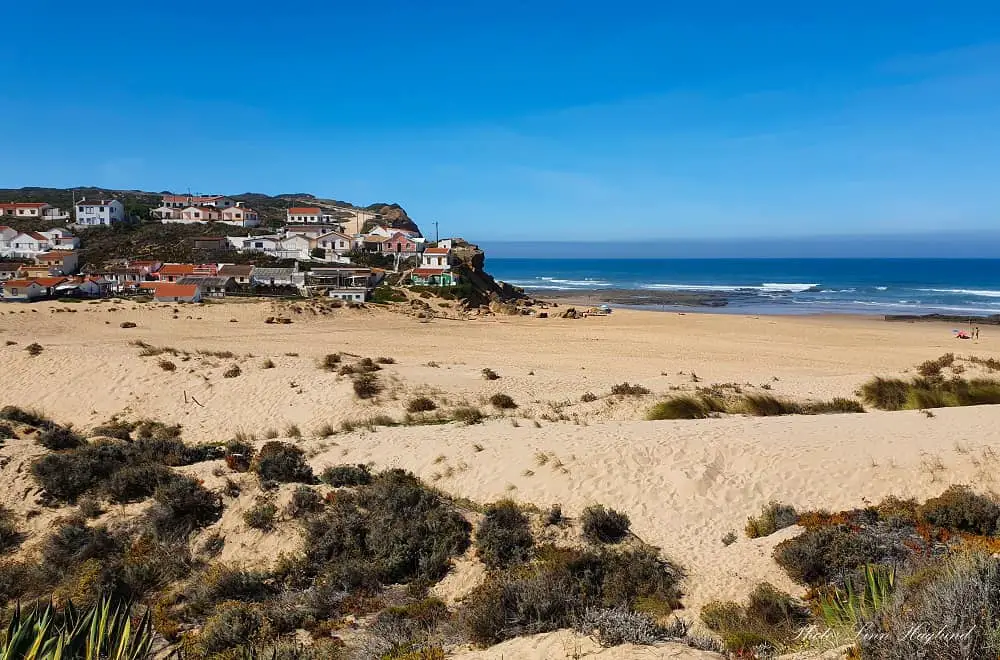 Facilities on Monte Clerigo beach
Monte Clerigo beach is a blue flag beach with a lifeguard in the summer months, though you won't find either sunbeds or parasols for rent on this beach.
That said, you can rent surfboards and dry suits all year round to enjoy surfing. Here are the main facilities you can expect to find on Praia Monte Clerigo.
Lifeguard in the summer
Restaurants
Toilets
Surfboard rental
Wheelchair access
Monte Clerigo beach
Being somewhat off the beaten path, yet fairly easy to get to, the mesmerizing beach is perfect for swimming, surfing, and working on your tan.
During low tide, you'll find that a shallow lagoon forms on the beach where the kids can enjoy a dip without worrying about the waves, making it one of the most popular beaches for local families.
On the southern part of Monte Clerigo beach, you can explore natural cavities and rock pools and there is a rich sea life where you can find starfish and octopus in the water. Make sure you leave no trace and avoid picking up starfish as it will harm them and the ecosystem.
There are boardwalks taking you down to the beach, which makes it possible to take a stroller or a wheelchair down there too.
It's also worth going for a stroll around the tiny village of Monte Clerigo to maze at the enchanting pink houses.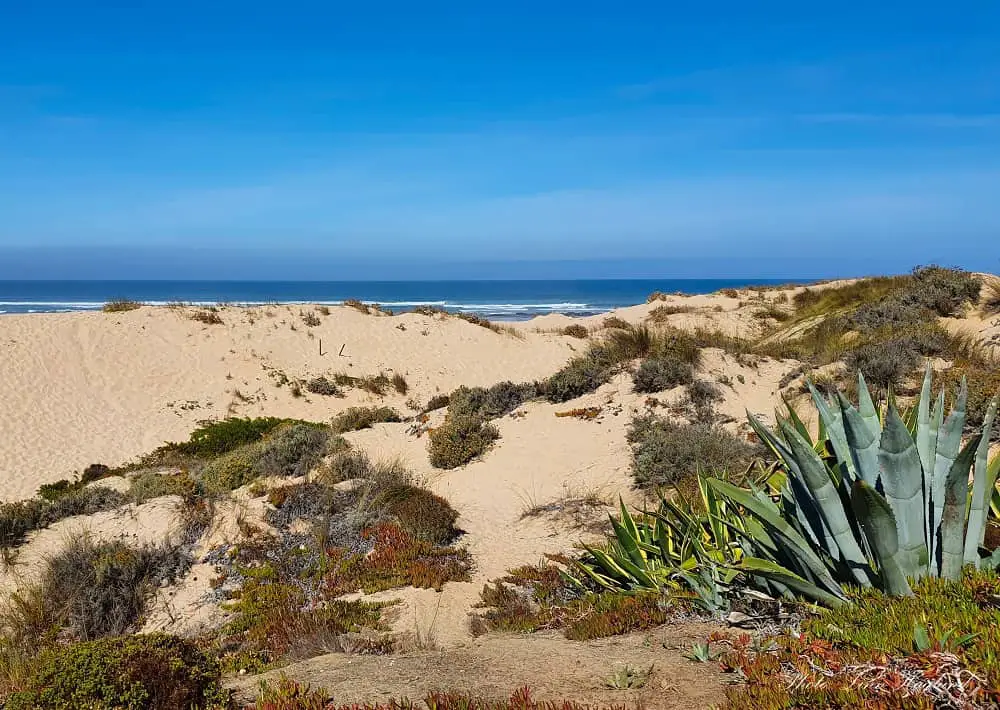 Reflections on Monte Clerigo beach
Surrounded by such astounding scenery, Monte Clerigo is truly a great beach to spend the day on, whether you want to go for a surf, a family day out, or just soak in the glimmering sun and work on your tan.
For being such an offbeat beach, it's surprisingly easy to get there by bus, so it's certainly a beach worth visiting.