Which is best to visit on your holidays, Lagos or Albufeira? Well, that does depend on your travel style and what you want to get out of your vacation.
Albufeira vs. Lagos might look quite similar at first glance, both great party destinations with water sports, and great beaches, but when you compare the two, there are differences that might help you make up your mind.
I have spent a lot of time in both of these Algarve towns and I love both of them. In this Lagos vs. Albufeira guide I'll highlight the similarities and differences so that you can get a clearer picture of whether you should visit Albufeira or Lagos.
Disclosure: This post may contain affiliate links. That means that if you make a purchase through one of those links, I will get a small commission at no extra cost to you.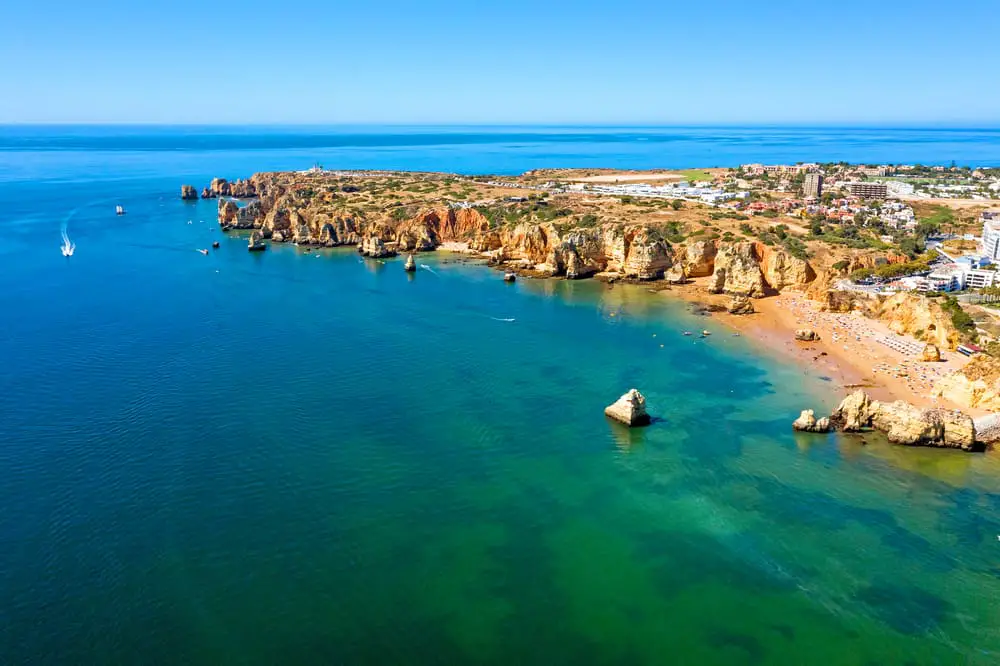 Albufeira vs. Lagos
Accommodation in Lagos vs. Albufeira
Albufeira
When looking for where to stay in Albufeira, you will find that there are many all-inclusive options and upscale accommodations.
Yet, in the old town, you can find budget options as well as a few hostels. Albufeira is also one of the best places to stay near Faro.
Lagos
Searching for the best places to stay in Lagos, Portugal gives you more backpacker hostels to choose from with loads of activities, which makes it a great destination for solo travelers.
But there is also a selection of Adults Only hotels and all-inclusive hotels right outside the town center.
Verdict: Albufeira is better to stay for all-inclusive and upscale accommodation both for families and partygoers while Lagos is better to stay for couples and solo travelers.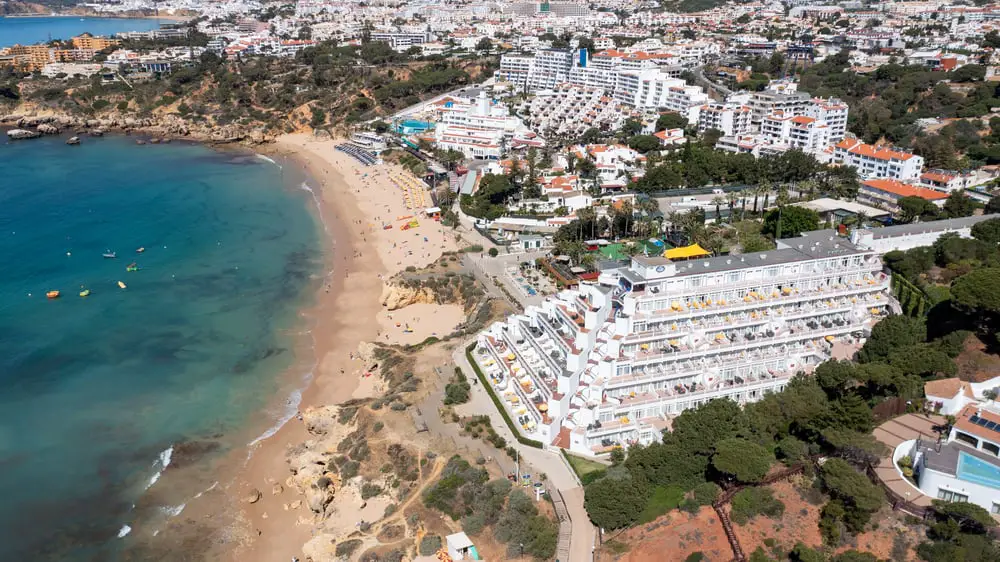 Getting to Albufeira vs. Lagos
Albufeira
Albufeira is located only a 40-minute drive from Faro, which makes it convenient to get from Faro Airport to Albufeira, even if you opt for a private shuttle. The city is also well connected to other cities and larger towns on the Algarve by public transport.
Lagos
Getting from Faro to Lagos takes an hour by car and an hour and 45 minutes by bus. Since Lagos is located in the western Algarve, reaching the town from other places in Portugal, like Lisbon, is a longer journey and often means changing of transport in Faro.
Verdict: Albufeira is easier to reach than Lagos due to its strategic location close to Faro Airport and the main roads leading down from central Portugal.
Best beaches: Lagos or Albufeira
Albufeira
The beaches in Albufeira are beautiful and the city is blessed with an urban beach that you can reach directly from the old town. There are plenty of options along the coast yet, they are not the finest in the country.
Lagos
Lagos, on the other hand, is spoiled with mesmerizing beaches between picturesque rock formations and crystal-clear water. There is no secret that the beaches in Lagos are among the finest in the country. However, you will have to walk to the nearest beach as it is not as conveniently located as in Albufeira.
Verdict: When it comes to Albufeira vs. Lagos, there is no discussion. Lagos has the most beautiful beaches, much thanks to the western Algarve's rugged coastline covered in golden cliffs only interrupted by golden, sandy beaches.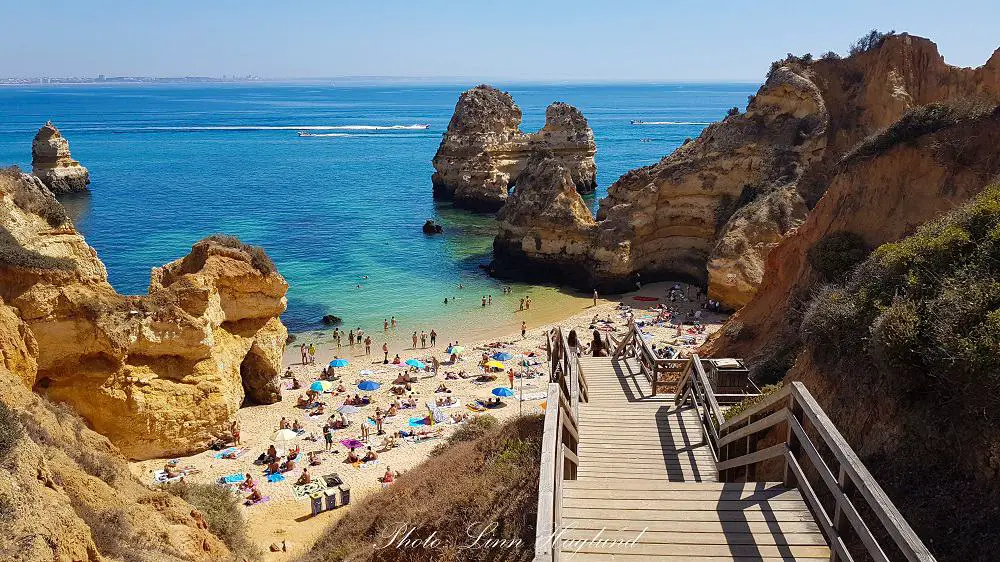 Nightlife: Albufeira or Lagos
Albufeira
Albufeira is known to be the queen of nightlife on the Algarve with the famous party street, The strip, where the city's best nightclubs are located.
Yet, there are plenty of places to go out for a more adult audience too. In Albufeira, you basically find a range of lounge bars, nightclubs, and pubs for all tastes.
Lagos
Lagos also has great nightlife, yet the general vibe is more laid-back than Albufeira, so it might not be the place you go only for partying.
Yet, Lagos is home to several party hostels which hosts pub crawls and fun nights out which gives the town a vibrant vibe at night.
Verdict: If you are looking for a party vacation, Albufeira is without a doubt the best place to go. On the other hand, if you would like to go out after a long day of surfing, hiking, or lounging on the beach, Lagos is a fabulous place with heaps of live music in summer.
Surf: Albufeira vs. Lagos
Albufeira
Albufeira is not the best place on the Algarve for surfing, though there are some places to go and you can get surf lessons there. There are a couple of beaches that get some swell, but I don't recommend going to Albufeira if your main goal is to surf. However, if you want an introduction to the sport, you have the opportunity.
Lagos
Surfing is one of the best things to do in Lagos. There are multiple beaches in Lagos with great surf and it is in near proximity to both Sagres and the beaches up the west coast, Like Clerigo Beach and Arrifana Beach which are renowned for their great surf.
Verdict: Lagos is by far a better destination for surfing whether you are a newbie or a seasoned surfer.
Activities: Lagos vs. Albufeira
Albufeira
Albufeira is often referred to as Algarve's center for action with an array of fun things to do like parasailing, thrilling boat rides, buggy rides, and 4WD excursions.
However, there are activities in Albufeira that are more laid back like snorkeling and paddleboarding. One of my favorite activities is kayaking in Albufeira as you get to explore the spectacular coastline next to the city.
There are also opportunities for diving and surfing, but this might not be the best destination for it, compared to further west on the Algarve. As you can tell, some of the best things to do in Albufeira include action-packed activities.
Lagos
Lagos is primarily a surf town with plenty of epic surfing beaches nearby. It is the perfect place to learn how to surf too, with multiple options for lessons or surf retreats.
There are also an array of boat tours in Lagos taking you to explore the coastline's imposing rock formations and golden cliffs. If you prefer, paddleboarding and kayaking in Lagos are also popular activities, and in my opinion, a better way to get close to nature.
Lagos is also a great place to learn how to scuba dive and there are exquisite snorkeling opportunities right off shore. There are also beautiful hiking opportunities on the cliffs, and walking from beach to beach in Lagos, which is one of my favorite activities there.
Verdict: Both Lagos and Albufeira are epic destinations for active travelers. Albufeira, however, caters more to action activities while Lagos is a little bit more laid back with more surfing and hiking opportunities due to its location.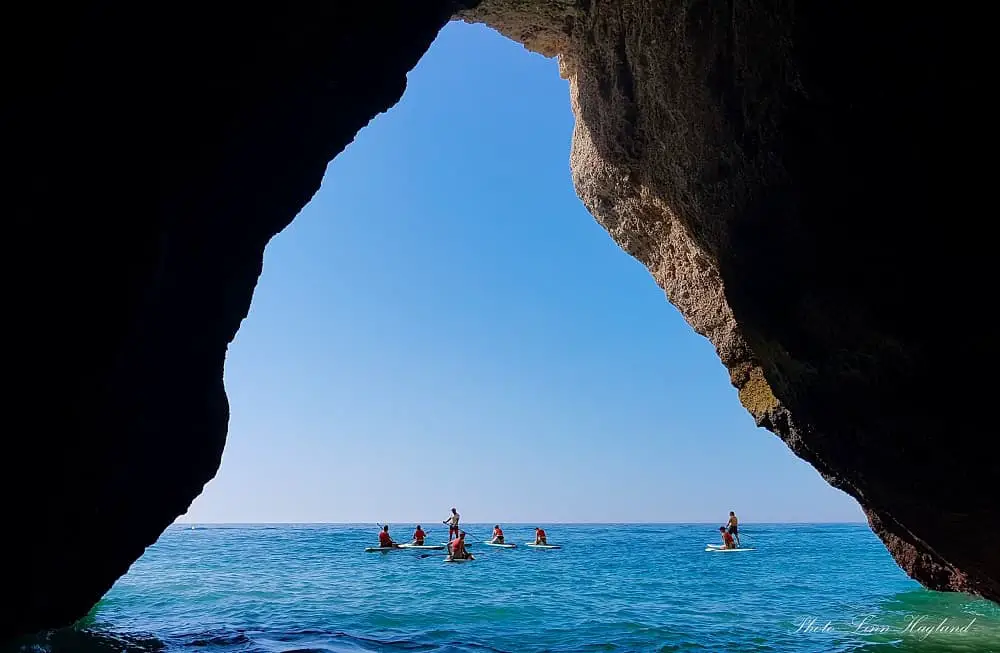 Best day trips nearby: Lagos or Albufeira
Albufeira
From Albufeira, it is easy to go on day trips to the central and eastern Algarve. Popular day trips from Albufeira include Faro, the Ria Formosa Natural Park, Olhão, one of the lesser-visited cities in Algarve, and Tavira.
This gives Albufeira proximity to tranquil barrier islands like Tavira Island and Culatra Island. At the same time, it is easy to reach Benagil Cave by going on boat trips from Albufeira.
Lagos
Lagos is situated in the western Algarve giving it immediate access to natural wonders like Ponta da Piedade and the jaw-dropping Sagres Cliffs.
Lagos is also near charming fishing towns like Alvor and Carvoeiro and the spectacular Algar Seco. Just like from Albufeira, there are multiple boat tours from Lagos to Benagil Cave.
Verdict: Both locations are great for day trips. Generally, Albufeira is located in the center of the Algarve, making it easy to reach bot the relaxing east coast and the dramatic west coast. Lagos, on the other hand, is located in the west which means it is a longer trip to explore places like Tavira and Ria Formosa.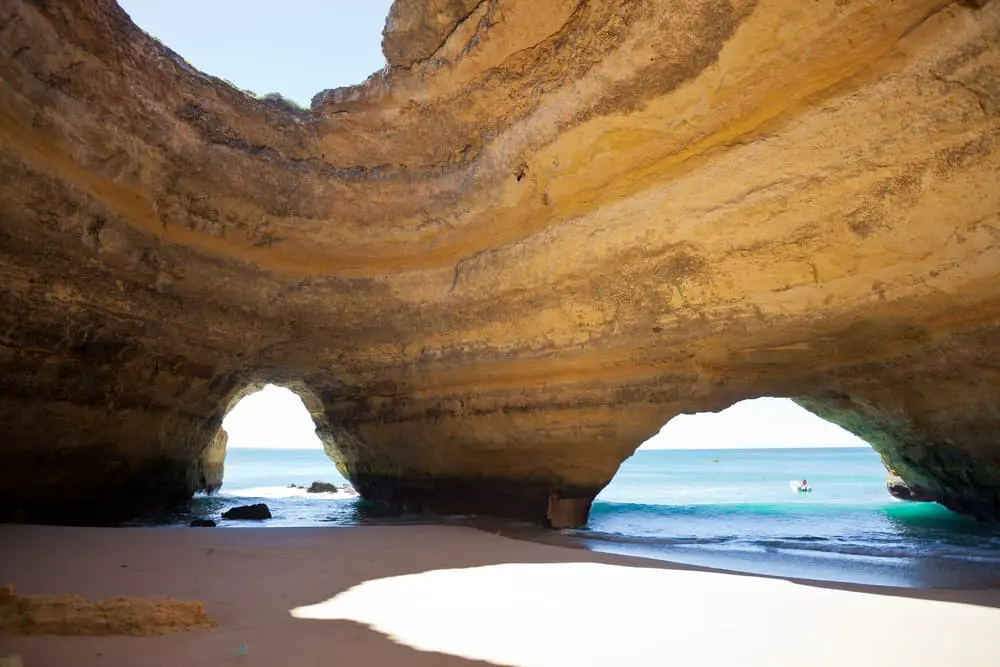 Which is better, Lagos or Albufeira?
So, is it better to stay in Lagos or Albufeira? Summed up, Albufeira is way more touristy, being one of the most popular cities in the Algarve, it has grown to cater to tourism.
It is the best spot for partying and thrilling activities when the hangover allows it. Besides, it has the benefit of being located in the center of the Algarve giving it easy access to most of the region.
Lagos, on the other hand, is the best place for a more laid-back vacation with surfing, diving, and hiking activities that all are centered around inner peace and taking care of the environment.
Lagos maintains more authentic than Albufeira and is more popular among backpackers and travelers that stay for a longer time than Albufeira.
So, is Lagos or Albufeira better? That completely depends on your travel style and I hope this post has helped you find the right place for you.